Happy Bank Holiday Monday everyone, I do hope you have had a lovely bank holiday so far and that you have managed to enjoy some of this amazing sunshine we have been having. My long weekend has been lovely so far and I'm looking forward to one more day with friends and family before going back to work tomorrow. Hooray for Spring!
Today sees the gorgeous vintage inspired wedding of Alice and Alexander, who really went to town with every last detail of this homemade wedding. So much of their wedding was created themselves, from the delicious cake table to the stationery, the s styling and most of the decor. Alice and Alexander really worked hard to bring their vintage wedding to life and their attention to detail is outstanding. Red Maple Photography was there to capture the day for us.
A wonderful celebration! Not just of our life together but a celebration of our families and friends, as without the support of those around us we could not have pulled off such a happy, joyous, day.
Alice and Alexander were married on 2nd September at The Silk Mill, Frome, Somerset. 'We were essentially looking for a blank canvas venue with complete flexibility in terms of catering, set up etc. We struggled to find a location which ticked this book in our area, along with the capacity for around 100 ceremony and 200 evening guests. Above all we were looking for a place we felt a connection with, and the unique, creative aspects of The Silk Mill – an arts space, studios and gallery all rolled into one – stood out to us from the start, based in one of our favourite towns, Frome, in Somerset. Plus, as a gallery space the lighting is incredible with beautiful glass ceilings above historic, characterful beams. We had 100 guest for the ceremony and then 200 in the evening. It took a year to plan. We got engaged in August on our 5 year anniversary and then got married just over a year later.'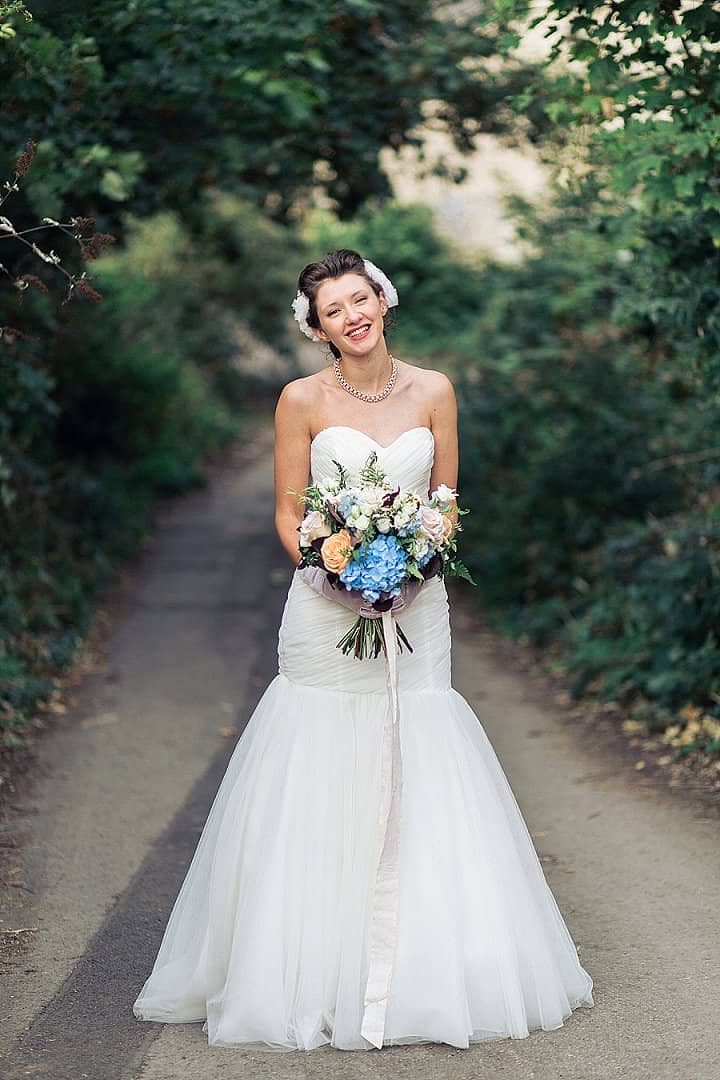 How they met
We each had teenage crushes and had shared fleeting glances and meetings at parties growing up, each of us convinced the other person was "out of my league" or "not interested". Then, years later, our paths crossed at the local gym, and the rest is history!
The proposal
Inspired by 'that scene' in Love Actually with the holding up of signs, we got engaged on a beautiful canal bridge in Amsterdam, one of our favourite cities. Alex asked me to record him on camera while he held up a number of hand written signs – believe it or not I had absolutely no clue what he was doing – if you know Alex and the videos he and his family and friends send each other this is not an unusual event! So we have the whole beautiful thing on camera, complete with my goofy comments.
How did you allocate your budget?
We decided early on what our most important things were; beautiful venue, great photographer, delicious food, cocktails and coffee!
Where did you splurge and where did you save?
Good food and drink is an important part of our life so we knew from the offset this had to be top notch. We sourced a local artisan bakery to supply us with a mixture of breads which made up a 'grazing table' for guests to indulge in after the ceremony, including grapes, fruit and home herb-infused olive oil for dipping the bread into! Alongside this guests indulged in pimms and lemonade with fresh fruit as the post ceremony toast. Food is such a big part of our lives, and a passion we share with friends and family, and we had so much fun dreaming up the catering.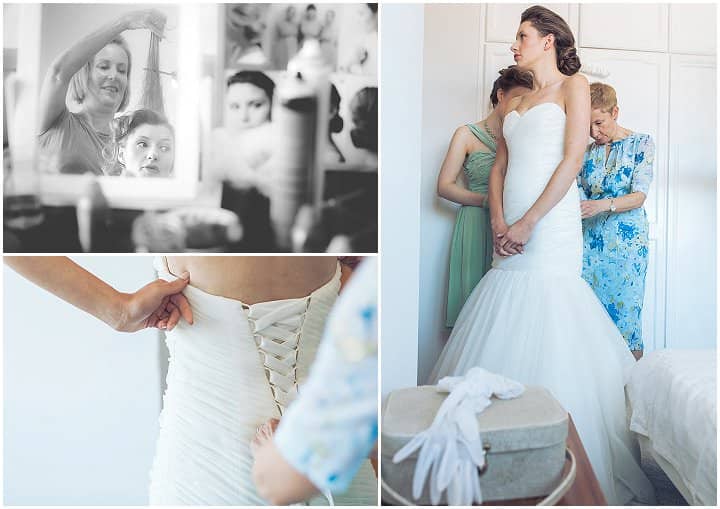 How did you choose your photographer?
We knew getting the right photographer was key for our memories of this one treasured day, and so we spent a lot of time carefully choosing our photographer, the wonderful Alicia of Red Maple Photography. Her work speaks for itself, but top that with an incredible work ethic (I think she was with us for a record 12 hours!) and bundles of personality and you have a winning combination, which I think you can see in the beautiful images she produced of our day.
The dress 
I found my dress actually on my first dress shopping trip! At a local boutique in Chipping Sodbury, Future Brides. They have such a great selection of a whole host of different styles, and I tried on a lot of different styles to get an idea of what I liked and what suited me. In the end I went with my gut instinct and it was actually the second or third dress I tried on out of about 20!
A Carrie Bradshaw at heart, and having studied fashion at university, it was all about the accessories and the overall look for me. I had in mind a 1950's debutante vintage inspired look, heavily influenced by the fashion photography of Norman Parkinson. Gloves were an absolute must for me, and lashings of tulle! I found a 1950's tulle headpiece on Etsy which I had shipped over from Australia. I picked up a pair of sheer, ivory 1950's gloves in one of my favourite charity shops, and a knock out statement pair of heels from Zara and I was ready to rock and roll. The final touch was an antique evening bag given to me by my sister many years ago, and a vintage pearl necklace which actually came out of a 'broken bits' bag of jewellery from a local charity shop for about 75p! I am definitely a magpie.
The suit and bridesmaids
Alex's charcoal suit came from Ted Baker. We struggled to find a good slim fit suit for his slim, athletic build, and were even considering tailoring an off the peg suit when we stumbled upon Ted Baker and the fit was just perfect. We decided on a black silk bowtie and braces from ASOS, vintage Valentino sunglasses and a pin from our favourite TV show – Twin Peaks.
My three bridesmaids are all such different characters and wonderful women each in their own right, so it felt right to have each one in their own dress. The dresses were from ASOS, Boohoo and Anthropologie and incorporated a dusky pink, cornflower blue and sage green colour scheme. It didn't matter to me where the dresses came from or how much they cost, more that they suited the girls and made them feel special.
Theme or colour scheme
SO MANY! Our influences span far and wide – Agatha Christie, Twin Peaks, James Bond, Stranger Things, Art Deco. The colours were dusky, rusty, antique and vintage inspired but not too sweet.
Flowers 
I love cornflower blue hydrangeas so I knew these had to feature in my bouquet. I knew a wonderful local florist, Sarah at Foxglove Flowers, and although she didn't really specialise in wedding florals she agreed to take on my commission. Again there were dusky pinks, sage greens and romantic blues, with some darker, earthier notes of rusty red and fresh herbs. My family and I hand dyed lengths of torn antique linen sheets to create long, trialling ribbons for each bouquet which looked really beautiful.
Decoration 
We really went to town on the styling, and following the wedding I have actually set up my own styling venture Wilmott and Daughter because I fell so in love with it! From handmade vintage napkin garlands, to a table plan using concrete reinforcing steel mesh, to signs made from repurposed doors and place names from antique board game cards – this was my imagination gone riot! Having been a vintage and antique collector for years I had plenty of source material lying around, and this was the chance to really put that all into action. With a background in visual merchandising this was a really natural fit for me. Using many items which belonged to my grandparents who were no longer with us at the wedding was a special way to incorporate them into the day.
Food 
I had been to a wedding previously where an afternoon tea had been served as the wedding breakfast – and for both of us this sounded like a perfect idea for our day. We contacted a local bakery to bake us a cheese and sweet scone for each guest, these were then packaged up in recyclable brown kraft boxes and served alongside a delicious Devon-produced cheddar cheese and home-made sweet chilli jam, along with cream cheese, clotted cream and strawberry jam.
Come the afternoon we had hired a mobile vintage bar and ensured they stocked craft ales, ciders and favourite tipples for our guests, and we each designed a 'brides choice' and 'grooms choice' cocktail to be served in the evening.
Our evening meal was supplied by a Devon-based mobile catering company we had come across at a food festival the previous year called Your Place or Mine, specialising in locally sourced seafood dishes such as crab burgers in brioche buns – so delicious! We made sure we catered for all tastes with meat/veggie/vegan options too.
Cake
We took things to a whole new level with our cake table – Alex is a freelance baker, Fika Cakes, and the cake offering was an array of 13 different bakes, ranging from a three tier lemon polenta centrepiece to salted pretzel brownies, chocolate and chili tart and a carrot cake which disappeared in under 5 minutes!
Entertainment
Probably the food provided much of the entertainment! We had playlists playing throughout the day featuring an eclectic mix of music, and then a professional DJ for the evening soiree – this was one of my 'must haves' as I wanted to make sure the dancefloor was filled and we didn't have to worry about it! Our first dance song was a Johnny Cash and Bob Dylan song 'Girl from the North Country' from one of our favourite films, Silver Linings Playbook.
Who supplied the stationery?
As a former graphic designer I produced the wedding stationary, which we designed together and which included a nod to Art Deco on the invites, and a vintage typewriter was used for the order of service and other pieces for the day itself. Each table had a menu card celebrating the local and handmade elements of the wedding breakfast.
Personal touches
Our wedding really was top to toe DIY, from friends and family helping with the set up in the days before, to my mum presenting us a with a plaque featuring our 'wedding logo' made from my late grandmother's jewellery, to the handmade cakes from Alex. This made the day incredibly special and it humbled us both, and still does to this day, that our friends and family sacrificed their time to help us have the most perfect day.
Special moments 
I really missed seeing Alex as we had spent the night before the wedding apart. In those moments of nervousness or anxiety you really depend on each other, and not sharing that time together felt odd. The moment I saw him standing at the end of the aisle is one I will never forget and a memory which I will cherish forever. I know for Alex a special moment was seeing his grandparents walk into the venue, and his grandmother, who had been poorly recently, said 'I made it!' – the tears started flowing then!
Advice for other couples 
To stay true to yourselves and what is important or represents you as a couple. We actually steered clear of traditional wedding fairs for that very reason, with the exception of a local Bristol vintage wedding fair which was full of beautiful things, and the cutting edge 'Most Unusual' wedding fair in London which is just a supercool day out. Pick the things which you both feel are important game changers, and focus on getting those things right.
Top tip for the bride – do not underestimate the power of good hair and make up. This can seem like a big investment at the time but believe me it pays dividends in the long run and you will feel so glad you invested in this when you see the photographs.
Biggest surprise 
How fast the time goes! Its cheesy but it's true, make sure you find time to yourselves as a couple to stand back and drink it all in, all the happiness, all the love in the room. We were surprised with the rush of emotions we experienced in the days afterwards, and now even, remembering the day and all our helpers, special people who gave up their time for us. In today's society we are 'time poor' and often the most special gift you can give someone is your time, we could not have appreciated this more.
For more information on Red Maple Photography go to
www.redmaplephotography.com / [email protected]/ 07949113268 / FACEBOOK / INSTAGRAM / PINTEREST / TWITTER