This afternoon we are turning our attentions to the grooms and groomsmen. Weddings are often very female focused, but it is as much the grooms day as it is the brides, so it is important not to leave the men out. From my experience, the groom is playing a much bigger role in the wedding planning, so it is important that their opinions are heard as much as the ladies. Today we are looking at the role of the groomsman specifically. The groom will need a team of his best men around him to make sure the day goes off without any glitches.
It's usually considered an honour to be a groomsman. However, this honour also comes with a lot of responsibility. In order for you to become a great groomsman, there are several things you'll need to do. Emelina has joined us on the blog this afternoon to give us a few ideas of how you can become a great groomsman and help out your mates on their wedding day.
How To Be A Great Groomsman
Lend a Hand
Planning a wedding can be incredibly stressful for both bride and groom. One of the best things you can do for your friend is to offer to help them out and try and take some of the weight off their shoulders. There's any number of things you can do that will make their lives just a little easier over this stressful period of time.
For example, you can provide their measurements to the suit hire shop and then go pick up the groomsmen suits once they're ready. How about offering to pick up visiting family members from the airport, train or bus station.
If your friend is having a stag party, then help them plan the party. You can research the best venues where it could be held, and then help your friend stock up on the food and supplies required for his stag. Any help you can give to the groom will take some of the stress off him.
Create A Great Groomsman Speech
For many guys, being asked to make a speech at a friend's wedding can be a daunting task. However, it will be a lot easier to make your speech if you take the time you need to practice it. Spend enough time writing your speech. Read it over and make the necessary edits. Then ask other people to read it and listen to their suggestions.
Be Prompt
The bride and groom are likely running around trying to get everything done. That is why it is important for you to be prompt. Try to get to the rehearsal dinner and ceremony on time. If you have been put in charge of picking up something, then you should have it picked up on time.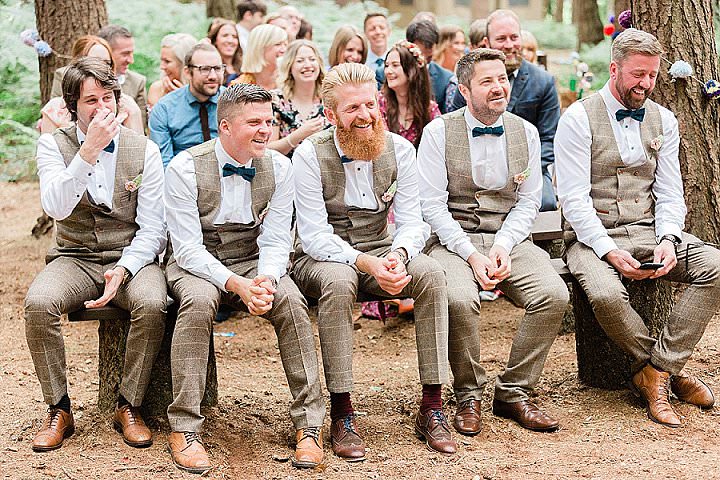 Be There for the Pre-Wedding Prep
You will need to arrive at the venue at least an hour before the ceremony starts. This will give you the time to make sure the groom has everything he needs. It's always a good idea to be at the venue before the groom arrives.
Act as the Point Person
The bride and groom are likely going to be inundated with a bunch of questions from wedding guests. This can make their wedding day more stressful than it already is. You should volunteer to be the person who answers any questions the guests may have. You can tell people where they need to drop their gifts off at and what time the transport is departing.
Check in With the Groom Throughout the Day
The wedding day jitters don't just go away once the big day arrives. That's why it's important for you to check on the groom throughout the day. Ask him if he and his bride need anything. You will be doing your part to ensure everything goes as smoothly as possible.
Pace Yourself
You will have a lot on your plate as the groomsman. Your job is to take stress off of the bride and the groom so you should pace yourself. Give yourself enough time to complete all the tasks you need to do. Don't put too many things on your plate all at one time.
Enjoy Yourself Responsibly
Weddings are meant to be enjoyed by everyone, and you too should have a good time. So eat, drink and be merry but don't overdo it. If you choose to drink alcohol, make sure you don't have too many drinks.
Thank the Hosts
The hosts are among the many people who conspire to make a wedding day great. So thank the hosts for all their hard work and let them know that you're honored to have been a part of the celebration.
Email or Text the Photos to the Couple
It will likely be a long time before the professional photographer who was hired for the occasion presents the couple with all of their photos. But the bride and groom will likely be eager to see pictures of their wedding day in the interim. That's why it's a good idea for you to take pictures throughout the day. If you are unable to take any photos, then you find some guests who've taken pictures and send them over to the newlyweds. Sure, this may be a small gesture, but the bride and groom will appreciate it.
Photo by Gumgirl – Full wedding HERE
Being a groomsman can be challenging, but it can also be a lot of fun. If you take enough time to prepare you'll be able to ensure that your friend's special day goes smoothly. Being a great friend during this special time is one of the best gifts you can give to the groom.
For more information on Emelina's work go to
www.awearnessblog.com / FACEBOOK / TWITTER
this is a sponsored post