Today we head off to Newark in Lincolnshire for the colourful, eclectic wedding of Donna and Kurtis. The couple wanted a wedding that reflected their individual personalities, their love of summer garden parties and a venue that allowed them to bring their pets to their ceremony. This they found in Priory House. The quirky venue gave them all the freedom they needed to create a totally personal, hand made wedding, full of life, colour and as they say a few 'exotic eccentricities' Geoff Kirby Photography was there to capture the day.
A chilled day, full of love, camper vans and exotic eccentricities!
Donna and Kurtis were married on 18th of August 2018 at Priory House. Long Bennington. Newark, Lincolnshire. 'We had visited a number of wedding venues but had not yet found one that reflected both of our personalities. It was when looking for a photographer that we stumbled across Priory House. We liked the idea of the relaxed walled garden party for the reception as we had plenty of party games, firepits and a love for summer outdoor evenings below the stars. We instantly fell in love with Priory House and its hosts Carol and Roger. Priory House, with its unique quirky features blended with practical outdoor space was just what we were looking for. We later discovered that we could also have the ceremony at Priory House, our guests could camp in tents and campervans and we could bring our dog 'Poppy'…Obviously, we were sold! We had one year to plan the wedding and due to me starting a postgraduate course in the September, we had most of the big things planned and booked in the first 4 weeks!'
How they met 
Kurtis and I met at work. We were both employed by a charity supporting disadvantaged children at the time. Finding each other was completely unexpected but it just felt so right. We have been together 8 years now, but it still feels like we met only yesterday!
The proposal
Kurtis wanted to propose whilst on a skiing holiday in the picturesque mountains of Austria. However, he did not have a ring and had nerves. So just as we were due to leave for a flight to Valencia for a family holiday, Kurtis got down on one knee in the hallway of our home and proposed. He presented the ring in a hand-made wooden box, it was a very special moment for both of us (albeit a very time limited moment due to the flight we had to catch). Kurtis was planning on proposing in Valencia but the excitement got the better of him. We often laugh about Kurtis's interesting timing!
The budget
We were not too strict with the budget. We knew that the venue and the food were going to be important to us on the day, so this is where most of our budget was spent. However, we managed to save on flowers, as the venue was blooming with the most colourful and fragrant plants and flowers throughout.
Photographer
We spent many hours looking for a photographer before we came across the wonderful Geoff Kirkby. We loved his style and he was so laid-back, which reflected the two of us as a couple and our vision for the day.
The dress
I purchased my dress 8 months before the wedding. But as wedding day drew closer, I knew the style wasn't me. So, 3 weeks before the wedding I changed my mind, to the shock and horror of my mum and bridesmaids and began the search again for my dream dress. The first shop I visited was closing down and had put all their gowns on sale that day. I could take anything I wanted off the rail! The moment I tried on my dress I knew that I was ready to get married. I choose my dress alone, in my dinner hour at work but I didn't need any advice or reassurance this time, I just knew it was the one. My dress was by w.too & Watters – Savannh gown and Kurtis loved it and said he could not imagine me wearing anything else!
Suit and bridesmaids
The groom's suit was casual chinos and bespoke braces. Kurtis was keen to stay away from anything formal. Guests were also encouraged to wear what they felt comfortable in.
The bridesmaids wore different style dresses by ASOS and Chi-Chi London. I have never been a fan of typical bridesmaid's dresses. The flower girl's dresses were from Monsoon. We didn't want to get caught up in a colour scheme. Things just naturally progressed and seem to work out well in the end.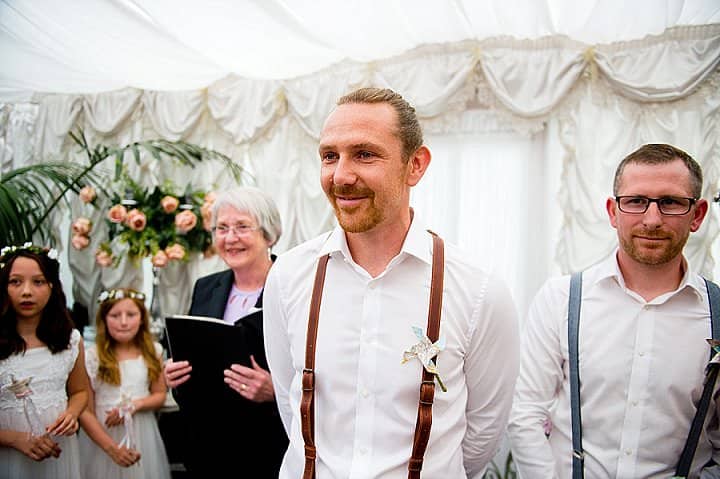 Flowers
We wanted the bouquets to have a natural feel and eucalyptus was my only request. I left the rest up to the florist. My mum surprised me with one of my grandma's flower broaches, which I used to play with as a child. It took pride of place on my beautiful bouquet. We opted for simple flowers at the table, which Kurtis and I arranged in a collection of gin bottles placed in hand-made wooden crates. Our vision was to keep it simple.
Decoration
We hired a 1950s canvas army tent for the garden which was filled with wingback chairs, Persian rugs, bean bags, handmade knitted bunting and a variety of vintage candleholders for the many colourful candles we collected. It was a rainbow delight.
Food
The little fishy, fish and chip van was a huge hit with guests and was the talk of the wedding! We had a variety of cheesecakes for desert from Simply Cheesecake, which also provided vegan and gluten-free options. In the evening we ordered Domino's pizza and made a vegan chilli the night before the wedding, which everyone enjoyed!
Wedding cake
It was made by my best friend and was amazingly delicious! It contained vanilla sponge, strawberry champagne conserve and lemon & elderflower with lemon curd. She also made a vegan and gluten-free version to accommodate for all our guests.
Entertainment
We hired a band named Academy from Alive Network. They were fantastic so, chilled, great guys would definitely recommend. We had a fire pit and marsh mellows in the evening and plenty of games for the children.
Personal touches
Our DIY table numbers, mapped windmill buttonholes (definitely my favourite). Mapped cufflinks, vintage door & Key seat planner, wedding welcome sign… and the list goes on. We have a very creative family! We also hired a local graffiti artist to create a colourful backdrop for wedding photos, which we absolutely adored and it now stands proudly in our garden as a keepsake of our special day.
Special Moments
The highlight of our day was having our family and friends (2 dogs, 3 ducks and 1 cat) all in one place. We will forever remember the heartfelt speeches, which were filled with both laughter and tears. We felt incredibly lucky that day to be surrounded by the people we love.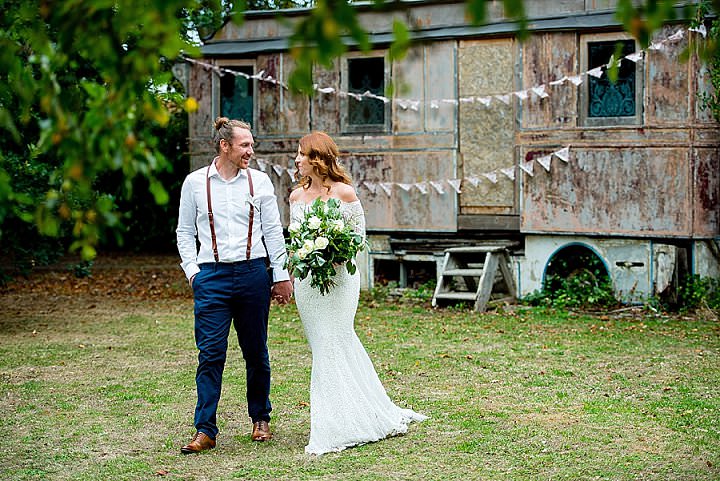 Biggest surprise
For both of us was that we totally underestimated how special the ceremony would feel. I couldn't take my eyes of Kurtis the whole time! And his face when I walked down the aisle is something I will never forget. If we could honestly do any of it over again the ceremony and exchanging of our personal vowels would be top of the list.
Advice to other couples
Don't be afraid to do things a little differently. It's your day, do what makes you happy.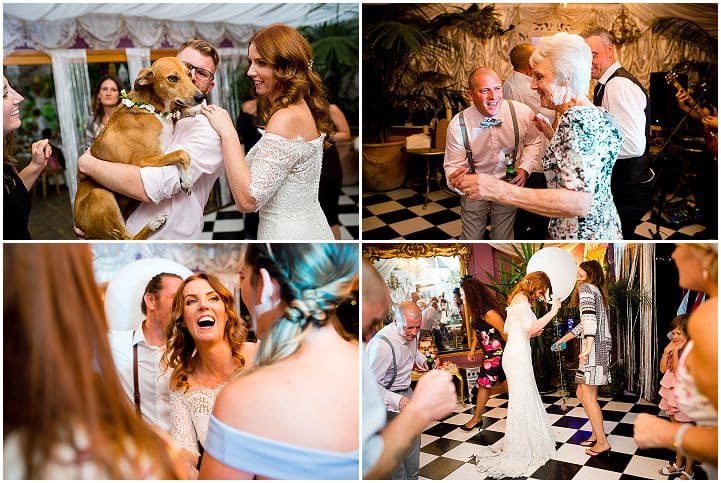 Supplier Shout Outs
For more information on Geoff Kirby Photography go to
www.geoffkirbyphotography.co.uk / www.geoffkirbyphotography.co.uk/blog / [email protected] / 07793110297 / FACEBOOK / INSTAGRAM / PINTEREST / TWITTER