Hello everyone and welcome along to another week on the blog, Where did the weekend go? it seems to speed past SO quickly! We now have a new member in our family. Little Daisy our blue British short hair kitten arrived at our home yesterday afternoon. She is still settling in but so far doing very well. (You can see photos of her on my stories) we are completely smitten with her, Dexter especially! It's so lovely to have a cat in the house again, she really is a little cutie!
I am starting off the week of real weddings with this cracker from This and That Photography. Rebecca and Ian were lucky enough to get married at Rebecca's parents farm, and they went for a colourful day of the dead theme mixed with Peaky Blinders, tea and biscuits and lots of rustic touches. The whole day is handmade, with lots of help from their friends and family. Such a talented bunch pulling together such an amazing looking wedding. I just love their use of colour, against the farm backdrop, so much fun!
A colourful, chilled, festival, summer explosion with all our family and friends. And gin.
Rebecca and Ian were married on 18th August 2018 at the Rebecca's parents farm for both ceremony and reception. Down by the river for a handfasting ceremony then up to the cow sheds for the reception. 'I've always wanted to get married at home, I have grown up on farms and it means a lot to me! We knew we wanted a less traditional style wedding, we wanted a much more relaxed vibe. We had 85 guests in the day and 140 in the evening. It took about a year to plan give or take, with a lot of help from families and friends. I'm very off and on so there would be a week of frantic planning and booking, then a quiet week, then repeat!'
How they met 
We met at work (boring I know!) through a mutual friend and we have been together 5.5years.
The proposal
Ian hates me telling this story! We were snowboarding in Tignes, Ian had planned a lovely romantic meal at a posh restaurant down the mountain – but I had read the menu (not knowing about the plans) and didn't want to go! So we went to one of our favourite restaurants in the town, followed by Ian trying to coax me out of the car for a snowy walk (which didn't work as I was wearing the wrong shoes!) So in the end he proposed in the car overlooking the lit up town surrounded by the mountains. I wouldn't change a thing!
How did you allocate your budget?
My sister in law had got married the year before and she is super organised (unlike me). She had created a 'bible' for her planning which she kindly sent to me! So we used this to come up with a rough cost. We started with the catering knowing that it's one of the most expensive bits and went from there.
Where did you splurge and where did you save?
We splurged on food and my dress and shoes, and saved wherever we could. We made our own decorations and had a lot of rustic looks which helped – our guests for the ceremony were sat on straw bales. And my Grandad had grown a field of sunflowers which he bought down the evening before. My mum made our confetti too from flowers in the garden, one rose bush in particular that was gifted to my mum and dad by my grandparents for their 25th wedding anniversary. I like to think that's good luck.
How did you choose your photographer?
We knew we wanted an amazing photographer that would understand Ian and I as a couple and wouldn't be too staged, we both feel quite awkward in front of the camera and love candid shots. Ian knew Kirsty through a friend and when we looked at her portfolio she was absolutely perfect, and after meeting her we didn't want anyone else! We are so pleased with all of the photos, they are just incredible.
The dress
My dress was Pronovias. Then I had 2 pairs of shoes – Louboutin studded wedges for the ceremony, then Louboutin gold trainers for the evening. Then I found a vintage red leather Julien Macdonald jacket on ebay – it was a steal. Then jewellery I borrowed my mums earrings and had a bracelet that was my Grandmas.
The suit and bridesmaids
Suits were Marc Darcy – Ian wore a jacket from there for my Brother's wedding and it was exactly the style he wanted. He also gifted his best men with pocket watches which both Dads also wore, it looked really good. Bridesmaids were just Dorothy Perkins. I knew I wanted knee length, comfortable, and blue. I struggled to find any till I found these which were perfect (and ideal as it turned out, my sister in law had a definite bump at the wedding which she didn't have when the dresses were bought!)
Theme or colour scheme
The theme evolved as we went on. We joked it was a Mexican day of the dead-rustic-festival-colourful-tea & biccies-peaky blinders theme. I knew I wanted bright colours (I love Mexican sugar skulls so the idea came from there) and actually it was really easy to follow this rather than 1 or 2 specific colours. Then we just picked things we liked, or things we had on the farm or that we found.
Flowers
Sunflowers mainly, then my only request was bright and colourful. My florist was also my hairdresser and a good family friend, she did an amazing job!
Decoration
We went a bit crazy. Between me and my mum we made about 700m of bunting from scratch! Then we had little metal coloured watering cans and buckets from the kids section at Asda which were filled with flowers. We then had trellis that my dad made into little stands, then my mum (who is incredible) made hanging hearts for the back of every guests chair, she made individual name tags out of waxed tea bags, we spent a day a few days before handmaking and icing biscuits for the wedding favours, there's so much more
Food
We had a 'posh BBQ'. We wanted relaxed buffet style food, nothing formal. I worked as a waitress for weddings for over 5 years – I knew I definitely did not want yet another bit of dry chicken! So we had a salad bar, posh breads, then anything BBQ'd from steak to salmon. We then had made to order Pizzas in the evening from a mobile pizza oven. The caterers were amazing. We also had a horsebox bar which added so much character!
Wedding cake
My mum made it – it was a surprise to me, I had seen one on Instagram that was crazy and pointed it out – never thinking she would try to recreate! It was a pink explosion, and it was fantastic and meant so much more than a bought cake.
Entertainment
We had a giant connect 4 (because why not) and a band in the evening – The White Rooms. They were really good and played exactly our type of music.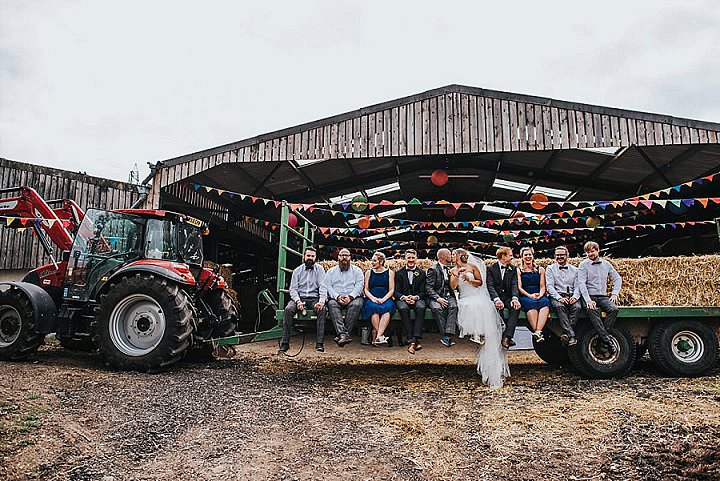 Who supplied the stationery?
I struggled with this but in the end I just got invites etc from Zazzle! We had the order of the day written on a pallet. Other than that we didn't have much stationary.
Personal touches
Just so so much. Everyone chipped in and my parents were amazing. Our best man was also incredible – from collecting tin cans for months before to building a giant 'LOVE' sign from pallets that was in the field. My mum also reupholstered and painted 2 chairs for Ian and I, covered with sugar skull fabric and pompoms. And threading tree branches through a giant arch that we got married under. My brother, dad, Ian and best man spent the day before the wedding in a tractor bucket hanging paper lanterns from the cow shed ceiling, it was that kind of wedding!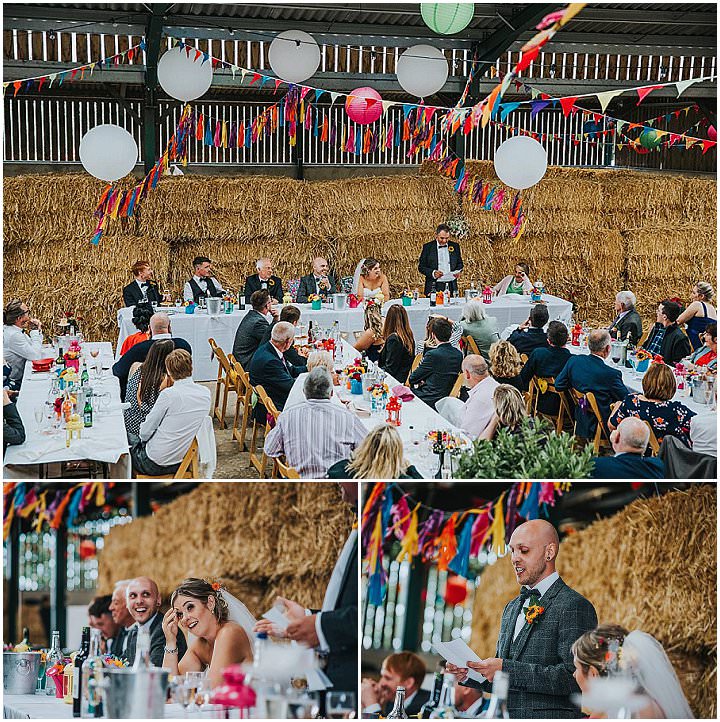 Special moments
Travelling down to the ceremony on the tractor trailer – my brother drove the tractor with me, dad and my bridesmaids on the back sat on hay bales. Having the whole wedding at such a unique and sentimental venue meant the whole day was incredible, and all the effort that everyone had put in really made it amazing. My dad's speech was a highlight – he had 3 star wars masks that he wore at various stages….!
Advice for other couples
Be yourself. I second guessed myself a lot through the whole process, especially when everyone else seems to have muted colour pallets and classy hotel venues. I was concerned it would look like a cross between a gay pride parade and a primary school fete, but in the end it was so us, and exactly what I wanted. And pick suppliers that understand you – everyone we worked with went above and beyond to help in whatever way they could and it made the whole day far less stressful and far more relaxed.
Biggest surprise
The cake! And just how the whole thing had finally come together, I had been so consumed by the little bits and the individual pieces that to see it all together was overwhelming.
Supplier Shout Outs
FOR MORE INFORMATION ON KIRSTY'S WORK GO TO:
www.thisandthatphotography.co.uk / ki[email protected] / 07971630765 / FACEBOOK / T: @ttp_photography / I: @thisandthatphotography / PINTEREST

[jprel]