Today's my birthday, so I thought I would share a wedding with you that is special for two reasons. 1) It takes place in Ibiza, where I was married. 2) The photographer, Gypsy Westwood, who shot this wedding is a lovely lady who I have met before and is going to be doing a family shoot for Nik, Dexter and I when we go over to Ibiza in June (for our 10 year wedding anniversary). So it seemed only fitting that I shared this super special wedding with you today. Melissa and Daniel are a free spirited couple who love Ibiza's Spiritual side but also love the party side of the Island. They put together a real treat for their guests by hosting the wedding in a stunning restaurant where they were really spoiled with all the amazing food. They were then allowed to party till 4AM in the restaurant's private nightclub. The whole day looks amazing. Melissa's bespoke dress is sensational, the food looks delicious, the laid back vibe is perfect for an Ibizan wedding. It makes me realise how much I miss Ibiza, I really can't wait to go back in a few months time. Right I'm off to eat my body weight in birthday cake!
A collective effort of love and support from our mums, friends and once-upon-a-time strangers, making it a true celebration of who we are and the positivity we want to project into everyone else's lives.
Melissa and Daniel were married on 26th May 2018 at Lamuella, Ibiza. 'We love the spiritual side of the island… and we like to party. So it gave us the perfect mix for our weeklong celebration. We were lucky enough to have 2 weddings, our first was in London on the 13th May at our synagogue with some close friends and our mothers friends and families. This meant that our Ibiza wedding could be exactly what we wanted without having to compromise on the family obligations of inviting distant relatives or catering for other age groups. We had 126 guests, just our mums with their best friends and the rest of the guests were our closest friends – so it was a youthful party (with no kids rule so the parents had a well deserved night off to let loose). We actually ended up doing it all ourselves. Daniel proposed the June prior, so we started planning pretty much right away, doing frequent recces to find the venue we wanted. We found our venue on our first visit, which was really lucky.'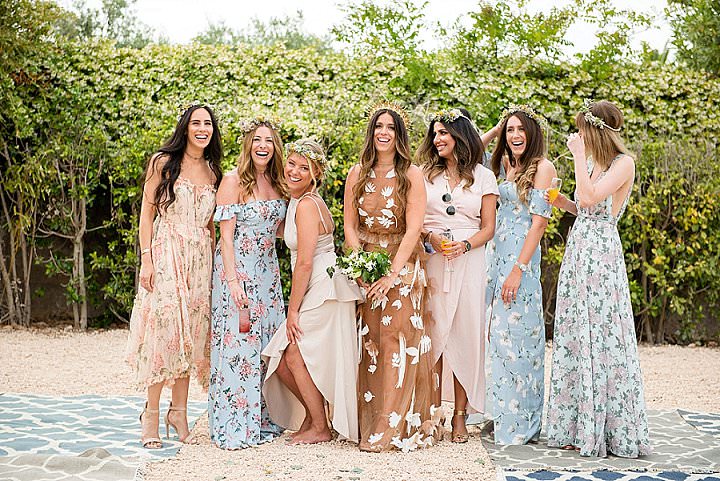 How they met 
I'll spare you the long version, but we were born in the same hospital, went to the same primary school, universities in neighbouring cities and then eventually travelling the world at the same time… all totally oblivious to each other's existence. Daniel would say it's because I'm a lot older than him (it's a year…) – Id say it was because he just never had a chance.
Each of our best friends are cousins and they thought we should re-meet properly (after chance encounters at house parties and in Thailand on our 'Gap Yarrs').  The first date was in May 2015 and we've been together ever since. 
The proposal
We had been a couple of time before and loved it, so when Soho Farmhouse had availability we booked it up in advance for a June weekend. We were super lucky with the weather and had pre-organised some of the activities they do on site.
As we arrived the weather was so good I threw on a swimsuit and stuck my hair in a bun and went with a coffee to soak up the rays on the veranda. 5 minutes later Daniel comes out and says "what you doing – we have the horse and carriage ride now… get ready", as we had done it before I tried to convince him we should stay at our cabin and chill in the sun. I chucked on a kimono and some ripped jeans and off we went. Turns out it was a MUCH better experience than the last time, the carriage was amazing and they even had my favourite horse, Otto, as our steed. Finally, once coming back into the site by the lake, we stood ready to take a photo in front of it with Otto… then Dan got down on one knee, and that was our first photo as an engaged couple. Photo HERE
How did you allocate your budget?
We started by setting out our non-negotiables. We knew we wanted to get married in Ibiza, we knew we wanted it to take place between May – June (before it got too hot), we knew we wanted to be able to cover all the alcohol and for the food to be amazing – not at standard meat and two veg option.
Once we had assigned budget to those things, we knew what we had left to play with for entertainment, hire fees, decorations, outfits, transport, flights, accommodation, rings…etc.
It's literally my job to pull budgets together (and I love spread sheets) and Dan is a great researcher, so it was slightly easier for us, but the principles are always the same. We got a few quotes in to help figure out the ranges of costs available and that helped us guestimate the actual costs; then as a rule of thumb, we added 10% to every cost to build up a buffer.
Where did you splurge and where did you save?
We splurged on the food and drink and saved on the outfits and decorations – we were really lucky that the venue had great style and loads of different ornaments and dressings we could utilise. Then I just hand painted shells for peoples name places and we sourced some local tumble crystals for people's favours instead of spending larges sums on gifts people would leave behind. We also chose not to have a videographer as the costs can really creep up, and instead used an app called SeenIt so we could make our guests the videographers. We got to capture the entire week of events instead of just the wedding day!
How did you choose your photographer?
I had seen Gypsy's work on a few other sites and on Instagram during my research phase, whilst Daniel loves posing for a photo, I don't. So we knew we needed to find a photographer who really captures the natural moments that we aren't always a part of. It was also really important for us to find someone that wouldn't just tell us what we wanted to hear, Gypsy is a no-nonsense photographer – she is firm enough to deal with the occasional guest who isn't listening or thinks they knew better, and charismatic enough to fit seamlessly into the day without even knowing she is there. As a bonus, her husband used to own the venue where we were getting married, so she knew the space really well!
The dress 
I designed my own dresses and worked with a super talented recent graduate designer that my mum introduced me to, her name is Anwaar Swed. It saved me a lot of money and meant I got two bespoke made to measure dresses instead of spending too much time trying to find something that probably didn't exist (or I couldn't afford). I commissioned my crown from a designer called Amaroq who I found in LA whilst doing outfit research for Burning Man. As for the shoes, I needed something that would shine a bit, as the Ibiza dress was completely sheer, whereas my London outfit was a silk jumpsuit. I settled on a sequin block heel from Steve Madden and they were super comfortable.
From my experience, the more time you put in to finding independent designers the more money you'll save.
The suit and bridesmaids
Daniel opted to go for something a little more casual, it is Ibzia after all, so he sourced most of his outfit online or the highstreet, his trousers were made to measure from Spoke, and his shoes from Russel & Bromley.
We didn't want our day to be too "matchy-matchy" – as it wouldn't have been in keeping with the ethos of Ibiza, so we asked all our bridesmaids and groomsmen to just stick to a similar theme or colour palette, whilst choosing something they would feel comfortable wearing on the day and be able to re-wear. We are all in our 30s and we just couldn't bring ourselves to tell other adults what to wear.
Theme or colour scheme
We really just wanted to focus on having a good time than have to get caught up in a theme. I guess if I had to pin one on it, it would be Bohemian… but we just wanted everyone to be comfortable and be able to turn up in a t-shirt if that's what he or she wanted.
Flowers 
All wild and picked locally, we were really lucky to have our friend who runs I think that you are magic with us. So she made my bouquet using wild flowers from the garden in our villa the morning of the wedding.
All the other flowers were picked across the road from the venue in a field by the amazing co-owner of the venue. She kept everything really low key and natural and made the flower crown / hoops for my bridesmaids to help tie their outfits together.
Decoration 
We wanted the venue to be as similar as it could be to when we found it – as that's what made us want to get married there in the first place, so we used all the same plates, cutlery, seats and table dressings they normally use (which also helped us save).
Food
Lamuella does the most amazing tasting menu, which is a European Asian fusion. Most of the chefs are either Italian or Israeli and the food is literally unbelievable. We just asked them to put together a menu that caters to everyone's allergies but didn't lose the magic of their restaurant.
For the starters we had an amazing food theatre bar set up that was a mix of Japanese, Chinese, and Middle Eastern… we were serving sushi, lettuce cups, bao buns, middle eastern salads along side some other amazing bites.
For the mains we changed things up to sharing plates on the tables that varied in size from 10 – 20, there was a mix of Korean BBQ and Thai, so lots of curries and big bold flavours.
For dessert we chose the chefs selection, alongside some coffee, tea and petit fours. These were mixes of chocolate brownies, mousses, milkshakes, berries… basically just small versions of everything on the menu!
Wedding cake
We decided not to do a wedding cake, in our experience no one eats it and it can cost a fortune. So instead we did some late night Tacos and Quesadillas that came out around midnight. We had totally forgotten we had ordered them and were so grateful when they arrived.
Entertainment
During our ceremony our shamans, who were marrying us, performed some of our favourite songs that they had written together. They are literally the best humans we know, Ena's voice is incredible and she used my cousins guitar to play live, which was really special as he couldn't be with us on the day.
During the reception we had the amazing drummer Rocky Ruffini and a singer set the chilled Ibiza vibes; and then during dinner we had Deva come with his saxophone to elevate the mood to get our guests ready for a secret we had kept from everyone (excluding a few).
We had a private nightclub in the venue, which meant we could carry on partying until 4am without breaking any of the Balearic sound laws. Which is pretty rigid and hard to get around when planning events out there.
In there we were lucky to have some of our friends and my brother who are incredible DJs give us a mix of House, Funk, Disco, Garage and, Drum and Bass. When we opened the club we also unveiled a vintage VW photo booth hired from Moonshine alongside the incredible artists from Its In Your Dreams to decorate the faces of our guests in true Ibiza style – they have a great range of biodegradable glitter too!
Who supplied the stationery?
We try to be as environmentally conscious as possible, so all our invites were done via Paperless Post and all the table names and seating plans were done by hand on recycled paper that we flew over with us.
Personal touches? 
We are really lucky to have extremely talented friends, so we were able to leverage the cumulative talents to find the best hidden gem locations and accommodation, whilst also being able to rely on them to sort AV / DJing on the night, and also help me hand paint or write the table numbers / name places, and finally make the bridal bouquet. Every one of our friends and family we asked to help were amazing at pulling it together – It really was a collective effort.
Special moments 
The whole day was amazing – and there really were too many highlights to pick just one.
We ended up with an after party back at our villa that then turned into the next days pool party, so we also don't remember as much as I should.
What advice would you give other couples 
Stay relaxed – It's going to end up being one of the most important and expensive days of your lives. So figure out your non-negotiables and list out what you're happy to compromise on.
Annotate and write things down – everything – from the start. Keep it on a spreadsheet or in a wedding planner and keep it updated – it's a lot less stress when you know where to find things.
Recall why you're doing this in the first place, it's a celebration of your love for each other and sometimes, amongst the chaos, that can get lost along the way. We figured out what our roles would be during the planning process so neither of us felt bitter that one was doing more than the other – it's a cliché, but teamwork makes the dream work
Embrace the chaos – try to enjoy it as much as you can, the table plans will change, people will drop out, and you'll feel like the universe is deliberately trying to make it hard for you but it will all come together in the end, and any parts that don't – no one will notice.
What was your biggest surprise of the day?
That I didn't cry! I spent the entire London wedding in floods of tears. The Ibiza wedding was the total opposite in that regard. We both spent the entire day surrounded by love and our closest friends and … it didn't rain!
Supplier Shout Outs
FOR MORE INFORMATION ON GYPSY'S AND SOFIA'S WORK PLEASE GO TO:
www.gypsywestwood.com / www.gypsywestwood.com/blog / FACEBOOK / PINTEREST / INSTAGRAM