When you think of a festival wedding, you may automatically fast forward to summer, outdoor games and lots of sunshine. Well, today's couple Ciara and Andy had always dreamed of getting married in October. October is their favourite month of the year, but they had also dreamed of holding a festival wedding. They deiced to do what they wanted, and the results are this gorgeous festival themed wedding, complete with festival flags, a glitter station and of course lots of good festival vibes. The dark moody skies add to the dramatic nature of the photographs captured by Lucy Turnbull and make the tipi's even more cosy looking. I Just love Ciara's Anna Campbell gown, its one of my all time favourites!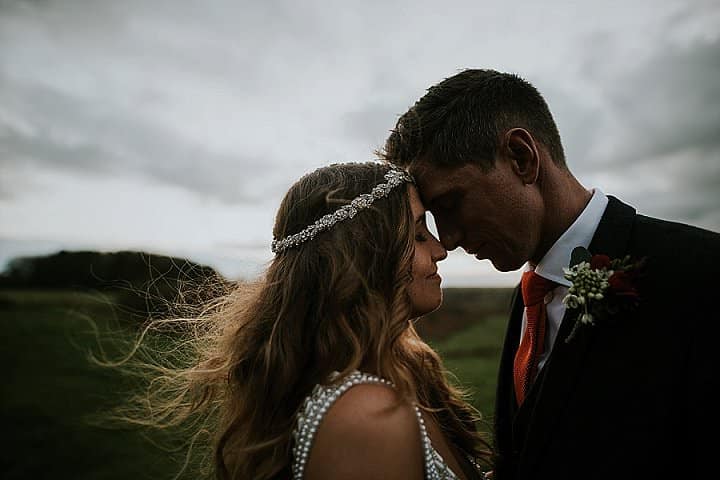 Ciara and Andy were married on 7th October, the ceremony was at All Saint's Church, Wrington, North Somerset with the reception at Warren Farm, Charterhouse, Somerset. 'I always wanted to get married where I grew up in Wrington, even though our lives are in Liverpool. It was also really important to both of us to get married in a church and All Saint's is so beautiful so that was an easy decision! For the reception we knew we wanted a relaxed, festival vibe, and I always had Tipi's in mind so we went to an open day and fortunately Andy loved them too! Once we had decided on Tipis we then had to find somewhere we could put them, which sounds easy in Somerset but wasn't so easy in reality!!! James, the farmer/owner was super relaxed about us doing what we wanted really, and the views from the spot where we put the Tipis were amazing. Its not a 'wedding venue' really and we were the first wedding they had there (apart from their own) which was fab because we really wanted somewhere unique that no one else had had! We had 103 guests in the day and 30 more in the evening. It took just over 2 years to plan, we wanted enough time to save up and were keen on getting married in October as we both love that time of year and that's when our anniversary was so it made sense.'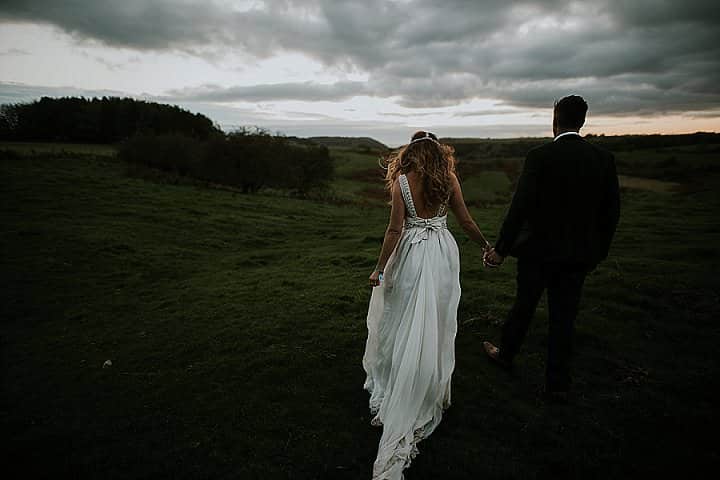 How they met 
We met the old-fashioned way, in a bar in Liverpool called the Shipping Forecast!! He sat down next to me (and I told him he couldn't sit there, our friends were at the bar!!), we started chatting, he took my number and the rest, as they say is history! When we got engaged we had been together just under 4 years, when we got married we had been together 6 years.
The proposal
We went on a big American road trip starting in Vegas for my 30th….Andy had decided to propose and actually was going to do it the night before my birthday in front of the Bellagio fountains.. but jetlag and heat stopped his plan as we were both so tired we went to bed at 9pm!! The next morning, on my 30th he wrote me a super cute card and when I looked up from reading it he was down on one knee!
How did you allocate your budget?
The biggest chunk went on hiring the farm (we had to pay the cost of hiring the 5 canvas lodges and 2 log cabins for the weekend) the Tipis and the caterers. After that the next biggest expense was the band and the photographer, which cost roughly the same, and the dress of course, which my mum very kindly bought for me.
Where did you splurge and where did you save?
I think by having our wedding 'out of season' we definitely saved some money – particularly on the Tipis, and also by doing a lot of it ourselves – for example one of our fab friends is in the wine industry so he sourced the table wine and I sourced some amazing cava and had it shipped in from Spain which was definitely cheaper. We made our own gin for favours, my mum made the cake and we had that for dessert. Our band The Shuffles were amazing, and for the same price as some other bands would charge just for a 2hr set we got them for an hour during the drinks reception, 2 hours in the evening and they set up and ran the silent disco, and the dance floor was PACKED all evening! I had my heart set on having the Beetlejuice bar (converted VW camper) but as we met the minimum spend – that cost us nothing!! I wouldn't say we splurged on anything but there are some things that we maybe didn't 'need' but really wanted so we had them!! Like the glitter station (which cost I think £300), and the silent disco… I did splurge a bit on the dress and definitely on the headpiece but I'm so glad I did!!
How did you choose your photographer?
There is a bit of a story here!! I found lots of fabulous photographers and it took ages to narrow them down to one, and then she cancelled on us 6 weeks before the wedding!!! I contacted the others on my shortlist and the lovely Charlie Campey recommended Lucy. She was super lovely and so accommodating of all my requests and takes absolutely fabulous photos! We are thrilled with our photos, especially the 'golden hour' ones – we have had so many people complimenting them.
The dress 
My dress was Coco by Anna Campbell, the amazing Beck and Felicity at Jean Jackson Couture in Manchester helped with customization and I just adored wearing it, I feel so sad I won't wear it again! I had seen Anna's dresses online and I loved them all but particularly Coco because of the amazing beading. I went to try it on thinking maybe it won't suit me, maybe I won't like it but I need to exclude it but then absolutely fell in love with it! The headpiece is also by Anna Campbell. I told myself I'd sell it after the wedding but so far I just can't bring myself to part with it! My shoes were a bargain find in the sales from Dune and they are Steve Madden blue/purple/silver sparkly – my something blue!
The suit and bridesmaids
Andy and his best men and ushers all had Mark Darcy suits, amazingly it only took us about 30 minutes and one shop to find them!! The girls dresses were from Asos – another sale bargain, I absolutely loved the colour and the dress and I actually kept a spare one for myself!
Theme or colour scheme
Not really, I knew I wanted the bridesmaids in orange but I didn't want a matchy matchy colour scheme, just all autumnal colours and that's what I asked for from the florist
Flowers 
I was quite relaxed about the flowers as I had complete faith in Claire (The Wilde Bunch) – all I said was that we wanted autumnal colours, and nothing very structured in terms of the bouquets. We provided all the jam jars for the table flowers and she allowed us to borrow some beautiful copper lanterns, hessian runners, led candles for free! The Tipis were just enhanced with her decorating the beams with greenery and fairy lights. I was so thrilled with mine and the girls bouquets, and my lovely bridesmaid dried my bouquet so I can keep it forever which is so special.
Decoration 
Well, apart from flowers, greenery, candles and fairy lights the Tipi's really didn't need anything else, but we really went for the festival style so hired some gorgeous festival flags for the front of the tipis and I hand painted some wooden direction signs with special places we had been – we still have them, I'm going to put them up in our garden!!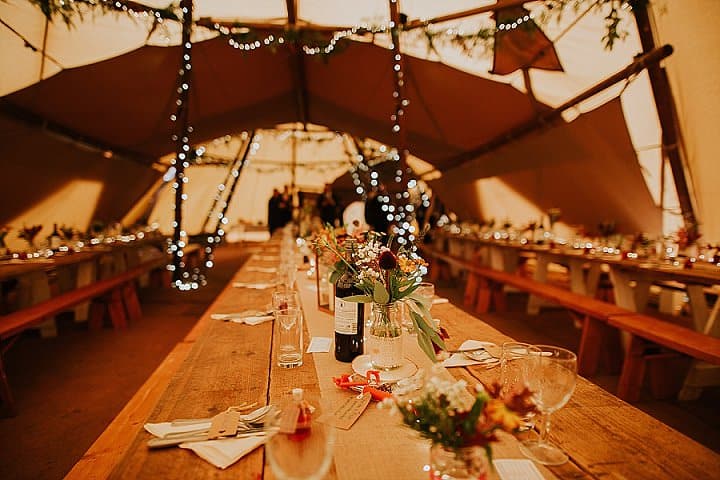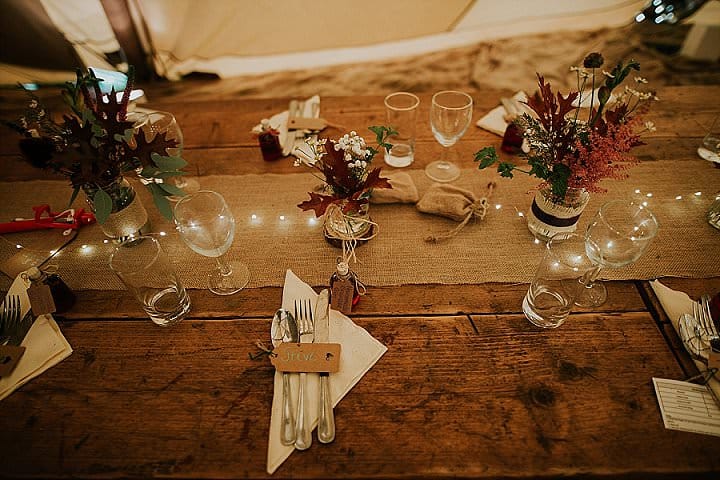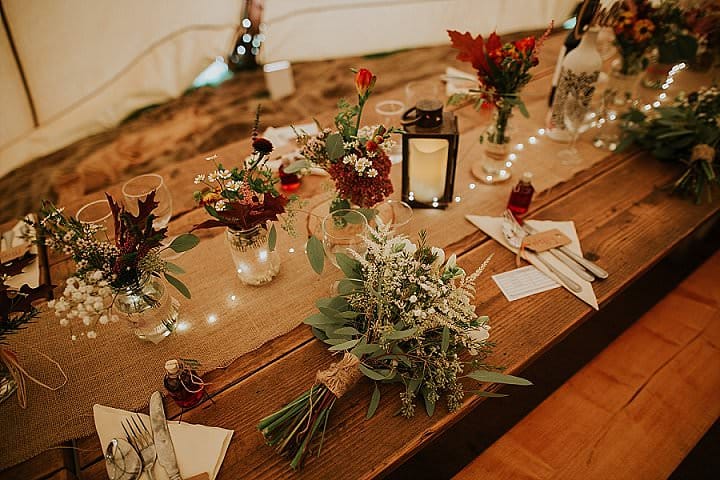 Food
We had some canapes – chicken curry in a poppadum, bangers and mash, quails egg and bacon and hummus and focaccia, then a buffet style hog roast and wedding cake and coffee. In the evening we had a cake of cheese and more wedding cake!
Wedding cake
My mum used to make wedding cakes and she came out of retirement to make ours – I think it was really special that she was able to make it for us. We just wanted a very simple naked sponge, 2 tiers were Victoria sponge and the middle tier was chocolate, decorated with fruit, and it tasted delicious!
Entertainment
We had The shuffles band who did an acoustic set for the afternoon drinks, an evening set and then a silent disco! I think the silent disco was a massive winner – everyone loved it!! We also had the fabulous Gemma Louise Williams who was my MUA and Hair lady who did a glitter station – essential!!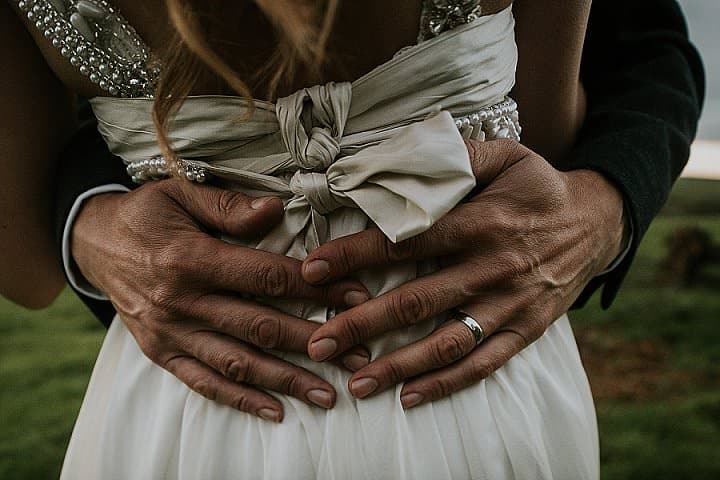 Who supplied the stationery?
I worked with Lisa Loves Design who was so patient with my millions of amendments! We designed ticket style evening and daytime invites, and then one of my very talented bridesmaids Gemma drew the artwork for the order of service.
Personal touches
Loads! It was pretty much DIY! We made the orders of service, the Gin favours and place settings, the seating plan, little welcome kits for all the accommodation at the farm (canvas lodges, log cabins and bell tents) We also had a big BBQ the next day for all our friends and family that stayed. As well as the gin we also had festival wristbands made which matched our ticket invites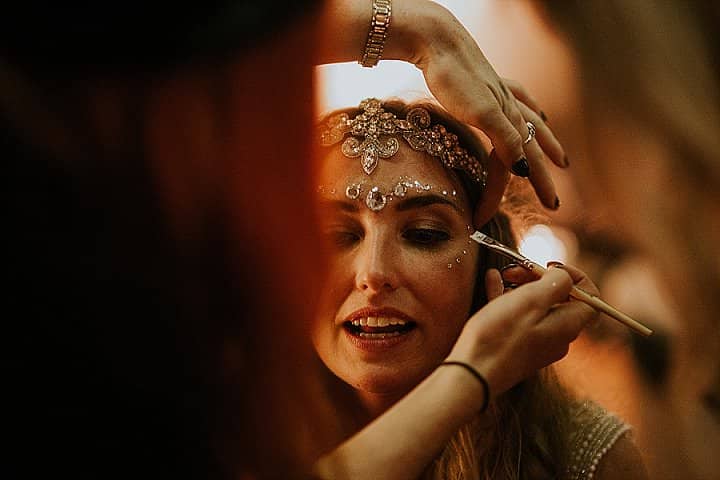 Special moments 
Walking into the church with my dad was really special, the speeches were definitely a highlight, and then just all the dancing and the silent disco!!
Advice for other couples
I know everyone says it but try to stop and enjoy the day. If you can stretch to it I'd definitely advise a on the day wedding planner, I think as we had done everything ourselves it was a bit more stressful, on the day Andy had a few issues with the generator and the Tipis that if we had had a planner would have definitely been less stressful!! I feel so sad still that its all over! If your photographer suggests a few golden hour shots – say YES!!! These are the greatest photos ever!!
Supplier Shout Outs
For more information on Lucy Turnbulll go to
www.lucyturnbull.co.uk / www.lucyturnbull.co.uk/blog / FACEBOOK / INSTAGRAM