This week I am taking you on a journey around the world as we visit some amazing wedding destinations, starting with today's destination wedding in Costa Rica. Arielle and Richard always knew they wanted a destination wedding and they decided on Costa Rica as they wanted their guests to have as much of an adventure as they did. The location is just gorgeous! What a stunning backdrop for any wedding. They filled their ceremony and reception with the most amazing blooms, elegant decoration and a glam 'Beach Chic' theme. Papaya Wedding were there to capture the day and what a wonderful job they did.
Our wedding day was nothing short of magical. We were surrounded by those we love and cherish most, and committed ourselves to on another in front of them and all of God's beauty.
Arielle and Richard were married on 18th October at Dreams Las Mareas Resort, Costa Rica. 'We knew we wanted to have a destination wedding and we wanted somewhere, we as well as our guests, would feel like it was an adventure and a new experience to start our marriage off with. We researched and visited several places, but ultimately the atmosphere, people, and views of Dreams stole our hearts. After that visit it was really a no brainer! We had 75 guests and it took a year to plan.'
How they met 
We are high school sweethearts! We have been together since circa 2009, 9 years of continuous adventures!
The proposal
Ricky proposed to me in Miami, FL on the roof of our sweet looking out over the ocean. We planned this spur of the moment trip with his sister and her husband and baby. Unfortualy last minute the baby got ill, so they couldn't make it. We then went to check into our hotel. What do you know we had a complimentary upgrade to the master suit?!? Um, yes please! I totally didn't think anything was up because. The room was AMAZING!  Huge, on the top floor with a complete panoramic view of the ocean. We went for Mexican food, then on jetskiis all around Miami, tried more delicious food, played in the ocean, and got cocktails on the beach. We then went back to our room bedore dinner, he got down on one knee and said all kinds of amazing things that I only remember because he recorded it and I got to watch it again. I was just in pure shock, not processing anything!! I said yes (obvi lol)! He then told me all about his plans and how Jess and Andy were never coming and Liam wasn't sick at all.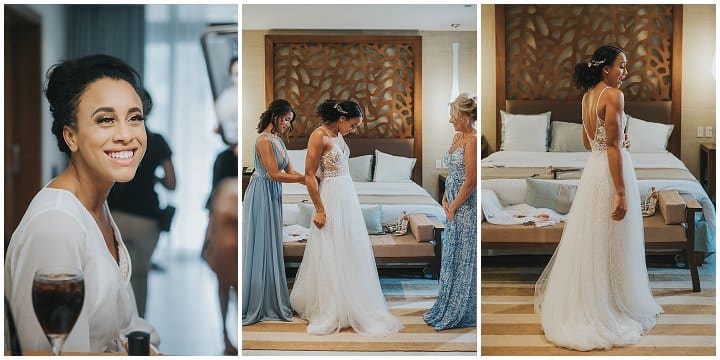 How did you allocate your budget?
We didn't really create a budget. We decided we would only do this once and explained our dream wedding. We named things we wouldn't compromise on and things we didn't really care much about and budgeted or decided on prices in that manner.
Where did you splurge and where did you save?
We saved on the little things. We didn't buy needless things that just take up space at the wedding or on the tables. We saved on programs and wedding menus by making and printing them ourselves.
How did you choose your photographer?
Lots of research and going through destination wedding photographer websites and reviews. Papaya Wedding Photography had great reviews, beautiful pictures, fast response times, willing to work with our schedule and add ons, and just seemed to be all around good people. I am SO glad we picked them because Maciej did an amazing job and went above and beyond our expectations.
The dress
My dress was by designer Gali Karten, the Hayley dress. My accessories were made by jewelry designer that I found on etsy, and my shoes were Steven Madden and Badgley Mischka.
The suit and bridesmaids
My husband had a custom suit made and my braids maids got their dresses from different places; Lulu's and a wedding boutique in Louisville.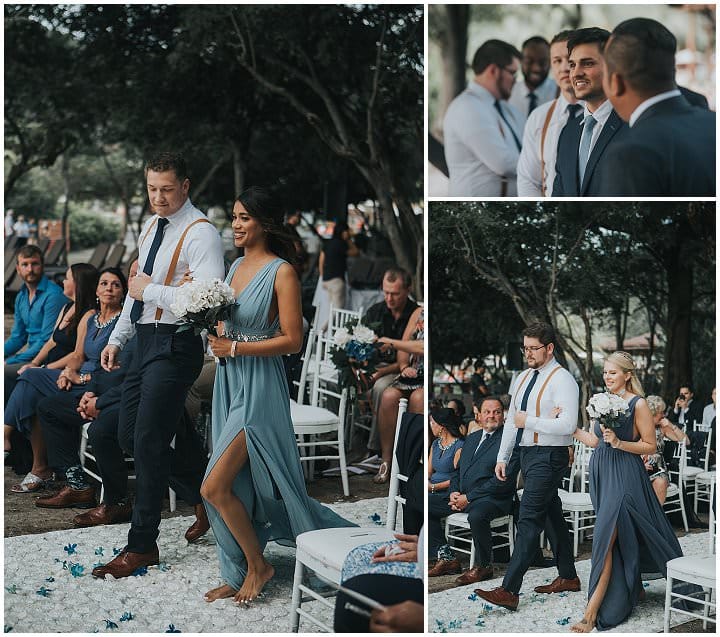 Theme or colour scheme
Navy, Rose Gold, and White. The theme was 'beach chic'.
Flowers
We had a wide assortment of flowers. The florist did amazing! I honestly don't know the names, I sent dozens of pictures with ideas and modifications and they chose and made my vision come to life.
Decoration
Lots of floral arrangements, streaming lights, tapestries, candelabras, arches, and more!
Food
Cocktail Apps: Filet in blue cheese sauce, mini taco dorados, and skewers of shrimp tempura with mango.
Dinner: Bruschetta with prosciutto, Caesar salad with blackened chicken, Surf & Turf filet mignon with shrimp in a gravy sauce and melted butter. Tiramisu.
Wedding cake
We had our large wedding cake to cut that was traditional white almond wedding cake and buttercream frosting. We also had three types of mini cakes for guest to choose from; Strawberry cake with buttercream, carrot with cream cheese frosting, and chocolate cake with a coffee buttercream filling and a buttercream top.
Entertainment
For the cocktail hour of the beach we had a live band that was absolutely amazing and did current and old songs. We then had a DJ at the reception hour.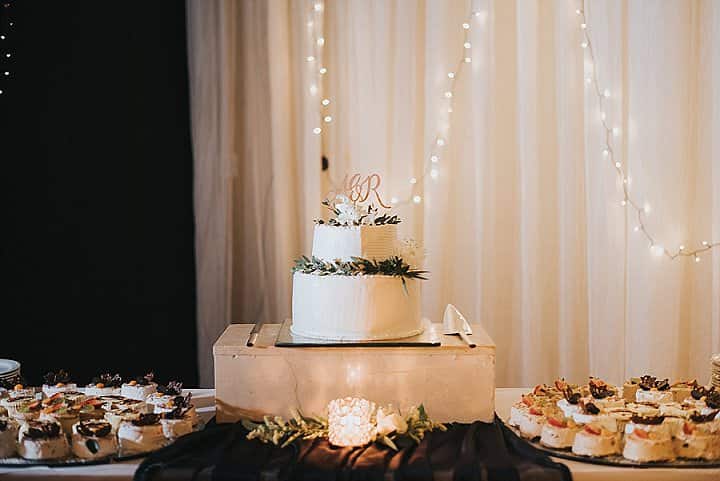 Who supplied the stationery?
I created and provided the stationary.
Personal touches
When each person would arrive to the resort they had a gift bag filled with things they may need while on the vacation. We also planned parties and events throughout the trip to get everyone together and enjoy having everyone in one place.
Special moments
The whole day was wonderful. Spending time with friends and family. Getting ready with everyone. Seeing my husband's face when he first saw me in my wedding dress. Being in Costa Rica with everyone I love. Getting to see how everything turned out and became a reality after months of planning.
Advice for other couples
Write down exactly what and how you want everything to go. What is involved and if anything needs to be provided or  planned for. Visualize the day and event and pay attention to the details, they make all the difference when the day finally comes.
Biggest surprise
How fast everything went. You spend so much time planning and thinking about the day and then it just goes by so fast. It makes all the planning worth it because you get to relax and just let everything fall into place.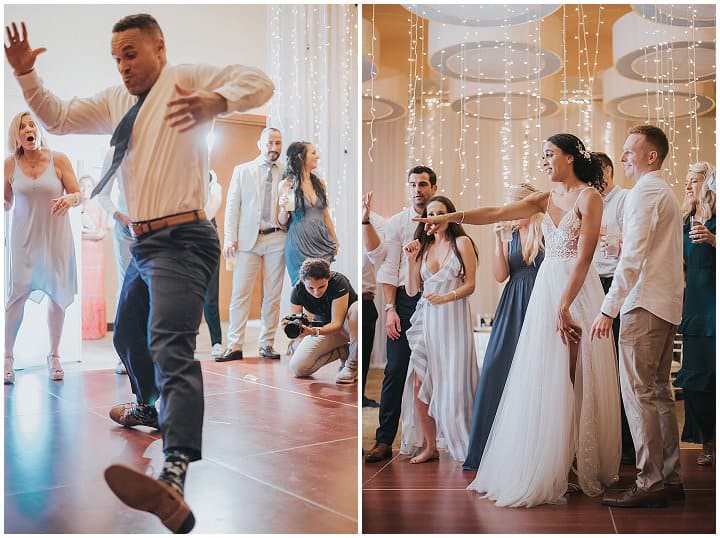 ARVE Error: Invalid URL https://vimeo.com/308112160 in url

Supplier Shout Outs
For more information on Papaya Wedding photography go to
 www.papayawedding.com / www.papayawedding.com/blog-costarica-wedding-photographer / [email protected] / +506 8448 1241 / FACEBOOK / INSTAGRAM / PINTEREST
About me: My name is Maciej, I started my adventure with photography 13 years ago and graduated from photography school in Krakow, Poland. In 2016, I moved to Costa Rica, where I work as a destination wedding photographer. My style, couples define as natural, unique with a dose of artistry – I try to catch the most wonderful moments of the wedding day using natural light. In most cases, after a few conversations before the wedding, we are friends with my clients, which allows us to work more freely during the wedding day. I have recently worked in Costa Rica, Guatemala, Panama, Jamaica, Poland. I am available all over the world.