Today I am taking you to Bristol for the gorgeous wedding of Amy and Dan. Amy and Dan met through the church, so it was very important that they had a traditional church ceremony with all 220 of their friends and family. This was followed by a super laid back tipi reception with views of Chew Valley lake. The whole wedding was helped along with many of their friends and family, all pitching into create bunting, the cake, stationery and so much of the decoration. Amy and Dan look gorgeous, I am totally in love with her Maggie Sottero what a stunning dress! Taylor-Hughes Photography were there to capture the day and I'm sure you will agree they did a wonderful job.
Completely joyful in every way. The best day of our lives, lived out alongside all our family and closest friends.
Amy and Dan were married on 25th August 2018 at Woodlands Church, Bristol, with the reception in tipis overlooking Chew Valley Lake. 'Amy and I met at Woodlands Church in our first week as students studying in Bristol in 2014. I saw her across the crowded room and was immediately drawn to her. I later found out she felt the same thing! We ended up dating after meeting properly on a weekend away with other students from the church, and we have a really strong community of friends around us there. As she is from Plymouth and I am from Sheffield, it also made sense to get married somewhere in the middle to make it easy for as many people as possible to come. Bristol has been home to us for several years, so it felt really natural to get married here. We had 220 guests to the ceremony, 120 to the wedding breakfast, 200 to the evening reception. I proposed on the 16th December 2017, and we were married by late August next year. In reality, we didn't really start planning much until well into 2018, so we ended up doing the whole thing in around 6-7 months.'
How they met
We met in 2014 when we were both studying in Bristol. I was at the University reading History whilst Amy was doing a performing arts internship. Across a crowded room of students at our church I spotted her and straight away knew I wanted to get to know her. That moment someone grabbed my arm and led me over to introduce me, and we went from there. She told me later that she had already seen me when I came in and really wanted to speak to me too – clearly it was meant to be. We officially started going out after a couple of months of dating in March 2015, and were together two and a half years before I proposed.
The proposal
I had been scouting rings online for a while, and I had a conversation with her best friend to make sure I was on the right track. I then had a wonderful conversation with her dad, Andrew (who sadly passed away whilst we were engaged), and asked for his blessing on our engagement. I suggesting that it might be nice to go and watch the sunset one evening over the weekend. I collected the ring I had made from a local jewellers, and stashed it in my pocket as we wandered up to the Clifton Suspension Bridge, the place we'd gone to on our first date. The night before, I'd gone up to the viewpoint with Amy's best friend, Allie, and done up a bench with fairy lights overlooking the view. As we walked up and took in the view from the bench, Allie was hiding and taking a few pictures. I waited for what seemed like forever for us to be alone and then I got on one knee and asked her to marry me.
How did you allocate your budget?
We were very blessed to have support from both sets of parents to pay for the wedding, so we knew in advance how much money we would have to spend. We apportioned money out first for the things we knew would be the most important to us like venue and photographers, whilst waiting to see how much we might have left to spend on decorations or food.
Where did you splurge and where did you save?
Our venue took up almost half of our budget, and we had both photographers and videographers capturing our day. We had a real vision for what we wanted the day to be like, and we really wanted to have amazing mementoes from it which we could look back on so both of these were particularly important. We were able to save in other areas, like making our own cake, and decorating our tipi venue ourselves. We had an army of friends and family putting up fairy lights, bunting and flowers the day before!
How did you choose your photographer?
Some close friends got married the summer before and Amy had done the bride's hair. She got on really well with the couple doing the photography and we both loved their style. When we looked around for options for our own wedding, we realised that they were both within our budget and would be able to perfectly tell our story how we wanted with their photos.
Th dress 
The dress, Amy tells me, was by Maggie Sottero. She wore earrings that my (Dan's) mum wore when my parents were married and a necklace that was an engagement gift from my grandmother. Her shoes were from ASOS.
The suit and bridesmaids
The groomsmen and I wore dark blue Cavani suits and grey tweed waistcoats which were bought from and independent suit shop in Bristol, Clifton Suits. The bridesmaids dresses were from an Etsy seller – NettyDDesigns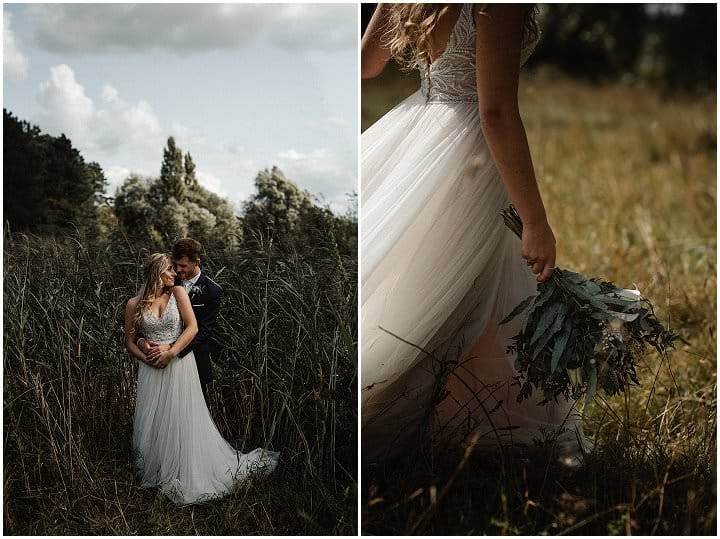 Theme or colour scheme
We weren't massively precious about our colour and design scheme, but everything was largely quite rustic and boho-y. The colours of the bridesmaids' dresses and groomsmens' ties were a pale teal, and there was a big focus on greenery and muted tones in the flowers and floral decorations at the venue.
Flowers
Amy's bouquet was lilies, gypsophila, peonies and eucalyptus. The bridesmaids had gypsophila in their hair and the button-holes were also gypsophila. The table flowers were an assortment of leaves and wildflowers and branches bought that morning from the local flower market.
Decoration 
Anything and everything! Everything was within our loosely boho style and in keeping with the countryside woodland environment of the reception. We cut down ivy to wrap around tent poles and decorate the tables. My (Dan's) mum made bunting and we had fairy lights EVERYWHERE. Amy's brother made us a wooden wall which we hung 140 donuts off for our guests to enjoy, and there was a huge open fire pit inside the tipis. The church was decorated with foliage collected from the reception venue and strung between pillars within the building and there were giant banners with ivy and bible verses hanging from the ceiling.
Food
We had a full homemade afternoon tea, complete with masses of fresh sandwiches, quiches, cake, scones with jam and cream, welsh cakes and macaroons. Our caterers were incredible!
Wedding cake
Amy and her housemate made the wedding cake – a three tiered lemon drizzle cake, decorated with icing sugar and fresh fruit, with mini bunting all around it.
Entertainment
We have a lot of very talented friends who we were able to call on for entertainment. During the afternoon one of Amy's friends from performing arts college and her boyfriend, also a talented musician, performed a chilled acoustic guitar-type set. In the evening my housemate, a professional musician, put together a live band for us and they played an epic set of classics, hits, and all kinds of floor fillers for us to dance to.
Who supplied the stationery?
Another of my housemates makes stationary and prints, and she designed beautiful invites, orders of service and table plans for us.
Personal touches
We did a lot of the decoration ourselves, with help from our friends and family. The amount of things we or our friends did meant that the whole day felt incredibly personal to us, and only helped us to enjoy the day more.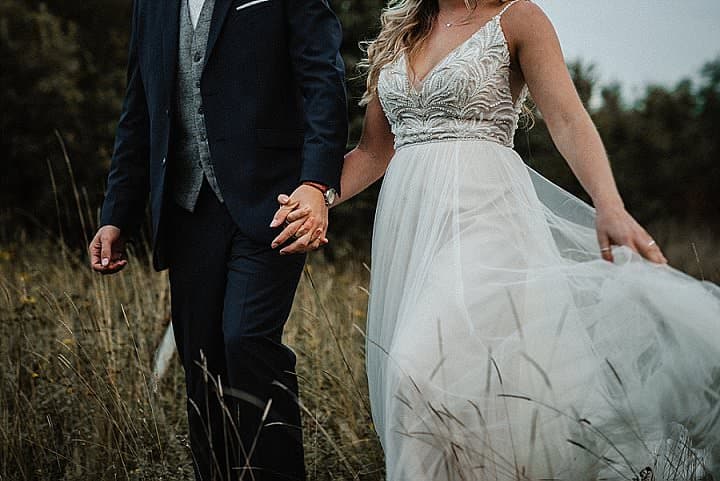 Special moments 
We both just loved being surrounded by so many people that we loved. For both of us, the service itself was a particular highlight – an incredibly joyful ceremony that enabled us to share our relationship and our Christian faith with everyone around us. Lots of people came up to us and said how much they enjoyed the service in particular.
Advice for other couples
For us it was so key that we were able to enjoy the day and feel comfortable in it. We didn't want to be worrying about anything on the day, so we didn't! Even if tiny things didn't quite go according to plan, we were still getting married and celebrating alongside everyone we loved. So my advice would be to take a step back on the day and look with that perspective on everything – it's the best day of your life so far, so let yourself enjoy it!
Biggest surprise 
We both weren't quite ready for how tiring the day would be! There was so much to do, see and enjoy that we were both exhausted after the meal. Thankfully a couple of hours dancing with all our friends helped to wake us up!
Supplier Shout Outs
For more inforrmation on Taylor Hughes Photography go to
www.taylorhughesphotography.com / www.taylorhughesphotography.com/blog / [email protected] / FACEBOOK / INSTAGRAM / PINTEREST
We are Jack and Jade, a husband and wife team based in the quirky city of Bristol, UK. Our approach to wedding photography is relaxed, photojournalistic and discreet. We like to keep the posing to a minimum and rather focus on memorable moments as the day unfolds naturally. We LOVE working with couples who share our adventurous spirit and get giddy at the thought of creating something truly special that will last a lifetime.