Happy Monday everyone, here we are again! I hope you had a great weekend and that you managed to keep warm and safe from the snow? How was your weekend? We are kicking off the week with this super gorgeous wedding from Rose & Rainbow Photography. It's the wedding of Terri and Scott who chose a barefoot wedding in the beautiful Hertfordshire countryside. With an outdoor ceremony, followed by a tipi reception, this wedding is filled with bohemian goodness, a super chilled out vibe and this totally adorable couple. They were helped along by lots of their friends and family, who really pitched in and pulled the whole wedding together. I just love this wedding, it's super laid back and filled with whimsical, boho style.
Our wedding day was a celebration and a collaboration of not only Scott and I, but of those we love. It was a small, simple, barefoot wedding with fancy china, Indian food, and organic cider, ending with a bonfire under the full moon.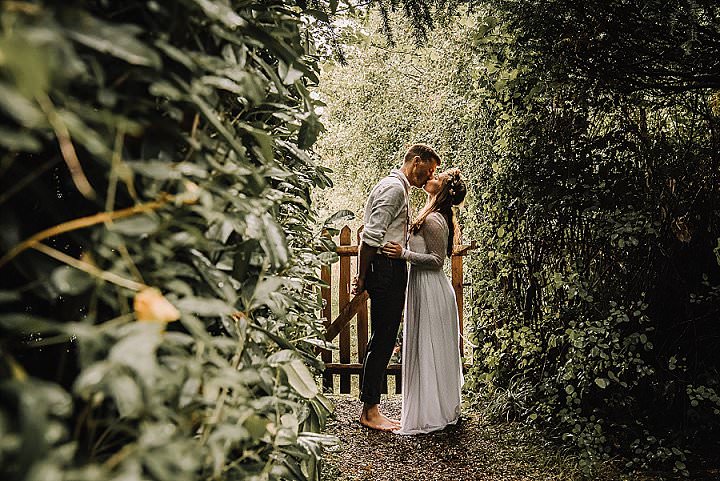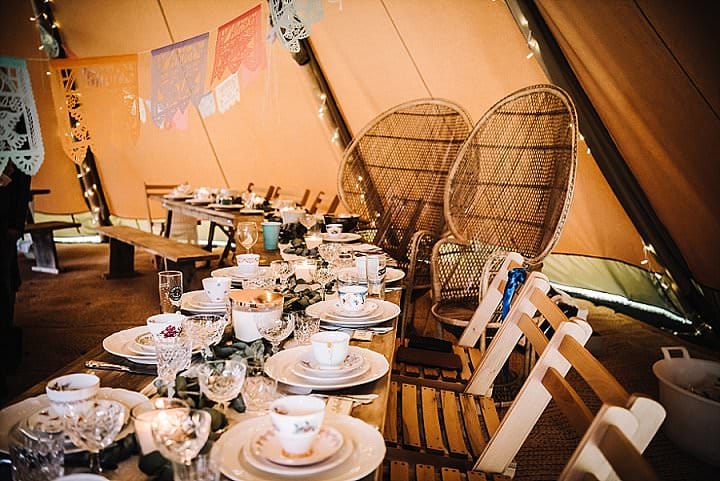 Terri and Scott were married on 24th August 2018 at Blackway House Ledbury in Herefordshire. 'We decided to get married near Hereford as Scott and his family are from there. We wanted a simple, natural, location that would host a small group of family and loved ones. Scott and I knew we wanted to be married outside. We didn't want servers and other workers on hand. We wanted an intimate, outdoor location. We had 45 guests, I started searching for a photographer first, which was about 9 months before the wedding. After booking Samantha with Rose & Rainbow photography I found the location for the wedding. Although this was 9 months before the wedding, after this I didn't do much planning till around 6-4 months before our date.'
How they met 
Scott and I met in Cancun Mexico in line for a bar called Senor Frogs. We met in 2007, I was 17 and Scott was 19. Even at a young age I knew I wanted to be with him. We kept in contact via email. Six months after we met, I flew to England to spend some time with him in his hometown. When I turned 19 I decided to study abroad in Brighton and that's when we officially started dating. We have been together for 10 years.
The proposal
Scott was in Arizona for a Fascia Stretch Therapy course. I flew down to meet him for a week away. We rented a car and drove to Sedona. Scott and I hiked the beautiful area of Sedona, climbing to a peak to rest. He asked me to marry him there on a cliff side. It was intimate and beautiful as we were alone with breathtaking scenery.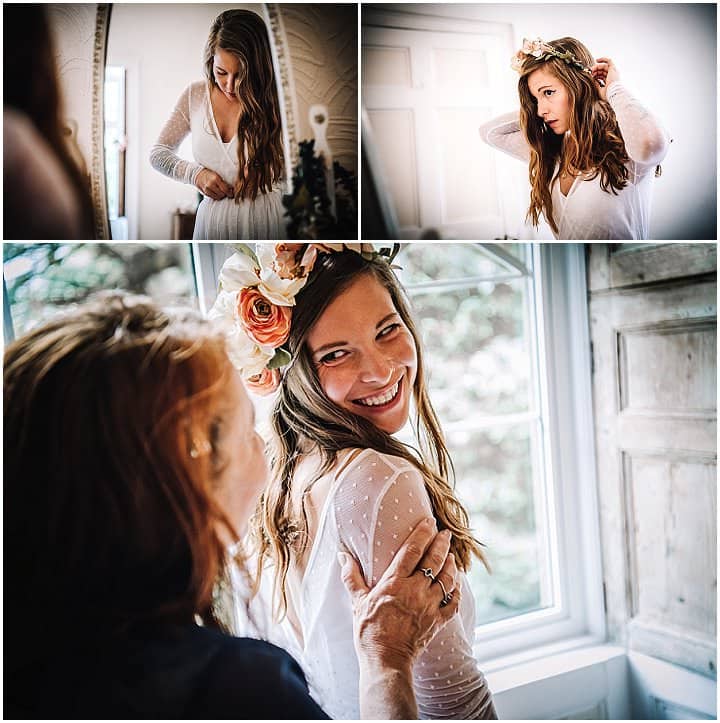 How did you allocate your budget?
The priority was to get married! We didn't want to spend tons of money, so I DIYed most of the wedding with help from friends and family. We allocated most of our budget to the location (which was also where we were staying with the wedding party), the photographer, and the tent. In total we spent around $9000.00 USD.
Where did you splurge and where did you save?
We splurged on the photographer, the Tipi tent, the location, and the vintage china. We saved on the flowers, which we did ourselves. The decorations were bought and put up my myself and friends. My bridesmaids and I had flower crowns we made ourselves. Our friends and family really came together for us. We did a BYOB wedding, asking guests to bring their own booze. Friends ended up buying kegs, local Cider, and Scott's father made close to 100 bottles of wine. The arbor we were married under was made by our friend. We catered Indian food from Scott and my favorite family owned Indian restaurant in Hereford. It was affordable and also the first Indian we ever had together, which made it special.
How did you choose your photographer?
I was searching online and found Sam (owner of Rose & Rainbow Photography). I was looking for a specific style, and her photos were beautiful. Her photos were action shots. I wanted someone to catch the moments in our wedding, not poses. She set up a Facetime with me, and I knew she was perfect for our wedding. Samantha was like a friend. We talked for about an hour. She was not only friendly, but funny and laid back.
Dress
Scott and I had a barefoot wedding, so no shoes! I wore a gold necklace my mother gave me when I was 16, a flower crown I made, and crystal earrings I purchased off etsy. My dress was from Barzelai, a shop on etsy based in in Israel.
The suit and bridesmaids
Scott purchased his tweed pants from a small shop in Hereford called Bill Child Formal Wear. His bow tie was from a shop on etsy. All the guy's shirts were from Amazon. They all had suspenders Scott purchased from etsy. Each one had a picture of Scott's face embroidered on the back, except his which had a lilly for his Mom who passed. The bridesmaids wore their own dresses. I didn't care what they wore as long as it was blue. I wanted everyone to feel comfortable and sexy. I also wanted them to buy something they would wear again.
Theme or colour scheme
Our color was light blue.
Flowers 
I purchased eucalyptus and austin garden roses to make the bouquet. We also used eucalyptus on the tables.
Decoration 
The tipi tent came with tea lights. Each table had hand dyed cheese cloth from Etsy, candles from TK Max, and eucalyptus around the candles. The Tipi had a banner from etsy. It was a Mexican style banner with the word amor stencilled on colorful paper.
Food
Appetizers were from a local Butchers in Hereford. There was a variety of meat pies and sausage rolls. We also purchased crisps and apples as quick snacks. There were flapjacks from the local and Organic shop called Fodder.
Indian food from Jalsagor in Hereford. We had Chicken Tikka Masala, Chicken Madras, and a Vegetarian Curry. There was a variety of naan bread and some other sides.
Wedding cake
We purchased our cake from a good friend of ours Jade. She has her own cake making business in Ledbury called Jade's Humble Bakes.
Entertainment
Our friend Tom brought his speakers, and Nate made the playlists for the night.
Who supplied the stationery?
Scott and I sent out invites via email. I made the thank you cards.
Personal touches
If I could do it myself, I did. I have some pretty creative friends who helped out a lot. Three of my bridesmaids and myself made the flower crowns. Gina made the seating chart, place cards, and signs. We made the buoques and set the tables. Tom made the arbor. My father in law made the wine.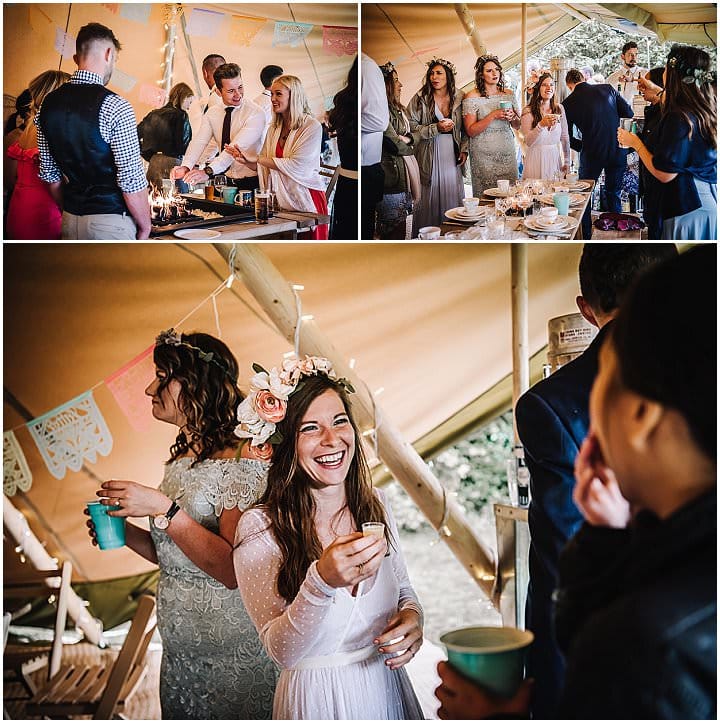 Special moments
The overall special moment was waiting to walk down the alle. I was filled with this intense joyous energy watching my friends walk down the alle before me. They were all so beautiful. I felt all the love from their presence and support of Scott and I. From this point till Scott and I walked down the alle together I felt high from this feeling of joy and gratitude.
At the end of the night we had a bonfire. It was warm and calm. We ended the night looking at the moon and stars with our closest friends.
Advice for other couples
Plan your wedding with what's best for you and your partner. This is such a special day which should be a celebration of your love and those who support your partnership. So don't get to caught up in what other people want because in the end that won't bring you joy. Plus, those who truly love you will support your choices and share in your joy.
Relax and have fun.
Biggest surprise 
There weren't really any surprises. It was perfect. It went so smoothly. I truly enjoyed myself.
Supplier Shout Outs
For more information on Rose and Rainbow Photography go to
www.roseandrainbowphotography.com / [email protected] / 07815125485 / FACEBOOK / INSTAGRAM / TWITTER
Samantha strives to make a beautiful and concise account of the special day for her clients. Favouring a reportage style, Samantha captures the 'real' moments from your wedding day whilst still being able to add the group shots and posed shots which are essential for your collection of wedding images. Samantha's editing style and love for earthy tones really suit the look of a Boho wedding.