Well hello Monday! And a BIG welcome back to the blog. I know the New Year started last week, but if you were like me, you may have taken a few extra days off and are starting your first day back at work today! I have a mountain of work to get through, but I'm so excited to be back in the office and ready to start on some amazing blog posts and put together plans for some exciting new projects in 2019. Starting with this super stylish rustic wedding from Rachel Joyce. Emma and Marc chose the Stanley House Hotel and Spa, as it has lots of rustic styling. It suited their personal style perfectly, whilst hitting the high standards that they were looking for in a wedding venue. I just adore Emma's Anna Campbell gown, it's an absolute beauty, along with the rustic styling and gorgeous choice of plants and flowers across the whole day.
A rollercoaster of emotions. The best day of our lives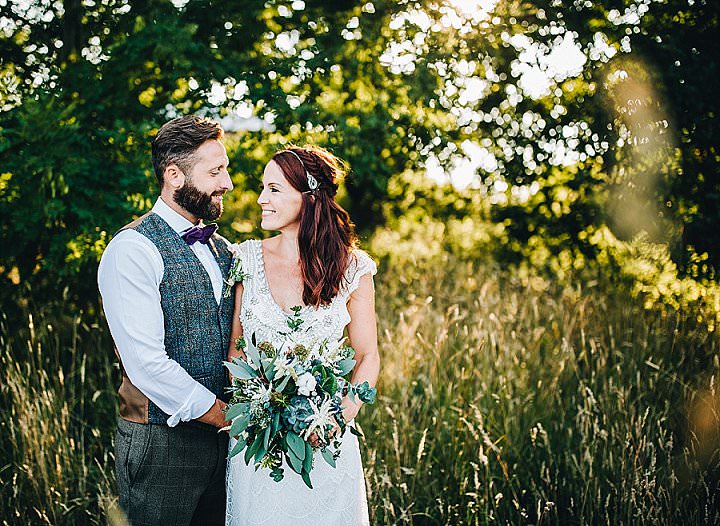 Emma and Marc were married on 6th July 2018 at Stanley House Hotel and Spa, Mellor Clitheroe. 'When we viewed the house/ Spa it felt like home. The style and decor was similar to our own taste. Although there is a very relaxed atmosphere at Stanley House the standards are very high and we had heard really good things about the food, service etc. We had 60 day guests and an additional 30 evening guests. It took 10 months to plan but 11 years really as I already had everything planned in my mind… after the proposal I just needed to make them all happen.'
How they met 
We met in a pub near our parents home. I noticed Marc at the bar and liked his style and coochie bum. My friend told him, he bought me a drink and the rest is history. We have been together almost 12 years.
The propsal
We were on a family camping holiday in Cornwall. On our first full day we headed to our favourite beach 'Lusty Glaze'. We had spent many years previously at this beach with our families and all our children. We had also watched many weddings on this beach. Marc followed me and our daughter as we walked to the sea for a paddle, my sister-in-law followed and took our daughter off me… at this point Marc got down on his knee and started to propose. I couldn't even look at him, I covered my eyes in embarrassment and to stop me from crying. I could hear everyone on the beach gasping and making lovely comments like ' aww that man is proposing' and someone shouted 'SAY YES'…It was like a scene from a film and I felt so special. Marc gave me the ring and in finally looked at him and said yes!
How did you allocate the budget
We didn't really have one. As we had waited so long to get engaged and married we felt that if we really wanted something then we were going to try and fulfil our dream wedding wishes. Fortunately we managed not to use credit cards or end up with any debt. We worked hard and saved hard and achieve everything that we set out to achieve.
Where did you splurge and where did you save?
Main splurges were: My wedding dress and shoes, Grooms men suits, The Hotel, Food and drinks, Honeymoon
Saves were: The cake- Local cake shop, Favours- I made most of them
Photographer
Rachel Joyce – AMAZING
The dress 
Dress- second hand Anna Campbell – I had found the dress after many years dreaming about it but it was $4500 from Australia. I searched for something similar but nothing compared. I went on a preloved bridal website and found the dress in Kirkham. A lovely lady sold it to me for £1200. I had it altered by an amazing seamstress and loved every part of it.
Shoes- Again, I had a vision of my shoes and couldn't find them… I came across some on a website and they were by a designer, Charlotte Mills. Marc got me these as a Christmas present.
Accessories were from Etsy- Cuff, Debenhams- Hairpiece and earrings
Suit and bridesmaids
Suits were from slaters in Manchester
Bridesmaid dresses were from ASOS. The 3 main bridesmaids chose their own dresses that suited their figures, colouring. I just specified that they should be a shade of green. The flower girls were a mixture of lace pinafores (designer at Next) and lavender fairy dresses (American company online).
Theme or colour scheme
Lavender, wheat and sage were the main colours. Boho theme with a real emphasis on homemade personal touches. We really wanted everyone to see 'US' in the wedding day. Rustic and natural were key words when styling the whole day.
Flowers
We decided against traditional flowers as we generally don't have flowering plants at home. Instead we went with succulents and cactus. To add some colour and texture there were also herbs such as sage, thyme and lavender too. I love cotton so we had a lot of cotton flowers and ivy. I wanted the flower girls to have an individual gerbera which resembles a cabbage. They also had fresh flower head bands.
Decorations
The room was initially decorated by Stanley House but creative cover higher provided the chairs with the lint sash that we chose to have tied diagonally over the back of the chair. They also provided a white carpet for the aisle and petals for the flower girls to drop.
We had flowers, candles, tealights and jars, logs, bottles with flowers etc, provided by the flower shop in clitheroe.
The top table had 2 large wooden planters that we had filled with the specified flowers, cactus, succulents and herbs. The table was dress with lace and fabric. Each table had the favours/place names that we had made to add to the overall centre piece.
Food
Canopes for guests- Chorizo bread, salmon and cream cheese cracker, mini samosa.
Wedding breakfast was (amazing)
Butternut squash soup with chilli oil, Chicken breast with buttered mash, truffle oil and baby carrots, White chocolate cheesecake with raspberry sorbet and mango sauce.
In the evening we had warm balms with Turkey and stuffing, goats cheese and fig  or beef. Spicey wedges and new potatoes.
Wedding Cake
Made by sparkles in New Moston. It was a semi naked cake with 3 layers. Lemon, baileys, blackcurrant. It was dressed with fresh flowers to compliment the bouquets, flower pins and table flowers.
Entertainment
DFC- Dance floor couture- amazing, so personal and friendly and nailed every song choice.
Stationary
Ordered our invitations on line but everything else we made.
Personal touches
I made a lot of the personal touches myself:
Hand chosen jars with succulents and cactus for favours and place names with hand made name cards. These were place on a second hand bought ladder that was wrapped with fairy lights.
Tassle buntin- handmade using lace, muslin, hessian, ribbon etc.
Macroons individually wrapped and tagged with a message and stamped date.
Shot- each guest had a shot of cream liqueur (43) and the children had a milkshake.
Special moments
As the weather was so nice the DJ had suggested that we do the first dance outside as all the guests were happily enjoying the sunshine in the courtyard at Stanley House. He brought his decks to the door and we did our first dance to songbird by Eva Cassidy under a bright blue sky with all of our friends and family looking so happy. The next song that he played was 'we are family'… if there had been a roof it would have been blown off, the atmosphere was unreal.
Advice for other couples
Enjoy every minute. Don't try to please people. Make sure the DJ is the best.
Supplier Shout Outs
FOR MORE INFORMATION ON RACHEL'S WORK GO TO:
www.racheljoycephotography.co.uk / [email protected] / 07807 112608 / FACEBOOK / INSTAGRAM / PINTEREST
I'm a natural wedding photographer based in the North West. I love working with relaxed couples who just want the story of their wedding day told (along with a few cracking pictures of the two of them thrown in for good measure.)