Happy Friday everyone! As we reach the end of the first week in January, it feels like the week has only just begun. Next week, we will all be back to normal: school run, diet and the count down to summer begins (well in my house anyway!) Today I am whisking you away to South Africa for this super stylish, rustic, laid back wedding with nature loving couple Kayleigh and Brendon. Kayleigh is wearing one of my favourite designers Rue de Seine, who's gowns are all exquisite and perfect for the Boho bride. The whole wedding oozes Boho appeal, from the rustic looking cake, to the table plan, the jaw dropping portrait shots to the fun-filled party! Big thanks to Lauren Oliver for the amazing images.
Kayleigh and Brendon were married on 14th April 2018 at Umtamvuna River Lodge, Port Edward in South Africa. 'We both love nature, the outdoors and of course being home in South Africa. I had to fly home for family reasons, I had this one chance to get as much of the main tasks done because I knew it would be 10 months before I was home again! We originally thought of a Game Reserve as a venue, we had skyped, face timed and went over venue ideas, but it wasn't until I drove up to Umtamvuna River Lodge, that I just knew it was the one. Getting married in a nature reserve, covered by palm trees, rock cliffs and next to a river with a beach round the corner?! I mean it was a dream come true. All those natural beautiful elements combined! We had 95 guests and it took just over a year to plan.'
How they met
We actually dated when we were younger, like in our teens! I broke his heart, he rolled his VW beetle because of our break up (get the violins out, it was all in the speech) He basically didn't talk to me for many years, that is until I came home on holiday. I was currently living in London at the time. I was out with friends and one of them told me "oh look, Brendon is here". I had a bit to drink, I basically ran over and we just started chatting, couldn't believe he was actually talking to me again. We had a good catch up, gave him my number and apparently I told him to call me, which he did, the next day! Things were complicated, I was living in London. But we kept in contact, and we just knew either I had to move home or he had to come over. After flying back and forth, a year later, he moved over to London.
The proposal
Well I always wanted it to be surprise, and I am so nosey that I thought he would have had a tough job! Well I never suspected a thing, especially when it's on Valentine 's Day, a day we don't even celebrate and I was flying out the next day to go home for a couple of months to be with family.
I got home, flowers and wine were at the ready and waiting for me, he knew I was flying back to SA, so he must be taking me out for Valentines! Cute. Well, as I got out the shower and walked to the bedroom, our bed was full of roses and he was standing there shaking like a leaf, reading the lyrics to the Cat Stevens song, Hard Headed Women. I was confused at first and then I just knew what was coming! The fact he asked me to be his Hard Headed Women, and not his wife, kind of sealed the deal!
How did you allocate your budget?
Budget what budget? Whoever thought of putting me in charge of the budget was just crazy, I look at my spreadsheet now and it was a mess from the get go! But no one knows that, until now that is. Music, food and Venue are important, if they work together you will have no doubt an amazing wedding. Doesn't mean spending the earth either. Be practical!
Where did you splurge and where did you save?
The dress, definitely the dress was a splurge, from wanting to go basic to then getting an Arvil made by the legends at Ru de Seine! She is still upstairs, tucked away neatly, we cannot part ways. We saved on the décor I would say, because we had chosen a venue that had its own gorgeous back drop, we didn't have to splurge too much on flowers, décor etc, guess I didn't really need gold cutlery but they were nice touch!!
How did you choose your photographer?
Whilst looking for a venue, I came across Laurens work from a wedding she had previously done at Umtamvuna, I loved how she captured everyone naturally, I was super excited and she didn't disappoint of course!!
The dress
Dress, Avril by Rue de Seine, shoes by Forever Soles, Australian, just love them and so comfy!
The suit and bridesmaids
 Suit Jacket was by Next, trousers by Massimo Dutti and the tie by a local (South African) company called HIS Apparel. The bridesmaids were interesting, they were scattered all over, UK/SA & NZ…  On the day I was told ever so gently that the material for the skirts were not the same….Materials were different and the design different, but it made it unique just like them.. They all looked so beautiful and was so special to have them all together!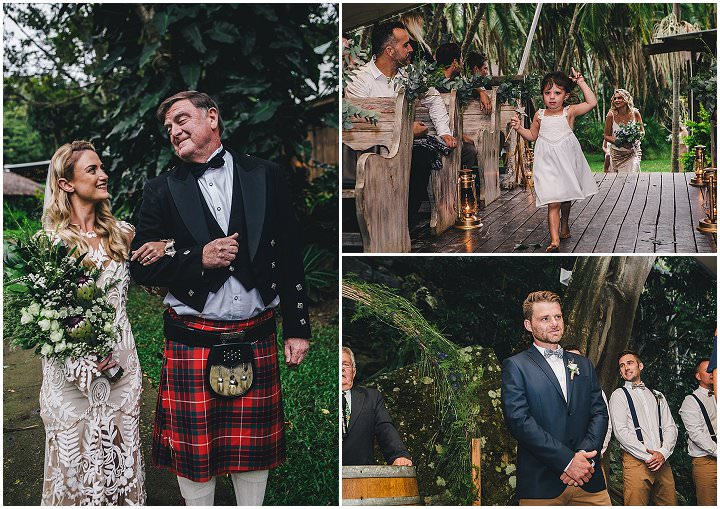 Theme or colour scheme?
Rustic Gold with a Scottish/African twist? We basically said we wanted a really relaxed set up, we love camping and love being outdoors, so the venue and the little touches really represented us and what we love.
Flowers
I originally wanted the big white King proteas but they were out of season, and I wasn't going to force the idea, so the girls came up with a magical combination of proteas, white blushing bride, lissianthus, brunia, chinqs, pennygumm and assorted natural greenery… 
Decoration
I didn't want too much décor as the venue had such a natural beautiful back drop, so just adding the bits of gold and blue stuck out against the green, which looked beautiful. Having the little bronze lanterns, Shwe Shwe napkins and our enamel mugs to drink our wine out of were my favourite!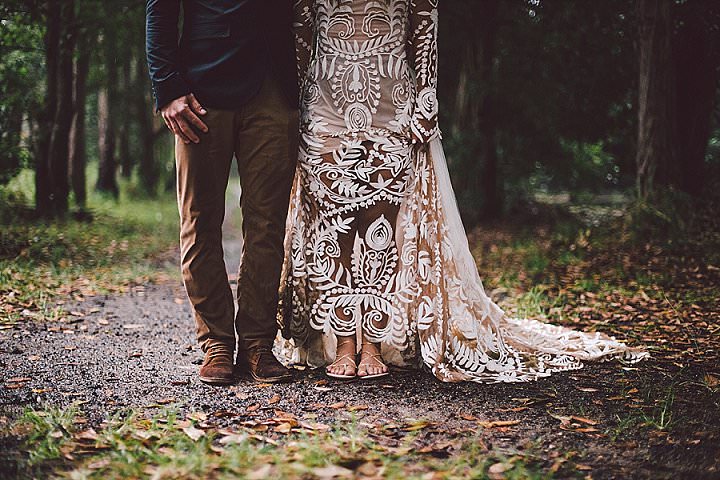 Food
Gosh I am still drooling! When we thought of food, we always joked we would have curry at our wedding, Durban curry that is, but then after a lot of debates and discussing with family and friends (not always the best idea, everyone has their views) we decided to go for it! It is our day after all, so we went for it and it was a hit!
Wedding cake
That was easy, coffee and chocolate, my choice of coffee and Brendon's choice of Chocolate. I wanted a rustic look but with a Scottish twist, and the girls did such an awesome job, better than what I imagined.
Entertainment
My guests were the entertainment! Honestly, it was such a close knit group of friends and family, it was a reunion for us all, we wouldn't of had time for entertainment! Having a great DJ, who carried on until 3am, we didn't realise the time! We had a VW Van that was our photobooth, such a great idea, extra pics of the night, even if there are a few bum pics that made it through, oh yes…!
Who supplied the stationery?
Dear June did all the stationary and names boards, they did such an amazing job!
Personal touches
One of my bridesmaids made me an essential oil rollerball for me as we don't use perfumes and just love our essential oils! Was such a beautiful blend of sandalwood, geranium and Frankincense. We also used my mums lounge carpet for our carpet to get married on. Something we can keep and remember we got married on that carpet!
Special moments
K: Walking down the aisle with my dad, he likes to say he wasn't nervous but he was full of emotions, having photo's done with my mum and just seeing the excitement, and of course finally getting to the end of the aisle to Brendon! But I must say the rain too, it created such a dramatic creative shoot and it actually was funny,
B: For me, seeing Kayleigh walking down the aisle was a huge highlight, it made me quite emotional as I realised how lucky I was to be marrying her. Another highlight was seeing all the little aspects of our wedding and Kay's planning coming together. There were so many times I could see her personality shining through in what she had planned. The speeches were also a definite highlight, with every one of them being heartfelt and really meant a lot to me.
Advice for other couples
Have fun planning the wedding, don't stress too much, the day is going to be fine no matter what! The most important thing is you marrying the love of your life! Remember, it's both your day, don't go with what's in fashion, or try move heaven and earth to have something that won't be practical, it will only cause you more stress. Have some cake saved for you, wish we had some saved for us! You just don't get round to it. So if you want curry at your wedding have it!
Supplier Shout Outs 
For more information on Lauren Oliver's work go to
www.laurenoliver.co.za / www.laurenoliver.co.za/blog / FACEBOOK / INSTAGRAM
Due to an email issue if you have emailed me between the 2nd & 9th of December, please resend it.
X