Happy Tuesday, everyone! With only one week to go before the big day, I am SO excited for Christmas. What about you? Can you believe this time next week, it will be Christmas day!! To celebrate all things Christmas for the rest of the week, I will be sharing Christmas-inspired weddings with you. We are starting off with the gorgeous rustic Australian wedding of Natasha and Simon, sent in by Giant Invitations and photographed by Rick Liston. Natasha and Simon were married on 21st April 2018 at Projekt 3488 in Victoria, Australia with 80 guests. Although their wedding was in April, I really feel it has a fantastic Christmasy feel to it. I think it is the dark tones of the reception venue mixed with the gorgeous lighting and the red and green flowers and foliage. The wedding had a relaxed, elegant and rustic aesthetic. The ceremony had a beautiful mountain view, and their wedding bands were made by the bride and groom at a jewellery workshop. A gorgeous wedding from start to finish.
How they met 
We have been together for around 4 and a half years. We fell in love on the ski slopes at Mt Buller, VIC and haven't looked back since. We have endured more than most in our time together including a long-distance relationship, starting a new business from scratch (Yarra Linen), purchasing a vacant property and owner building a house together. In amongst all that we got engaged and planned our wedding.
The propsal
It was a Friday night and I was in a hurry to finish up my work week and get to our property. Simon had kindly offered to pick up some vegetables from the shops, to my unbeknown he had placed signs up in our chestnut orchard and when I arrived home suggested we go for a walk together and a glass of wine to relax after a busy week. As we approached the front of property in front of the signs, he got down on one knee and proposed. I can happily say I said yes through all the tears.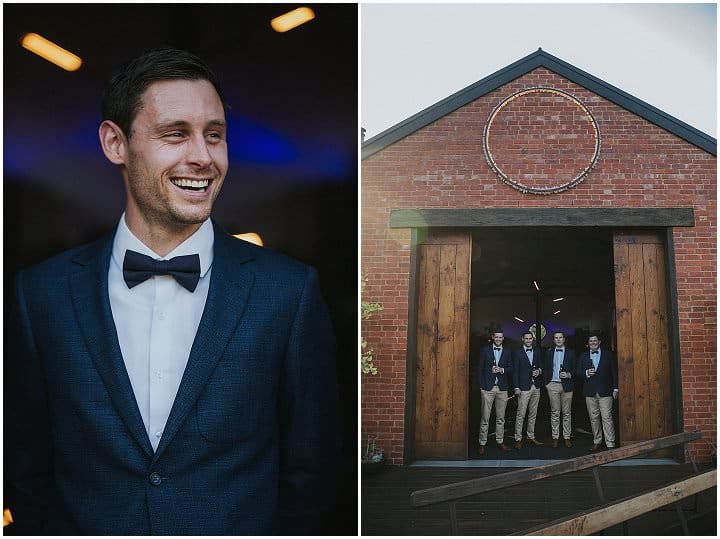 The venue 
We were attending a tourism network Yarra Valley night at Projekt 3488 and as we both walked in the doors, we turned to each other and said this is the one! This is our wedding venue. By this stage we had looked into over 15 venues and none had felt right. The gardens took our breath away and the venue was restored in an exquisite way that allowed the building to shine in all its charm. It suited us and it suited what we wanted in a venue that would take our guests breath away.
The dress 
I fell in love with my dress on my second day of dress shopping. It was a last-minute decision to go dress shopping with my Maid of Honor Vanessa. Fairytales were having a sale and we both thought it couldn't hurt to go and have a look. My previous attempt to find a dress had left me deflated that I would never find something in my budget and style. I initially saw the lace at first and was intrigued, it wasn't your standard wedding gown lace and I liked that. It wasn't on the rack but hidden behind another gown. After collecting several other dresses to try I asked the assistant if she could grab the dress I had seen earlier. I hadn't seen anything more of the dress at this stage until I was trying in on and I fell in love. It fitted me like a glove and was everything I wanted in a dress.
Theme or Colour scheme
The theme for us was simple, a great venue with close friends and family and amazing food. We wanted a relaxed but formal evening wedding that would stay as a lasting memory for not just us but all involved.
DIY elements
My favorite detail from the day was my veil. It was and is so special to me. A friend and work colleague helped me to select the lace and fabric before she spent hours sowing it all together with invisible thread. The result was amazing and it worked out better than I could have ever imagined. It gave me the train my dress lacked and made me feel even more like a princess on my big day.
The DIY project we choose to undertake for our wedding was at POD jewellery forging and forming ring-making course in Kyneton. We spent the day with Bec from POD Jewellery in her little studio. We got to make and design our wedding bands from a strand of white gold and silver. Bec's keen eye and guidance helped us to create wedding bands that will last a life time. I then had diamonds set into my band to give it extra sparkle.
Favourite moment 
The moment I stepped out from behind the doors and saw Simon's face and all the people gathered there to witness our special moment with my dad by my side. Simon had tears in his eyes and my heart melted. It was at that moment it became real as to what we were doing. Before this moment it didn't feel real.
Advice for other couples 
If I can give any advice about planning a wedding it would be don't settle, if you find a venue you love and a team of amazing people your day will go to plan. Don't sweat the small stuff at the end of the day it will be amazing as long as those close are gathered with you to celebrate. Make sure those standing beside you on your day are the ones you truly hold close. For me my bride tribe was everything. They made the whole thing fabulous and couldn't think of anyone else I wanted standing by my side. At the end of the day it's about you and your fiancé, stay true to what you want.
Supplier Shout Outs