Happy Monday everyone, I hope you are all well and happy? How was your weekend? Mine was lovely.  We tried to have a slightly more chilled out weekend, so it was nice and relaxed, because as of next weekend our Christmas celebrations begin. Yes, I know, it's still only November but I just adore Christmas and want it to start ASAP, there seems to be so much that spills out into November these days, so I will be embracing all things Christmas as of next weekend! Today though, I have the most gorgeous California wedding to share with you. Lia and Jason were married on 27th May 2017 at Mountain Ranch, Lia's family home in California. They wanted an non-traditional wedding, filled with Mexican influence, good food and a party atmosphere and this is what they got. All captured perfectly by Kristen Marie.
Farmhouse Vintage, Generations of Decor and a Mariachi Parade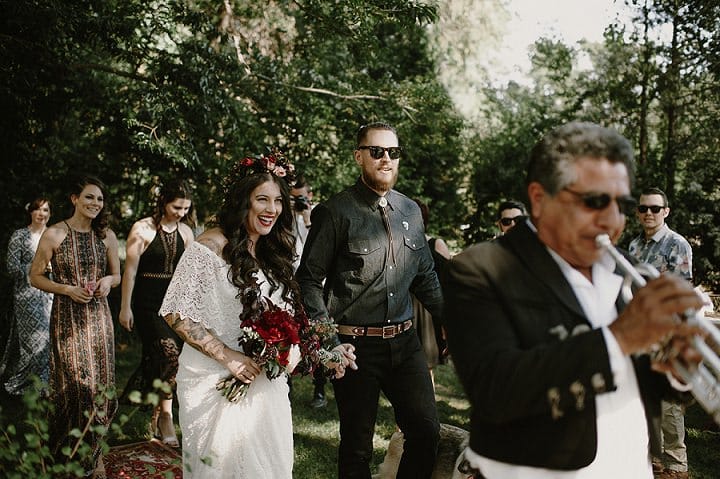 Lia and Jason decided to go the non-traditional route for their wedding in Mountain Ranch, California. They got married at her father's farmhouse ranch, complete with a wrap around porch, a 100 year old oak tree, and a beautiful white horse. Instead of the traditional processional, Lia and Jason marched with their bridal party and two dogs, behind a five piece mariachi band. Their 200+ guests dined on barbecued meats, mac n' cheese, and cornbread at long Kings tables. Cookies and mini cakes were set at the dinner table, because, hey we're all adults here and can eat dessert whenever we feel like it! This wedding was truly unique and had personal touches all over the place. From carrots and apples for the horse, to a late night nacho bar, not a single detail was forgotten!
How they met 
We met at a bar, when I bought Jason a beer. He was hammered and didn't remember. He proposed 4 years later in a tent, on Mt. Tam.
Outfits
Fashion wasn't on my list. I wanted to look Mexican AF, and that was that. I used my regular makeup, and stuck with a casual hairstyle that could be worn on a regular day. I wanted to feel like myself.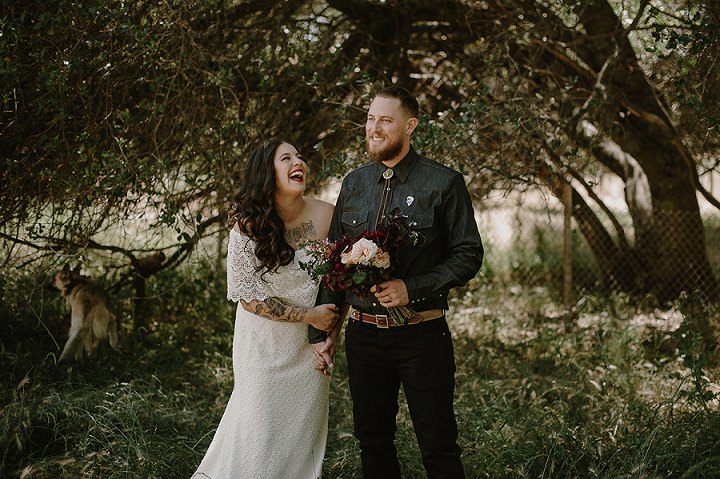 Theme or colour scheme
I wanted a gigantic party, and not a wedding. We ended up with a gigantic party wedding. It was great!
Decoration
My dads house is gigantic, so while I wanted to decorate everything it just wasn't feasible. I picked one space, the front porch, to make a hang out spot with chairs, floor pillows and a record player. Any other decor was just things we liked, so we could easily incorp it into our house post wedding.
Flowers
Florals weren't on the top of my list, but my florist was! I love Lorena and her work so much and she made me the best bunch of arrangements that I could have asked for. We didn't have much, so I tried to have everything be multi purpose. About 15 bud vases, that could be easily moved from cocktails to dinner, 2 large arrangements to move from ceremony to dinner, my flowers, small bouqs for the moms, assorted buds for my gals hair, and some swag for the swing and the animals.
What were your favourite parts of the wedding 
Everything was my favorite. Looking through our photos of all of our family and friends having a blast was THE BEST PART.
Special moments
Lots of people, lots of party.
Advice for other couples
You don't have to do what everyone tells you! or Pinterest, or anyone ever!! You do you!!!!!!
ARVE Error: Invalid URL https://player.vimeo.com/video/289020787 in url

Supplier Shout Outs
For more information on Kristen Marie Photography go to
www.iamkristenmarie.com / www.kristenmarieparker.com/blog / [email protected] / FACEBOOK / INSTAGRAM