I know it's hard to remember now we are in full on Autumn but this Summer was AMAZING! The weather was hot, the sun shone and the world was filled with happiness. Well, to jog your memory, we have today's wedding of Sam and Mary who were lucky enough to get married in the Summer of 2018. Their day is filled with so much colour and sunshine, colourful decor, a woodland ceremony and a marquee big enough to hold their whopping guest count of 250 people. There was street food, a Ceilidh band, loads of bright bunting and a big old party! Nick Rutter Photography was there to capture the day.
Like a fairytale crossed with a village fete. It was completely magical and totally relaxed
Sam and Mary were married on 26th May 2018 at Partyfield, Sturminster Marshall, Dorset. 'We had both agreed that we didn't want a wedding that was traditional, we also decided that we wanted a venue that allowed us to invite whoever we wanted and meant that we didn't have to limit who could attend the ceremony and who could only come to the reception. Finding somewhere that could cater to our guesstimate guest list of 250 was a challenge but eventually we found Party Field, an outdoor venue near Sturminster Marshall. Is it essentially how it sounds, one massive field, but when we visited, we both fell in love with the woodland area with a wooden platform where we wanted our service to be held. We didn't properly start planning our wedding until the beginning of 2017 – we both had other things to focus on and the wedding took a back seat after we got engaged. It took about a year to plan properly.'
How they met 
Sam and I met when I moved down to Bournemouth for university. I lived in a house with 8 other students and Sam's cousin started dating one of my housemates. He used to come over to visit her. I worried that he was someone else that I was going to have to clean up after and take care of  but then he smiled at me and the rest was history. There is a bit of an age gap between the two of us but we balance each other out well as I was born middle aged and inside, he is a teenager still. We bonded over a mutual appreciation of Eddie Izzard, movies and an interest in musical theatre. We have been together since November 2011 (coming up for 7 years).
The proposal
Sam proposed on the 10th April 2015. We had been bought a trip away to stay in a castle in Somerset. We went on a lovely evening stroll. He got down on one knee that evening, in the gardens of the castle whilst I was sat on a bench, reading a book. The first thing I said was 'No.' due to him asking 'Will you marry me?' and then immediately asking 'Were you not expecting this?' After clarifying that yes, I would marry him and no, I was not expecting it, Sam proceeded to disappear off around the grounds and into various hedges. It transpired that he had asked the owner of the castle to hide a bottle of bubbly, but hadn't listened to the explanation of where it was hidden!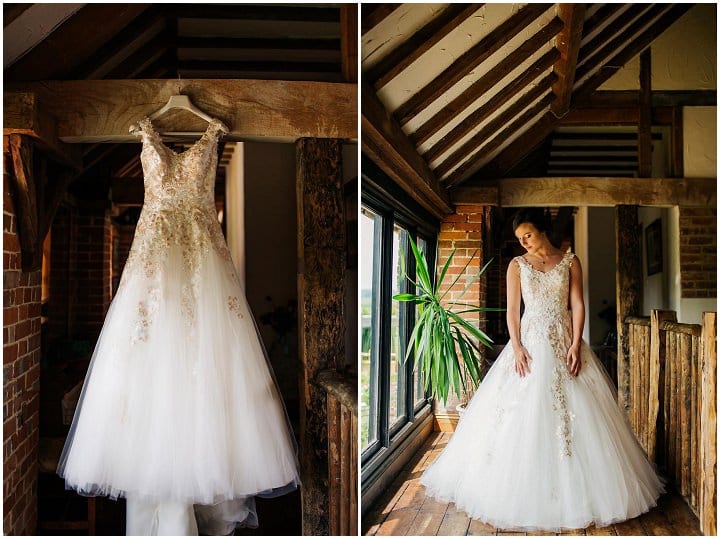 How did you allocate your budget?
Sam loves a spreadsheet so we were very organised with our budget. We discussed what we each wanted and what was important to us both and then went from there!
Where did you splurge and where did you save?
The site hire was very expensive so that is where the bulk of our money went. We saved on areas like not having a cake, buying slightly cheaper (but still lovely) bridesmaids dresses and being clever with our decorations etc.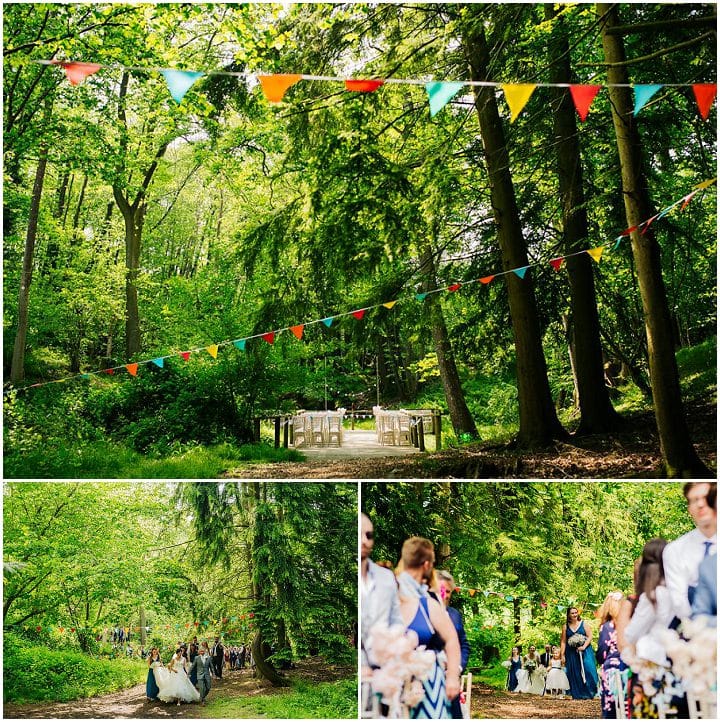 How did you choose your photographer?
I first saw Nick's work online back at the very beginning of mine and Sam's engagement as I was browsing on the internet for Dorset photographers and waiting for Sam to finally allow us to set a date. I instantly fell in love with Nick's relaxed style and brightly coloured images. Nick was one of the best decisions I made throughout the planning process. He was so helpful, giving us ideas for timing and ensuring we had all the shots we wanted. He put us completely at ease, got stuck in with our somewhat unusual wedding, made jokes with the bridesmaids in the morning and was the perfect fly on the wall for all of the special moments during our day, many of which we missed out on seeing.
The dress 
Dress: 'Sansa' by Provonias. Shoes: ASOS. Accessories: My own necklace, my mum's headband from her wedding (once I had taken the veil off)
The suit and bridesmaids
Sam's suit: Hugo Boss. Bridesmaids dresses: Ebay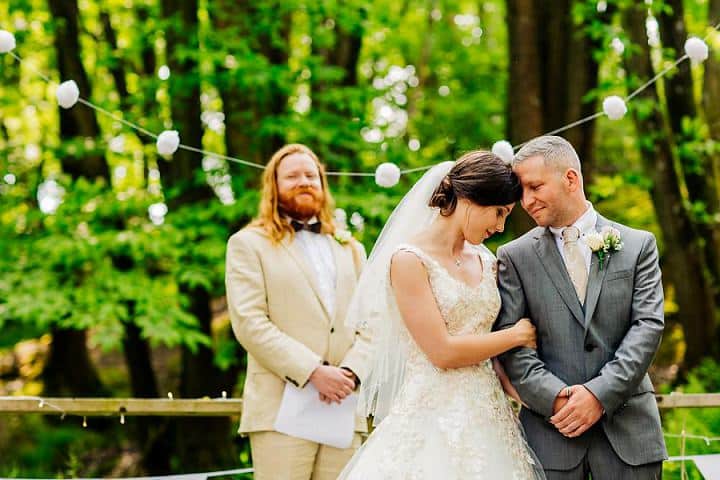 Theme or colour scheme
Our theme became a mix of festival and village fete. Sam began to refer to it as SamFest (feat. Mary) which, as you can imagine, went down well… We also wanted our wedding to be a child friendly as possible as we realised if the children were occupied and having fun, the parents would be able to relax and have fun too! Our colour scheme was bright!!
Flowers 
My flowers were a mix of blush pink roses, gypsophila and lots of greenery. Flowers done by Flowers at 116 in Charminster
Decoration 
As the wedding was in a field, it was very much a DIY wedding and over the course of 6 months, Sam's mum made almost 1000m of bunting in our bright wedding colours, along with fairy light pots, pom pom garlands and padded Sam&Mary signs. Mary's mum bought fake flowers, ribbon, and other little bits a bobs as well to complete the look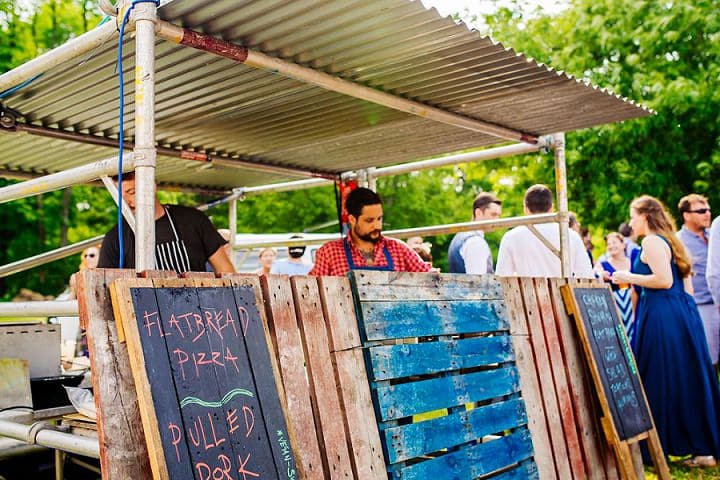 Food 
After our service, everyone was able to help themselves to an afternoon tea of scones along with pimms and other drinks including tea and coffee served in teacups we borrowed from a friend.
As we didn't want a sit down meal, the guys who were doing our food spent the majority of the day serving meals for people to eat when they wanted. We have 3 choices of Chicken Shawarma, Pulled Pork Burritos and Flat Bread Pizzas and they all went down really well. This meant that everything was very relaxed. We also had an open bar and two wonderful friends who work/manage a local pub we used to drink in helped us work out how much drink we needed, purchase all of the drinks and then came along and served drinks for the majority of the day.
Wedding cake
We chose not to have a wedding cake as we both felt it was an expense we could do without. Instead, we had a biscuit buffet and sweet table.
Entertainment
Black Sheep Ceilidh band. My dad played music first, having been a part-time dj for most of my childhood and he played a selection of mine and Sam's favourite songs, ending with a song that both my dad and I love (Sandstorm by Darude) which we did an impromptu daddy/daughter dance to. Sam's friend Phil then played music for the rest of the evening and, as he used to DO for Ministry of Sound, did a fantastic job of keeping people on the dance floor until our cut off time of 1am.
Who supplied the stationery?
As we are both pretty creative, we designed our own invitations and had a local print company run them off for us.
Personal touches
EVERYTHING! Our entire wedding was very DIY and, whilst that was A LOT of work, it made it so special!
Biggest surprise 
Everyone says it, but honestly – I can't believe how fast it went!
Special moments 
Walking down the aisle and seeing the vision I have been dreaming about for a year come true.
Watching a line of guests carry chairs from our woodland ceremony to the marquee as we had no 'staff' to help us.
Our first dance, at sunset, surrounded by our friends, with the fairy lights switched on and everyone holding little electric candles, which someone ended up on lots of people's heads. A moment which I thought would be awkward turned into something magical and relaxed and Sam and I danced to the entire song alone, rather than encouraging people to join us. I am so glad we did this as it was our moment and was very romantic.
Advice for other couples 
Relax, the hard work is over. This is the time to enjoy! Try to talk to as many people as possible, but don't worry if you don't get around to see everyone – people are very understanding.
Be clear about what YOU want! It is your day – no one else's. Whilst advice and other contributions can be great, stay true to the wedding you want.
Try and get some time together after the ceremony, just the two of you!
Supplier Shout Outs
For more information on 

Nick Rutter Photography

 go to
www.nickrutterphotography.co.uk / www.nickrutterphotography.co.uk/blog / [email protected] / 01202 979372 / 07968 449930 / FACEBOOK / INSTAGRAM /

[jprel]