Today I have something a little different for you. It's Boho but with a MASSIVE dose of Luxe. Jade and Craig are a super stylish couple and they certainly look totally fabulous in their elegant Suffolk Wedding. You can see why they chose Hengrave Hall when you see the full wedding. The venue is totally gorgeous and gave the couple their dream option of holding their reception outside in the grounds. I thought this was a destination wedding when I first saw it, but it's actually our very own amazing British summer and the stunning Suffolk backdrop. Things I just adore about this wedding are Jade and Craig's personal style, the fabulous black bridesmaids dresses (I don't think I have ever seen bridesmaids so fancy!) and the beautiful cake!! Big thanks to Lisa and Neil  for the wonderful images.
The most amazing day in every single way that was an absolute dream come true. We wish we could re-live it all over again, loved every second!
Jade and Craig were married on 28th July 2018 at Hengrave Hall in Suffolk. The ceremony in the church on site – Church of St John Lateran. 'We had a long list of venues to visit, Hengrave Hall was the third we viewed and as soon as we arrived we knew we didn't need to view any more. It was always one of our favourites on our list as it ticked so many boxes for us as we wanted a church on site, accommodation on site for our friends and family to stay with us and it was just absolutely stunning! We had 100 guests to the day, 150 to the evening. We got married almost exactly 2 years later from the date we got engaged. In those 2 years we had o'ur youngest son as well so we appreciated the couple of years to plan whilst juggling our two sons.'
How they met 
We went to school together so we knew of each other, but didn't actually know one another. Several years later we crossed paths at a mutual friends daughters 1st birthday party where we didn't directly speak but after the party Craig then did the very modern thing of going on a liking spree on my instagram posts. 3 months later he finally built up the courage to arrange a date with me through another mutual friend and the rest is history!
The proposal
It was Craig's 28th birthday and I had taken him to London for a surprise day and night away just the two of us. Well at least I thought it was a surprise for him…In fact he surprised me by saying "we've just got to nip somewhere" which happened to be The Dorchester where I was seated for afternoon tea on arrival whilst Craig took it upon himself to disappear quickly. I was left very confused and alone at this table having no idea what was going on. However all of a sudden I see our son Zane, 3 years old at the time being carried towards me by Craig. Zane's little voice so excited saying "Mummy I have sparkle for you!" and next thing I know Craig is on one knee proposing with my mum and his mum there with Zane. Complete shock and turns out I get presents on Craig's birthday too!
How did you allocate your budget?
We budgeted for the most important and necessities to start with and in the last few months got totally carried away and the budget went out of the window! We were so set on having our dream day we didn't want to regret anything and we were fortunate enough to have exactly that.
Where did you splurge and where did you save?
My dress, Craig's suit, the flowers, our entertainment were just a few things to list that were priorities to us so we didn't hold back on those however we were lucky enough to save money in other areas such as the decor because that's what I specialise in with my own business so my creative side helped us with making our own invites, favours, signs, table plan etc.
How did you choose your photographer?
A couple we knew from school had got married at Hengrave 2 years before us so when we saw their photos which we loved we contacted the photographers they used because we were confident we liked their style and they obviously knew the venue well.
Who was your dress by? And your accessories and shoes?
My dress designer was Berta which I purchased from The Wedding Club in Knightsbridge, London. I then made my own little changes to the dress to make it unique to me which I had done in store by their recommended seamstress who I must say did a fantastic job in helping me create my dream dress! My shoes were a Gucci black and gold heel that were a total contrast to my dress which I loved and tied in with our entire colour scheme. My veil was purchased also from The Wedding Club and I had it hand embroidered with "Nanny" in memory of my Nanny that I had very sadly lost only weeks before our wedding day. It was very important to me that she was still a huge part of our day and there with me. All my jewellery was my Nanny's.
The suit and bridesmaids
Craig's suit was made to measure by the tailors Jack Bunneys in Upminster, London. His shoes were by Joseph Cheaney & Sons. Craig then hired his groomsmen's suits also from Jack Bunney's who provided a made to measure quality and fit in a rental suit.
My 4 bridesmaids wore gorgeous black full length dresses purchased from Forever Unique. They had beautiful beading detail, open back and a train to die for.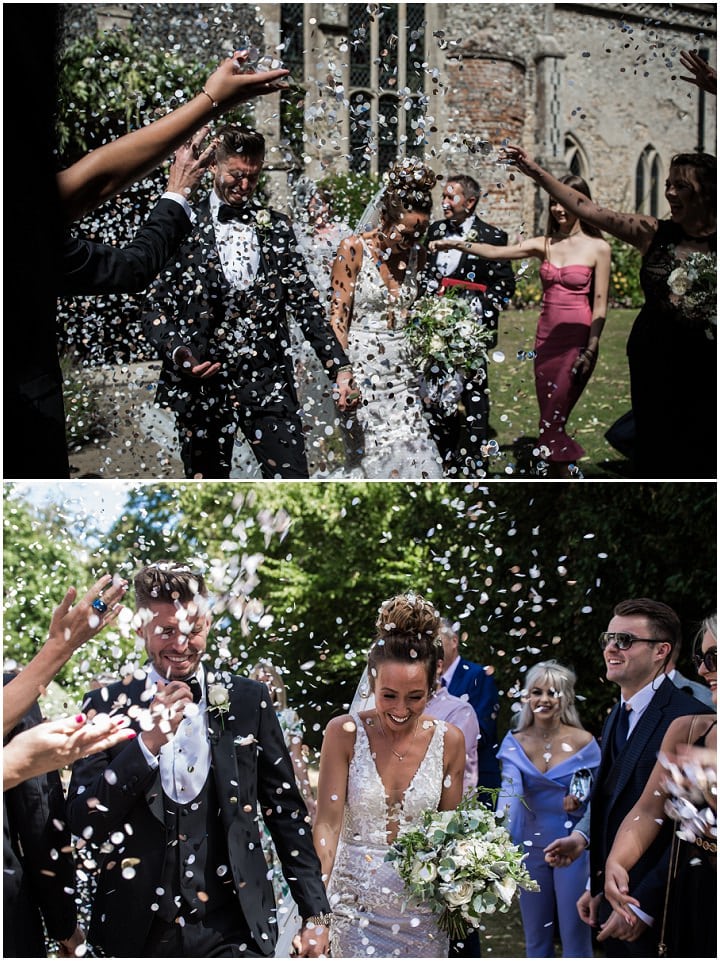 Theme or colour scheme
Our colour scheme was black and gold and we wanted an elegant and stylish theme.
What sort of flowers did you have?
We kept all the flowers to white/cream, lots of roses and gypsophila. The foliage consisted of a little fern and eucalyptus and the rest was all cut from my Nanny's beautiful garden which again was another special touch that made her part of the day despite not being with us. Such a special idea suggested by my florist which meant so much on the day.
What sort of decoration did you have?
Our decoration consisted of black and gold ornate frames, candles, keys (a love of Jades) We wanted to keep it very elegant and sleek which tied in well with the venue.
Food
Our caterers were Milsoms who blew us away with their fantastic menu which we struggled to choose from because it all was fantastic. We decided to give our guests 2 options and a vegetarian option which were all delicious.
Starters – Ham Hock OR Smoked Salmon OR Spinach & Feta Spring Roll
Mains – Beef Wellington OR Free Range Chicken OR Truffled Crispy Mac N Cheese
Desserts – Apple & Rhubarb Crumble OR Caramel Chocolate Brownie OR Strawberry Pavlova
Wedding cake
Our cake was 6 very grand tiers in our gorgeous black and gold colour scheme. It consisted of a range of flavours that included: Chocolate, raspberry jam, carrot cake and Oreo. It was made by the talented Vanilla Cake Design who followed the design I drew myself. We had it displayed on my stunning dresser that I purchased specifically for our wedding but I now hire out to other brides via my own decor hire business Made by Jade. The dressing table was draped in flowers and foliage which looked out of this world.
Entertainment
We had an electronic violinist, Sally Potterton, a saxophonist, Andre SaxMan Brown, DJ Asad Naqvi. Sally played throughout the day including in the church for the ceremony, during reception drinks and parts of the wedding breakfast. She then was joined by André and Asad in the evening for our reception where the 3 of them collaborated together fantastically and ensured our dance floor was never empty!
Stationery
I made our save the dates, invitations, favours and place cards. Something I thoroughly enjoyed doing and added a personal touch to each favour for every one of our guests. I had our venue drawn by a talented friend which we then had printed onto our invites, order of services and the clock face of our grandfather post box.
Personal touches
So many things, already mentioned, as well as every sign, designed how the tables were decorated and laid. Our post box for cards was a grandfather clock of mine that I painted to our colour scheme with a personalised clock face that had a drawing of our venue on. I made a large photo collage of our family to display next to our post box. My Nanny who had recently passed had an area dedicated to her which was full of photos and special memories of her that I personally made and decorated.
Special moments 
Craig would say… Jade walking down the aisle. Andre and Sally playing during our first dance.
Jade would say… that's so difficult, the whole day was so special. Seeing our boys dressed outside the church for the first time waiting for me was amazing, they looked adorable!
The courtyard set up was a dream come true for me, I had prayed for that outside wedding breakfast for 2 years but it was always weather permitting so when the sun was shining and we had the go ahead I was over the moon!! Just seeing all my little touches come together and all the planning become reality, was a dream come true! 
Advice for other couples
Take in and enjoy every little second because it goes so so fast! All the stressful planning process and worrying does pay off in the end and on the day everything really does just come together.
Biggest surprise
Craig… the entire day was practically a surprise for me because I'm guilty of taking a back seat in a lot of the planning and organisation and letting Jade do that because it's what she loves best!
Jade… I was so nervous so nervous that I was scared it would ruin the day for me because I was panicking so much but in fact the biggest surprise was how much I genuinely loved every second and just relaxed because nothing else mattered, it was all so perfect.
Supplier Shout Outs
For more information on Lisa and Neal Photography go to
www.lisaandneil.co.uk / 07887684522 / FACEBOOK / INSTAGRAM / PINTEREST / TWITTER 
We have a melting pot of styles. About 70% documentary, 20% artistic and 10% old school.