Happy Monday everyone! Have you survived the weather? I think it's safe to say that Summer has left us and we are in full on Autumn now! Did you have a good weekend? Mine was lovely. Now Dexter has started school I am finding the weekends even more important to spend together as a family, I miss him in the week! I am enjoying the extra time in the office though now I am back to working 5 days a week.
I have a really lovely selection of weddings to share with you this week, starting with this stunning Spanish wedding from Paco & Aga. Jessica and Jorge chose Son Berga in Mallorca for their wedding as this is where Jorge was brought up, and what a wonderful location. The cremony area is just jaw dropping and as for the reception area, those tables, the Italian ruscus and olive branch garlands, the eucaliptus and white peonies, they all look Amazing! I am in wedding heaven!
THE BEST DAY OF OUR LIVES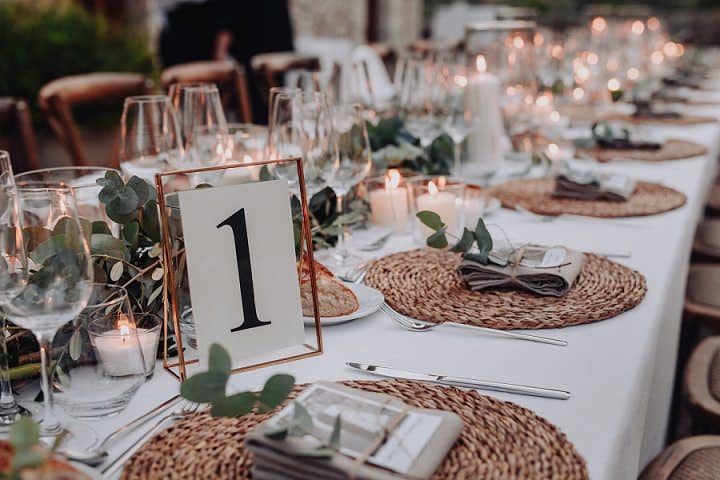 Jessica and Jorge were married on 1st June 2018 at Son Berga in Mallorca, Spain. 'Jorge was brought up in Mallorca and it's where his family still lives, so it was an easy decision to have the wedding there. We viewed over 12 places – flying back and forth from London. We had so many ideas…wedding on the beach, on a yacht, arriving by helicopter (haha)… but as soon as we visited Son Berga, we knew that was the place we wanted to spend our special day. Eli, who owns and runs Son Berga (and is awesome!), took us through each area, describing where you can do the welcome drinks, dinner, party etc. When she explained where Jess would enter during the ceremony, Jess started to cry and knew there was something special connection there. We had 60 adults and 10 Children and it took 11 months on and off to plan.
How they met
Just over 5 years ago. Our story:
Leeds:We met over a game of frisbee. We began to date.
New York:Jess moved to New York. Jorge set his alarm for 2am every night just to speak to Jess on her way to work. Jess would dive into every Starbucks to connect to wi-fi and see if he'd messaged. We fell in love.​
Mallorca: Moved into their first home, Jess became part of the Sánchez Alcover family.
London:We moved to the big city for their fancy new jobs. Adventure is still at the heart of their relationship – we got engaged at the top of Machu Picchu Mountain!
The proposal
Jess had the idea to travel to Peru to live out a childhood dream of going to Machu Picchu and Jorge knew that would be the perfect place to propose . On the day, Jorge was particularly energetic and practically sprinted to the top of the mountain to find the best spot. Once we'd taken all the 'compulsory selfie's', we settled by a rock overlooking the Machu Picchu Citadel – stunning! Jorge asked Jess to sit on his knee and began his words… Jess cried, immediately said 'YES' and then demanded to also be asked in Spanish. She said 'SI' and that was it – engaged! On the way back down, Jess showed off the ring to every hiker passing. Back at the entrance of the Citadel – we went to the small restaurant and Jorge ate a HUGE burger!
How did you allocate your budget?
We're spreadsheet people so this bit suited us quite well. Having worked out how much we could afford, we allocated a budget for each area until the numbers matched. Some things we realised we could spend more on and some things not.
Where did you splurge and where did you save?
We did a good chunk of the planning ourselves – Jess is a Project Manager and so we decided we didn't need to spend money on a wedding planner.
The main thing for Jess was the decoration (having worked in design for over 10 years). She had decided on 3 'wedding pillars' – Simple, Elegant and Natural. 'Simple' can be tricky to make look 'Elegant' but we were really happy with the overall aesthetic and it didn't actually cost as much as we first thought.
We went all out with the catering – we had a fantastic Michelin star Restaurant called El Jardin who provided amazing food and service. We got so much amazing feedback from our guests…still are now actually.
How did you choose your photographer?
Jess spent weeks researching photographers, looking through Instagram and people's blogs. Eventually she came across Paco & Aga and just loved their work! They manage to capture the natural emotions of the couples and guests they photograph and this was something really important to us. We were freaked out thinking about having someone photograph our every move but they figure a way to be there without you really noticing. Another thing that helped our decision was that they work as a duo – they're extremely talented individually but knowing we'd have 2 photographers on the day was a dram because every moment could be captured!
The dress 
Dress: Alexandra Grecco (Lilou Gown)
Shoes: LK Bennett x Jenny Packham
Earrings: Carat London
The suit and bridesmaids
Suit: Hackett London
Maid of Honour: Ghost
Flower girls: Monsoon
Theme or colour scheme
. Greys and earthy colours
Flowers 
Eucalyptus, Italian Ruscus and olive branch garlands (dinner tables)
Wildish in style with eucaliptus, white peonies, white spray roses, white veronica and white lisianthus (bouquets)
Bags of white fresh rose petals & mirthus leaves ('confetti')
Decoration
Wooden 'Kross' Chairs and 3 long tables. Simple green garlands with mixed height glass hurricane vases and candles. Stone coloured napkins folded into squares with black and white polaroid photos tied together with brown string.
Food
We had a long appetiser with 13 incredible canapés, local island cheeses & meats and drinks. Later we had dinner and there were 3 choices
Main:  Beef Tenderloin or Tumbet or Denton (White Fish)
Desert: Mascarpone with macerated strawberries and chocolate or Caramelized French toast vanilla ice cream and crunchy coffee
Entertainment
We had a Bosa Nova duo (called 'Duo Cantautor' via Panela Productions) playing guitar/keyboard during the appetizers – this set a really nice vibe as the sun was setting.
Who supplied the stationery?
Invitations: Quill London. Polaroids: Super Snaps. Order of Service and other: Small local suppliers around Mallorca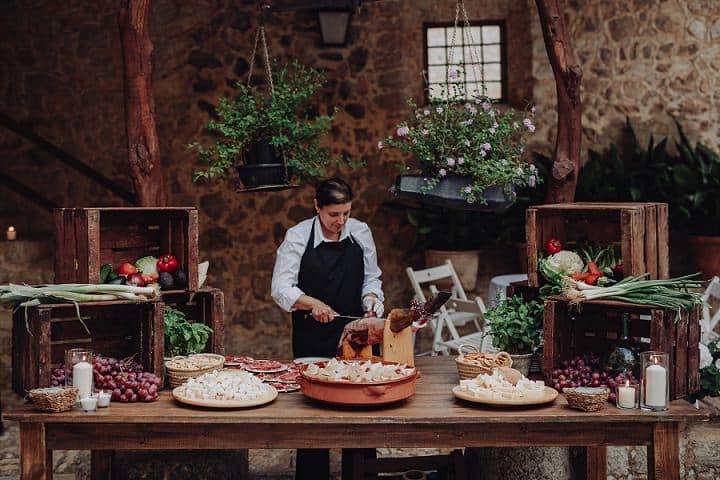 Personal touches
We placed individual photos (stylised as black and white polaroids) over each napkin – these were used instead of place cards and we purposefully didn't add the names to them. This was so that it would encourage everyone to look at each other's photo and get people talking.
We also selected photos of ourselves during different trips we've taken together over the years – we stylised these so they looked like polaroid's and hung them in a tree where we had the 'welcome drinks'.
Special moments 
The whole day was unique to us – we had a humanist ceremony and asked Jorge's father to be the Official. Speaking in both Spanish and English, his words were sweet and meaningful – he had the entire wedding party in tears from the get go!
We also selected 4 close family/friends to speak during the ceremony – they had all written something unique for us. One of them ended up being this story of Shakespeare only Jess was the 'Dutchess of Sheffield' (where she's from) and Jorge, the 'Duke of Banyalbufar' (where he's from).
Jess and Jorge also wrote their own vows and delivered them in both Spanish and English for each side of the family to understand.
Jorge's sister played the guitar and sung 'Don't Worry, Be Happy', changing the lines of each verse to reflect Jess & Jorge's relationship.
Jess's dad organised a unique Bosa Nova remix of Daft Punk 'Get Lucky (Jess & Jorge's song) and played it after their first dance.
Advice for other couples
Only invite the people you want to be there – it's your day and you should be surrounded by the people that make you the happiest! It's also great if you don't go to crazy on the number of guests, we loved keeping our wedding more intimate. It meant we got to speak to each and every one of our guests.
Take dance lessons if you want to do a special first dance. We had so much fun during our lessons and it was a great surprise for our family and friends on the night!
Finally – do something unexpected and personal to your relationship!
Biggest surprise 
How relaxed we actually felt on the day. After so much planning you never really know what to expect but we both promised ourselves and each other that we'd just go with the flow and enjoy every moment – and we did!
Supplier Shout Outs
For more information on Paco & Aga
www.pacoandaga.com / www.pacoandaga.com/blog / [email protected] / +34 648743999 / FACEBOOK / INSTAGRAM / PINTEREST / TWITTER
We are a happily married couple, that photographs destination weddings. We are based in Spain but often travel to shoot abroad. We aim to capture the love and joy of a wedding day, focusing not only on the bride and the groom, but also on the relations between their friends and family. We will always choose a real moment over a perfect pose, and try to capture it without being noticed.