Happy Thursday everyone, I hope you have survived the wind and the rain! It sure has been windy up here in Sheffield! I'm sure you will remember this summer though and the glorious weather we had, a  little different from today but not too much of a distant memory! Well today's wedding comes from this summer and shows off the amazing sunshine we had! Terri and Jason were married in an outdoor ceremony followed by a tipi reception, after eloping to New  Zealand for their original ceremony. They wanted their day to be filled with fun, laughter and all of their friends around them. This they achieved with lots of DIY elements, which helped keep the costs down and added a lovely personal element to the day. BeMusa Photography was in charge of the photography.
A summer festival vide, fun and relaxed. No pressure and just the way we wanted it for family and friends to just share with us a special day without having to travel around
Terri and Jason were married on 30th June 2018. The eloped to Queenstown, New Zeland and followed it up with a UK Wedding/Reception at North Hill Farm in Chorleywood, Hertfordshire. 'We had seen options in Sussex where we could take over a farm for camping/glamping etc but were keen for something closer to London for older family to travel shorter distances, and for many of our guests coming from overseas being nearer airports was handy. We had around 120 guests and it took about a year to plan.
How they met 
We met whilst volunteering with the local Duke of Edinburgh's Award scheme in Camden. It took over two years before our friends pushed us together and 4 years later we were engaged.
The proposal
On our 4 year anniversary Jason had arranged for us to go to Amberley Castle in Sussex. We had afternoon tea in a private area of the gardens that had all been arranged beforehand with a huge bouquet of flowers and blankets all set up. Before we moved on to more champagne and cakes we went for a walk around the castle and as we walked under the gates he got down on one knee – after a good couple of minutes of tears we were engaged, and I found that there was a photographer there hiding taking photos of the whole thing!
Elopement – We had discussed eloping for our actual ceremony as Jason isn't Catholic and Terri is, and a traditional Irish wedding was already out. In the end we had an incredible trip to New Zealand where we flew up a mountain in Queenstown and got married on the top of a mountain, and on return we shared photos of our "holiday" to our family at our engagement party and shared the news with all. We always knew that we needed a big party to share with friends and family and we had already booked our farm!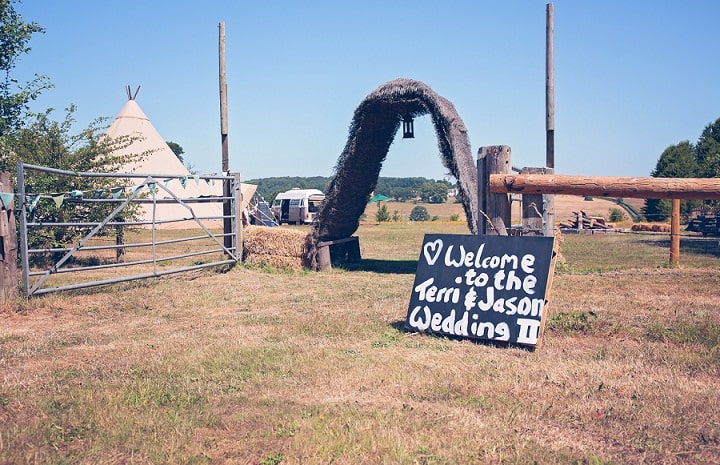 How did you allocate your budget?
As we had already spent money on the ceremony/honeymoon before we knew we could do something different and we set a budget of £10k for the UK party element. The majority of this went on the venue and the tipi hire but the rest of the costs were smaller and much more manageable.
Where did you splurge and where did you save?
Tipi's are not a cheap option, but are incredible and the guys at Country Tipi's made life really easy with their all-inclusive packages, they are amazing as they are and require very little to make up your venue to your own tastes and so we ended up saving a huge amount on decoration and the little items that often make up to a huge cost.
Food  & Drink – Saved money making a lot of our own food, and bought huge amounts of wine/prosecco, water which we kept in a refrigerated van on site.
How did you choose your photographer?
We were spoilt with our photos from our mountain elopement, and we didn't want to have many staged/formal photos from our UK event as they would never compare, and we really wanted a relaxed vibe in the photos, and something to compliment. We posted an ad on Gumtree stating what we had done, and what we were looking for and had over 40 replies.
Holly really got what we wanted straight off the bat, her style of photos and bubbly attitude was just what we wanted and it was great to chat with her to let her know what type of photos we wanted.
The dress
The main dress was a panic, as we chose to elope within 3 months of our engagement there was quite a rush on finding the right dress, in the end walking down our local high street Jason spotted a wedding dress in the charity shop – and we happened to be meeting with Terri's mum for dinner only a few shops down the road. A quick try on and a perfect fit, with Mums approval a £3,500 Madison James dress was bagged up for the princely sum of £100 to charity! Which led plenty left over for another simpler dress for the evening!
The suit and bridesmaids
Bridesmaids dresses were selected from ASOS and gents suits were handmade, via a Chinese Tailor through eBay – Both meant we could cover the cost of our friends clothing (and not impose on them additional/unwanted costs for things they might not wear again!) Both cost us around £70 each.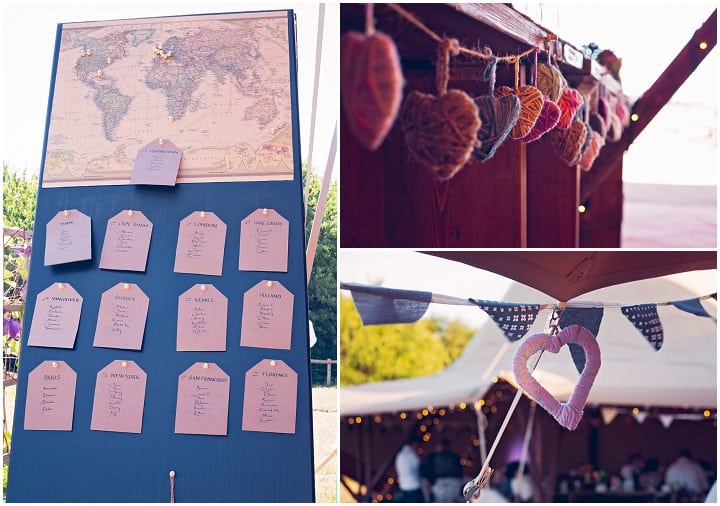 Theme or colour scheme
It turned to be a bit of a vintage travel theme, (We have travelled a lot!) and with the vintage bunting plates, hampers and our old camper this all sort of worked!
Flowers 
Orange and white roses (from Tescos) surrounded in babys breath from Tescos, made by Jason, total cost less than £30 including the bridesmaids posys!
We also had a number of roses (bought to be put into the garden anyway) and a number of plants/tubs that we had in our own garden!
Decoration 
Lots and lots of vintage bunting – Jason had 3 months off work between jobs and started to make some 2km of bunting from vintage fabric found in the loft – this was the only addition needed to the tipi to set the scene.
The table layout used vintage plates/knives we had collected from charity shops across the year with modern plates (50p each from Ikea) and Ikea vases filled with corks and flower petals we had saved over the year. Simple LED lights into each one and vintage travel postcards completed the look.
We were very lucky with our friends and families skills! Jason's grandad built a wishing well and Sweet/Cake cart out of our old oak bedframe, and a friend has learnt calligraphy so wrote the table settings, signs etc.
Food 
We knew we wanted a hog roast and Juicy Hogs have a great set up with a hog roast/jacket potato option which was very reasonably priced and perfect for an outdoors setting, but to keep people fed for the whole day we thought hampers would be a great idea. We were lucky enough that we could call on family to help and a couple of days cooking and preparing food meant we could tailor all the food to be handmade, meeting all the various dietary requirements, and have loads spare so people could graze all day.
Wedding cake
Jason's mum made three cakes, one gluten free chocolate, a lemon drizzle and a Carrot Cake as the main cake – there was plenty for everyone.
Entertainment
To go with the theme we knew we needed live music, and didn't want a traditional wedding DJ at all! – after quite a lot of searching we found Resident Heroes on Alive Network.
They have an enormous playlist, and were able to deliver a really chilled acoustic set which was perfect as the afternoon was more chilled. Great rock sets to follow and they even accommodated our unsual first dance request, where we wanted to liven up the party.
We decided to stage a slow dance waddle to Ed Sheeran (not our taste) with a friend joining the band, she then staged a diva moment half way through and changed into Pharrel's, Get Lucky – there were a lot of shocked faces in the tipi but as soon as people realised our little surprise we had a full dancefloor, and it stayed like that for the entire evening!
Who supplied the stationery?
We did – and our amazing friend Louise wrote all the various cards we provided her, all for the price of a homemade Sunday roast.
Personal touches
Lots!
Hampers – This went down a real treat and everyone helped to devour lots of fresh homemade food and easy to tidy up after!
Cakes – Specially made by Jason's Mum
Cart/Wishing Well – Made by Jason's Grandad
A hay bale setting for a staged ceremony
Miles of bunting and centrepieces from all the wine and flowers we have collected
Kids activity bags, with a book/colouring pad, things to make/paint etc.
Outdoor games – we painted bottles filled with sand and made coits and noughts and crosses to keep the kids from their phones and ipads!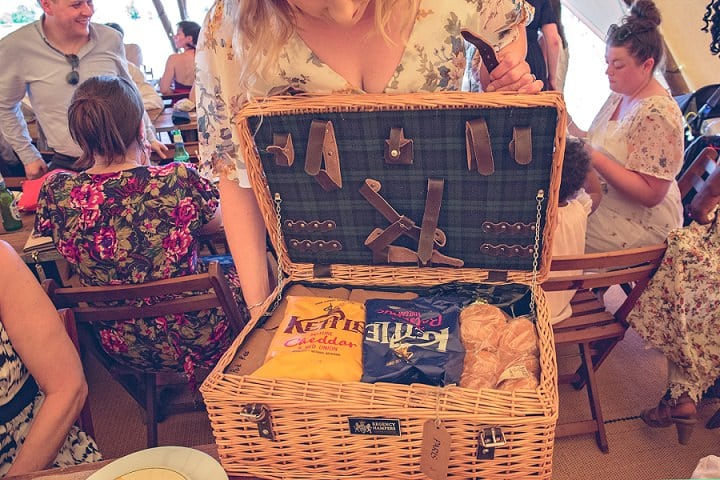 Special moments 
There were so many special moments in the day but the highlights for us where seeing our friends and families faces when we shared our a video of our elopement to them all on TV screen – 120 people were silent for 4 mins!
Having our friends who match made us act as our celebrants and share a one of a kind ceremony for our friends and family in the glorious sunshine.
Having caught out our friends with our staged first dance!
Advice for other couples
RELAX! It's your day and do what YOU want! We had some many little snags along the way but what you want to have is fantastic memories of your day surrounding by friends and family. Don't worry or fuss about the little things (you and others won't remember and it will just take up valuable time), be prepared to see very little of your new husband/wife but do take the time enjoy together the fact that everyone else is there because they love you both.
On a more practical note having all the party/ceremony/accommodation all in the same place meant people could really relax and enjoy the beautiful surroundings and not have to worry about going anywhere else, and keep the kids active with real things, their parents will thank you and the photos of children enjoying themselves will be invaluable.
What was your biggest surprise of the day?
The stunned silence of our guests when watching our video, how easy everyone got into the chilled vibe of our day. We would actually do it all again!
Supplier Shout Outs
For more information on 

BeMusa Photography
www.bemusaphotography.com / [email protected] / FACEBOOK / INSTAGRAM / PINTEREST / 07920093999 
Me and my style: Based in North West London I am lucky to have the best of both worlds including the edgy, vintage corners of town and the dreamy festival inspired countryside. 
As a documentary style photographer I do minimal posing and maximum laughing. The more I interact with my clients, the more relaxed they feel and the more realistic their photographs are. 
I just absolutely love it. I specialise in adventurous couples, the outdoorsies and legends.