This week's styled shoot comes in two halves, both halves take on the current trend of grey, violet and marble, with one half taking a French Renaissance theme and the second taking a Boho Chic theme. Both were put together by Sheryl from Oobaloos Photography and a fantastic team of suppliers. It took part in March at Lyde Court, in Herefordshire and it really is a visual feast. I absolutely love the use of neon lighting in the shoot, it really adds a modern, dramatic twist to the images. The whole team has worked really hard at bringing these two looks together and I'm sure you will be able to draw inspiration from them for your own wedding decor.
We took on the freshest ideas of grey, marble, tulles, and of course the pantone colour of the year. Then popped it in a cocktail shaker, added some Boho Chic, a dollop of French Renaissance and a spot of Oobalove and got this!!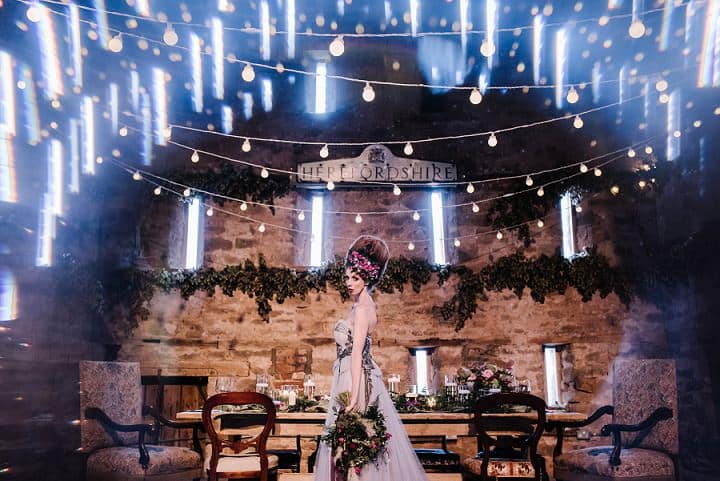 Sheryl tells us more about the shoot
What made you decide to do the Shoot?
Lyde Court is an absolute favourite of mine.  Its not even a local one for me, its about an hour away but I adore its vibe. Its a barn that still has all the rustic qualities, the lighting reminds me of a twinkly Mediterranean evening piazza and it oozes warmth and magic. I approached Esther about styling the shoot for me and she came up with the most awesome ideas from just a few words that I said. I wanted warm and twinkly but fun.
What was your inspiration behind it?
The venue massively inspired this shoot. It has such character that you really have to embrace the barn. It is not a blank canvas. If you want a warm and cosy vibe and atmosphere like no where else, THIS is the place to get married!
The suppliers I approached are all well known for putting their own spin and personality in their work. I knew I wanted to ask the fabulous Joanne Fleming if she could supply the dresses. I wanted something dramatic and elegant in a grey, then a softer gown for our Boho look so that we could really flip 2 looks in one theme. When I opened the dress box, my jaw dropped!
Outside in the walled country garden, we totally flipped the styling, softened it to a more boho, even hippie vibe with stunning crimped hair- almost Kate Bush-esqe and Joanne's green and purple floaty dress worked beautifully with the light breeze, and the window backdrop display perfect for the Cake by Vanilla Pod Bakery.
Esther the stylist tells us more abou the Decor
We decided to make the most of this year's pantone colour choice so all shades of purple were our main focus. Although we took the designs to dramatic levels we wanted to show how each element can incorporate shades of purple and look very elegant. I combined seasonal blooms including ranunculus and clematis with roses, fern, euchalyptus and dried pampas grass for the bouquet and table designs. Flower Style Co has just introduced a range of floral jewellery and hairpieces, this shoot shows how they can be dramatic and a wonderfully pretty alternative to the traditional flower crown and corsage.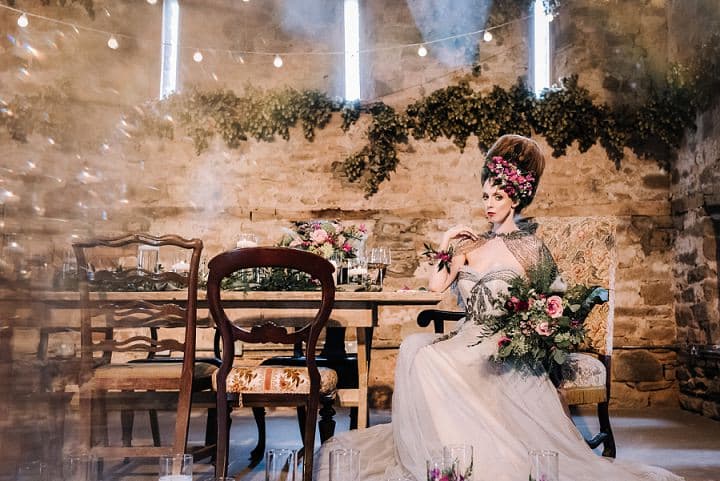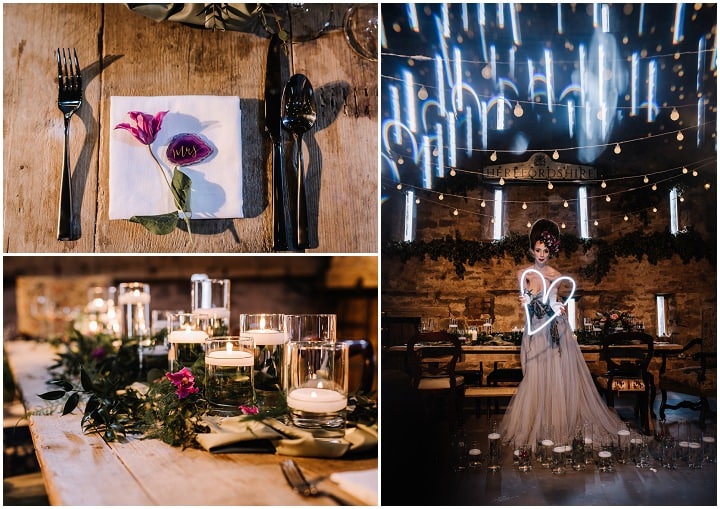 More about the Hair
I have a very strong passion for creating alternative bridal hair and love thinking outside of the box. When she showed me the two dresses for the shoot, I was keen to get ideas flowing for the hair, settling on a very large, regal style updo for one and a crimped, boho style for the second. Luckily our lovely model Char, had very long hair which helped to create the regal updo but was also aided by 12 separate hair padding pieces to help bulk the hair out and create the height that you can see.
The second hairstyle was very easy and simple to create. I love boho style hair and I thought this reflected the dress perfectly but wanted to put a little twist in, so rather than creating 'typical' boho waves I striped it back to the 80's and crimped the hair all the way through and I loved the results!
More about the makeup 
For look 1, I wanted to tie the Make-Up in with the beautiful embellished dress and capelet by Joanne Fleming. Both of Joanne's pieces sparkled with every moment, so I wanted the eyes and high points of the cheeks to do the same. I created this glamorous look by using sparkly champagne glitter eyes and dazzling cheeks. I paired this look with rich deep red lips, fluttering lashes and contoured cheekbones.
For look 2, I created a soft boho inspired Make-Up look. I did this by using blush pink cheeks to add a natural flush of colour and youthfulness to the skin. I also used cranberry/plum undertones throughout the eyeshadow to compliment the floral details in the dress. I paired this look with gold shimmery eyes, glowy skin and rose pink lips."
The cake 
It was fabulous to have been asked to be part of the shoot and was over the moon when I was asked to create a marble effect cake. I am totally in love with marble icing at the moment. After looking at the look book, the colour that jumped out to me was the purple shades, I decided to use this as the accent colour for the white fondant iced marble. I love how versatile cakes can look with different types of florals. I created beautiful handmade white sugar roses for the cake, as well as entrusting the lovely Esther from Flower Style Co to dress the cake with gorgeous fresh flowers. Two different looks for one cake"
The Stationery 
I wanted to be involved as I loved the lookbook that Esther from Flower Style Co sent me for the shoot, I wanted to show an elegant but whimsical invite to tie in with the inspiration and colours. I provided a wedding invitation stationery set, with calligraphy text, flashes of grey/purple watercolour on matte gesso stock. This included information and RSVP cards – all packed up in a sheer envelope with vintage floral stamp.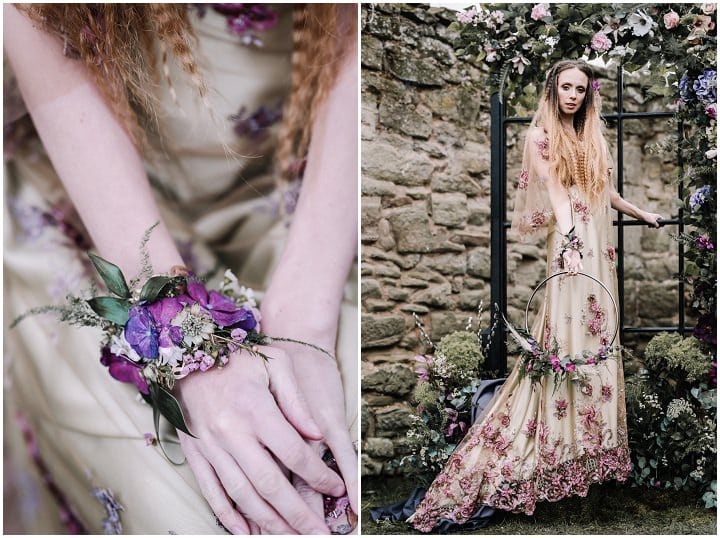 The suppliers who made the shoot possible
Due to an email issue if you have emailed me between the 2nd & 9th of December, please resend it.
X