Today we are heading off to not so sunny Italy, as Jenny and Adam share with us their rather rainy destination wedding. When you think of a wedding in Italy the first thing that comes to mind is sunshine, blue skies and very hot weather, instead in today's wedding in Italy we see lots of rain. However, if anything it made Jenny and Adams wedding even better as it really did add to the magic of the day. Jenny and Adam didn't let the rain stop the celebrations, they put the brollies up and got on with it. Soon after the ceremony the rain stopped which meant they were able to walk the Italian streets for their gorgeous couple shots. With the reception right on the beach front, the views are stunning, as is the pastel colour scheme and table decor. The whole wedding is captured by Jess Yarwood Photography and planned by My Secret Italy wedding planner and is just gorgeous!
Our wedding day was breath-taking, and far more picturesque than we could have ever imagined – it really is twinkle town. All the efforts put in by us and others, made it a day to remember and one that truely represents us as a couple, the love we share in our family and with our friends.
Jenny and Adam were married on 14th June 2018 at Santa Maria di Castellabate, Italy, with the ceremony at Torre Perrotti and the reception at Lido Azzurro. 'We have both always loved travelling abroad, and when we couldn't find exactly what we wanted at home we decided to go abroad. I popped into a travel agent who said most Brits go to Italy or Cyprus to get married because the legalities are easier, so there was no question about which – Italy it was! After lots of Googling and searching I came across a woman's blog on her own wedding in Italy. She had used My Secret Italy wedding planner. After speaking to Julie from My Secret Italy over the phone, I knew this was it! I had an instant connection, how Julie described the town, the possible wedding venues and how she plans the weddings. I spoke to Bazz (Adam) and he got the same butterflies. After looking over the costs and realising it wasn't as expensive as we had expected, we booked with My Secret Italy and started planning our wedding in Santa Maria di Castellabate. After discussing what we wanted with Julie, and sussing our personalities, she recommended the venue and reception venue. I'd briefly looked at other options, but trusted her judgment fully so went ahead. Guest wise we had 24 adults, 4 children and the 2 of us. We booked with My Secret Italy about 18 months before the day. Engaged for 2 years.'
How they met 
We met in Chester when a group of mutual friends went out for Halloween. Both dressed as zombies, sat outside on the rows, I looked next to me and was in awe of this quiet young man with his rolled-up sleeves, tattoos and long hair. I got chatting to him and we hit it off, he got in touch with me a day or two later online. This was October 2014, so we had been together for just over 3 and a half years when we got married.
The proposal
We had spoken about marriage – I have a daughter from a previous relationship, who was 1 and a half when we got together. Bazz (Adam) is Lexi's Dad and she doesn't remember life without him, we felt marriage would bring the three of us together as a family unit, as well as us as a couple.
However, I didn't know he was going to propose any time soon. He arranged for the two of us to go for a walk up Moel Famau (a mountain in North Wales) and left Lexi with my Mum for the afternoon. It was the hottest day of the year in 2016. I made a comment that it would have been perfect for a proposal, not knowing that was his intention. Five minutes later, still on the fort, he said something quietly, to which I turned around. He was pulling the ring out of his pocket and getting down on one knee. I couldn't stop smiling and looking at my ring the entire way down the mountain. We went back to my Mums house for a celebrity BBQ and glass of prosecco.
How did you allocate your budget?
We were pleased that the quote given by My Secret Italy wasn't far from our original budget. However, we were happy to go a little higher on the budget seen as we would be getting wed in Italy!<
Most things were budgeted by Julie – Venue and catering, cost of wedding planner, flowers, cake, car, translator.
Some things we hadn't thought about, such as paying for legal documents. We had to have a few different documents which had to be translated and sent to different places in order for us to get married in Italy. It wasn't a huge expense but one that we hadn't thought of.
I worked in a bridal shop when I was younger so knew roughly how much the type of dress I wanted would cost. Which is why I searched and searched for one off the rail.
The most important aspect to me was a photographer. So, I allocated a good chunk of our budget for this.
Where did you splurge and where did you save?
I saved a lot of money on my dress because I bought it off the rail. We also got the grooms suit in the Next sale, costing us £69 for a three-piece suit instead of around £130. Our shoes were both found in sales – Toms and Debenhams.
I splurged on my flower crown – £50, which I felt was a lot for artificial flowers. But, it was worth it because it was the nicest and most realistic one I could find.
The biggest costs were the band, photographer and catering – but all fantastic value for money and well worth it.
The holiday itself was a big splurge as we had the three of us to pay for. But again, the area is not expensive, and Julie was able to give us the best advice on where to stay, eat etc.
How did you choose your photographer?
Julie recommended Jess Yarwood after doing a workshop together in Italy. Luckily for us, Jess lives in Cheshire, and we live on the Welsh/English border, not far from her. So, we were able to go meet her for a coffee, a chat and look at her work. She's instantly warming and we both felt very comfortable with her from the get go. Her photos were beautiful, and we loved the ones she had taken in Italy even more so. Her photos were natural and un-posed, artistic with stunning colours. There was no question about it, we left the café and instantly said to each other – 'yea we're definitely going with her!'
Who was your dress by? And your accessories and shoes?
Dress – Willowby by Watters – purchased from Agape Bridal Boutique, Altrincham
Shoes – Jenny Packham in Debenhams
Flower crown – Rock N Rose
And the suit? And bridesmaids?
Groom's suit – Next
Groom's bow tie – Mrs Bow Tie
Bridesmaids – Sorrella Vita collection, Essence of Australia – purchased from Along Came Eve Bridal Boutique, Chester
Flower Girl – RJR. John Rocha, Debenhams
Theme or colour scheme
We were right on the beach, so I wanted to incorporate that without it being too obvious or nautical. I also wanted to include elements of travel seen as it was a destination wedding. This was added through little touches like the table plan and the place name shells.
The colour scheme developed as the planning went on. with pale greys and blues from the grooms suite and pinks with sea colours (blues and deep greens) for the bridesmaids.
For the table decorations I bought a lot of candle jars – pink, white, dark green, duck egg blue – all different shapes and sizes. The beaded jars had blue, green, pink, purple and gold beads. The table runner was a slightly metallic dark mocha colour. The napkins were pink, duck egg blue and dark petrol blue. And the shells were also blue with gold writing. The flowers along the table were whites, creams, greenery, with touches of pinks.
I don't like colours to match, I like them to compliment!
What sort of flowers did you have?
I wanted the flowers to look gentle and romantic. The florist recommended using peach instead of pinks because it would look better – which it did. She created beautiful bouquets of roses, white peonies and eucalyptus, that looked like they had just been picked and tied together.
What sort of decoration did you have?
See above plus lots of flowers, lots of fairy lights and some hanging candle jars above the centre of the table.
Food 
After the ceremony we had pastry canapes and prosecco on the balcony.
After cutting the ribbon (an Italian tradition) we were greeted by Baffo, a local man who owns an ice cream shop. He had a tray of various delicious ice creams.
At the reception we had a starter of bruschetta, melon and mozzarella. Followed by a beach BBQ buffet with fresh seafood, meats and pasta dishes.
And the wedding cake?
We didn't want to bring the UK to Italy, we wanted the wedding to be as Italian as possible, so we had a traditional Italian wedding desert, made of pastry and a creamy, strawberry filling. It didn't look particularly special, but it was Italian and made by a local baker.
What did you have as entertainment?
Traditional mandolin, guitar and accordion group. We thought we were only having the guitar and mandolin, so the accordion player was a nice surprise. They were great fun and very entertaining.
At the reception we had a band called Maieutike. They played lots of covers, throwing in some rock which everyone loved. They were fantastic, everyone commented on how awesome they were. I'd love to see them play again when we go back to Italy!
Who supplied the stationery?
Passport invites were made by Rodo Creative from Not on the High Street
Everything else I made myself
Did you have any personal touches? Or things that you did yourself?
My favourite – the kids boxes. Cardboard suitcases from Hobbycraft, which I decoupaged with an antique world map paper. I made mini passports with the child's picture and name inside, along with an Italy stamp – tied these to the suitcases. I filled them with colouring, bubbles, disposable camera and the odd age appropriate toy for each.
The 'travel' theme was used for the table setting – I made a 'Where in the world are you sitting?' table plan, with sections in Portugal, Italy and Rhodes. I'd seen similar things on Pinterest.
My Mum is an artist so knew she would be a huge help with something. Instead of a guest book that guets put away in a box, never to be seen again, we wanted to have a picture to keep up on the wall. My Mum drew a simple line drawing of an old Italian Fiat, with wedding flowers on the back and strings attached to the top for balloon, they'd fingerprint their own balloon and write their name alongside it.
Napkins – bought a linin type fabric from a local store, cut into large squares, pulled out some threads from the edges to give it a frayed look. They were then tied with raffia string. Really easy!
Beaded jars – I made beaded wire to go around tealight jars
Used the same beads to make hair pieces that could be entwined into the bridesmaid hair.
I made the flower girl's flower crown.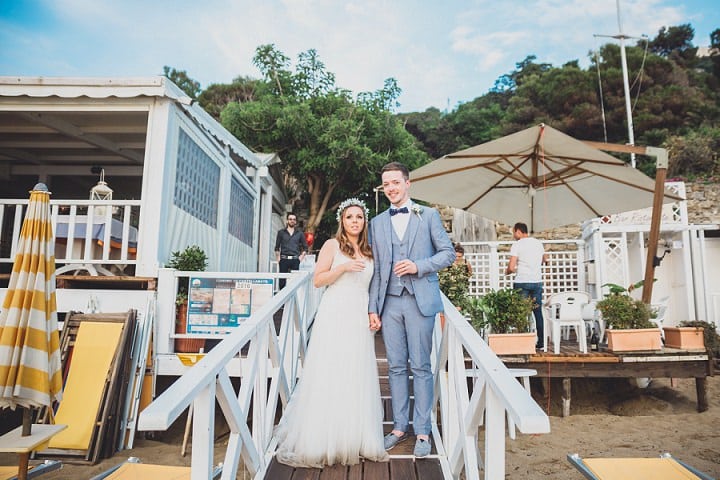 What were your special moments or highlights of the day?
When Lexi (our daughter and flower girl) walked down the aisle with a sign saying 'Daddy, here comes Mummy', holding it up high to make sure he could read it.
Being with the people who truly matter to us, and who we matter to.
Spending moments together, just the two of us when having our photos taken. We were able to talk, laugh and walk hand in hand through the cobbled streets and along the beach, without everyone else around.
Our entrance to the reception. The band gave a big rock star introduction for us, while playing Guns and Roses – Sweet Child of Mine. It was ace and neither of us knew that was planned, we thought we'd just walk in.
What advice would you give other couples?
Be creative and throw yourself and your personality into the planning, it will be worth it.
Go with the flow, because whatever happens it will be perfect for you.
Trust those in the industry, if they have a good reputation and reviews, then trust their word.
What was your biggest surprise of the day?
The rain! – it was glorious sunshine all week, then thunder storms and rain on the day. The wedding had to be put back an hour, which was fine because I wasn't ready anyway! Julie had lots of bright umbrellas for everyone, and it added something quite special and memorable to the day. As soon as the ceremony finished, the sky cleared up and it was beautiful sunshine again. Apparently, this is very good luck in Italy!
And the band had learnt the song for our first dance.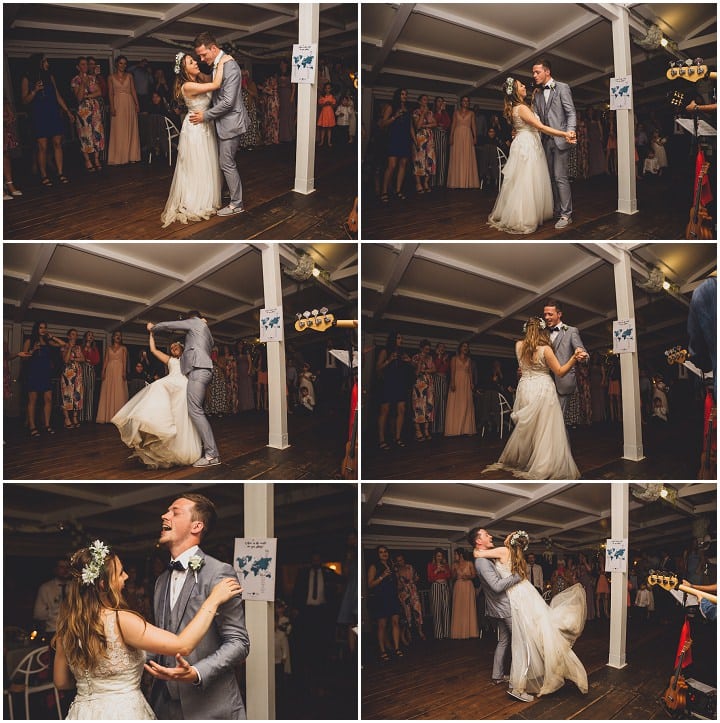 Supplier Shout Outs
FOR MORE INFORMATION ON JESS' WORK GO TO: 
www.jessyarwood.co.uk / 07850485147 / [email protected] / FACEBOOK / INSTAGRAM / TWITTER