Today's wedding sees us head to France for this super stylish French Chateau Wedding. Beatrice and Sébastien chose Chateau de Champlong, Villerest, France as it was very close Sébastien's home town. They went for a vintage boho theme, and filled the wedding with so many amazing props, decoration ideas and furniture. They kept the colours light with soft pinks, blush and pale blue, which transformed the outside area into a gorgeously romantic chill out zone, with the indoors mirroring this theme. I just love the table decoration, the patterned table cloths and pale blue accents in the decoration. the flowers are in abundance and the overall looks is so Boho Chic!
It was a day/weekend full of love, laughter and emotion that we shared with our friends and family. The entire day was accompanied by amazing french food, piano music and beautiful vintage/boho decoration that made everybody feel comfortable and like at home.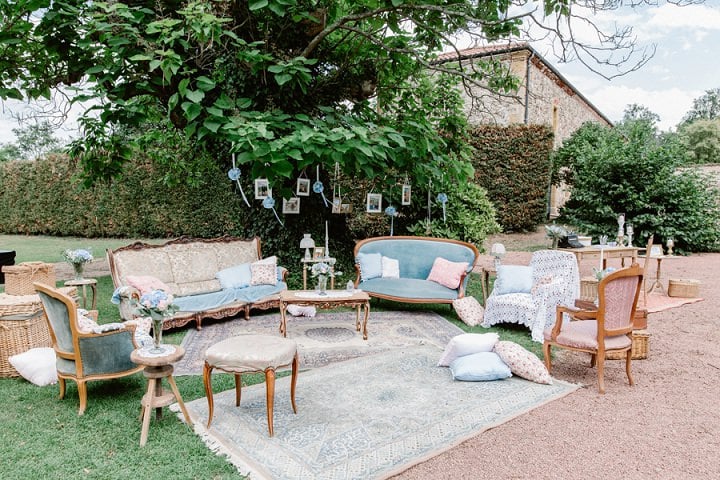 Beatrice and Sébastien were married on 14th July 2018 at Chateau de Champlong, Villerest, France. 'As Sébastien is from France, actually not too far from the wedding venue, we were looking for locations in France. In addition, we were looking for a venue that is charming and rustic and once we had visited it we immediately fell in love with the location as well as the lovely owners. We had 110 guests and it ook 20 months to plan.'
How they met 
We have been together for four years now and met at work (Amazon) before we finally one day went out on a date together to a small French Bistro in Munich, where we live together.
The proposal
When he asked me to marry him back in August 2016 he had planned every single detail. A romantic dinner in our favorite French Bistro, where we also had our first date, the dinner table being decorated with roses, champagne waiting and a beautiful speech. I was over the moon! A few weeks after that we started planning our wedding which we knew should happen in 2018 as we had a 3 months south-east Asia trip planned in 2017.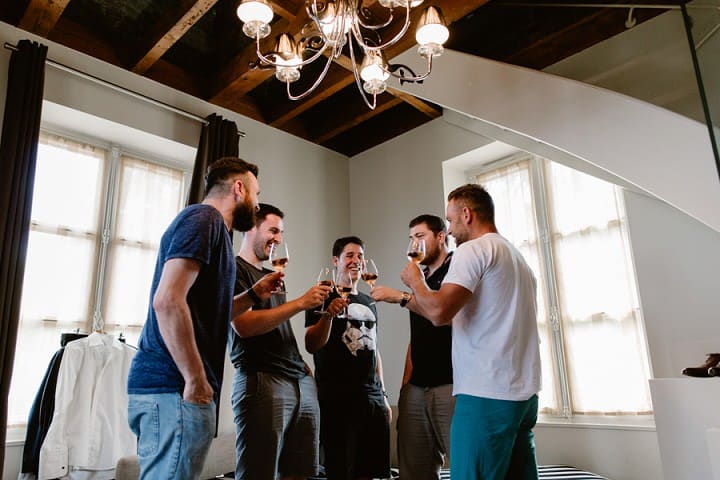 How did you allocate your budget?
We actually started with a budget of 35.000 EUR which then eventually led to 65.000 EUR. Our main focus was the decoration and entertainment hence, this is where almost half of the budget went.
Where did you splurge and where did you save?
We splurged on Entertainment (we had two caricaturists present, a pianist, a large photo booth wall that was created for us and midnight fireworks) and the decoration that we wanted to be absolutely perfect with a lot of special details. We saved on the clothing and the general accessories. We wanted to look beautiful of course, however did not see the need of spending a lot of money there for a day.
How did you choose your photographer?
We were definitely looking for photographers in the region and looked at quite many actually. Eventually we chose/inquired them based on their website work. We wanted to have somebody that can truly transport the moment and the emotion through the picture. At the same time, after a personal meeting, we were making sure the chemistry is right. We didn't save on the photographer and had an overall budget of 3.000 EUR.
The dress 
I bought my dress in a wedding boutique in Munich and as I mentioned before, I do not even know which brand it is from as it was not my focus. I wanted a dress that has some lace and that is romantic. As a wedding present I got beautiful Tiffany earrings from Sébastien that I received during my bridal preparation in the morning so I wore them. My shoes are from Amazon
The suit and bridesmaids
Sébastien's suit and accessoires are from a Men's tailor in Munich and the bridesmaids dresses are from ASOS.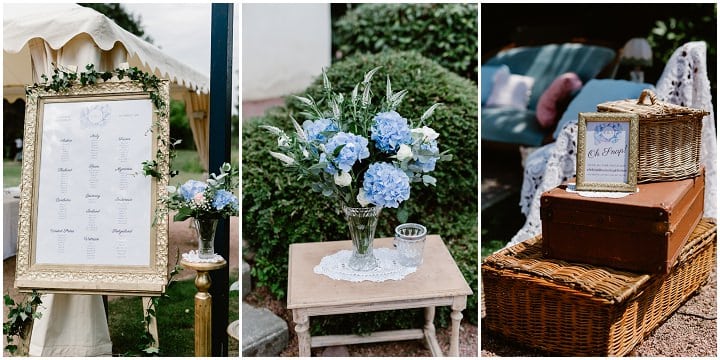 Theme or colour scheme
My theme was vintage/boho and the colours were rose and blush blue.
Flowers 
My decorator actually got the flowers based on some instagram input from my side. To be honest I am not very knowledgeable about flowers
Decoration
We had flowers pretty much everywhere (arch of the free ceremony in the chateau park, on the cocktail and food/drink tables as well as the dinner tables and some big flower letters in front of the chateau saying B & S). We had one vintage lounge with comfortable chairs and two sofas as well as a smaller lounge in front of the photo booth wooden wall. In additional we had frames with pictures of us hanging from the trees. The guestbook table was beautifully decorated with an old writing machine. We also had a Whisky/Rum and cigar lounge in the same style.
Food
For the cocktail we had a mixture of canapes and 4 live cooking stations. This included oysters, saint jacques, mozzarella and tomato sticks, guacamole mousse and all sorts of little things. For the dinner we had a salmon steak with guacamole and lemon as a starter and duck breast filet with a truffled potato gratin and vegetables as main course. After that we had a cheese and coffee buffet with 21 different kinds of cheese. At the same time every dinner table was served an etagere with small gourmandise (macarons, nougat etc) selection.
Wedding cake
The wedding cake was 5 stages and filled with a chocolate biscuit with layers of mousse au chocolat and raspberry creme.
Entertainment
We had 2 caricaturists, a pianist, a photo booth, a DJ and fireworks.
Who supplied the stationery?
The stationary was done by a website called www.cottonbird.com
Special moments 
Sébastien's sister handing me his wedding present during the bridal preparation
Walking down the aisle with my stepfather having the pianist play Frank Sinatra's Can't help falling in love
The fireworks at midnight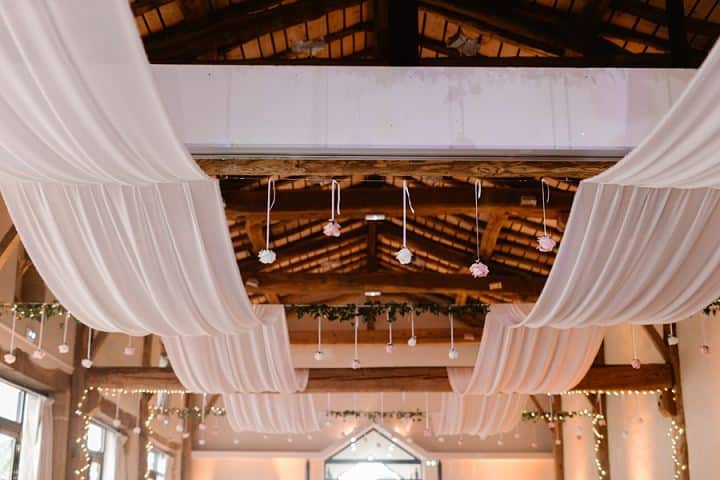 Advice for other couples
Keep calm. There will always be things and details that cannot be controlled – especially when it comes to destination weddings. Eventually, the moment you see your future husband standing and waiting in front of the aisle makes every little thing that might have gone wrong before disappear.
Choose your suppliers and partners carefully and thoughtfully. We really had an amazing wedding because our partners were simply great, understand who/how we are and worked extremely well together.
Biggest surprise 
That I didn't get 10 blisters after an entire day in my shoes.
The wedding present from Sébastien.
How amazing my vision of the decoration and the venue were executed by our fabulous decorator.
Supplier Shout Outs