This afternoon I have a VERY exciting competition to share with you. You could be in with a shot of winning over £500 of kitchen equipment from Viners.
Viners produce first class cutlery, pans, and knives and are offering all of you gorgeous Boho readers a chance to win this bumper prize!
This is the perfect opportunity for you to fill your kitchen cupboards with all of these super useful items. What a perfect way to start married life!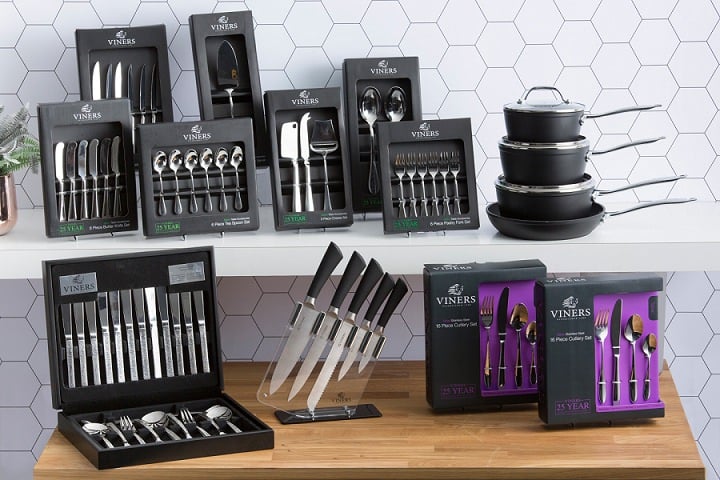 Viners are looking for the perfect couple to help them on their first steps into married life by giving them the opportunity to win the ultimate Viners wedding gift bundle worth over £500
Britain's most loved cutlery brand, Viners is seeking a soon-to-be-wed couple with a story like no other. Whether it's a tale of love at first sight, a standout proposal, or what you're looking forward to most as a married couple, Viners want to know every detail about what makes you and your other half truly special.
HOW TO ENTER
1) If you're getting married in 2018 and want to be in with the chance of winning a wedding gift bundle worth over £500, submit your images and story HERE
2) You can then invite your friends to vote for you. The stories with the most votes will be shortlisted, and the winner will be selected by a panel of judges and crowned  #AVeryVinersCouple.
The Viners bundle worth over £500 includes:
x2 sets of Viners Tabac 16pce Cutlery
x1 set of each Viners Select Accessory Set (x7 sets in total)
x1 Viners Abstract Knife Block
x1 set of Viners 4pce Forged Aluminium Pan Set
x1 Viners 18.10 44pce Canteen of the winners choice
So what have you go to lose? Enter NOW and you could be the winner of this amazing prize worth over £500!!!
Don't forget, if you're looking for the perfect wedding gift for your nearest and dearest, visit Viners  to find that extra special present.
For more information on Viners go to
www.viners.co.uk / FACEBOOK / INSTAGRAM / PINTEREST / TWITTER