Happy Monday everyone, I hope you all had a fabulous weekend? Did you attend a wedding? Maybe you had a weekend of wedding planning or wedding jobs? Mine was really good, if not a bit busy. Saturday was Dexter's birthday party, as well as my wedding anniversary, and yesterday was, of course, Fathers Day. Today we are taking Dexter to CBeebies Land for a 2 day stay over as it's his birthday tomorrow! He is so excited, bless him!
Back on with the weddings and to kick us off this week I am taking you off to gorgeous New Zealand for the wedding of Astrid and Greg. The couple is actually from Australia, however it was always Astrid's dream to get married at her father's family holiday home in New Zealand. The whole day was gorgeous, filled with beautiful flowers, an amazing Rembo Styling gown, some super pretty detailing, even the downpour during the outdoor ceremony didn't put the couple off. Big thanks to The Good Wedding Company for the wonderful images.
A backyard wedding was all sorts of epic. Amongst the mountains and under a wee bit of rain they did the deed and had a big party to celebrate!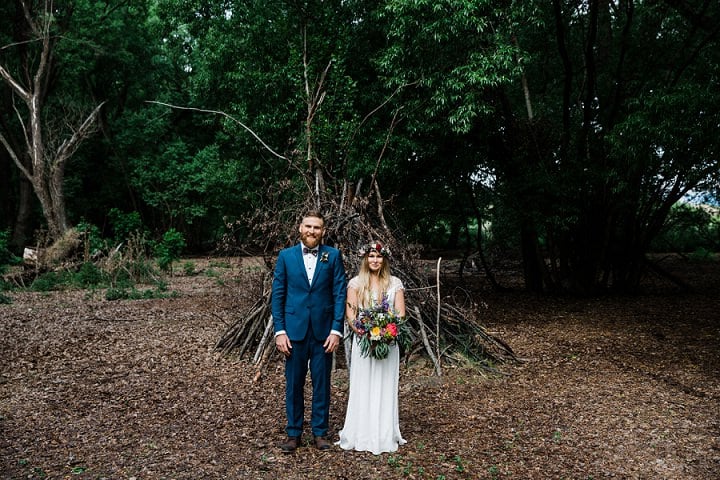 Astrid and Greg were married on 4th November 2017. 'We decided to get married at my dad's house in Wanaka, it had been our holiday home for the last 25 years, with my dad making it his permanent home last year. I had always dreamed of getting married there, in saying that, it was a very hard decision as we live in Australia and knew a lot of our family and friends would have to travel, it was also a big decision as we knew that this meant our beautiful 12-year-old Poppy dog would not be there.
We are incredibly happy with the decision we made, it was the perfect setting, and now holds even more special memories.'
How they met 
We have been together for 4 years, we met in Melbourne, where we were both living at the time. My bridesmaid Laura introduced us, and love blossomed at a Halloween party. We got engaged on the 18th of December 2016, and were married on the 4th of November, so just over 10 months to plan it
The proposal
At the time we were living in Melbourne, we went to Wanaka for a holiday and also for my Dads 60th birthday and my brothers 30th. Before we left we decided we would love to walk to Roys Peak, the day we were supposed to do this it was scheduled to rain, but Greg was so super keen we decided we should do it anyway. When we reached the lookout I was taking photos on my phone, Greg wanted to get the camera out of the backpack to take more photos, when I turned around he was down on one knee, with my dream ring! Neither of us remember what he said, I replied with some strange noises, this was followed by lots of happy tears.
The dress
I had seen some Rembo Styling dresses online and fell in love with their style. I bought my dress from Miss Bella in Melbourne. It was the very first dress I tried on and I instantly fell in love with it. I had my best friend with me and my mum in NZ on FaceTime. I tried on a few dresses after just to make sure I didn't love all wedding dresses. When I found the dress we lived in Melbourne, but a couple of months later we moved to Brisbane, so the I made the journey back to Melbourne to collect my dress and bring it home to Brisbane for our wedding in New Zealand! When I went back to pick it up and try it on again, I got ridiculously emotional, I knew I had found my dream dress for sure. I was pretty much counting down the days until I got to wear it, I just love it so much! I even managed to keep it a surprise from Greg!
Theme or colour sheme 
We knew we weren't traditional wedding kind of people. We wanted our wedding to have a relaxed feel, the most important thing for us was having all the people we loved in the same place for one day and that everyone just had a really good time! We didn't have a specific theme, but we wanted the wedding to reflect our personalities, relaxed with a splash of weird, every detail was very personal, from making most of the decorations ourselves to hand picking a vintage plate for all of our guests, and hand making all of the tea light candles. We decided to have a pizza truck and an ice cream truck, because let's be honest who doesn't love pizza and ice cream.
Personal touches
So many arts and crafts! We made the ribbon bunting that we hung in the marquee, all 30 meters of it, this was a big task in our tiny apartment, we were living in a sea of bunting. We also made 200 tea light candles, and spray painted all of the dinosaurs and animal's that decorated our tables gold (about 240 small dinosaurs). My mum collected all of the plates and mason jars for the tables. Gregs sister hand wrote all of our place cards. Dad and Greg also built the outdoor wine barrel bar.
The entire wedding felt like a huge team effort, we had aunties folding napkins, cousins hanging lights, my mum, Greg's mum and sister and myself arranging all of the flowers on the tables, it made for a really fun and family orientated wedding week.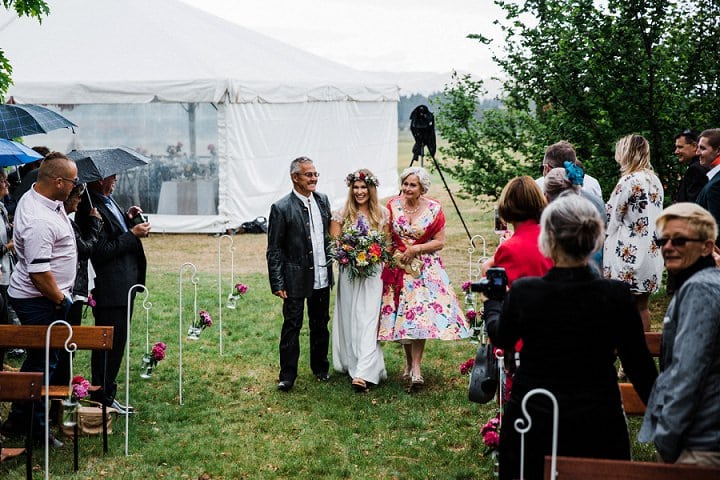 Speical moment 
Sooo many, walking down the aisle with both my mum and my dad and seeing Greg at the end waiting for me would have to be a huge highlight, it was a moment I had been dreaming of ever since we started to plan our wedding, I didnt even notice the rain, I was too jazzed to marry my best friend.
When we went for photos after the ceremony, it was so good to relax and share a lot of laughs with good friends. As cheesy as it sounds, it was quite honestly the best day of our lives. The thing that stands out most in my mind when I think about our wedding day is just how much fun we had!  So much laughter, and so many amazing people all in one place, what could be better than that.
Advice for other couples 
I'm sure everyone probably says this, but don't sweat the small stuff, it truly does not matter on the day! All that matters is that you get marry your person that means more to you than anyone else.
I would also say invest in a good photographer, you will not regret it! Jodie was amazing, we hit the wedding photographer jackpot she made us both feel at ease, told some pretty great jokes oh and took bloody amazing pictures.
Supplier Shout Outs
Jodie Rainsford from the The Good Wedding Company