Happy Friday everyone! And happy 1st June! Summer is nearly here! I hope you have all had a wonderful week so far and that you are now looking forward to the weekend ahead of us. It's a strange one for me as I'm working today, Friday is normally my day off, but I've mixed my days up this week as it's half term. It's my husbands birthday tomorrow so he has taken the day off today in preparation for a day of celebrations. We have a cinema date together, then dinner then we are meeting up with friends and going to a gig. It should be a really fab day, I can't wait! Today though we are starting off the day with this gorgeous Texas wedding, followed by a fabulous styled shoot this afternoon. Jessica and Tony wanted a relaxed, Boho chic day, filled with homemade details, amazing florals and the most amazing decoration. This they got in abundance, all captured perfectly by Dawn Elizabeth Studios .
An incredible dream come true that was over a decade in the making that will forever be embedded in our hearts and our memories thanks to the love and support from our friends and family and the hard work from our amazing vendors. A laid back vibe with many special details that had significant meaning behind them.
Jessica and Tony were married on 4th November 2017 at Lost Mission in Spring Branch, Texas. 'Lost Mission is so beautiful and the epitome of San Antonio and the Texas hill country combined. We fell in love when we toured in. We felt it has the boho chic vibe we were going for. We had 130 guests, We were engaged for about a year and a half so I was planning all during that time however I took a month off here and there.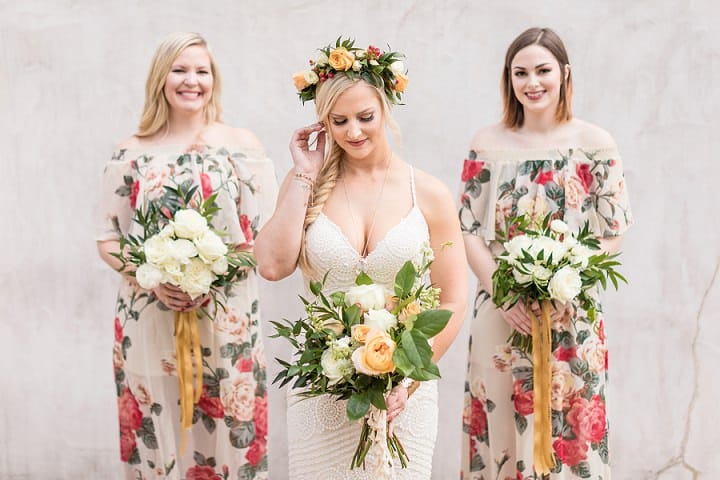 How they met
Our story began in 2005 in chemistry class in high school in Virginia Beach, VA. I sat behind Tony and lucky for me we were assigned as lab partners . Our friendship grew and we began dating. We were thrown a curveball when I had to move to Texas during our senior year for my dad's job. With heavy hearts we said our goodbyes and went our separate ways. We kept in touch as we went off to college and eventually decided we wanted to be together even if that meant while living in separate states until after graduation. I moved back to Virginia after graduation and we were finally together. After a few years we went our separate ways again as I moved back to Texas to be closer to family. Tony's company offered him a job in Oklahoma. He accepted the position secretly hoping this would lead him back to me since it was so close to Texas. One day I called him out of the blue and we picked up where we left off. Fast forward 3 years and now we're married!
The proposal
One day in June of 2016 we went to Paradise Canyon in Medina, TX. We parked and walked down a big hill to get to the river. We walked a little bit up the river and found some big rocks and a big tree where we decided to plop down. It started raining and we took cover under the tree. We decided to pack up. I was bent over putting stuff in my bag then when I turned around he was down on one knee. I said yes and he gave me a big kiss as it started to pour.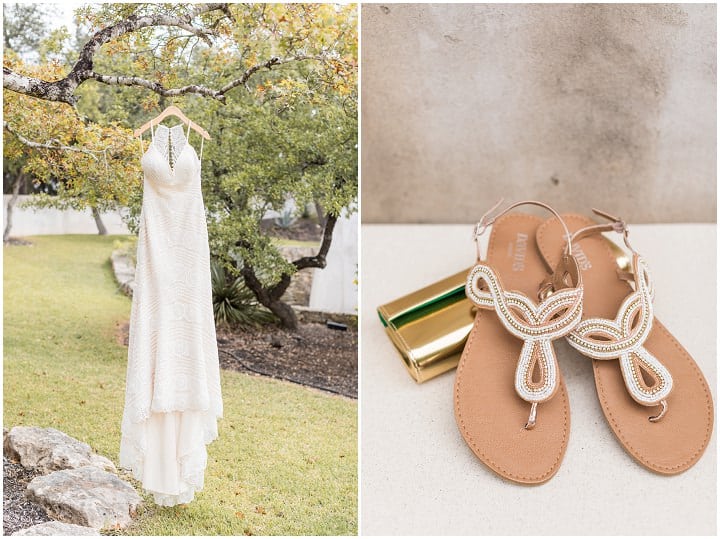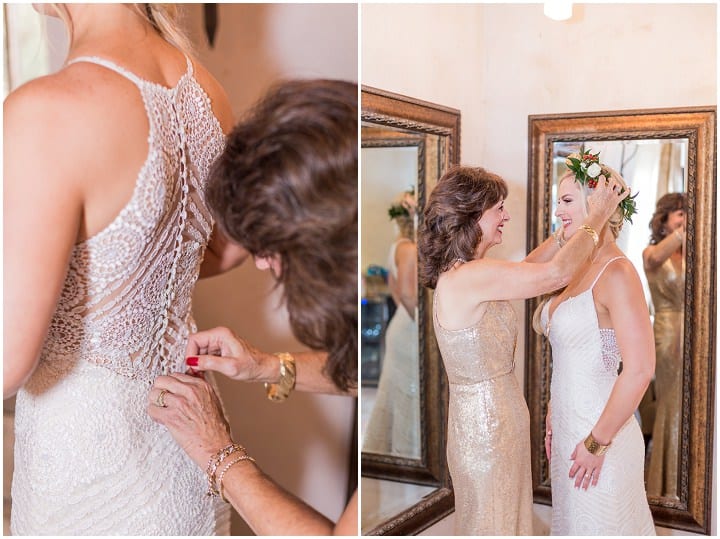 How did you allocate your budget?
We used online tools to help get an understanding of how to allocate things and created a spreadsheet to track everything.
Where did you splurge and where did you save?
We splurged on add ons with  the venue, adding in the fire wall and the drapes. We saved a lot with decor and details because we did a lot of DIY projects and I would always wait for things to go on sale or wait until I had coupons to buy things.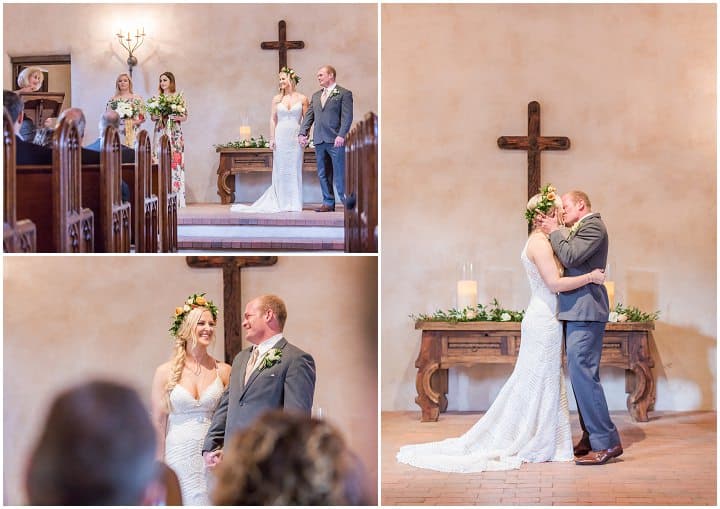 How did you choose your photographer?
I always knew I wanted to book Dawn ever since I saw this photo shoot she did on Instagram. I felt like the photos were unique and not the typical photos you saw when researching San Antonio photographers. Luckily Tony liked her work and when we met her she was so sweet so it was a no brainer.
The dress 
Dress was Maggie Sottero from Mayfair Bridal. Accessories were Charming Charlies, Apricot Lane and St. Eve Jewelry. My earrings were my grandmother's (something old) and my shoes were from David's Bridal
The suit and bridesmaids
The suits were from Al's Formal Wear and bridesmaids were from Show Me Your MuMu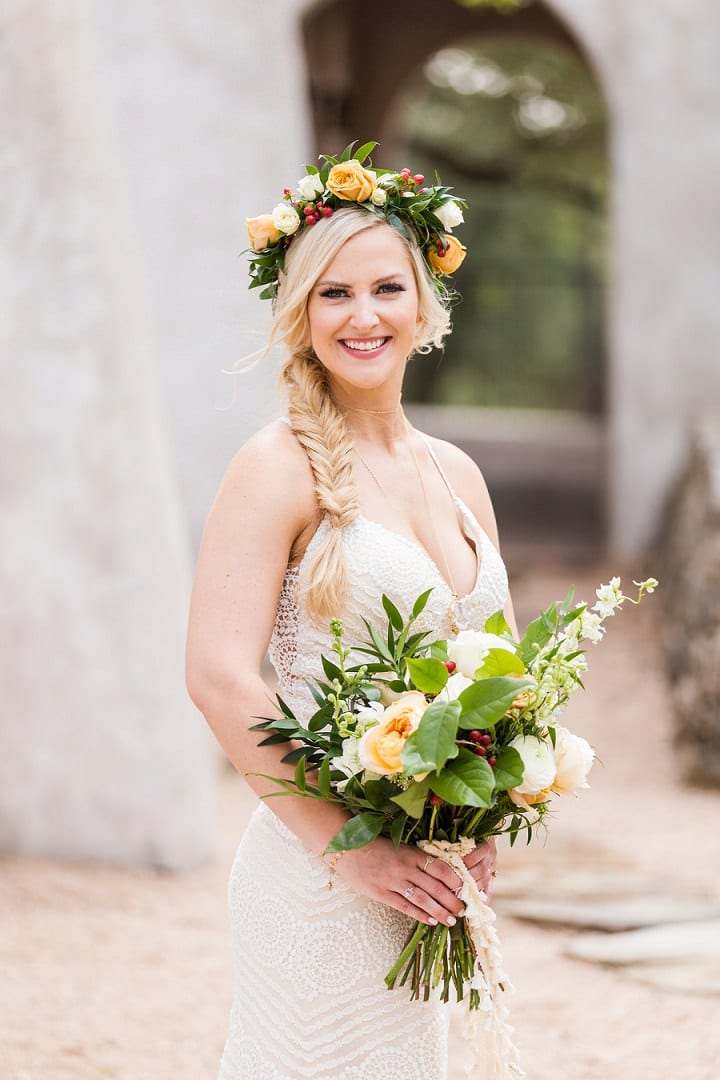 Theme or colour scheme
I wanted something that represented us as a couple. While falling in love in high school, we always hung out at the beach and ever since then I've had a boho vibe about me. Tony has always been a laid back beach boy (until he turned Texan) so boho chic just seemed perfect. We wanted something simple, earthy and unique at a place where we could enjoy the beautiful Texas hill country scenery.
Flowers 
I wanted lots of texture and greenery – mainly creams with pops of cranberry and dark mustard yellow. We used things like spray roses, garden roses, nagi, white veronica, white ranunculus, ruscus, hypericum berries, larkspur buds, lemon leaf, vibernum and garland
Decoration 
Handmade candle blocks, sanded and stained to match the overall wedding theme. Hand peeled cedar arbor built to hang pictures of us over the years at the reception hall entrance. Handmade dream catchers hanging from the trees. Macreme table runner for the head table. Candle stick holders that were my grandmothers. Tall hurricane vases with large ivory candles. Handmade signage and place cards. A table with photos of family members who have passed away as a symbol to honor them and a reminder that they are always with us. Lots of amber candle votives.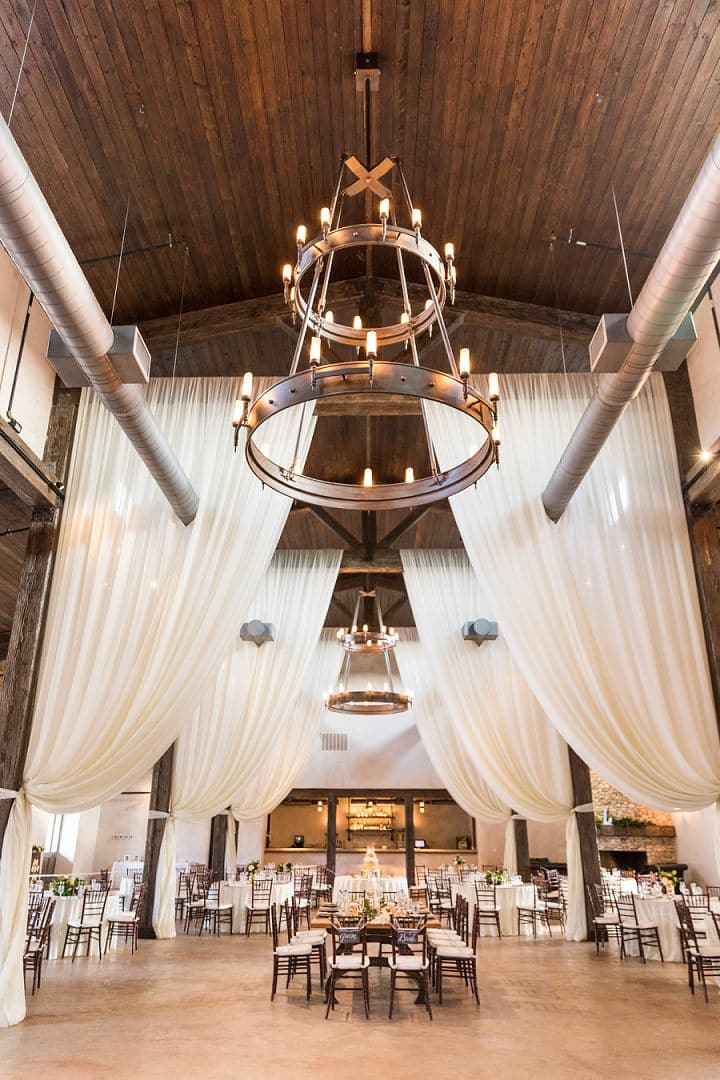 Food
For appertisers we had chicken wrapped in bacon, beef tenderloin in yeast roll with warm raspberry sauce, italian sausage stuffed jalapenos and goat cheese and avocado crostini. For dinner we had 2 salads to pick from – greek salad and a baby spinach salad with raspberry vinaigrette. We also had caprese chicken, roasted new potatoes, sauteed vegetable medly and rolls and the kids had chicken fingers and mac and cheese. For our late night snack we had a mac and cheese bar with many toppings to pick from.
Wedding cake
Sweet Traditions was so amazing. We had a 4 layer cake and they let us use a different flavor for each layer. We had pink champagne, chocolate, butter pecan and almond.
Entertainment
We used a DJ and picked out certain songs that meant something to us for various elements of the night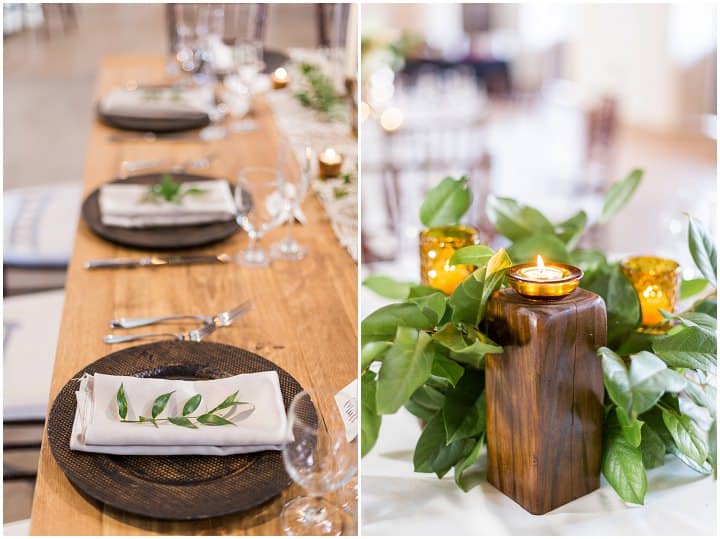 Who supplied the stationery?
Tony's dad and uncle own and run a print shop that was started by Tony's grandfather (Liskey Printing). They designed and printed our invitations. We used Minted for the save the dates.
Personal touches
I really wanted to do something unique so I hand-made 20 dream catchers to hang in the trees for my boho vibe. I also had this idea for different levels of blocks put together with greenery and candle votives for some of my centerpieces. We bought tons of wood and Tony cut and sanded various sizes of blocks then my dad stained them a rich brown. They turned out perfect! Kelsea put together the blocks, greenery and votives exactly how I envisioned in my head. I also saw this arbor with flower hoops hanging from the top that I wanted to recreate. Tony found 3 big pieces of cedar wood and built the arbor. I bought hoops and faux flowers and put together that but then I strung ribbon down the middle of each hoop and put a picture of us on it. It was really cool to see something we made together for our big day. Tony's dad and uncle own a print shop, Liskey Printing, in Virginia Beach and they designed and printed our invitations and they turned out beautifully! It was awesome to have family create something so special for us. We also had cake toppers that were in the shape of the state we are both from with our names in the middle.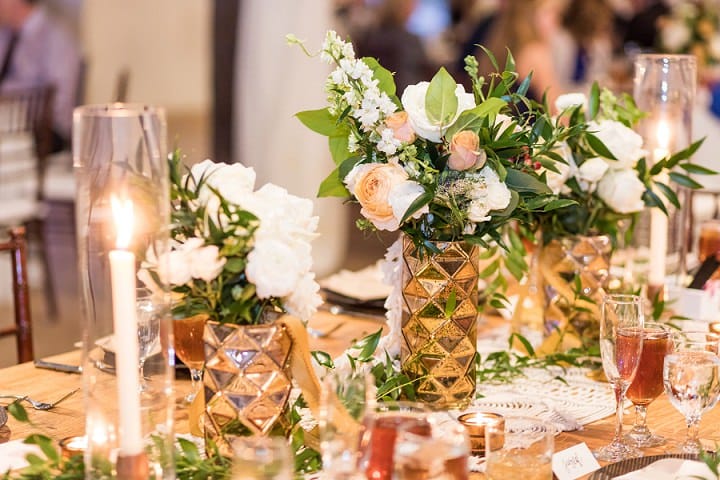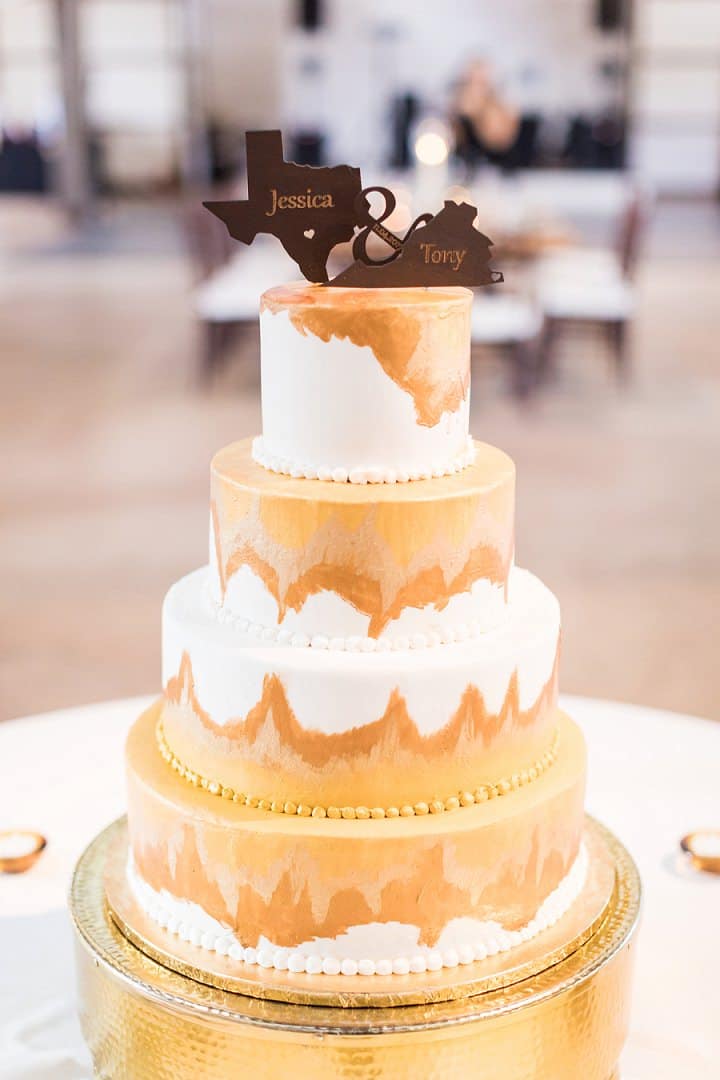 Special moments 
For Tony: Having friends and family traveling from all over come and celebrate our special day and reading Jessica's card before the ceremony.
For me: I really enjoyed when Tony and I were taking our photos before we walked into the reception because it was nice to have some time together without all the hype around us to just enjoy each other's company. Of course we loved all the hype and being around our friends and family but it was a little special moment to me. After we finished that, they gave us some time alone to freshen up before the grand entrance and it was cool that it was just me and him soaking in how we just got married!
Advice for other couples
Look for venues early – they book up quickly. Timing of the year can determine pricing since the summers are so hot in San Antonio and people generally don't want to get married outside in 100 degree weather. Keep your options open with your vendors. Sit down with them and talk to them and make sure you click. If you love their work, trust their passion. Definitely get a good photographer and a videographer because the day goes by so quickly.
Biggest surprise 
For me it was during the garter toss when Tony was taking the garter off of me he pulled out a headband flashlight to look under my dress and it was hilarious. Tony said for him it was seeing me walk in the doors of the chapel.
Supplier Shout Outs
For more information on Dawn Elizabeth Studios go to
www.dawnelizabethstudios.com / http://dawnelizabethstudios.com/blog / [email protected] / FACEBOOK / INSTAGRAM / PINTEREST / TWITTER
As a San Antonio based wedding photographer, I capture all your wedding day moments – those laugh-until-you-cry and is-this-real-like kind of moments – so you can focus on soaking it up and celebrating! My style is bright, joyful and authentic!