This afternoon we are back with our regular feature 'Advice from the Married Side,' real life wedding planning advice from all the lovely brides and grooms I have featured on the blog. It's been a while since we ran this feature, so there is an abundance of advice from past brides and grooms for you here.
I get to feature so many amazing real weddings here on the blog and with each wedding I ask the couple to share with us their wedding planning knowledge and experiences. This post is a super useful collection of wedding wisdom from those who have just got married, to help you on your own wedding planning journey. I hope there will be something amongst these experiences that help you. Happy Planning!
Planning
Don't sweat the small stuff. It will all come together!
Don't stress. Planning our wedding and the build up to it (including several stags and hens!) was the best 9 months of our lives. Enjoy the process!
Get the important things sorted and the rest will come together. People want to help – let them!
When it comes to planning, my best piece of advice is to book your main vendors as soon as possible – particularly the venue followed by catering, florals, music, and photography. We started looking at venues immediately after our engagement in October of 2016 and there were a number of places that were already entirely booked for all 2017.
We'd also recommend looking for local suppliers, you're not only supporting your community, but local suppliers tend to give a deal if you're nearby as it's less travel time for them.
Start planning way ahead.
My advice would be to take it slowly, don't do too much and overwhelm yourself and take a break from it every now and then, when every conversation is about the wedding it can all get a bit too much.
Hire a wedding coordinator. This person takes all of the stress off of the bride and groom, allowing them to properly enjoy the greatest day.
Making the day Your Own
Know what's most important for you before you start planning a wedding
Do what you both want and what feels right for you both
We'd say make it about you. Don't listen to other people when they tell you what you should and shouldn't have at your wedding. If you don't want the formalities', then just don't have them. You don't need to start the day with prosecco and end it with Tina Turner.  Do what you want!
Go easy with the inspirations. It is so easy to sink deep into Pinterest or Instagram and dream away for hours until the point when you forget what it is that YOU want.
Remember who you're doing it for and keep it about the two of you.
Don't let anyone tell you what to do/have. People have a lot of opinions but it is about what you want, whether you want to spend a little or a lot, everyone's priorities are different and shouldn't be judged. What is important is what you both want as a couple.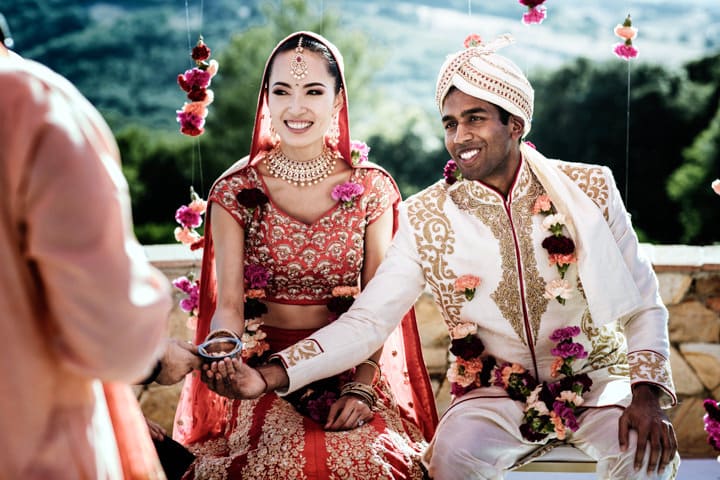 On The day of the Wedding
Make time for each of your guests, but also make some time for yourselves to soak it in.. you just got married whoooo!
Relax, Enjoy and Party – Don't get all stressed out. Having all your loved ones together in one place and at the same day is already an enrichment in itself.
Once the wedding day comes – let it go. There will for sure be some things that will not go as intended, but prepare not to let them get under your skin. The most important thing is you, your partner, and that you and your guests enjoy the day to the fullest!
The day goes by in a flash, so we were really glad that we had our closest friends and family staying at the venue with us and we got to spend some quality time with them the next day, after the madness of the wedding itself was over. We would really recommend doing that if you can. 
Secondly, make sure you find time to eat something at some point during the reception. You need the fuel to get through the night and honestly something to help soak up all the booze. Plus, you spent all that time and money on planning a gorgeous meal, so you should make sure to enjoy some of it.
Another important tip is to have someone that knows you well and can keep track of everything before and during the wedding. It's very important that you can let go of the responsibilities on your wedding day so you can relax and enjoy this beautiful moment.
Take moments out throughout the day just for the two of you.
Remember to delegate assignments to your friends, so that people know whom to contact if they have any questions
Getting Organised
Be organised, but don't stress, it will all come together on the day.
Looking through pintereset is so inspirational, but If you plan to have a DIY wedding there will be a lot to do.  Think about what you want, how long it'll take to achieve it and when it can be accomplished. Some things can be done well in advance, other things closer to the time.
We broke things down month by month of tasks we needed to achieve and payments too.  Spreadsheets will help and make things more obtainable.
Plan everything ahead as much as you can so you can relax on the day and don't panic if there are little things that don't work out. Work everything out and hand it over to the people you trust so they can look after how the day goes. It can be whatever you want it to be, the less pressure you put on yourselves the better.
Plan, plan, plan and delegate everything for the day, then you can reap the benefits of your hard work and have the best day of your lives!
General Advice
Pick a great photographer, as their pictures will allow you to relive those special moments time again and time again!
Lighting makes everything look amazing!
If you can buy your own drink then get it from somewhere they allow returns.
You'll be fine. It is the best day of your lives.
People say don't stress which is easier said than done so I say of course you can and its often inevitable but try and make it good stress to keep you motivated rather than taking the enjoyment out of it.
Read the contract with the venue carefully and get specific things agreed and in writing.
What you will remember are the experiences you had with those you love the most, all the little things do not matter.
I hope you found these pieces of advice helpful. If you are already married is there anything you would like to add ? Was there anything in these words of wisdom that has resonated with you?
Is there something you would particularly like to ask me  for advice? any questions just email me [email protected]
BIG BOHO LOVE
KELLY XX