Happy Friday everyone! I am so excited for the weekend, as it's the Royal Wedding (just in case you hadn't heard! LOL!) Yes, the news has been going on about it maybe a bit too much, BUT as a wedding obsessive, I just can't wait! I am dying to know who has designed her dress, what her flowers will look like, how she wears her hair. Everything to do with the whole day, I am just so excited. What about you?? Will you be watching it? If so, where?
Before that I have one more wedding to share with you. This time it's the wedding of Maysie and Stuart, courtesy of Simon Hawkins Weddings. They chose an unconventional day, as firstly they were lucky enough to get married on the family farm. Secondly, as they had been together for 9 years, with a child, Maysie chose a red wedding dress and Stuart was relaxed in a pair of blue jeans and personalised trainers. As they are both deaf, they decided to lose a lot of the traditions, which works perfectly for this laid back red loving wedding.
Enjoy the weekend everyone and let me know what you think of Meghan's dress!
More beautiful and unique than we dreamed it would be. Full of love shared with family and friends, the best day ever!
Maysie and Stuart were married on  27th May 2017 at The Church of St Michael and All Angels, Throwley with the reception at the Yates family home: Little Hockley Farm, Faversham in Kent. We decied to get married there because of the amazing location, our home is so personal to us also giving us freedom to arrange the reception as we wished. We had 100 guests and it took 10 months to plan.
How they met 
We have been together 9 years together TO THE WEDDING DAY! We met in South West France. My family were on holiday, Stuarts family who are originally from Malden in Essex had moved to France a few years previously.  We heard there was a young man living nearby who was deaf, as myself and 3 out of my 7 of my brothers are also, we went on a mission to find Stuart as the boys were interested in making a new friend, however when we met it was Love at first sight for us!
The proposal
Stuart arranged a holiday in Portugal, I didn't know that he had already asked my dad's permission to marry me and intended to propose.  This happened on a deserted beach, in front of a cave with an entrance in the shape of a love heart. Stuart asked me to go for a walk with him we came upon a love heart drawn in the sand with the question will you marry me? (Stuart had been there earlier) he then went on one knee and produced a shell with an engagement ring inside! It was such a surprise! Of course I said yes!
How did you allocate your budget? 
It was important for us to celebrate with family and closest friends, we wanted everyone to relax and enjoy a day to remember.  Majority of the total budget was allocated for the reception.
Where did you splurge and where did you save?
We splurged on Wine and bubbly lots!…  we saved by having the reception at our home due to the freedom, no restrictions to make our own arrangements for catering, bar, etc.
How did you choose your photographer?
It just so happens that Simon lives in our village and his house backs onto the church! We were thrilled when he said he could photograph the wedding for us, we were so lucky!
The dress 
As we have been together 9 years and already had two children, I didn't feel white was the colour for me.  I chose a Red French style ruched Satin dress with a cathedral length lace trimmed veil also red, accessorised with a crown of red roses and matching bouquet. The colour of the dress was top secret only my mum was in on it! I wanted my immediate family to see me in the dress when they were all together before leaving for the church, the reaction was fantastic, I'll never forget their faces, confirmation that I had made the right choice. As we wanted to be comfortable, Stuart loves his trainers we ordered customised trainers with Bride and Groom names –  mine were also leopard print.
The suit and bridesmaids
We wanted the wedding to feel relaxed and comfortable. We live on a farm and decided to go for a country outdoors look.  We chose Beige & tan Allan Paine Check Shirts – from the local Country Clothing Supplier  teamed with levis style Jeans, leather tan boots and belts. Red roses for the button holes. (I have 7 brothers) so this was for 12 men including the 3 page boys one of which was our son 5 year old son Tyger.
The 7 Brides maid's dresses were a beige/gold tulle, fairy style dress with gold slippers, red posies and garlands in their hair, our daughter Star wore the same design but in red just like mummy!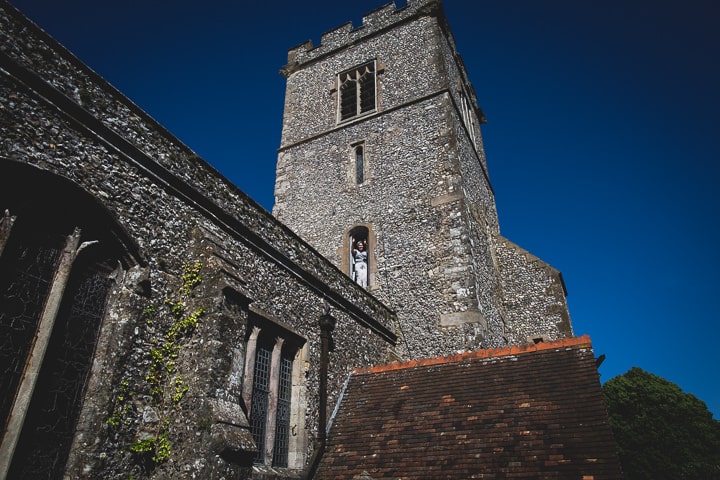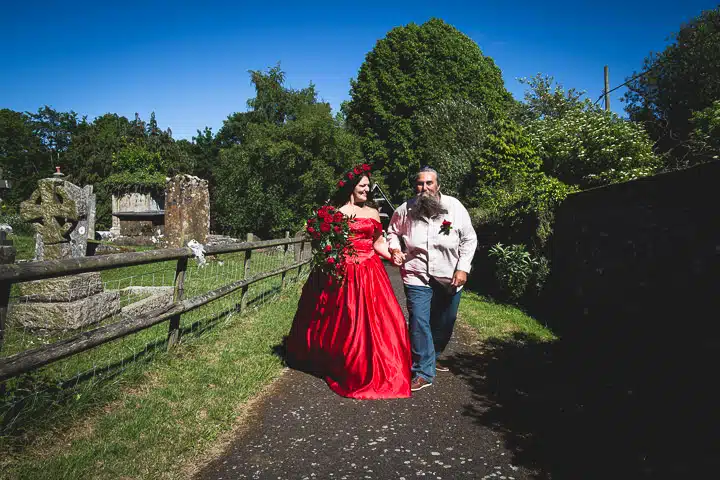 Theme or colour scheme
Country BOHO – Handmade – organic – relaxed – colour scheme:  Red and Cream with splash of gold
Flowers
Red roses and natural greenery that you would find around the countryside. For decoration cream lilies, daisy's, also red potted geraniums.
Decoration 
We made the tables from old barrels also Wooden cable drums were recycled as table tops, tin buckets were place on each as wine coolers, and terracotta flower pots from mums potting shed planted with red geraniums from the local farmers market for the centre peace.
Hay bales for seats covered in sack cloth.
Red twinkling star lights and big red love heart helium balloons finished this off a treat.
We also made a big shadow box light up bar sign, which we hung above the stable that had been converted into the Bar.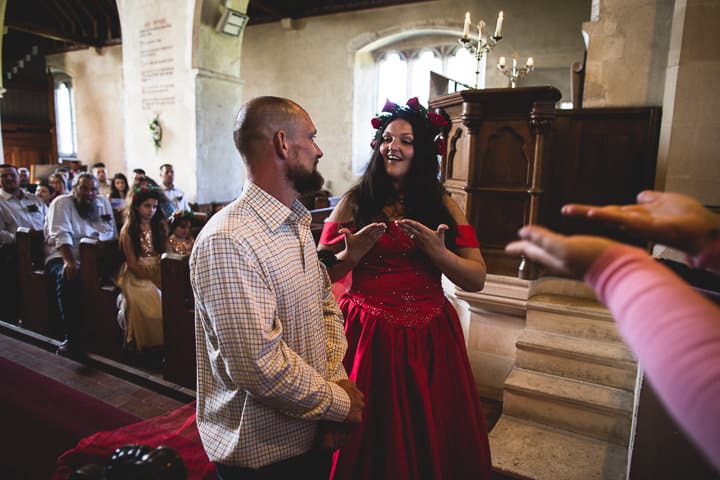 Food
A Hog Roast – succulent sausages – Vegetarian alternatives – also wonderful variety of salads and pastas made on site by the caterer.
All kinds of Gateau's –  Cheesecakes – And dads favourite Banoffee pie's
Wedding cake
So special as this was made by my childhood Best friend. A large all-Natural Tiered Sponge cake in four flavours, with fresh cream filling, decorated with strawberries and fresh fruits. The base surrounded by cupcakes to match.  For the cake topper a miniature handmade style bunting flags saying
Entertainment
Personal again, a DJ who was a family friend so he knew the taste of music of those attending. It was important to us that the whole wedding was personal and involved everyone.
Who supplied the stationery?
Handmade although I have to admit I was not so brave – so had them made to order, shabby chic style printed on brown card and to look hand written, for presentation original string in a bow tied the invitation & reply slip together.
Personal touches
As we are both deaf as we cannot hear the hymns we decided not to include any as part of our ceremony, instead we had a video screen placed at the front of the Church – we chose two subtitled songs that we love the words,
Ed Sheeran: Perfect and Shania Twain: From this moment Were played during the Signing of the register, that way everyone was included it was wonderful.
Special moments 
Entering the Church that moment that we first see each other was Magical!
Bridgette our signing interpreter was the Best! She made sure everything was clearly translated – even signing the song for our first dance 'Lady in Red' was so wonderful to see the words as we danced!
Advice for other couples
Your special day, so try to relax, and enjoy every moment sharing it with those you love.
Biggest surprise 
Oh dear there were a few!
I was so thrilled when Dads best friend arrived in a VW Camper, complete with Champagne on ice to take us to the church.   So special that Mick who has known me all my life was driving us it was everything I could wish for.
Stuarts parents got lost on their way to the church, we would never dream of going ahead without them!  When word finally came they had arrived (only 45 mins late) Everyone left for the church in such haste they forgot my brother Robby who was in the loo! As dad and I were about to leave it was such a surprise when he came running out of the house very flustered that he had been forgotten.  He had to jump up front in the wedding car with Mick – However his selfie of us is one of my favourite photos!!
But I have to say the ultimate surprise/shock of the day was when my poor old dad's trousers fell down during father daughter dance, mum should have got him braces! lol
However, this gave everyone a laugh and he really didn't mind love him!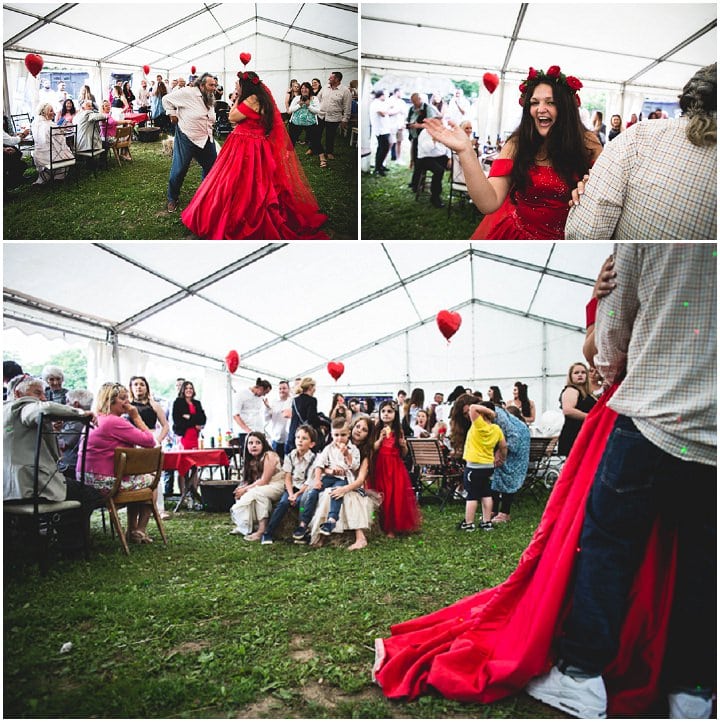 For information on Simon Hawkins Weddings go to
www.simonhawkinsweddings.co.uk / FACEBOOK / INSTAGRAM / 07889830372 / [email protected]
I am an internationally published documentary wedding photographer based in the beautiful garden of England. My wedding photography style is based all around my ethos of "A little less wedding…A little more you". To me a wedding is all about the people and the emotions of the day. I work hard at every single wedding to provide my couples with a unique take on their day to provide them with a bespoke set of images.