Today I have something a bit different for you as I jet you off to the totally jaw dropping location of Bali for today's elopement. I don't often feature elopements on the blog, but when this one from Mike Plunkett  landed in my inbox, I knew I had to share it with you. The images of Raana and Richard's big day are not just the stunning ceremony but the morning of the wedding, which involves a tour of the island. Aswell as this, they have shared the day after when they went off for a private snorkelling trip around the Gili Islands. The whole celebration is beautiful to look at, the ceremony area is breathtaking, the backdrop, the private beach, the flowers, Raana's Eliza Jane Howell gown. Oh my, so many amazing elements to this beautiful day.
The ceremony day was, as cliched as it sounds, just the most elated I've ever felt. I sobbed happy tears from morning until night. It was put together perfectly, and it was extremely private, there was no one else on the whole beach.
Raana and Richard were married on 20th June 2017 at Hotel Tugu, Lombok, Indonesia, followed by a UK party at Didsbury House in Manchester. 'We wanted something completely private where we could enjoy a honeymoon and a wedding at the same time, but we always intended to celebrate with our friends and family and Didsbury House was perfect for that. It was like one big house party. We had two guests at the ceremony, plus our lovely photographer Mike and the reception was around 120. We were engaged and married within 9 months! The wedding planner in Bali was amazing and the place is so beautiful that it didn't take much for us to decide on flower preferences. The back drop really spoke for itself.'
How they met 
We are both lawyers and since that means you work long hours in the office, we inevitably met at work. We've been together four and a half years.
The proposal
It was very low key and private, just how I'd hoped. We were bar hopping locally with our beloved Beagle, Bobby. We nipped home to drop him off before going out for dinner and Richard popped the question! Cue the happy sobbing again.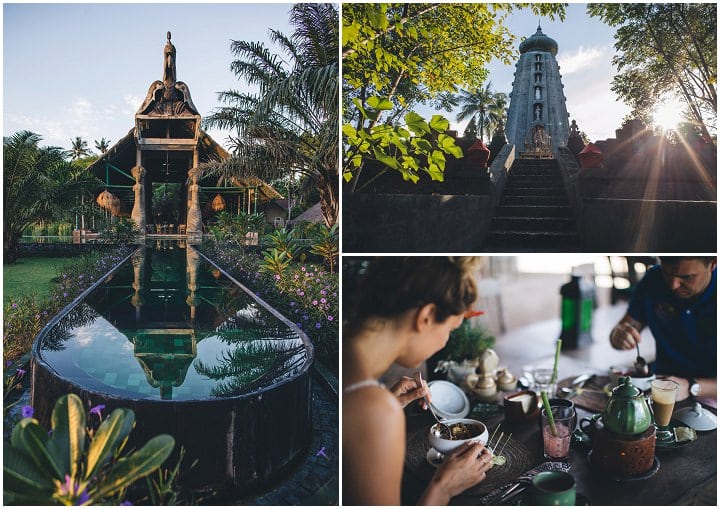 How did you allocate your budget?
We both discussed our top 3 wedding priorities and budgeted for those first, then everything else followed. For me, a good wedding celebration including entertainment and free bar; photography; and rings were the most important.
Where did you splurge and where did you save?
The free bar was a real splurge because we didn't know how much it would be until the morning after. But it was worth it to show our appreciation to all our friends and family and of course, it made for better photographs on the night! We didn't bother with wedding favours or any of those little wedding nuances that people often forget so I guess that was a saving.
How did you choose your photographer?
We liked the fine art style, so I searched on Instagram for fine art photographers. We came across Mike and loved that he blended in so easily with his weddings. Once we met him and saw his candid, beautiful work, we booked him instantly. He was the best wedding decision we made because our wedding album (also put together by Mike) is now my most treasured possession. My eyes fill up thinking about how special it is that even our ceremony in Lombok was captured so wonderfully.
The dress 
My dress was a bespoke Zenith gown by Eliza Jane Howell. It was the first dress I saw, and it was perfect. My shoes were Sophia Webster, and my head piece was a bespoke design which I created with the brilliant Laura Donovan.
The suit 
Richard wore Hugo Boss.
Theme or colour scheme
Our flowers were all brightly coloured as homage to our tropical wedding ceremony.
Flowers 
The flowers were a mixture of coloured roses and foliage.
Decoration 
Our ceremony was all about the flowers and lanterns the location was so beautiful, it didn't need much dressing.
Food 
In Lombok we ate 5 courses of light Indonesian cuisine which was lovely, with a giant cheesecake as our wedding cake.
Who supplied the stationery?
I made all the invitations with my bridesmaids using craft things that I bought on Ebay.
Special moments
In Lombok, one of the highlights was chartering a boat the next day for a private snorkelling trip around the Gili Islands. Mike came too with special underwater camera equipment and photographed us holding a puffer fish and swimming with turtles.
Advice for other couples 
Don't stress. Planning our wedding and the build up to it (including several stags and hens!) was the best 9 months of our lives. Enjoy the process!
Supplier Shout Outs
FOR MORE INFORMATION ON MIKE PLUNKETT PHOTOGRAPHY
www.mikeplunkettphotography.com / www.mikeplunkettphotography.com/blog / [email protected] / 07875546132 / FACEBOOK / INSTAGRAM / PINTEREST / TWITTER /
I'm passionate about photography and people and I just love weddings! My style is very natural but artistic. I can easily blend into any wedding and whilst I have almost 10 year's experience, I never stop learning and seeing new things in each wedding I capture.