This afternoon I would like to talk to you about wedding entertainment. Finding the right band, singer or DJ can be a tricky task, and often something that couples struggle with when planning their wedding. That is why using an entertainment agency can be a good idea. Each agency will have a fantastic selection of bands on their books and each one will come with recommendations aswell. This afternoon I would like to introduce you to Like it Live Music, a highly established entertainment agency, dealing with one of the finest selections of bands, singers and DJs the wedding word has to offer. 'We provide live entertainment for corporates, famous brands, celebrities and a wealth of private clients. As industry professionals we know what is hot and what is not and keep our fingers on the pulse to make sure we are on point with trends and demands.' Read on to find out more about this fantastic agency and let your wedding entertainment needs be looked after by Geoff the companies Director.
We endeavour to provide; the finest live music and entertainment the UK has to offer. A bespoke and stress free service. Extensive and up to date knowledge of all things musical. An end result that will delight our clients and make dreams into realities!
Geoff from Like it Live Music tells us more about the company.
Like it Live Music is a provider of premium bands and DJ's to weddings and events both in the UK and overseas. Over the past 10 years, Like it Live have provided live entertainment for some of the most bespoke, stylish, glamorous and quirky weddings internationally. With a highly experienced team and founder Geoff Walker at the helm, there is no doubt that Like it Live are leaders in their field.
We provided live entertainment for high end organisations, famous brands, celebrities and a wealth of private clients. As industry professionals we know what is hot and what is not and always keep our fingers on the pulse, to make sure we are on point with trends and demands.
Most of our bands are in house and exclusive to Like it Live and every musician and DJ has been selectively picked for their individual skill sets and qualities – we only work with the best the UK has to offer!!
We work closely with all of the musicians, bands and DJ's and refine every act to a precision standard, thus guaranteeing highly polished, diverse and seamless entertainment to every event we work on.
Our team consists of professional musicians, events co-ordinators, sound and lighting technicians and fashion consultants. This allows us to make sure our bands and DJ's not only sound great but also look amazing, from stage set up to the clothes they wear – image is everything!
What made you start your business?
I had been working for a lot of companies as musician and within bands and had been treated badly by some of them. I wanted to set up an entertainment company that was a cut above the rest and looked after it's performers as well as only providing top class acts to clients.
When did you start and where are you based?
2007. The head office is in Guildford in Surrey and we cover the whole of the UK and Internationally
What were you doing before?
Working as a freelance musician for companies like I now run as well as session work
How would you describe your style?
Authentic, lavish, ever evolving.
What is your biggest achievement so far?
Performing for the King of Morocco at a private party
What makes you different to your competitors?
We are unique in the way that we only work with a very few select bands and DJ's. This way we get to know ever musician and DJ that work for us on a personal level. This allows us to know exactly what we are sending out to our clients and that it will be of the highest quality.
What do you enjoy most about your job?
Working in music is what I always wanted to do and I'm doing it so that's great to start with. Receiving amazing feedback from our clients is also very rewarding. I/we also get to travel to some amazing places both in the UK and overseas.
What sort of couple do you think you attract?
We attract all sorts of couples to be honest but the bulk of our clients would definitely be the younger hipsters who want something different and lavish at their wedding.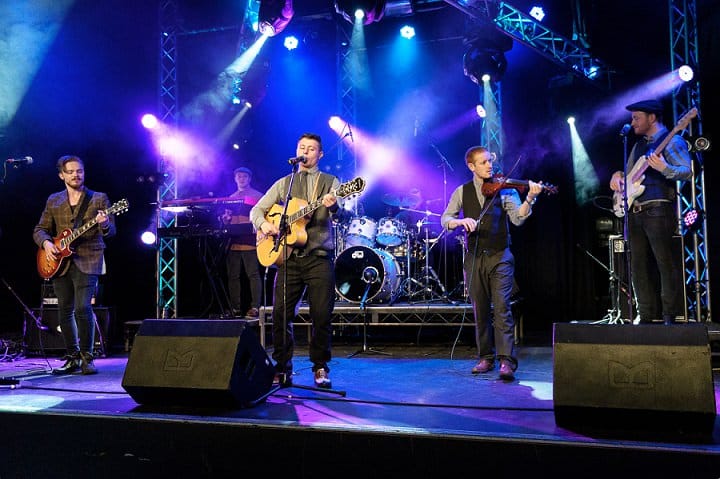 What is your ideal way to spend a day off?
With my wife and 2 beautiful daughters. Out for a walk with the dog and then a nice meal at a country pub.
Who would be your 5 dream dinner guests dead or alive?
Prince, Danny Dyer, James Brown, Ray Winstone, John Bonham
What would you do if you won the lottery?
Buy a house next to the sea. Buy a boat. Go on a looooong holiday. Build a MASSIVE recording studio in the countryside.
For more information on Like It Live Music go to
www.likeitlivemusic.com / [email protected] / Phone: 0345 647 7679 / FACEBOOK / TWITTER
this is a sponsored post