Today I am taking you off to New York for this totally stunning rustic dream of a wedding. When you think of New York, the first thing that comes to mind is the Manhattan skyline. However, New York is also filled with lots of quaint country areas, including Ballston, which is where todays wedding is from. Katherine and Michael were married on 19th August 2017 at William m. H. Buckley Farm, Ballston Lake in New York. They love the outdoors and wanted a venue that allowed them to hold their ceremony outside but have a rustic feel to it, while being super chic and glam at the same time. They managed this by brining in lots of textures and an abundance of amazing flowers, with soft pastel tones, as well as richer deeper colours for the tables. The results are this amazing, whimsical inspired wedding, mixed with Boho charm. All captured perfectly by Carla Ten Eyck Photography.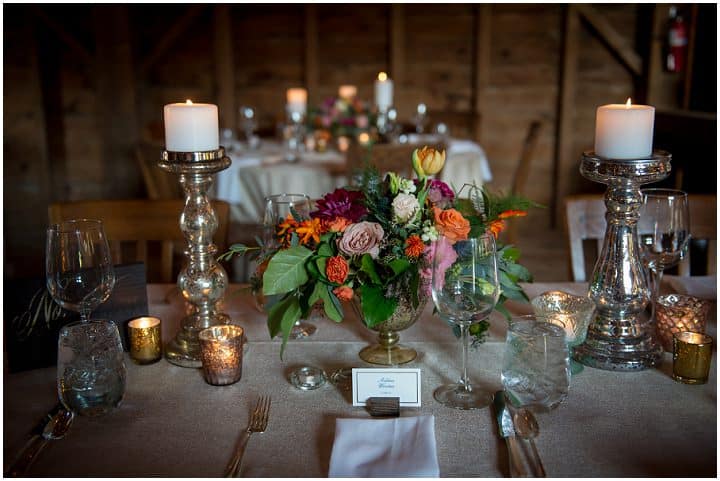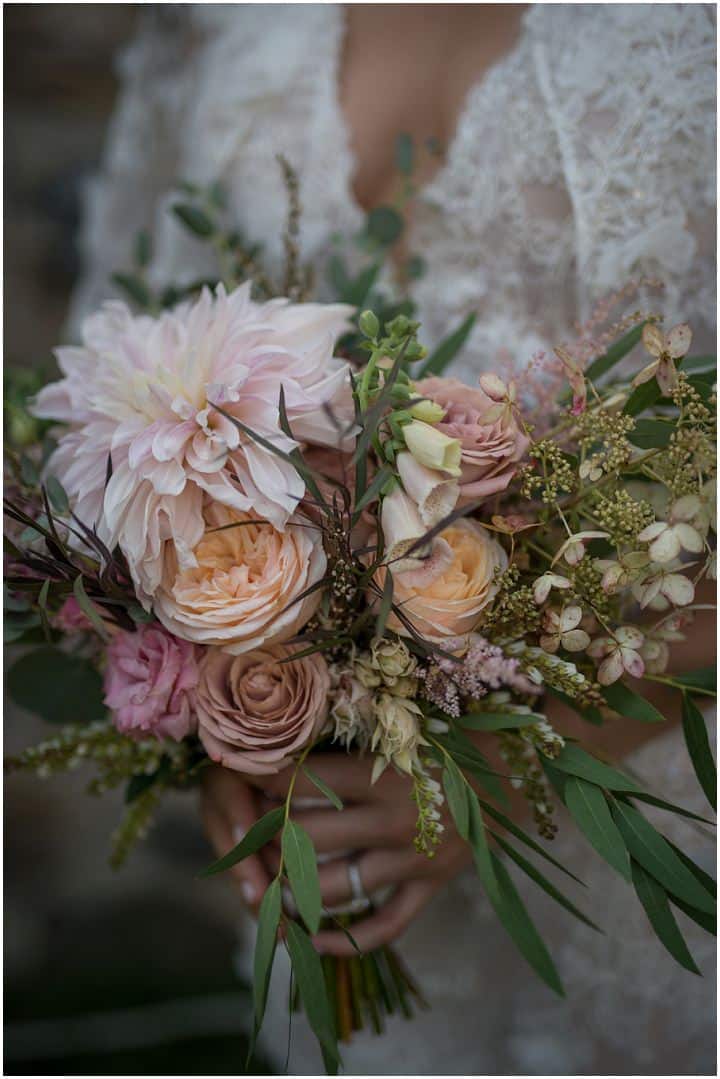 Michael and I definitely had an overall theme and feeling we wanted for the weekend which was 'elevated rustic'. We both love nature and the outdoors so we wanted to have as much of the wedding outside as possible, but at the same time we wanted something grander and more formal than mason jars and picnic tables. We did a lot of research but as soon as we saw it we knew the Buckley farm was perfect for it.
For colors, we stuck with navy (lot's of it), off-white, and gold/metallic accents for most things from attire to the invitations. For florals, we created a flower palette that ranged from ivories through pinks, oranges, and reds all with brownish undertones to keep things soft. The colors felt very warm and late summer-y without feeling like we had jumped into something autumnal.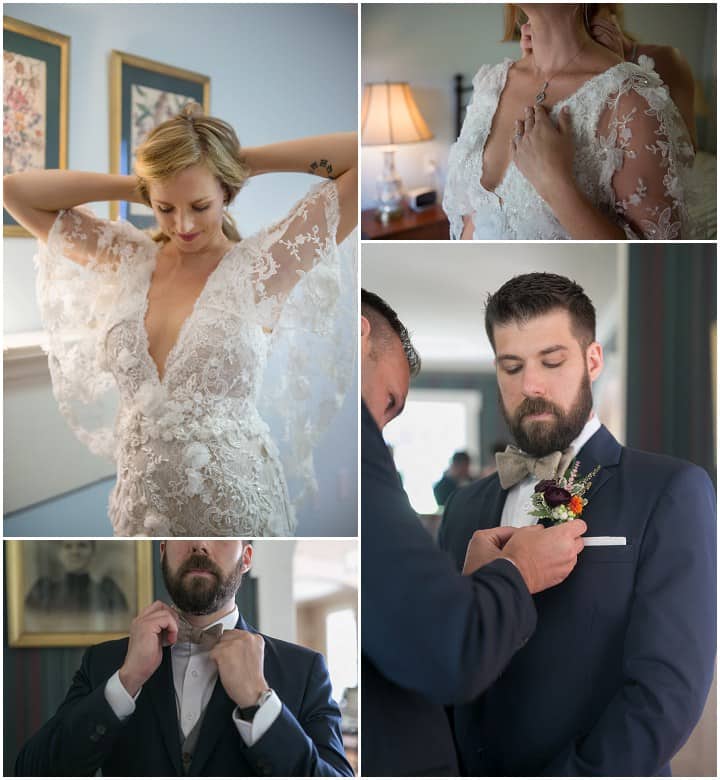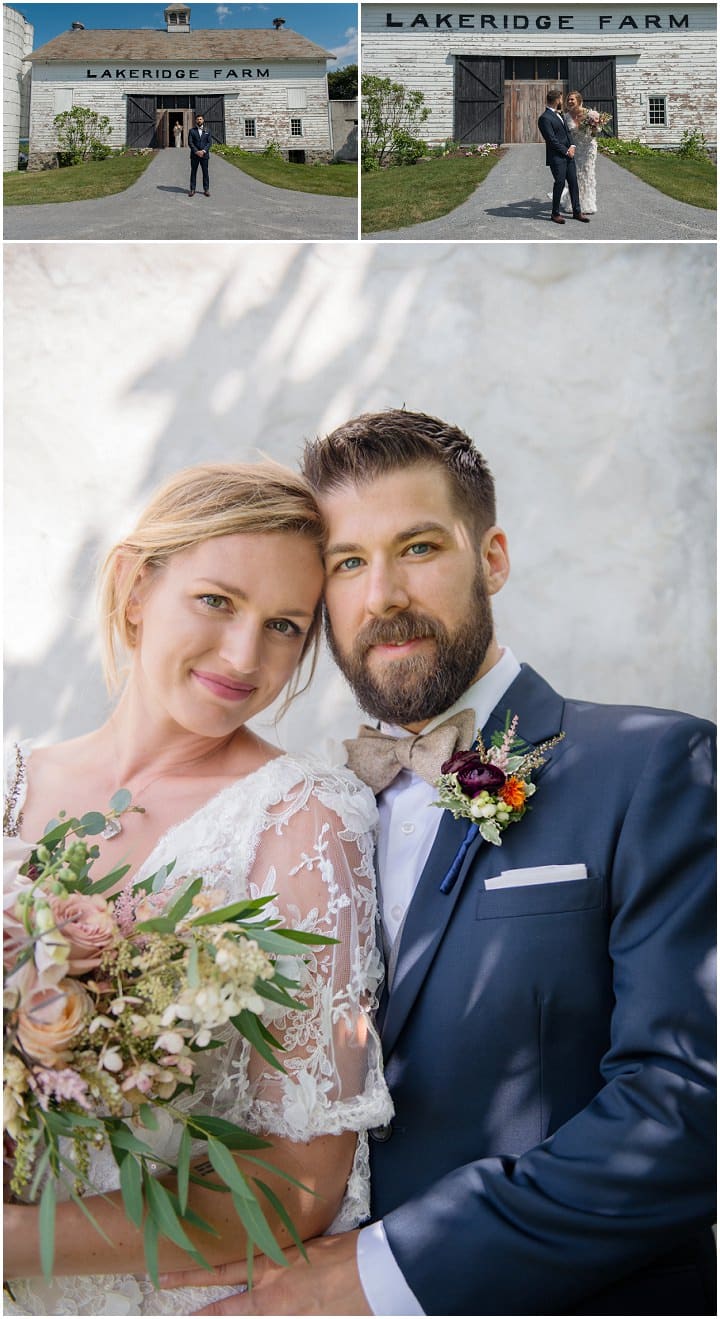 Wedding Decor
The Ceremony area: Sam Nass and I had a blast coming up with the design for the ceremony and reception spaces. The ceremony decor was very simple – we held it in a field next to a pond with a huge, magical, old willow tree.  To create an entry point for me, we had an antique doorway put in the field with billowy curtains which was so fun to walk through!
The Reception: was held in the main barn on the farm. Sam created some beautiful vignettes of antique furniture for seating areas around the back of the barn for cocktail hour. There were lots of cafe string lights inside and outside, and lanterns and candles sprinkled throughout. The table decor throughout included Sam's florals and more votives and column candles on top of heavy, textured ivory tablecloths.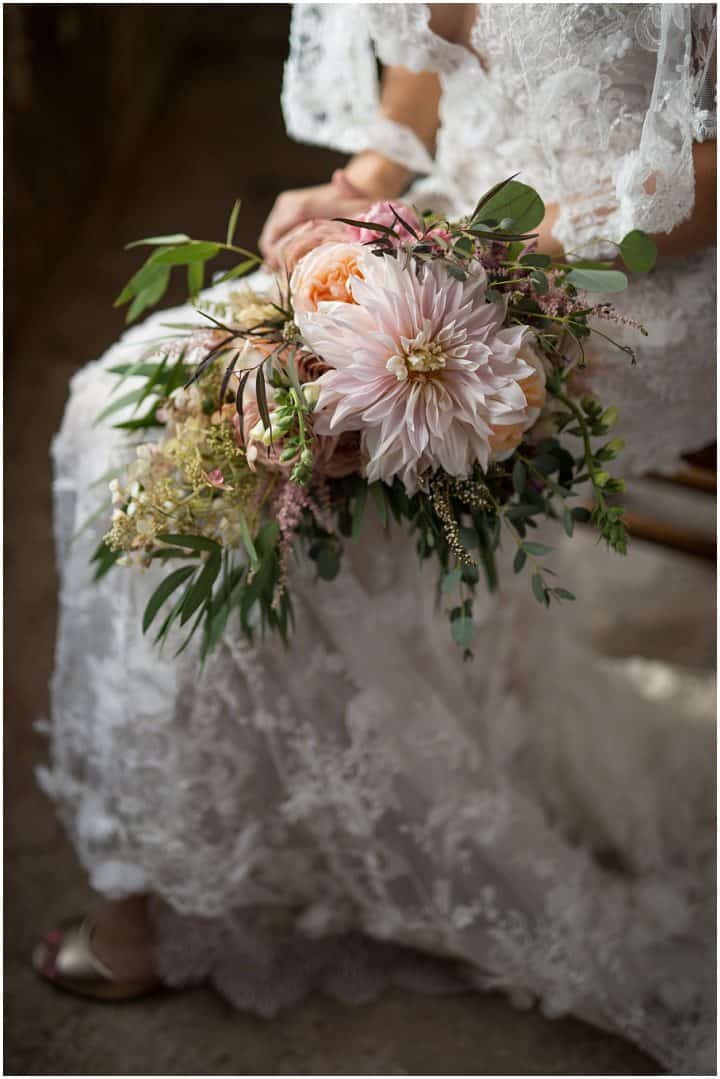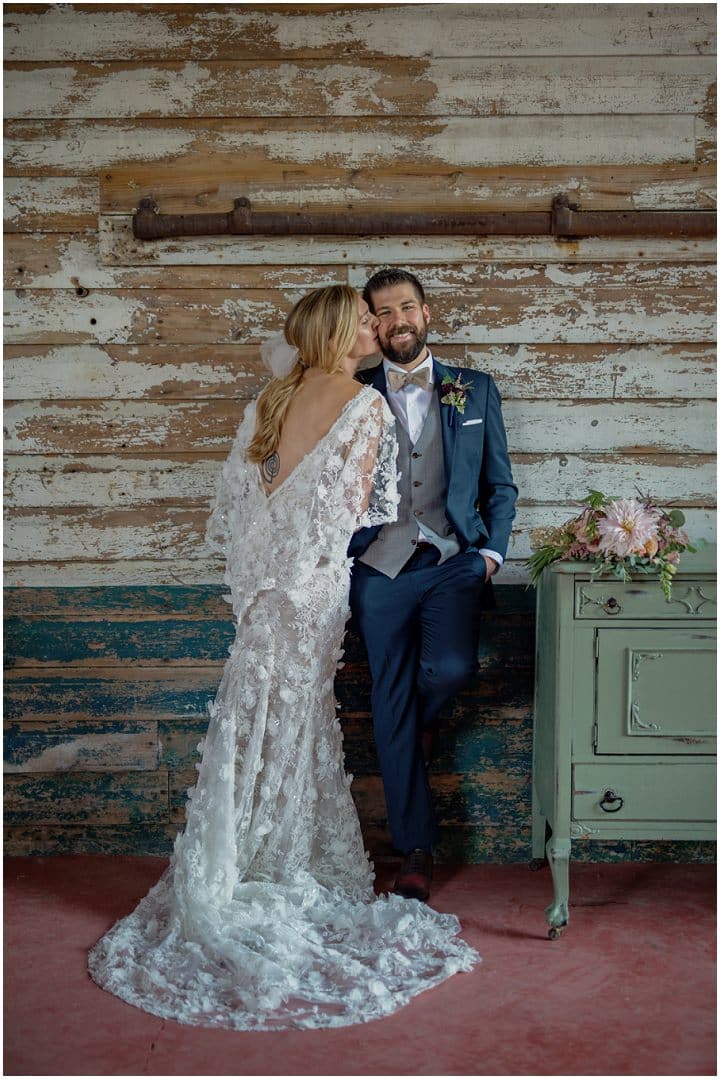 The Flowers
Florals were such a fun part of the wedding planning for me! I'm a landscape designer, so I love plants and flowers and am also pretty particular about them, but I did my best to give Sam as much creative space as possible. She ended up creating gorgeous arrangements for me and my bridal party in soft pinks with hints of brown and peach and purple
We put table arrangements everywhere, and they were bigger and more dramatic than the bridal flowers with burnt reds, peaches, and oranges worked into the color palette. All the flowers were big and dramatic but also loose and whimsical. We also had some vines mixed with string lights wrapped around some posts outside the barn that framed the dance floor. My main request to Sam besides the general feeling and color palette was no tropical plants, sunflowers or mason jars, and to add in as many dahlias as possible.
The Dress
Choosing my wedding gown was such a fun and surprising experience. It didn't go at all how I had planned and the dress I chose wasn't even a style I had been considering. My mom, sister, and one of our best friends went with me to shop for dresses at Gabriella New York, which I highly recommend. I showed everyone my Pinterest board filled with Jenny Packham and Reem Acra – lots of relaxed A-line dresses and flowy fabric. I started trying dresses on and was immediately sort of underwhelmed.  My sales associated sensed that we weren't really getting it, so we started talking about other designers and Marchesa came up. The first one that caught my eye was incredibly unique and had these wonderful petal appliques all over it – very floral – a deep v in the front and was backless with a long train. It also came with a little capelet and was so glamorous. As soon as I put it on we all had a pretty big "Wow" moment. It was by no means traditional or understated, or anything I thought I would like for my wedding day, but it turned out to be perfect. I felt like a glamorous, beautiful bride in that dress.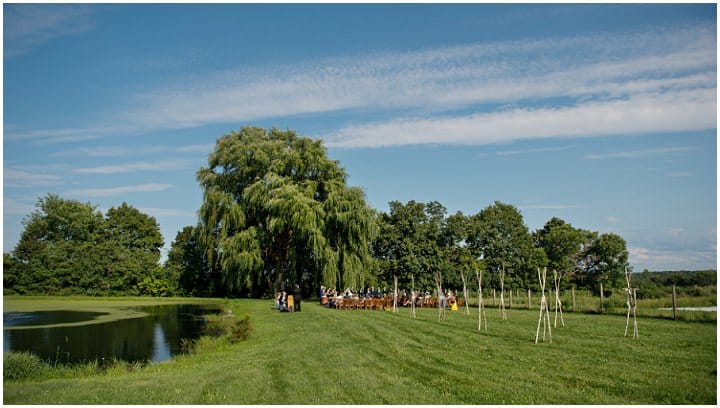 Personal elements
We wanted to make the entire weekend as unique and personalized as possible. The music in particular was the most personalized for me and Michael and we had a really specific and diverse range of music we wanted for different parts of the day. We hired MixTape to be our band and they were so accommodating and phenomenally fun and talented. We wanted music that felt celebratory and fun, not somber or too sentimental. Cocktail hour was bluegrass and folk music, and for the after dinner dancing they played everything from Billy Joel to Phoenix.
We also wrote our own vows and didn't share them with each other until the actual ceremony. I loved that they were definitely unique, but we also ended up saying a lot of the same things to each other without planning it.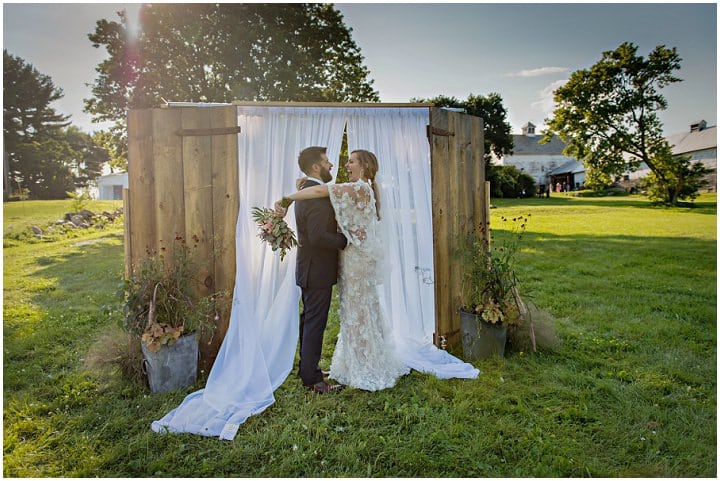 Special Moments
There were a lot of favorite moments of the day, but I have three that stick out the most. The first was the last few moments before I walked down the aisle. My brother, who was walking me down the aisle, was waiting behind the entry doorway for me. We had a quick minute to hug and happily freak out about how awesome it was that we were standing there and what was about to happen. The second was when Michael and I did our recession at the end of the ceremony. The band nailed the song (Call Me Al), and those first moments together as husband and wife were filled with pure, unbridled joy. We also arranged to have one of our friends let our dog, Penny, greet us as we walked down the aisle together. She had this adorable floral collar on and bounded right by us to go make friends with the band and all of our guests before making her way back to us. It was such an amazing moment.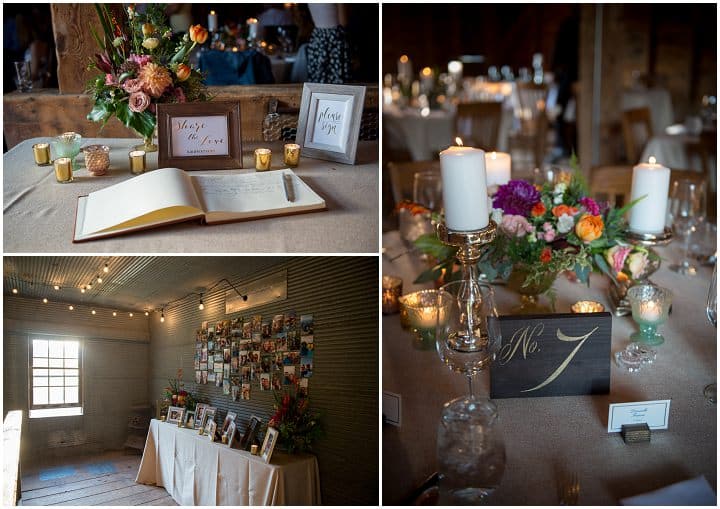 Advice for other couples
When it comes to planning, my best piece of advice is to book your main vendors as soon as possible – particularly the venue followed by catering, florals, music, and photography. We started looking at venues immediately after our engagement in October of 2016 and there were a number of places that were already entirely booked for all 2017.
Secondly, make sure you find time to eat something at some point during the reception. You need the fuel to get through the night and honestly something to help soak up all the booze. Plus, you spent all that time and money on planning a gorgeous meal, so you should make sure to enjoy some of it.
And lastly, try to be present and enjoy the planning. Things will go wrong, you'll get stressed, and you'll probably have some really frustrating moments, but try to remember what it's all for – a giant happy party to celebrate you and your number one declaring your love for one another and embarking on life's journey together.
Supplier Shout Outs
For more information on Carla's photography work go to
www.carlateneyck.com / [email protected] / FACEBOOK / INSTAGRAM / PINTERET / TWITTER