If you remember back to last June, we had a mini heat wave. I remember it distinctly as it was Dexter's birthday and we had his birthday in a very hot and very sweaty play centre. The date of his party was the same date as today's wedding and as you can tell from the photos, it was a scorcher! Sarah and Lawrence were lucky enough to pitch up their tipi in their friend's farm in Harrogate in North Yorkshire. The rest of the wedding was pulled together by creating lots of elements themselves and being really clever with their budget. The results are this super laid-back, sun drenched wedding day, where you would be forgiven for thinking we were somewhere in the Mediterranean! Big thanks to Alfred and Co Photography for the photos.
We mixed our London life with our countryside roots, it was a glorious, sunny, relaxed festival feel party!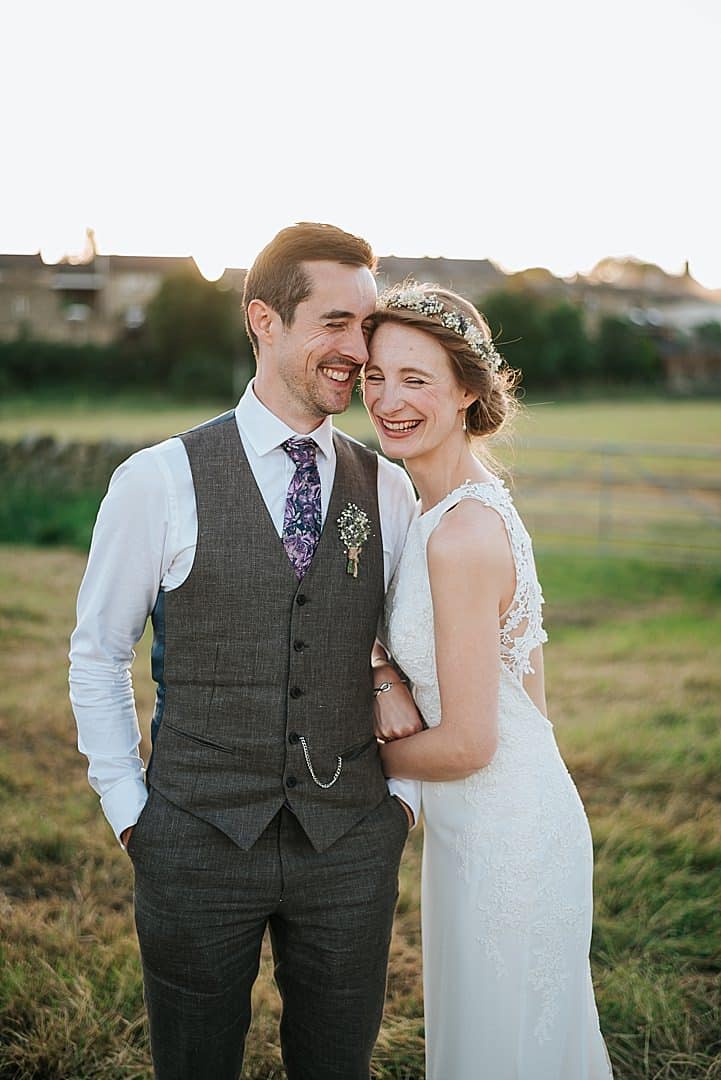 Sarah and Lawrence were married on 17th June 2017. The ceremony at Christchurch Darley, Darley, Harrogate, North Yorkshire, with the reception at a friends farm in Dacre, Harrogate, North Yorkshire. 'Sarah grew up in Darley and her father's ashes are in the garden of rest at the church. We had 100 guests for the day and 130 in the evening, it took 18 months to plan.'
How they met 
We met on Tinder! We went to an awful magic show and spent the whole first date laughing. We'd been together just over three years when we got married.
The proposal
Lawrence surprised Sarah with a trip to Stratford Upon Avon just before Christmas, Lawrence arranged for Sarah to have her nails done as an early Christmas present and then took her for a walk along the river. Lawrence read an excert from a diary he was writing when the first met and he got down on one knee if front of the RSC (Sarah's an actress and so a theatre as a back drop was perfect)!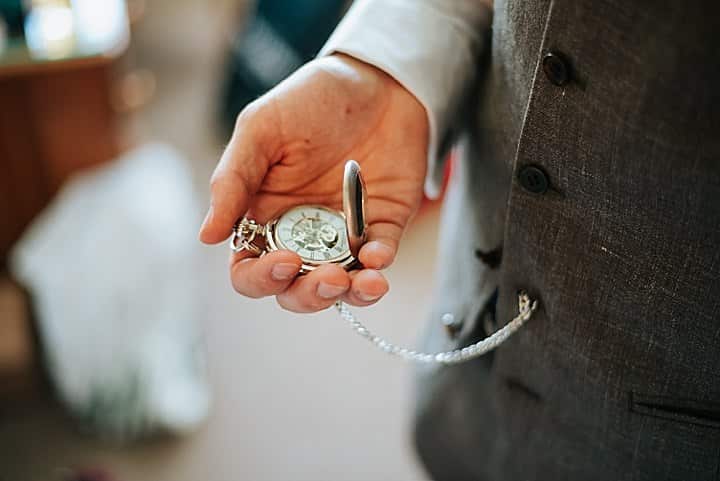 How did you allocate your budget?
The budget was pretty tight and had to cover the honeymoon too, we knew we had be careful but we were also very lucky to have had a bit of help from family.
Where did you splurge and where did you save?
We wanted the best party of our lives so the most money went on the music and tipis. We decorated everything ourselves, kept flowers simple and had a hog roast so everyone went up for their own food. It was relaxed and exactly what we wanted.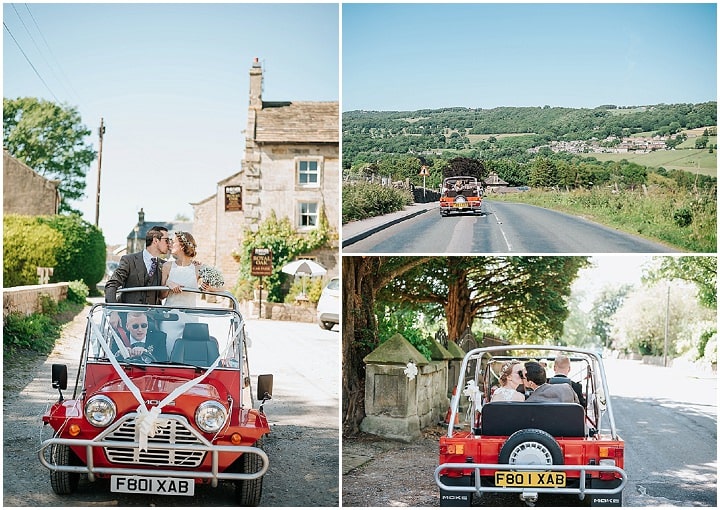 How did you choose your photographer?
We saw Kirsty's work online when we were searching for photographers and loved her style, there's a softness to her photos that means that everything looks really natural and incredibly beautiful. We didn't want too many photos staged and when looking through her work we could see she gets into the middle of the action and captures people at their best, most relaxed moments.
The dress 
The dress is 'Ingwiller' by Blue by Enzoani. The shoes are by Nine West, Hair accessories are from artisandriedflowers.co.uk Drop pearl earrings are Sarah's Grandma's.
The suit and bridesmaids
The suit is from Suit Supply, Bridesmaid dresses are from ASOS.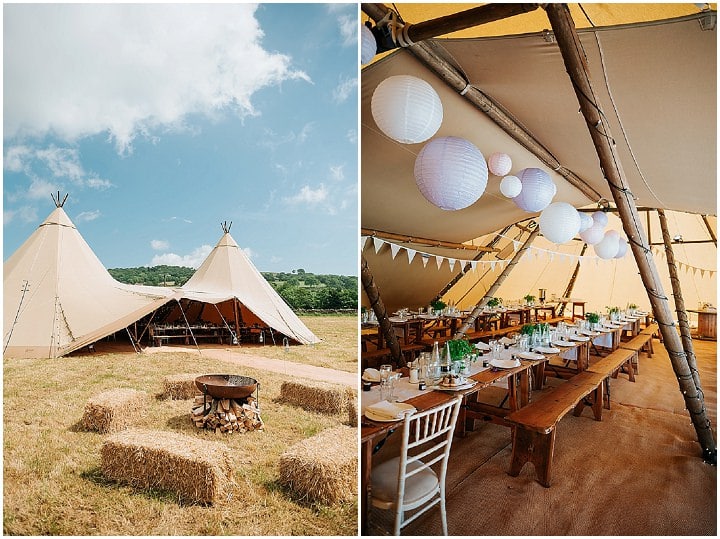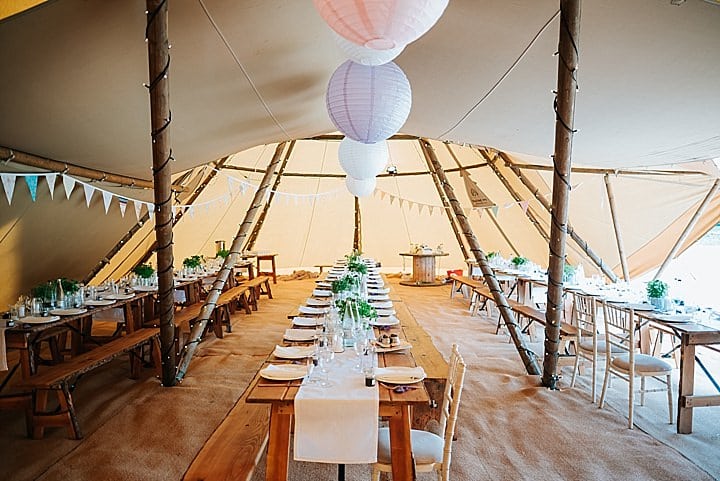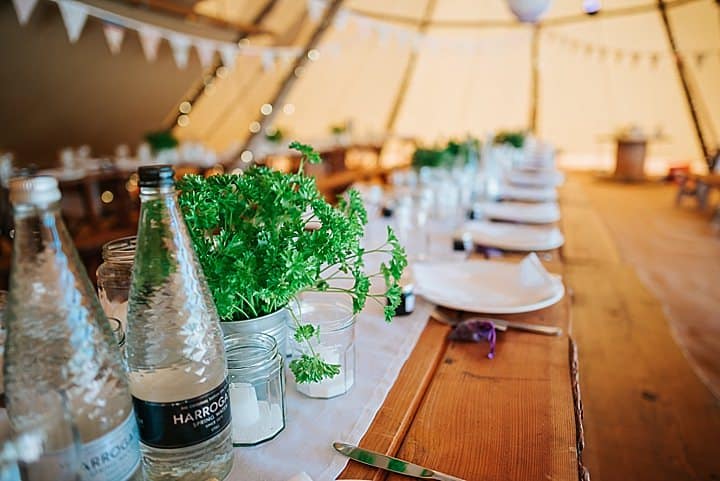 Theme or colour scheme
We loosely went with pastels and florals, only hinting at it though really. As we didn't have many flowers we decided to have more flowers in other ways so on the bunting, ties, and bridesmaid dresses. We had a lot of lavender around and the colour palette naturally evolved from the decision we would give dried lavender bags as favours.
Flowers 
Lavender and Baby's Breath.
Decoration 
We collected jars and had them running through the middle of the tables with candles on, there were a lot of candles! We had fresh potted herbs on the tables too and then lanterns and bunting decorating the tipis.
Food 
We had canapes and prosecco as people arrived then Hog Roast with salad and all the trimmings from Birchfiled Farm (local to the area). Dessert was ice cream from the ice cream van. In the evening we had cheese and meat platters.
Wedding cake
The wedding cake was made by Sarah's Mum Janet and the decorations made by Lawrence's Mum, Gill. The whole cake was gluten free, bottom tier was fruit cake, middle was chocolate and top tier was carrot cake.
Entertainment
We had a band called the Jack Rabbits (they were great!), then our friends Sunny and Stu did a DJ set til the end of the night. We also had giant jenga and giant connect 4 outside for extra entertainment!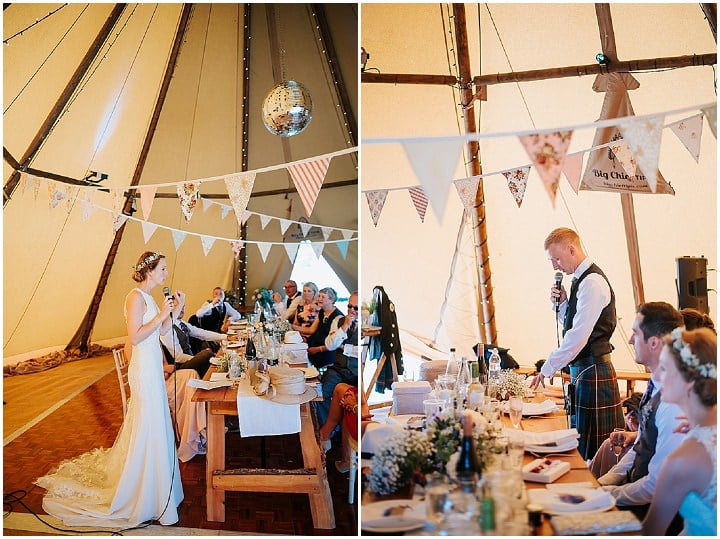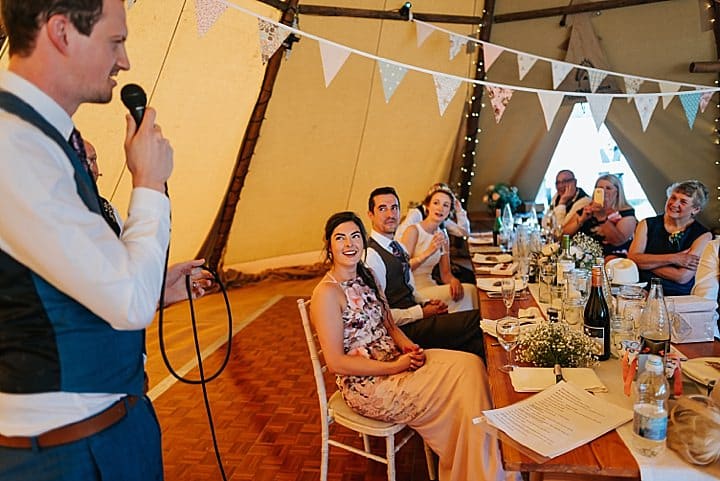 Who supplied the stationery?
We got the stationary online from a website called Zazzle.
Personal touches
We did so much ourselves or with the help of friends/family. We decorated the tipis and set the tables. The cake and favours were hand made. Sarah did her own make up, Leanne the best mans wife did Sarah's hair. Sarah and the bridesmaids made the bouquets. The bar (The Tipsy Trough) supplied the drinks requested by us and they were so good, Neck Oil on tap which is Lawrence's favourite and loads of Gin!
The most personal touch was perhaps the car. The mini moke belonged to Sarah's late father and it was very special having it part of the day. Sarah's brother Ian arranged for two other mini mokes to arrive for the bridesmaids as a surprise, it was very emotional!
Special moments
Walking into the church and seeing everyone we love in the same place. Riding in the mini moke down to the tipis, it was such a glorious day. The dance floor, it was so much fun and packed for the whole night!
Advice for other couples
Plan everything ahead as much as you can so you can relax on the day and don't panic if there are little things that don't work out. Work everything out and hand it over to the people you trust so they can look after how the day goes. It can be whatever you want it to be, the less pressure you put on yourselves the better.
Biggest surprise
The mini mokes and the place we stayed on the wedding night, it was organised by Lawrence's parents and was a wonderful surprise, plus no one knew where we were!
Supplier Shout Outs
For more information on Alfred and Co Photography go to
www.alfredandcophotography.co.uk  / www.alfredandcophotography.co.uk/blog / [email protected] / 07702333830 / FACEBOOK / INSTAGRAM 
I couldn't love photographing weddings more than I already do, it's such a pleasure, and my role on your big day is to capture the day as it happens and make sure that you have something to treasure for years to come. On your wedding day I am there as a guide, a friend and most importantly I am there to document your wedding day, in a beautiful, relaxed and friendly way