Happy Monday everyone, I do hope you had a good weekend? I had a lovely weekend in Chester and now I'm ready for the busy week ahead. Let's make it a good one! We are starting the week with the gorgeous wedding of Jennifer and Kevin who chose a gorgeous tipi wedding and outdoor ceremony. The theme for their day was adventure and travel, mixing their Swiss and Asian backgrounds. This involved 1000 hand-made paper planes, mini skis on top of the wedding cake and everything involved in the wedding linked back to the couple culturally or through the experiences and journey that they have enjoyed together. The wedding not only looks amazing but it is so much fun, with so much entertainment put on for the guests, all captured perfectly by Will Fuller Photography
The most magically marvellous day of our lives! Perfect in every way, creating memories that will last forever!
Jennifer and Kevin were married on 3rd June 2017 at Oldberrow House, Henley-in-Arden, in Warwickshire. 'We really loved the location and the ethos behind their business. They had only had a handful of weddings there previously and prided themselves on making the whole thing an experience not a production line service hence only doing a small amount of weddings every year. Joanne and Anthony were absolutely brilliant, enthusiastic and professional-we just loved everything about the place. They were also very ethical owners, for example the drinks were sourced locally to help out local businesses so it was very community based which we also loved. We hd 110 guests and it took 8 months to plan.'
How  hey met 
We met backpacking / travelling in 2012. Whilst in the Philippines, Jen was volunteering at a Deaf school and one weekend travelled to a scuba dive resort to learn to dive and became stranded after a typhoon hit. This is where Kev happened to be located as he was working as a scuba dive guide. However, the visit was short and sweet and it was only after we had both finished travelling (7 months later) did we randomly reunite! This time in Switzerland (where Kev is from) as Jen decided to go to a music festival there which coincidentally happened to be right by where Kev lived. To cut a long story short, from there on we continued to see each other and fly back and forth between England and Switzerland for the next 3 years (!) sometimes meeting halfway such as Paris! until Kev finally moved over to England last February. We've been together since 2013.
The proposal
We were in Edinburgh, as a belated Xmas present to Jen. With no plans to propose that weekend, Kev surprised Jen (and himself!) by spontaneously asking after quite an extensive pub crawl on the last night in the city! After accepting, we then had to go out and buy the ring the next day! Jen loved the spontaneity of the proposal because it was real and heartfelt rather than constructed to be `perfect`!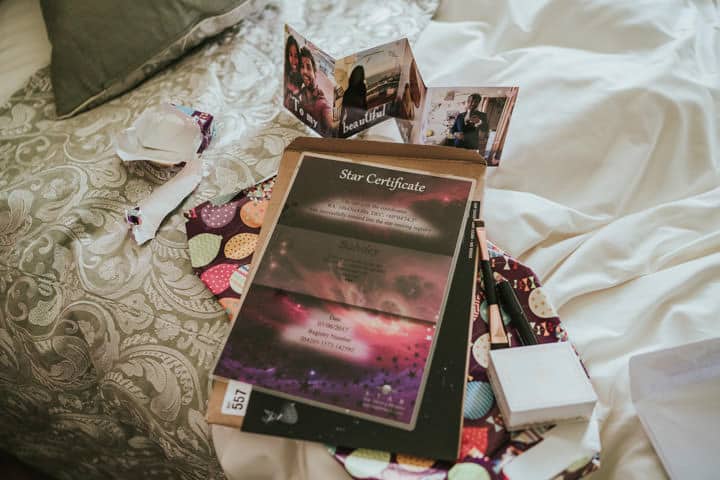 How did you allocate your budget?
We became quite organised with spreadsheets to monitor our spending.  We extensively discussed what we were willing to spend in certain areas but quite often just let our hearts decide!
Where did you splurge and where did you save?
We spent most on hiring the tipis (elite tents) adding several extras and extensions. Also, we had most of the wedding party attend the entire day. We saved on decorations because we had self-made things made out of recycled materials like jam-jars and pallets.
How did you choose your photographer?
We researched on the internet for photographers that had a quirky edge and really liked Wills style of photography (Will Fuller). After meeting him it was clear for both of us that we wanted him to take our photos. He took absolutely amazing photos from our day, we couldn't have asked for more. He also did some cool gifs etc after which was a unique touch!
The dress
I actually had 3 dresses (sort of by accident!) One was by Grace Loves Lace which I didn't end up wearing on the day (I wore this for a Swiss wedding celebration later on!)
My traditional Chinese dress that I was wearing for part of the night was just from eBay!
I actually don't know who designed my dress I wore on the day(!) I never looked or asked!
I kept the accessories very simple-a beautiful gold hot air balloon necklace (because I love hot air balloons!) and a Chinese Gold bracelet which my mum had bought from Hong Kong years ago (before I had even met Kev) to give to me in the hope I would get married one day J
The suit and bridesmaids
The grooms suit was from Ted Baker – The dads and ushers had suits from different places but looked good together! Bridesmaids dresses were summer dresses from ASOS.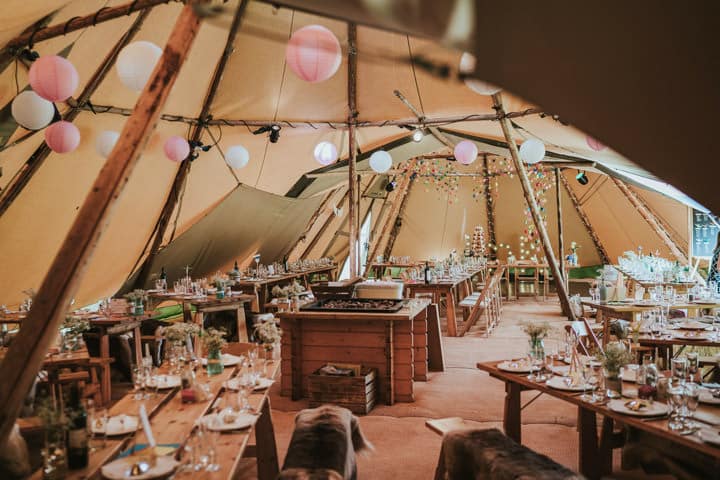 Theme or colour scheme
The theme was `adventure and travel` with a strong theme of our Swiss and Asian backgrounds. We had sort of a multi-coloured theme (with the paper cranes) but the emphasis was powder blue and cherry blossom pink to fit with the start of summer.
Flowers 
Jen had a wild messy handtied bouquet with cherry blossom, Peonies, seasonal flowers with soft blue and ivory colours.
The bridesmaids had gypsophila as well as the table decorations.
Kev and the best man had miniature versions of the brides bouquet. The mums had corsages and the men button holes of a similar fashion.
Decoration 
We had so much in the end! Our stand out feature was a 1000 hand folded paper cranes (worth it in the end!).  We had handmade table decorations from painted jars and bottles.  We made all of our signs ourselves such as a directional post, welcome signs etc. Kev also built the Cherry blossom wedding arch for us to get married under.
Food
We used Fine Food Matters catering company which were amazing. We had rustic canapes with fish and chips and mini burgers. Our wedding breakfast were stuffed boneless chickens and belly pork that was served on wooden boards. Alongside this was a range of salads, potatoes and artisan breads. For dessert; we had an ice cream trike and later on in the evening we had fresh crepes, a tiered savoury cheese cake, anti pasti platters and marshmallows to toast on the open fire!
Wedding cake
We had a Chinese and Swiss themed cake where there were alternate cupcakes with either Chinese double happiness symbols or a pair of skis. We had a singular cake on top where we put two mini cranes on as decoration
Entertainment
During the day we had games like beer pong, piñata, home-made gladiator duel and other lawn games. This really helped to get everyone in a celebratory mood and mingle together it was so much fun! We had table games during the wedding breakfast where guests had a chance to make their own origami with the winners getting lottery tickets! We also had a few extra fun things such as guess how many sweets in a jar. We had a DJ from Bliss wedding DJs to provide the night time music.
We also had a camper van photo booth from Vintage Inspired Wedding Hire which everyone loved.

What was your biggest surprise of the day?
That the weather held out (!!) and we had the outdoor wedding we had always dreamed of
Who supplied the stationery?
Jens lovely friend Faye who is a graphic designer (Fawn designs) created the wedding invites and save the dates.
Personal touches
We made mostly everything ourselves, and designed the day to what we wanted. Everything was linked to me and Kev as a couple; culturally or through the experiences/journey we had been through together.
What were your special moments or highlights of the day?
So many! Our first dance (Tiny dancer) No-one had ever seen Kev dance so they were shocked!
Jens brother Tom plays the piano so learned a classical version of Somebody to Love by Queen to play Jen down the aisle.
There were three languages combined within our friends and family, Swiss German, English and British Sign Language so to cater for the guests, everything, the speeches, readings, ceremony were translated into all three languages so everyone was included
Our humanist ceremony meant a lot to us, Jen had known Wendy since she was 5 years old so to have her conduct our ceremony was very special. We made our own vows so everything was very personal to us.
Having our friends and family mixing all together was also a massive highlight,
What advice would you give other couples?
Don't let anyone tell you what to do/have. People have a lot of opinions but it is about what you want, whether you want to spend a little or a lot, everyone's priorities are different and shouldn't be judged. What is important is what you both want as a couple. People say don't stress which is easier said than done so I say of course you can and its often inevitable but try and make it good stress to keep you motivated rather than taking the enjoyment out of it. We genuinely enjoyed the whole planning process and never had any issues!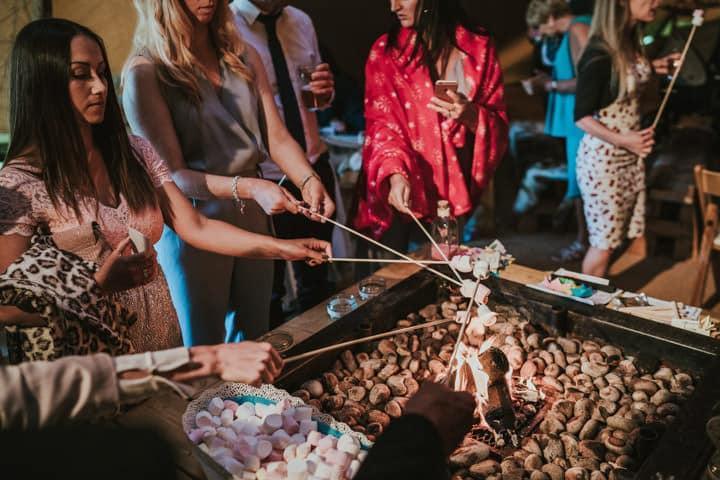 Supplier Shout Outs
For more information on Will's ork go to
www.willfullerphotography.com / www.willfullerphotography.com/blog-posts / [email protected] / 07596 013747 / FACEBOOK / TWITTER / INSTAGRAM
I'm based down near London, however work throughout the UK. I've been working as a professional photographer for almost 10 years now. My style is very relaxed and informal. I photograph weddings in a creative and unobtrusive way, putting a lot of emphasis on making the couple feel comfortable around me and in front of the camera.