Happy Easter Monday everyone,! I do hope you have had a good Easter break so far? Mine has been fabulous, we have been down in London with Nik's sister and her family and it has been lovely. We were at Kew gardens yesterday doing the Peter Rabbit Easter egg hunt and it was so much fun. We are heading back to Sheffield today and then back to Boho HQ tomorrow. Today though I have this super vibrant and colourful wedding, that has been sent into me by James Richard Photography. Amelia and Christopher wanted to make sure their wedding was full of fun and colour and I'm sure you will agree they did just that. They took on many making projects themselves as well as having lots of very generous friends and family help them along the way. From the flowers all being homegrown, to the furniture being crafted especially, there are so many DIY elements to this day it's just bursting with personality. A quintessentially English wedding full of charm that I know you are going to love.
 A homemade, idyllic & colourful countryside wedding filled with love. The day was so personal to us in every aspect, we couldn't have asked for a more beautiful day.
Amelia and Christopher were married on 12th August 2017.  'Our church was local to and well loved by Chris's parents in Bonnington Kent and the reception was a 40 minute drive away (which we did in a hired convertible Morgan!) to my parents house in Hawkhurst, Kent. Luckily they live close enough to each other to make this possible. The church is so idyllic, situated next to a canal and really in the middle of nowhere! Chris served in the British army and whilst he was away my family and I went to a few folk concerts held by candlelight within the church. We had just moved to a new area so it was the only church that we felt a real connection to. We had around 110 guests which came to the whole day. We started the planning quite early on as we wanted a date to work to, plus we had four other weddings that year to squeeze in! We set the date in spring/summer 2016 and booked the important things, then we chipped away at it slowly so it wasn't so overwhelming.'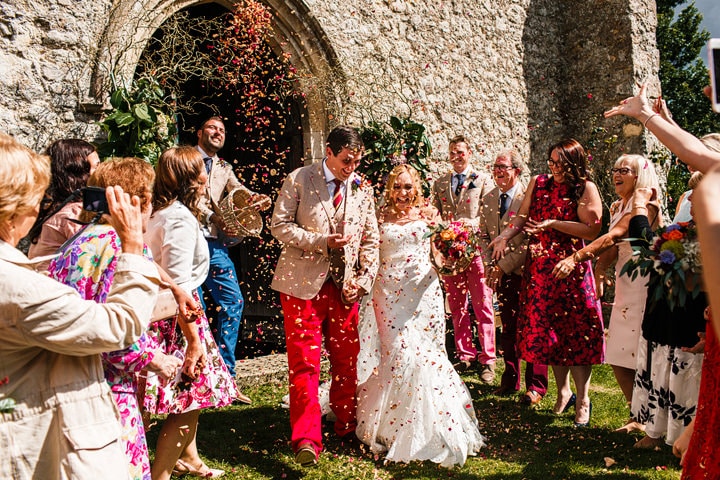 How they met
We met in a bar around 5 years ago whilst Chris was in the army and living in Germany. We survived long distance and a 9-month tour to Afghanistan!
The proposal
For Christmas I surprised Chris with a weekend away to Yorkshire staying in a tree house. Whilst we were there we drove to Whitby for a sunny day out, and whilst we were visiting the abbey with a view over the sea he got down on one knee and proposed. I swear I had an out of body experience and he hasn't forgiven me yet for not remembering his speech word for word! When we went back to the treehouse, we drank champagne and seemed to plan the wedding in a few hours, it all came very easily and we knew we wanted a relaxed, colourful day.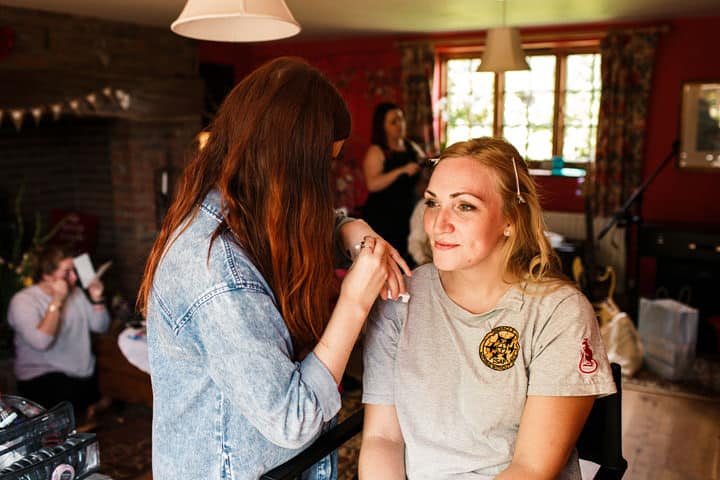 How did you allocate your budget?
We sat down and chose what was important to us and started a rough budget. For every wedding people always talk about the food so this was really important to us! We had a trial with one caterer which ended in tears and then found our caterer of dreams. They have a small farm and grow as much as possible or source food in from local suppliers to Kent. On the day they acted as event management so we didn't have to worry about a thing, we met them lots beforehand so we felt so comfortable with them being in charge. They were absolutely amazing and I still miss them!
Where did you splurge and where did you save?
We splurged on the caterers and the wine, everything else was as homemade as possible. I collected over 80 chairs from Freecycle and eBay (with a limit of £1) as we wanted a miss-matched look. My brother, who works in the wood trade, along with my dad made our banquet tables. My sister-in-law grew a cutting garden in my parents garden so she tended to the flowers all year round in preparation – and they were the most beautiful colourful flowers! I painted the invitations, which we printed at home and hand-stamped (Chris was a pro by the end of it!) We wanted to be involved in the preparation as much as possible to really make it our own.
How did you choose your photographer?
We were apprehensive about finding a photographer as we knew it was such a big part of the day, but when we met James we felt so at ease and it clicked. After finding his portfolio on google we met up and talked through the day. He was so relaxed and loved a candid photo so it seemed perfect! Our photos from the day are so beautiful and capture the day perfectly. I would highly recommend James to anyone!
The dress 
I went with my mum and sister to a small bridal shop in Headcorn, Kent and knew what style I wanted before I got there. The dress I tried on fitted perfectly and I knew it was the one for me. My veil was from the same shop (another tip is to buy a second hand veil if you are saving money as they are insanely expensive and you only wear it for a few hours! I took mine off in the car to the reception as it was proving annoying) I also hunted around for block heel shoes so I wouldn't sink into the grass.
And the suit and bridesmaids
On our first date Chris wore a tweed jacket and red trousers, so when we were planning our wedding we knew we didn't want the norm – we chose colourful chinos for Chris and his ushers, and of course his colour was red! We found a lovely linen jacket for all the boys. My dad was a gamekeeper all his life so didn't want to wear tweed as it felt like work! I didn't want matching dresses for the bridesmaids as everyone is different. We had a colour palette of six colours, so let them choose a colour and a style. We wanted everyone to be as comfortable as possible and enjoy the day. Our photos are SO vibrant and colourful and match our flowers perfectly.

Theme or colour scheme
Our theme was homemade and colourful. Our colours were: red, orange, yellow, bronze, mint and pink. We had six banquet tables and each table had it's own colour. Our caterers even personalised the food to the table, for example the yellow table had lemon water and the puddings for the green table had a mint flavour. The detailing from everyone was incredible and it all slotted together perfectly.
Flowers 
The main flowers were roses and dahlias from my mothers and the cutting garden, mixed with beautiful lupins, sweets peas, snapgragons, cosmos and hydrangeas – the list goes on! All of the flowers were from the garden or the newly planted cutting garden. We decorated the church on the Friday and everyone commented on how lovely it smelt. Down the aisle were wellington boots with flowers. We were making our bouquets the night before the wedding and Irisha made the button holes in the morning to keep her busy! There was a small worry that the flowers wouldn't grow but in the end, we had double the amount we needed so we had flowers everywhere!
Decoration 
We hunted for the perfect marquee for a while as we wanted it to fit with the rustic theme. Hanging from the ceiling was coloured bunting which I made over the winter. We had rustic banquet tables with mis-matched wooden chairs. Luckily it was sunny on the day so outside we had homemade toadstools surrounding big blocks of oak as the tables. We also had homemade games by Chris's father which kept everyone entertained all evening! Whilst Chris was away in Afghanistan, I would send him themed care packages full of toys and sweets, so we decided to replicate this for our wedding favours. On each table was a stack of 3 or 4 shoe boxes wrapped in kraft paper and a coloured ribbon. Within the boxes was a simple toy for everyone, such as an aeroplane or bubbles, along with Whitby Rock and personalised love hearts.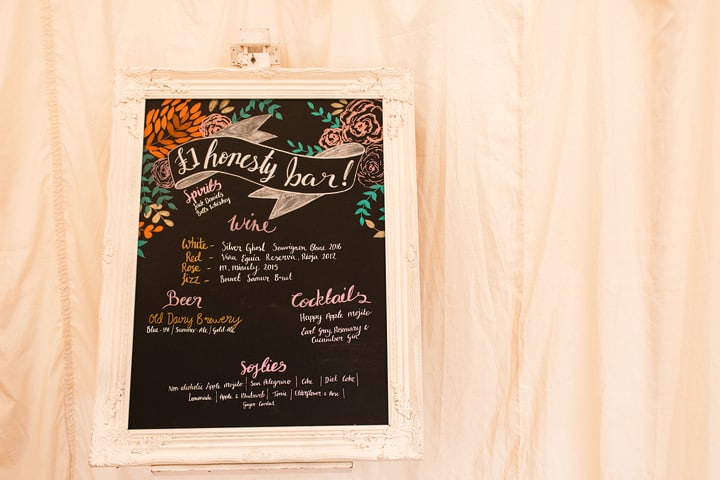 Food 
Our dinner was incredible! We had homemade and local bread and butter to start, with Lamb, potatoes and salad for the main. It was so delicious and we are still getting compliments on the food now! The food was served on a serving platter as we wanted everyone to dig in and share, this kept getting topped up and everyone was amazed how much food there was!
Wedding cake
The naked cake was made by my beautiful bridesmaid Alice. I previously lived with her and she was the type of person that would bake a cake for us whilst watching bake off. We had different flavours for the different layers and the edible flowers were from her mother's garden, a few miles from my parents! The cake was the centrepiece throughout the day and everyone marvelled at it.
Entertainment
We chose a band through looking online and watching their YouTube videos. It's always slightly scary as you don't know what you're going to get, but the band was amazing and the dance floor was packed! At around 7pm a photobooth VW campervan arrived which was a great surprise for everyone after dinner. This was our little splurge as I absolutely love a photo booth!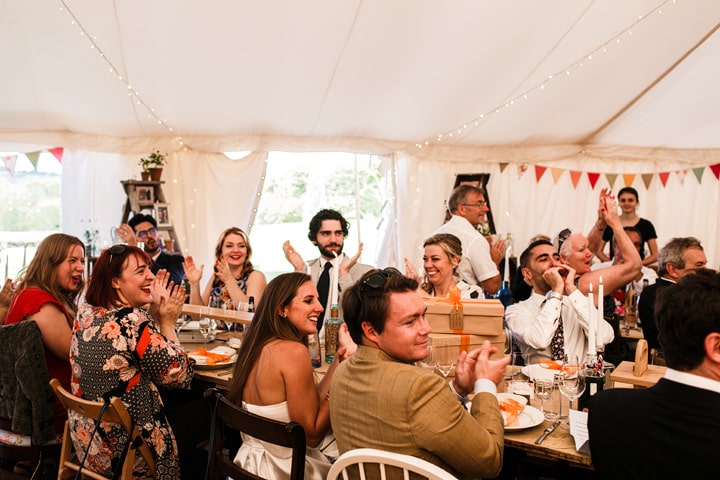 Who supplied the stationery?
I work as a freelance illustrator so I designed all of our stationery. I've designed other wedding invitations before, so for ours I made it extra special. The invite was printed at home, mounted onto thicker card & our names were painstakingly hand stamped by my lovely husband! We wanted a fun RSVP so created a stamp with blanks for everyone to fill in. The replies were hilarious! The envelope had a carved lino print & everything was held together by a booklet covered in watercolour leaves.
Personal touches
We tried to do everything ourselves! The flowers, the tables, the chairs, the games, we wanted it all to be as homemade and personal as possible. The guest book was a photo book with blank spaces for people to write in. Our guests stayed in tipis so everyone had their own painted flag outside of their tent too. The trees in the middle of the marquee were picked from my parents woodlands and loaded onto my fathers tractor!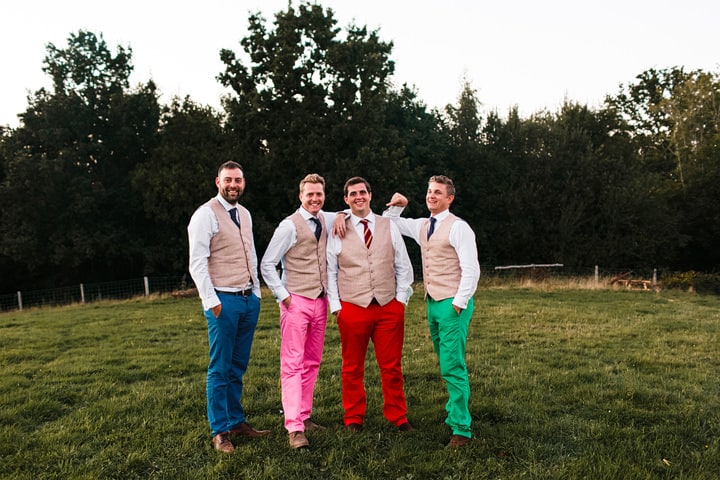 Special moments 
I loved the preparation the week leading up the wedding, it was full of excitement and happiness with everyone helping out. A highlight for of us was driving away in our navy morgan and feeling like movie stars! We took a scenic route around the kent countryside and felt like we were on top of the world, marvelling at our amazing ceremony and how perfect it all was!
Advice for other couples 
My advice would be to take it slowly, don't do too much and overwhelm yourself and take a break from it every now and then. When every conversation is about the wedding it can all get a bit too much. It's a really exciting process and you will have the most amazing day so don't worry about the small stuff, no one will even notice if something is not how you planned as you are in such a happy bubble all day long.
Biggest surprise 
The speeches were such a highlight, my husband was adorable, the best man was hilarious and my dad surprised us all by singing his speech! He has always been in a country band, so changed the words of a song and sang to me and Chris – I'm pretty sure everyone was crying by the end.
Supplier Shout Outs
For more information on James Richard Photography
www.jamesrichardphotography.co.uk / www.jamesrichardphotography.co.uk/blog / FACEBOOK / INSTAGRAM / TWITTER
Due to an email issue if you have emailed me between the 2nd & 9th of December, please resend it.
X