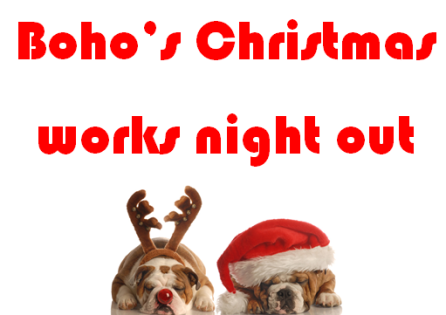 Hello to you all! I have a rather scary announcement for you today, (scary for me not for you I hope!) I have been thinking about having a bit of a party for a while now, well everyone else seems to be doing it, so if you can't beat them join them!
My thoughts are that as a self employed person I never get to go to any Christmas Party's as they all seem work related/office shing digs……..so I thought I would rectify this and put one on myself!
I have put the feelers out and asked a few of my supplier friends  for their thoughts and everyone seems to be keen, so I thought I would ask you lot what you thought.
Now I'm not planning anything fancy, Others have done that already and done it very well, It won't be a big fancy Soiree, it won't be a networking event, or a tweet up………..what I want to do is get a few of us together who tweet, facebook, and email each other on a regular basis for a good old fashioned Christmas knees up, the main focus being on having a few drinks (I plan to get very drunk) get to know each other a but better and let our hair down…………just like an office party, but with no photocopying of bottoms or snogging the boss in the stationery cupboard!
Now to be honest that is far as my thoughts have gone, what I want to know from you lot is who would be interested in coming? I need to get an idea on numbers so I can look at venues and being Christmas I need to find somewhere pretty quickly before they all get booked up.
Location: Sheffield city centre close to public transport so we can all have a drink 
Date: Mid week beginning of December
Idea: Keep it simple………unless you have any other ideas??
Who: I'm thinking just wedding industry people, not sure it's a good idea that our brides get to see us in a state of drunken stupor? thoughts on this are welcome
So please let me know your thoughts, would you be interested in coming? what sort of party would you like? after all it's your works night out as much as mine!!
Please leave me a message in the comment box or email me at [email protected]
Thank you and Boho Love
Kelly xx