Happy Monday everyone and how are you all this fine Monday morning? I hope you all had a wonderful weekend and are now ready for the week ahead of us. I had a lovely weekend spent with friends and family, chilling, having fun and enjoying being with the people I love! This week I am taking you all across the world for a fantastic selection of Boho inspired weddings. We are starting off today with the wedding of Jocasta and Jonas who were married in Lithuania. Even though they both live in the UK, Jonas is originally from a tiny village in Lithuania so they decided to hold their wedding there. This lead to a totally laid back DIY wedding, which took place on the family farm, filled with natural decor, spread over the Saturday and Sunday. The day was captured by regular to the blog  Captured by Katrina.
A relaxed, DIY, outdoor, family centered occasion. Unique, European occasion, full of love and lots of fun
Jocasta and Jonas were married on  26th-27th August 2017. 'We got married in a Lithuanian region of Poland on the Poland/Lithuania border. Jonas is Lithuanian and  was born and grew up here. Jonas' (very large) family still live here and we visit a couple of times a year. Saturday started with a traditional leaving party for Jonas at his family farm. I then met him at the village church for the ceremony and then we partied for the rest of Saturday and Sunday in the grounds of Jonas' uncles holiday home, just outside Punsk. The countryside is absolutely beautiful and it is a very remote and natural part of the country. Our guests from England could all stay within walking distance of the reception and it was easier to bring British traditions to Punsk than the other way round. We had 110 guest on Saturday and then about 90 came back on Sunday, it took a year to plan.' 
How they met
Jonas and I met in Cambridge on a saturday night in May 2010. We had both been at the same salsa class the night before and seen each other across the room, but not spoken. Jonas approached me at the bar. I knew I really liked him immediately and I'm sure after I guessed correctly that he was Lithuanian he felt the same. I didn't give him my number that night, but he found me online and asked me out on date. We dated for about 9 months and finally became a couple in February 2011.
The proposal
Jonas proposed on Christmas day 2015. We had had a hectic year extending and renovating our first house together with two young children. It was our first Christmas in the house and our first Christmas at home with both girls. We had agreed because of all the work that we wouldn't get each other gifts, but after the girls had unrapped their presents Jonas declared that he had bought me something after all and to close my eyes. When I opened my eyes he was on one knee with the open ring box. I really couldn't believe it, it was very unexpected after so many years together.
How did you allocate your budget? 
I spent the budget by focusing on what I perceived to be the big things first. My dress, the venue, catering, entertainment, photography and videography. Our priority was that we and all our guests would have a great time and be well fed and watered.
Where did you splurge and where did you save?
I asked lots of married friends advice and most said that they wished they had prioritised photograhy more and not worried about things that didn't affect theirs or the guests enjoyment. So we splurged on photography and videography, paid the going rate for marquee hire and catering and then everything else was pretty DIY. This was partly down to cost and partly because where we were getting married there aren't many options. I tried to relax my perfectionism on things that wouldn't affect the guests enjoyment – stationary, flowers, jewellery etc. I also knew that because we were getting married in the middle of nowhere I would be doing my own hair and make up so that was a big saving.
How did you choose your photographer?
I chose our photographer after a lot of googling. Katrina's photos were stunning, full of light and relaxed. I could see from her website that she took beautiful photos of children, which was vitally important to us and she took incredible outdoor photos. After speaking with her and later meeting her I knew we had made the right choice. We wanted the focus on just our little family and Katrina seemed to get us completely. I also really wanted someone who understood children and how it is to be a mum, as ours were 4, 3 and 11 weeks I still needed to parent them, not just be a bride.
The dress 
My dress was separates from Willowby by Watters. My flower crown was made by ollieandivyfascinators.com who are local to me and my shoes were from New Look. I didn't wear any other jewellery.
The suit and bridesmaids
Jonas' suit was one he owned already from Reiss and he added a waistcoat, new shirt and tie found by a friend of his from various places online. The bridesmaids bought their own dresses, as there wasn't the time for us all to get together and I wanted them to be completely comfortable in what they wore, so I just have them a white dress code. The flower girls dresses and sandals were from Monsoon.
Theme or colour scheme
Originally I had dreams of a blue and coral colour scheme, but once we started to properly plan and I found that planning a wedding abroad with two small children and a baby was hard I changed my mind to greens to reflect the nature around us and white because you can't buy the wrong shade of white. Fortunately I also love white and green. I guess the theme was our family, we wanted it to work for all of us and include everything we like and the timings needed to work for our kids.

Flowers 
Our flower crowns were silk flowers  and baby eucalyptus. The flowers at the reception were wild flowers picked and put into jars by Jonas' 14 year old niece and her friends from the grass around the reception venue.
Decoration 
Very little. We dressed the tables with pots of local honey (that doubled as favours and place settings), wood, candles and wild flowers and that was it. Lighting was important to us to create atmosphere. We used quite a lot of fairy lights, candles, outdoor oil torches and outdoor floodlights.
Food
We ate a wide selection of Polish and Lithuanian food, served to the tables as sharers, about every three hours, over the two days. Jonas' mum is an award winning Lithuanian baker so she made loads of cakes and I also took over a wedding cheese cake, biscuits and chutneys.
Wedding cake
We had a traditional Lithuanian tree cake and a simple 4 tiered wedding cake from M&S.
Who supplied the stationery?
We had very little stationary, our save the dates were postcards from the village post office bought the year before the wedding and our invites were via our own wedding blog. There was no order of service as we had no idea what the church ceremony was going to entail. We were just told it would be a 'normal' wedding.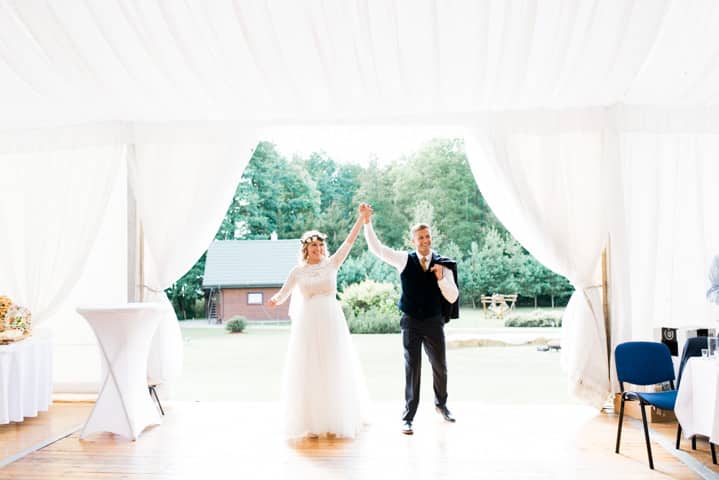 Entertainment
Entertainment at Punskas weddings is quite different to UK weddings.
In Lithuania there is a very old tradition where neighbours/uninvitied guests stop the wedding party between the ceremony and reception and the wedding party have to perform tasks and give vodka to them to be allowed to pass. We were stopped in the village by fake policemen with a broken down van who said they were waiting for a strong man (Jonas lifts a lot of weights) to help them to move heavy boxes from the van. We both had to move boxes and give vodka to pass.
For music we used a childhood friend of Jonas' and her husband. They do all the local weddings and are putting a lot of effort into rediscovering old Lithuanian traditions, such as the traditional evening candle dance, which was so romantic. They provided us with singing, games, live music and a disco on both days.
On Saturday we were 'gatecrashed' by a group of guests in fancy dress, posing as pretend 'disgruntled ex girlfriends' and a priest and policemen looking for Jonas. They danced and sang songs that they had written for us and gave out bilingual songsheets and wanted posters so that everyone could join in.
Jonas and I loved the fireshows we had see in Ibiza so we hired a fire dance show for Saturday night, which was a highlight of the wedding for me. We also gave the guests lots of sparklers which everyone enjoyed.
Finallly on Saturday night we had a traditional Lithuanian candle dance. The bride and groom hold a candle together which is lit by candles held by the parents of the bride and groom. The guests then come as couples and light their candles from the bride and grooms candle and everyone dances to a special song just by candlelight.
On the second day we had the same musicians, fancy dress accessories for guests, lawn games, the bridesmaids led 'the shoe game' and I sung a song for Jonas!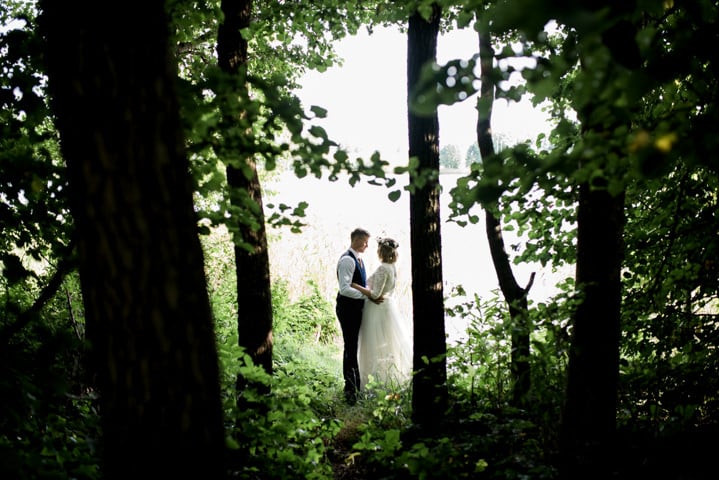 Personal touches
So much of it was personal. Our children being central to the wedding was super important to us. Luca (11 weeks old) waited at the altar for me with Jonas in the church, our daughters had their own wedding rings which we gave to them during the speeches. We christened Luca at the beginning of day two and I sang to jonas, which was his one wedding request. We also had a photo gallery which included photos of us over the years and photos of our children, as lots of our lithuanian guests only really knew Jonas.
We did almost all of the wedding ourselves and with the help of friends and family who were heavily involved in preparing and setting up the wedding venue. We used family and friends as suppliers as much as possible. There was no option of a wedding planner here so we knew that everything other than cooking the food and putting up the marquee was down to us.
Jonas' mum provided cakes, she filled the honey favours, which were labelled by my bridesmaids and brothers, with labels made by my bridesmaid Becky.
The flowers were picked and arranged by jonas' niece, cousin and their friends.
My mum sewed our daughters dresses to wear to Jonas' leaving party and robes for us to get ready in, aswell as sewing jewellery wraps to give as gifts to the bridesmaids.
Jonas' sisters decorated the church on Friday night.
Jonas' ucle Adas is a school site manager and organised primary school tables and chairs to make the children's table, which looked really cool and vintage.
My brothers and friends set up the outside space with bales from jonas' brother in law and lights from various sources.
My bridesmaids made blackboards and wrote the seating plan and the all black board signs and so the list goes on.
Special moments 
Walking with Olivia and Aurelia to Jonas and Luca in the church, I felt like the luckiest woman in the world
Our first dance – Jonas had chosen our first dance song as a suprise.
Katrina taking us for a photoshoot in the woods away from the guests, it was a chance to really focus on just us.
Hearing everybody's kind words
Watching my children play with Jonas and feeling so proud and grateful that we were finally (for me) an official family.
The fireshow
Seeing tears in Jonas eyes as I sung to him. It meant so much to him I was so glad that I did it, despite being very nervous and not having much of a signing voice!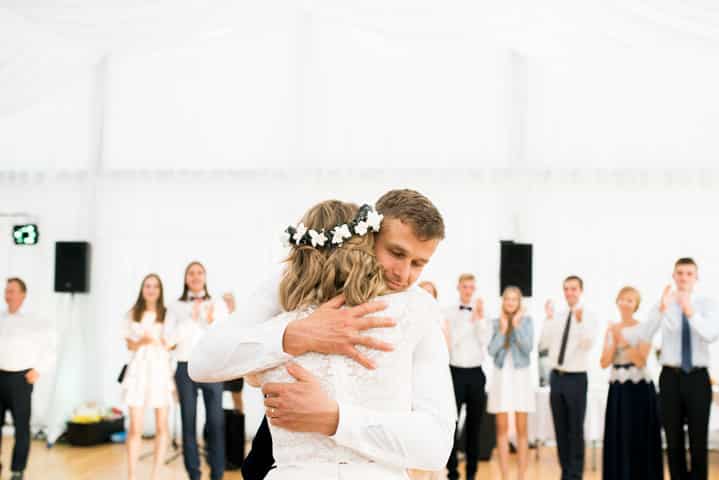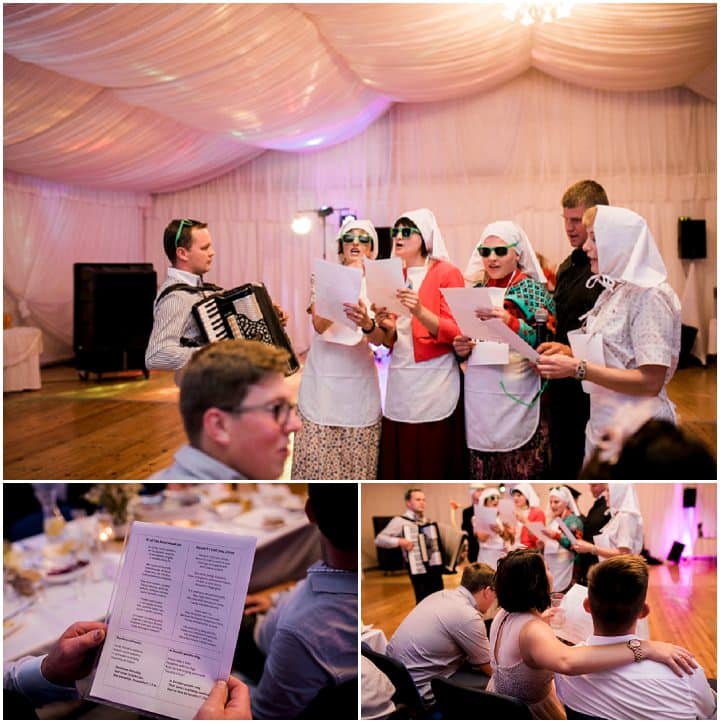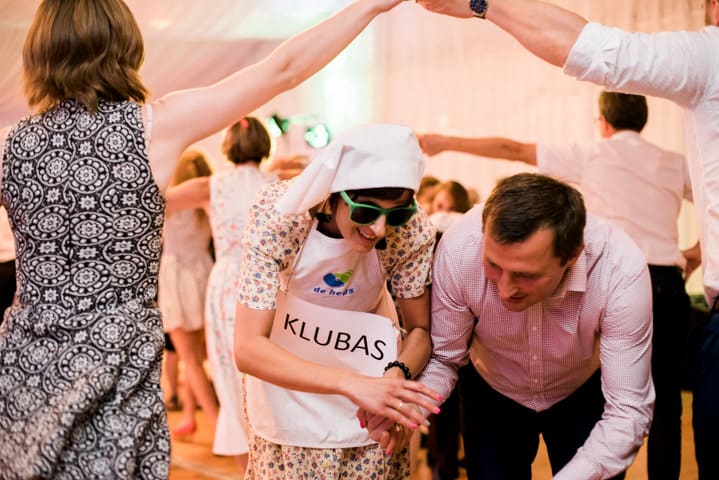 Advice for other couples
Katrina our photographer said to us during photos in the woods, only talk about things that make you smile It actually turned out to be the best advice for the whle wedding and we stuck to it for two days.
My advice would be to take time out regularly with your husband/wife to step back and observe and drink it all in.
I would also say focus on substance over style. before the event it is easy to get sucked in to spendng money on trying to make everything look perfect but you and your guests will remember more vividly how they felt rather than how the table looked for example.
Finally, do what you want, the way you want to.
Biggest surprise
The biggest surprise for me was the first dance and how much thought Jonas had put into it. Throughout the planning process I had chosen everything and Jonas just had to help make it happen, In the end he created the most romantic moment of the whole wedding. The second biggest surprise was when the 'ex girlfriends' gate crashed the wedding. They had put so much effort in to writing the songs and preparing what they were going to do and it was hilarious.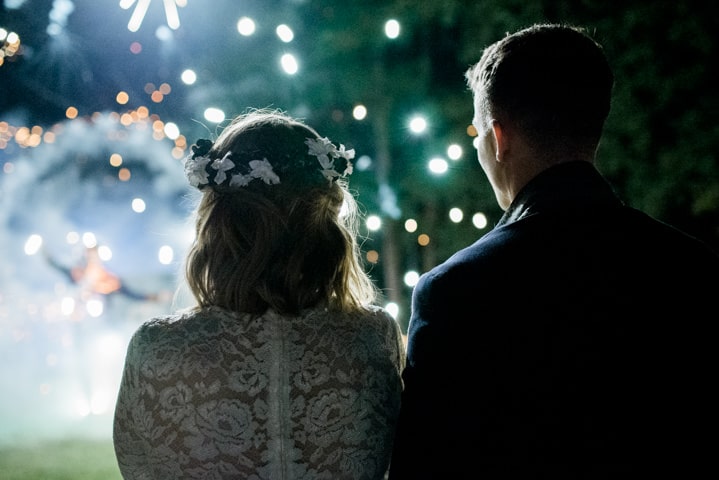 Supplier Shout Outs
FOR MORE INFORMATION ON KATRINA'S WORK GO TO:
www.capturedbykatrina.co.uk / FACEBOOK I: @katrinabartlam / T: @KatrinaBartlam / PINTEREST