Today I have a wedding that is super stylish and elegant and comes from Long Island in New York. Jackie and Chris were married on 29th April at The Foundry in Long Island City. The wedding is a great mixture of DIY, elegant sophistication and modern touches. Both Chris and Jackie took a very hands on approach to the planning and on the day organisation, pitching in with friends and family to get the venue ready and looking amazing. The fresh greenery worked so well with the crisp white table clothes and added a super modern and clean look to the decoration. Mix in a delicious BBQ for that traditional Texan flavour to honour Jackie's hometown. Big thanks to Danila Mendikov for the images and Bespoke Moments for the submission.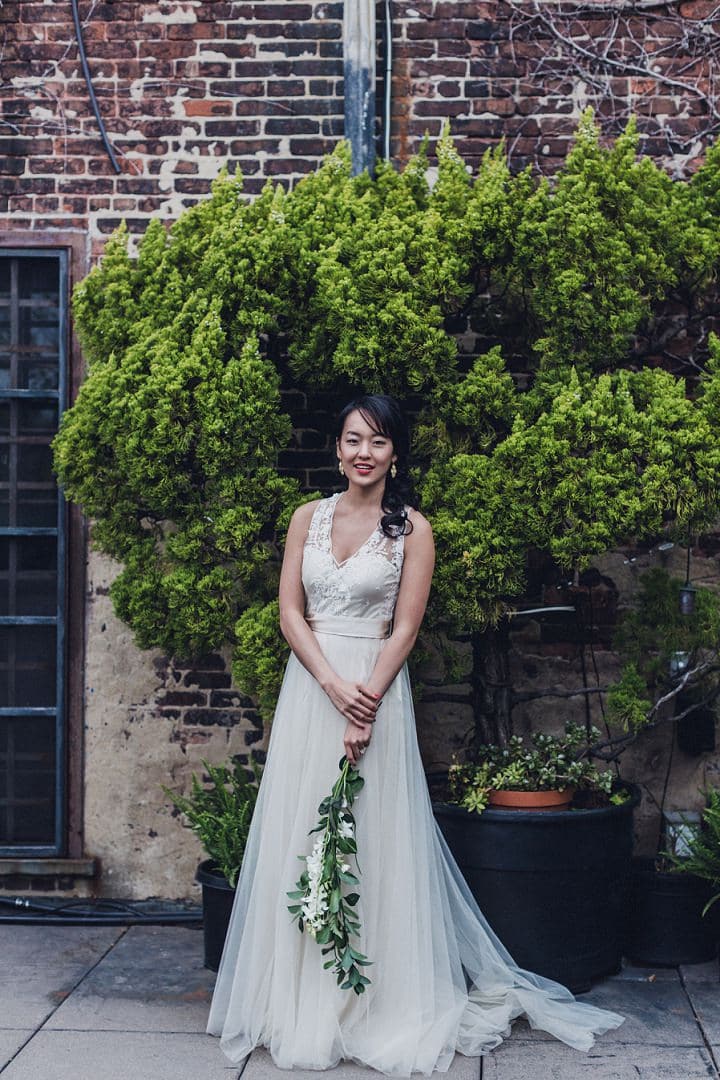 How they met 
We met at a nonprofit America Needs You. It's for mentoring first generation low income college students. I hit on Chris 3 times before he understood I was asking him out. The rest is history…
The proposal
Chris got my two cousins to fly to New York from Houston. He asked them to pretend to meet us on the highline, and as we were waiting for them he got on one knee with a personalized flip book of characters of Chris and i doing everything we did that day (going to the Gagosian.. walking down the high line)..
Planning the wedding 
We split up researching vendors. We tried to keep things simple and under budget but there were a few things that were so important we had to splurge on. Dino bbq is one of our fave dinner spots. Chris also  thought bbq was a way to rep tx, where I'm from, since the wedding was in New York.
The Day itself
It went by too fast. I think that's what they all say. It's true. It started out by taking an Uber from my apt with my maid of honor. Met my sister at foundry. We helped set up the venue by putting together candles and the greenery. My father in law stood on a ladder and put up our flower backdrop. That was the best DIY thing we did. Chris and I took photos.. then the ceremony started.
I started crying with our vows. I remember my mom rushed down the aisle.. I think she was nervous. I remember baking a whole bunch of apple pies for the dessert but the magnolia desserts were gone way faster. I was saying hi to guests so I didn't really get to savor the dessert piece. We danced all night long until I was barefoot. We have a few photos from that night that are straight out of a movie or magazine. It was great! The next morning we had all my family over in our suite for breakfast.
Special moments
Breakfast the day after was my favorite because then I could spend time with and really talk to all of my aunts and family members. It was nice having everyone in one room If I have to stick to that day.. then it's walking down the aisle with my dad. It was like a sea of people so happy to see you and be there.
Advice for other couples?
Create a budget, and stick to your budget. No matter what you cut, no matter what unexpected things
happen, it's gonna be great. You're going to have fun, the guests you care about are going to have
fun. In the end We didn't stick to our budget because midway through planning, I realized that there's a
price I'd pay to not debate and huff with my husband. It's a once in a lifetime thing. It's supposed to
be a pleasant experience. If it makes the person you really love happy, then you can make some
sacrifices.
Suppier Shout Outs
For more information on Bespoke Moments go to
www.bespokemoments.nyc / [email protected] / FACEBOOK / PINTEREST / INSTAGRAM  / TWITTER 

Bespoke Moments is a full-service luxury wedding & event planning design boutique.

[jprel]