Happy Monday everyone, I do hope you have had a lovely weekend? If you are a mum then I wish you a belated Happy Mothers day and if not I hope you managed to spread some love to your own mother. I had a lovely weekend. Saturday was spent with 2 old friends eating, drinking and having a wonderful catch up. Sunday was sent with my gorgeous son and Husband as a family, celebrating mothers day. We are starting off the week with this super sweet festival themed wedding from West Sussex. It's the wedding of Caroline and Richard who wanted their wedding to be laid back, filled with Boho elements and a festival theme. I'm sure you will agree that's just what they did. It's filled to the brim with relaxed styling, lots of beautiful blooms, the most gorgeous Claire Petibone gown, flower crowns, lawn games and the most stunning barn venue. Big thanks to Paula Gillespies for capturing it so perfectly.
A magical day filled with laugher & love. The day that we wanted.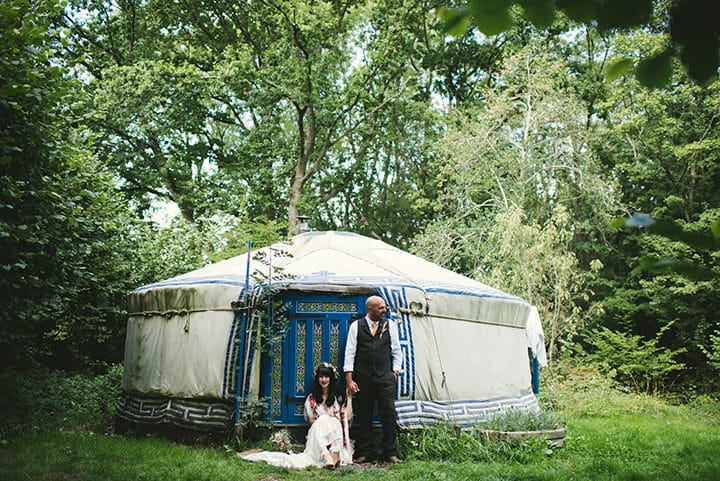 Caroline and Richard were married on 19th August 2017 at the Yoghurt rooms in East Grinstead in West Sussex. 'We wanted our day to be like a mini festival and we loved the idea of having a space where guests could camp. The Barn at the yoghurt rooms is legally registered for ceremonys and meant we could marry, celebrate and sleep all in the same place, which ultimately meant more time to spend with our loved ones. We had 180 guests and it took 18 months to plan.'
How they met 
We met whilst Caroline was working in a pub as a student. Dickie was one of the locals. It took 3 years before we would date and we were married with a son 3 years later. A drunk customer once predicted we'd become husband and wife, long before we'd even kissed!
The proposal
Christmas morning, sitting on the floor, with our son crawling around our feet. Dickie up cycled an artists paint box and made it into a jewellery box, wrapped it and put it under the tree. Inside that box, was another box…. With an engagement ring..
How did you allocate your budget?
Venue, food and music came first, in that order. Everything else was weaved into weekly spends, picking up the odd charity shop bargain here and there, saving jam jars, Christmas fairy lights ect. My father bought me my dress. The cost of that was ring fenced!
Where did you splurge and where did you save?
I bought great quality festoon lights which were pricey, but I got lampshades for free off the back of a table and chairs bargain that I was buying for my home in an up cycle shop. Friends love to help, we had guests help with flowers & button holes, make cupcakes, and my bridesmaid made me my garter. The family who run the farm even foraged for ivy for us, they needed to clear some woodland from it anyway. Guests were charged a small fee to pitch their tent, we used that money to pay a catering company to do a day of reckoning breakfast for them. Much cheaper than hotels and guest houses!
How did you choose your photographer?
I've had my eye on Paula Gillespies work for years. She is from the town in which I was born and love so well. Derry. Her talent is undeniable but her personality is just as important. A very relaxed photographer, yet able to command a large wedding party to get the job done. Professional at all times.
The dress
Dress was 'gardenia' by Claire Petibone. Shawl was bargained into a high chair swap between Caroline and a Polish dressmaker who brought lots of shawls back from her homeland, boots were suede ankle boots from Jones with white ankle socks gifted from my bridesmaid from accessorise. Jewellery was Swarovski, insisted upon by my dad.
The suit and bridesmaids
Suit was Donegal tweed from Walker Slater London, Bridesmaids dresses were on sale from monsoon.
Theme or colour scheme
I liked the idea of my bridemaids being floral and Boho, their dresses matched nicely with the hydrangea flowers, but all in all, I just went with what I liked. The boys had orange ties and my shawl was mostly red and pink, so no colour scheme as such, but everything tied in nicely together!
Flowers
Hydrangeas for the tables (they fill a space well, so cheap(ish). baby bud and astilbie for the bridesmaids and all sorts, roses ect for the bride.
Decoration 
Festoon lights, floral bunting Lampshades, jam jars dressed in hessian and lace, vintage table cloths for the cake stand, log slices for centre pieces, and amazing giant hand made paper flowers by a talented Sonia coffeeANDpaper
Food
The smoking beetle did a selection of halloumi, salmon, lamb and beef with salad and bread selection.
Wedding cake
A naked cake by @Marie Loose, Brighton
Entertainment
John Crampton, bluegrass one man banjo band followed by 'stick it on' Brighton.
Who supplied the stationery?
We bought our own on ebay and had a friend lay out the wording format on photoshop ready for print.
Personal touches
I made seed bombs with mates and sewed metres upon metres of bunting.
Special moments
Getting married obviously! walking up the Isle with my dad, watching my parents DJ in the stick it on booth! Oh, and watching my toddler trying to put fake nails on his toes!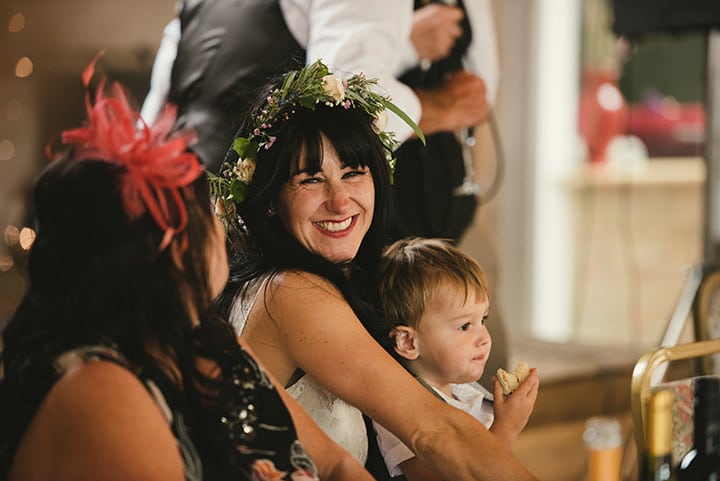 Advice for other couples
Don't worry about things like the weather it's the company of two households and friends that matter. Take your time, salvage what you can, and let friends and family help. They want to! When people pull together it ends up even better than what you could have imagined! Maybe go to bed at a semi decent hour too so you don't spend days recovering. Which we didn't do! But it was worth it!
Biggest surprise
Fireworks, My husband had it all arranged behind my back!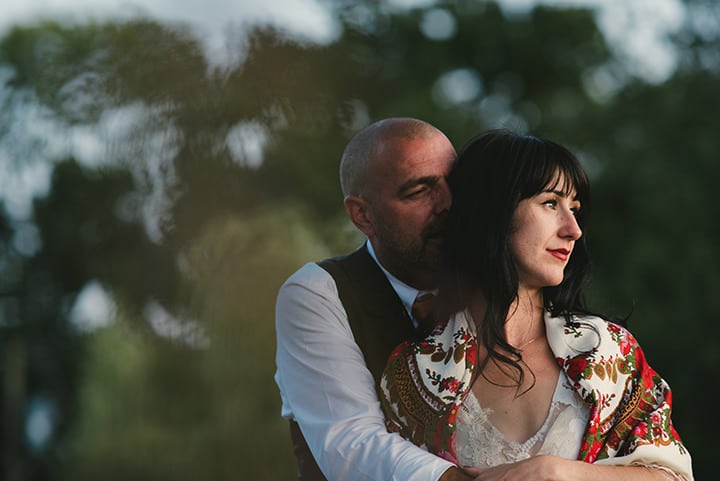 Supplier Shout Outs
For more information on Paula's work go to
www.paulagillespie.com / [email protected] / 07783106930 / FACEBOOK / INSTAGRAM