Happy Monday everyone and how are you all? Keeping warm and safe I hope? I hope things have started to get back to some form of normality for you. Lets hope this week isn't as eventful weather wise as last week! This week I am very excited as it's my birthday on Wednesday. I went out on Saturday night with Nik and some friends to celebrate and had a wonderful night, so I now can't wait to celebrate again on Wednesday! Moving on to all things weddings and we are starting off the week with this fabulous tipi wedding from Natasha at Honeydew Moments. It's the wedding of Brooke and Gareth who planned most of the wedding while living in Dubai, which it's fair to say had it's challenges. That being said, they managed to make the whole day full of personal DIY projects, gorgeous decor, hand arranged bouquets and of course those amazing Tipis. I hope you enjoy it as much as I do.
It was the best day ever which went so fast.  It was amazing to have everyone we love in one place.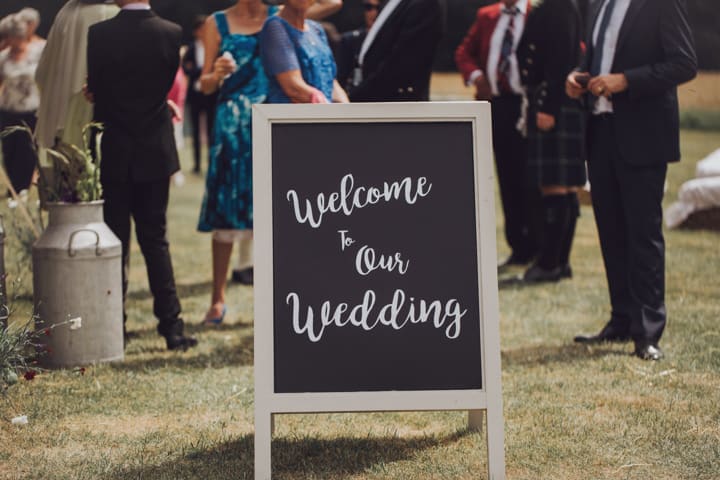 Brooke and Gareth were married on 8th July 2017 at Veils & Bales in Petersfield Hampshire. 'We were looking for somewhere in Hampshire not too far from Portsmouth where Brooke is from. Gareth and I live in Riyadh now although we lived in Dubai for part of the planning. Gareth is from Nottinghamshire and I am from Hampshire. We decided quite early on that we wanted a Tipi wedding and then it was a matter of finding a venue which could house the tipis and still give us lots of flexibility to create the wedding we wanted. We had about 120 guests in the day and then about another 100 to the evening. We got engaged in February 2016 and we started not long after that.  We actually got married officially on the 8th July 2016 in Sri Lanka, so for some of the time we were planning both of the weddings.'
How they met 
We met in Abu Dhabi in 2013.  We are both teachers and Brooke had already been working at an international school there for two years.  Gareth then joined the school and we started dating.
The proposal
We were in Dubai Marina at a restaurant called The Scene, two of our closest friends were with us so I really wasn't expecting the proposal to come.  We had drunk quite a lot of prosecco and at the end of the meal Gareth asked the waitress for a bottle of Champagne.  I was saying "no don't be crazy we've had enough" and telling the waitress to cancel the order.  Then Gareth got down on one knee, pulled out the ring box and said "This is why I'm ordering the champagne- will you marry me?"  Of course I said yes and started crying!  It turns out that our friends knew- Gareth had told them whilst I'd gone to the toilet during the meal.  They then grabbed phones and snapped lots of pictures which is great because we have them as a memento.
How did you allocate your budget
We didn't really know what to expect- we didn't think we wanted to spend too much!  Our first budget was completely unrealistic! We fell in love with the Tipis and this basically dominated all future choices and budgeting.  It was much more expensive to do everything ourselves than we thought it would be initially.  So the majority of the budget went on the Tipis and the venue really.  We did lots of things ourselves and saved money- it still cost a fortune though, but we didn't mind, it was so amazing and fun. We had generous contributions from parents which also helped.
Where did you splurge and where did you save? 
We splurged on the tipis and venue definitely.  At one point we were considering a venue which would have cost us quite a bit less but definitely would have compromised the aesthetic of the whole event.  We are so pleased we didn't go for this, our venue was perfect and everything came together beautifully. We saved by doing lots of things ourselves.  I am a Design Technology teacher and we made lots of things for the wedding.
How did you choose your photographer?
I suddenly started panicking about a photographer in January 2017 and then was convinced I'd left it too late! I put a post up on Facebook saying we were looking for 8th July 2017 in Hampshire.  Loads of photographers posted that they were available.  I then checked them all out and created a spreadsheet so narrow them down. Price was a consideration for us as at that point we felt that things were really spiralling.  We picked Natasha at Honeydew because we really liked her work and because she quite early on in her career she was able to offer great prices without us having to compromise on quality.  We are so delighted with the results.
The dess
My dress was made by Deerhobbes Bridal in Southsea (Portsmouth) they have a range which they call their beach range and they make them to order, you choose the skirt style, bodice etc.  It was such a relief to find them because I was starting to panic about the dress.  Arranging things from the Middle East I had limited access to dresses and fitting times were really tight.  Nadja was absolutely amazing and really understood and respected the fact that I didn't want to spend an absolute fortune on my dress.  I was delighted with the outcome it was absolutely perfect and worked so well with our wedding.
The suit and bridesmaids
Gareth is half Scottish so he wore his kilt which is a Gordon Modern.  He had three ties, one in navy, one green and one yellow, he was still deciding which one to wear the morning of the wedding!  The bridesmaids wore matching skirts from Monsoon and then they each had a different sequin top from Coast.
Theme or colour scheme
To begin with it was very much blush and rose gold, but as the planning progressed we added in more colours.  We wanted it to be colourful and fun and the flowers to dominate the colours.
Flowers
Other than the Flower crowns we did the flowers ourselves.  We got lots of them from the Real Flower Company which is based in Petersfield and supplies DIY flowers which are a range of herbs and wild flowers. My Mum and I made mine and the bridesmaids bouquets the day before the wedding, we looked at some Pinterest pics and then went a bit crazy.  I had the most enormous bouquet and I loved it. I made all the button holes the day before the wedding too and then we kept them in the fridge overnight. We also had two flower arches which were green metal ones we got from Wilko and sprayed Rose gold.  We used white flowers on these and a load of foliage found in the hedgerows around the field.
Decoration
On the tables we had table runners which my Grandma and I made. I sewed fabric napkins for each guest in a range of different floral fabrics.  The flowers were in old bottles and the herb pots in a range of tins, cans and jars. We had some MDF laser cut table names which had blackboards, Gareth spent a long time writing and drawing the names of different famous fictional schools onto these. We had some paper bunting from Ikea and then lots of brightly coloured ribbons wrapped around the poles inside the tent. We also had a tree from my Mums front garden which had died and dried up.  We got a great copper pot for it from TK Maxx and hung fairy lights in it. Oh and loads of fairy lights!
Food
We had picnic baskets supplied by the amazing Adam at Crumble Catering.  The baskets had cheese and pork pies, bread and salad etc in.  We wanted it to feel relaxed and not stuffy. We had a few simple canapes after the ceremony and we ate cake for dessert and we also had a homemade sweetie stall inside. My sister runs a catering company she had the sweetie stall that my step Dad had made left over from a previous Food festival.  In the afternoon we had an ice cream van from Sussex Vintage Ice Creams which was so cool and the ice cream was delicious.  We had a hog roast in the evening from Matt's Hog Roast with a range of salads made the day before the wedding by my Step Mum.
Wedding cake
Gareth's Mum made the wedding cake, it was delicious and had four different flavour tiers of fruit, lemon, vanilla and chocolate.  It was rough iced in a Swiss meringue butter cream and then scattered with edible flowers which I ordered from Maddocks farm organics. It was a real focal point in the tents.
Entertainment
We had a kids Bell tent set up which was supplied by Baylily Bell Tents.  It came with a range of toys and beanbags etc so that kids could play, or fall asleep. We also had some lawn games. The ice cream van was a kind of entertainment and then we had a DJ and an amazing band arranged by my uncle.  The DJ was great and gave the band a rest in-between a couple of sets.  The band were absolutely amazing and the dance floor was literally packed for the entire night!
Who supplied the stationery? 
Haha the invitations are a bit of a funny story. Basically Gareth and I made them with the help of my friend Lauren who is another DT teacher. We wanted something unique and sustainable so as a textiles teacher I came up with the idea of having tea towels. Once the actual towels were made Lauren and I sublimation printed them at her school. Sublimation printing is only supposed to be for synthetic fibres but it does work on natural fibres too!  Just turns out it doesn't hold and so a few people used and washed theirs (rude!) and so they lost all the information!  Luckily we had a website too! Gareth and I have one of the towels framed on our wall in Riyadh, it makes me smile every time I look at it!
Personal touches
I think I've mentioned most of them! Oh I made the favours too, they were lollipops with edible flowers inside. Oh and I made our flower girl's dress!  Our good friend Sue sang for us during our ceremony which was so touching, and my brother and Gareth's sister gave readings.
Special moments 
Oh literally everything! Haha.  The photoshoot was good fun.  We started with our bridal party in the woods and we had smoke bombs.  We also had several bottles of bubbles with us and people were already a little worse for wear! The smoke bombs were hilarious. Then Natasha Gareth and I went up into a nearby cornfield for some more pics.  This gave Gareth and I a few minutes to spend quality time together and reflect on what was happening back in the field.
Advice for other couples
Enjoy it, all of it.  I loved the planning and making and styling but it was good to outsource some things- I couldn't physically do all of it myself.  The day before the wedding was mega stressful and parts of it were not fun- everything takes longer than you think. On the day it goes toooooooooo quickly! Enjoy every second.  Have a great photographer.  Initially Gareth and I were shocked by how much photography cost (we didn't know what to expect) but we are so glad we made the investment.  If I did it again I would have a videographer too!  I couldn't justify it at the time, but now I wish there was a video we could watch! We chose not to have an unplugged ceremony and I'm so pleased because people took videos and I love watching them!
Biggest surprise
How quickly it went. We kept hearing it would happen, but we still weren't really prepared for it!

Supplier Shout Outs
For more information on Natasha's work go to
www.honeydewmoments.co.uk / www.honeydewmoments.co.uk/blog  / [email protected]  / 07581353732 / FACEBOOK / INSTAGRAM
SOUTH WALES BASED WEDDING PHOTOGRAPHER
Covering weddings UK-wide with special places in my heart for Somerset, Wiltshire, Hampshire & Dorset. Specialising in natural and creative photography.