Happy Monday everyone and welcome to another fabulous week on the blog. Did you have a good weekend? I do hope so! I have a week of breathtaking weddings for you, you really are in for a treat every day! Starting off with this stunning industrial, botanical inspired Jewish Wedding, which has been sent in to me by Jennifer See Studios. Katie and Brendan are both plant biologists so it seemed only natural to have a botanical theme, couple that with their venue being the Horticulture building it was only fitting to fill this light, airy space with the most gorgeous booms, plants and greenery. The results are amazing! Flowers everywhere and so incredibly beautiful! I love the modern, industrial feeling of the whole day, mixed with the amazing colours and textures of the beautiful flowers. A real treat for the eyes I'm sure you will agree!
First and foremost, our wedding day was a magical, joyous celebration of love, family, togetherness and plants! In terms of style, our DIY, Labour Day weekend wedding was a boho-tanical labour of love – a modern interpretation of Jewish traditions in an industrial setting juxtaposed with natural elements.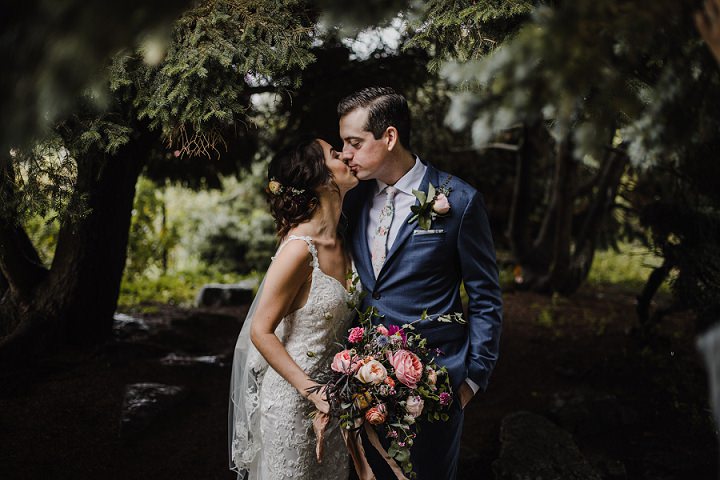 Katie and Brendan were married on 3rd September 2017 at The Horticulture Building, in Ottawa, Ontario, Canada. 'We knew we had a fairly large guest list of 210 people and wanted to get married in Ottawa – our families are spread out and we live elsewhere now, but we met in Ottawa and thought it was the perfect central location for everyone to gather to celebrate our marriage! We loved the idea of an outdoor wedding, but didn't want to count on the weather, so we opted for this beautiful, restored, historic building. It's a huge, airy, open space with an industrial vibe, so it was enough of a blank slate that we could bring the outdoors in. The very fitting name of the venue – The Horticulture Building – was an added bonus! We got engaged April 30th, 2016 and started looking into venues online pretty soon afterwards. We booked The Horticulture Building about a year before our wedding date and that's when the planning really began!'
How they met
We met in Ottawa on September 6, 2011, almost exactly 6 years before our wedding date. We were working together on a research project, studying a plant that had heart-shaped leaves and smelled like chocolate (a good omen, or at least the makings of a very strong love potion!). I had heart eyes for Brendan as soon as we met, but thought it was best to maintain a professional working relationship, so we got to know each other over the next few months and inevitably started dating on the first day of spring, 2012.
The proposal
We both enjoy photography as a hobby (mostly taking pictures of plants) and wanted to bike around and capture the spring flowers in bloom. We put our cameras in Brendan's backpack and I jokingly asked if there was wine in his bag – he said no.  I followed, until he pulled off the path and onto a little patio area over the river. He pretended he was about to pass me my camera, but he actually grabbed the ring box out of his bag. We are pretty sure he asked me to marry him, but we're not quite sure if I said yes – I was genuinely surprised, and now it's all a bit of a blur! He gave me a beautiful 100-year-old antique ring with leaf engraving up the shank. Turns out he had packed wine and glasses in his bag after all, so we had a celebratory drink overlooking the river.
How did you allocate your budget?
With a large guest list, catering was the biggest cost, followed by our band and photographers. The rest of our budget was spent on videography, flowers/décor, attire and stationary. We're both so lucky to have incredibly generous parents and we are extremely grateful for their contributions toward the cost of our wedding!
Where did you splurge and where did you save?
Splurge: We hired The Truly Band knowing they would make our wedding an amazing party. We spent a bit extra to have the band play longer and to have our photographer go an hour over time – it was worth it to keep the party going and to have someone there to capture it!
Save: We rented a municipal building which was relatively inexpensive, and this allowed us to choose the caterer we wanted and to bring in our own alcohol. We saved by doing a lot ourselves and having family and friends help with many aspects. We got flowers in bulk from a few different sources. We put all of the arrangements together ourselves. We brought in all of our own décor that we already owned, or bought for the wedding, knowing we could repurpose the items later. We saved on stationary because the design work was a wedding gift for us from one of our bridesmaids!
How did you choose your photographer?
I found Jenn's Instagram account and website and we both loved her photography style – a bit moody with a good blend of candid shots, details and fun portraits. All of our communication was smooth and she was accommodating with all of our requests, so we booked her before we had even met her!  She and Alex made our engagement session a fun and relaxed experience and the photos were beautiful, and the same was true for our wedding day. We are super happy with our wedding photos – looking at the pictures really allows us to relive the magic of our wedding day because Jenn and Alex captured so many special moments plus all of the little details that together tell the complete story of our big day.
The dress
My dress was by the Madison Collection from Bliss Bridal in Whitby. I tried about 100 and ended up buying the first one I ever put on! I loved the style and the colour combination. I also got my veil at Bliss Bridal, but can't remember the designer.
Since it was raining when we were outside taking photos, I put on a leather jacket and wore a pair of boots and just put my heels on right before the ceremony!
I didn't have many accessories other than flowers in my hair put together by my mother-in-law, and my mom's wedding earrings (flower studs!) from 1980 that were made by her uncle, who was a jeweller.
Suit and bridesmaids
Brendan's suit was straight off the rack from Banana Republic – he originally planned to wear a grey suit, but he looked too handsome in blue! His floral tie + pocket square combo was a birthday present from my sister. The groomsmen and dads wore shades of grey, so they wore what they already owned or got them from different stores. We gave the groomsmen assorted blue and green ties and bowties. I had my bridesmaids pick dresses they liked as long as they were a green-blue colour – three were from BHLDN, two were from ASOS and one was from J. Crew.
Theme or colour scheme 
We didn't have a real theme in mind, but as two plant biologists getting married at The Horticulture Building, it naturally ended up being botanical. When we ended up with our Labour Day weekend wedding date, I tried to come up with a colour scheme for florals and attire that suited both summer and fall, since Labour Day really signifies the end of summer to Canadians. I paired mostly warm florals with cool green-blue dresses and grey suits, amber bottles of flowers on grey table cloths, and incorporated both wood and mixed metallic décor. We wanted to bring a lot of flowers and greenery into our industrial, warehouse-style venue, so the look I envisioned was a juxtaposition of city and nature.
Flowers 
We had so many flowers! To name some: cabbage roses, Juliet roses, ranunculus, scabiosa, zinnia, waxflower, globe thistle, lisianthus, cosmos, Echinacea, snapdragons, love-lies-bleeding. To add to the autumn vibe, we also had nigella pods and poppy pods. We had some softer, muted shades and dark burgundy to balance out the brighter colours and create a summer-meets-fall palette.
For greenery, we used a lot of herbs, like flowering thyme, oregano, purple basil, shiso and marjoram. Other greenery included eucalyptus, porcelain vine, thalictrum leaves, and an assortment of ferns. The herbs and eucalyptus made the venue smell amazing! 
Decoration 
Mostly flowers with greenery in assorted amber, green and clear glass bottles and different sized lights – Edison bulb string lights draped across the ceremony and reception space, a string of gold orb lights behind the head table and fairy lights on all of the tables. We also moved the garland from the chuppah to the window behind the head table for the reception.
Food
We picked a great catering company – the owner Moishe, went above and beyond in terms of quantity and quality, and did a fantastic job creating a kosher-style menu for us.
We had several fruit and herb-infused water dispensers in the ceremony entry area. There were tons of delicious assorted passed hors d'oeuvres during cocktails prior to the reception
Every place setting had its own individual mini challah! They were pretty large miniature loaves, and so delicious. We started the meal with an orange, pine nut and fennel salad. We gave our guests a main course selection of challah-stuffed Cornish game hen with thyme jus, citrus Arctic char or vegan lentil ratatouille stuffed peppers, with boulangère potatoes, asparagus and roasted sweet baby peppers as sides. We opted for two late night snacks that reflected our respective Quebecer and Jewish backgrounds – poutine and smoked meat sandwiches!
Wedding cake
We aren't that into wedding cake, so instead we had a dessert table set up with assorted pies, tarts, pastries and fresh fruit. The pies all had different crust styles, they were really beautiful, and there were so many that people took home whole leftover pies!
Entertainment
We hired The Truly Band band from Toronto with members who had played at my sister's wedding and made it a really fun party. One musician played acoustic guitar (Old Pine by Ben Howard) as we walked down the aisle. We started a playlist of chill, lounge remixes we had put together during cocktails and the band started up again for our first dance (Bloom by the Paper Kites), which led into the hora and a full night of dancing. They were amazing!
Who supplied the stationery?
I worked with one of my best friends who was also a bridesmaid, Heather, to make our stationary. I painted a watercolour wreath of some of mine and Brendan's favourite plants and flowers. Heather took my artwork and text, found the perfect fonts, and created an invitation suite using different parts of my painting. I always wanted to have plantable wedding invitations, so we had our custom design printed on wildflower seed paper by Botanical PaperWorks. Heather also used my wreath painting and gold material in her Cricut to print our table number signs.
Personal touches
We did a lot ourselves and had several personal and handmade touches. Firstly, as an interfaith couple who wanted a Jewish wedding, it can be hard to find an appropriate rabbi. We were married by a Reconstructionist rabbi, who was amazing and encouraged us to personalize our ceremony as much as we wanted. We were married under a traditional Jewish wedding canopy called a chuppah – Brendan cut down the birch trees himself from the forest surrounding his parents' house to build our chuppah! My mom sewed the chuppah covering with material she had that once belonged to my grandmother's best friend.
Brendan's mom used to work as a florist and with the help of his sister, made bouquets that were beyond my wildest Pinterest dreams! My mom, sisters and bridesmaids helped me arrange flowers in bottles for table décor.
My mom found lots of great décor items over the year leading up to the wedding – candle holders, antique milk bottles, different types of fairy lights, wooden boxes, metal trays, a decorative watering can, light-up K & B letters
After much experimentation one night with two friends, we came up with the perfect blood orange, thyme and gin drink recipe to serve at the wedding, and I painted the "Orange you glad it's thyme for a drink?" sign to go along with it at the bar.
I painted place cards with watercolour to correspond to each person's food choice and my mom wrote out all the names with a metallic pewter pen
I put together programs to point out some of the personalized and meaningful touches we added to our ceremony and to explain the Jewish traditions that we chose to incorporate so that everyone in the crowd would understand what was going on!
What were your special moments or highlights of the day?
Seeing each other for the first time on a cute garden path was pretty magical
Walking into the venue for the first time, seeing it all set up and knowing how many people were involved to make it possible made us feel especially grateful for all of the help we got leading up to our big day.
Our personalized ceremony was perfect – our Rabbi instilled a sense of inclusiveness and community throughout our ceremony and got everyone there singing "All You Need is Love" which was fun and unexpected.
The beginning of the party was a real highlight for us – we had a super fun and wild hora
Brendan's sister and her husband wrote and performed a song for us, and our parents and sisters gave such sweet, thoughtful and hilarious speeches full of all the best plant and flower puns.
Lastly, but very importantly, just being surrounded by all of the important people in our lives was a wonderful way to celebrate our love and start our married life together.
Advice for other couples 
During our pre-wedding meetings with Rabbi Liz, she told us consider our experience in planning our wedding together to be an introduction to all of the other important life decisions to come and big changes we'll go through together. See what you take away from the planning process and use it as an opportunity to further learn how to work together complimentarily, and to better understand what your respective strengths are in significant or stressful situations.
Know that no matter how much time and effort you put in, nothing will ever go exactly according to plan, so on the day of your wedding try your hardest to forget about your schedule and all the little details and just focus on the day so you can enjoy this special time with your new spouse and all of your loved ones – it really does go by so quickly!
Biggest surprise 
September 3rd was an unseasonably cold (12°C!) and rainy day, and we had worried about how hot and humid it might be with no air conditioning in our venue! We still got to take all of our photos outside with no other people around, plus the flat grey light was ideal for photos. While it wasn't quite the typical summer wedding day most would imagine, it really was a magical day. The whole day went surprisingly smoothly, and although some things didn't go exactly according to plan, I surprised myself by how accepting I was on the day of – it was nice to feel relaxed and just take the day as it was so that we could really enjoy it.
Supplier Shout Outs
For more information on Jennifers work go to
www.jenniferseestudios.com / www.jenniferseestudios.com/blog / FACEBOOK / INSTAGRAM