Happy Friday everyone! My word am I happy it's Friday at last! This week seems to have dragged on forever! Is it just me or has January just gone on and on and on! I know we shouldn't wish time away, but roll on February! This weekend my mum is coming up from Cornwall which I'm very excited about. I didn't get to see her at Christmas so this weekend we are making up for it. Today though we have this super sweet, casual summer garden party wedding to share with you. It's the wedding of Alice and Laura who chose a pretty pastel them for their big day but kept the day nice and relaxed to fit with their summer party idea. Big thanks to Catherine Carter Weddings for the lovely images.
It was perfect day, the sun was shining, we laughed all day long, the drinks flowed and Laura danced until her shoes broke. Everybody came and totally embraced the casual but classy feel to the day.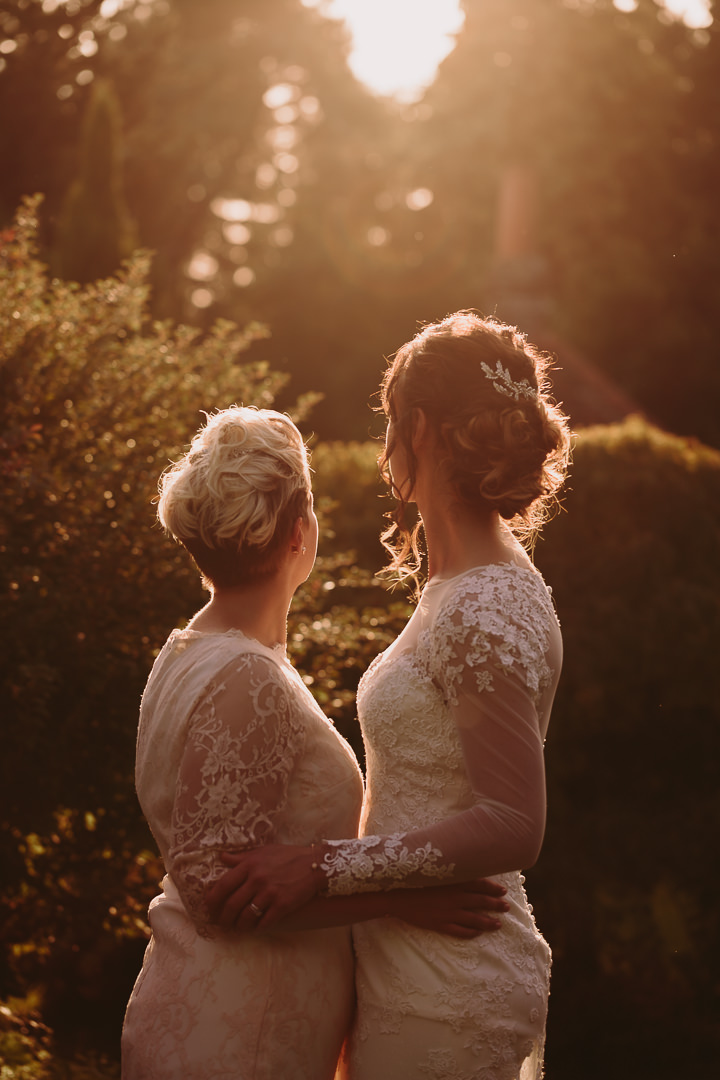 Alice and Laura were married on 13th August 2017 at Barnett Hill Country House Hotel in Wonersh, Surrey 'We were always wanting to get married in a country cottage by hiring it for a few days, but this seemingly simple idea ended up being rather complicated and we then started to explore other options, this is when we found Barnett hill. The venue has the most amazing grounds and within the hotel gorgeous period features. We wanted our venue to feel intimate and personal for us and everyone who came, even though this place is quite grand from the outside, inside no room felt too big. We were able to keep our country garden theme as it has the most beautiful landscaped gardens and plenty of outdoor seating. Finally it was dog friend so our furry friend could join us, making the day perfect. We had 43 guest for the ceremony and 120 for the evening it took 18 months to plan.'
How they met
We met playing Ice hockey but we built our relationship outside of hockey as we didn't want our relationship to get tangled up in sport politics and gossip. We had our wedding one day before our 11th year 'anniversary'.
The proposal
Alice proposed at the Ritz, I am  a huge fan of tea and cake (who isn't) and also the 'organiser' of the two of us so to be whisked off mid week into London was a complete surprise. Alice gave me little messages in bottle between servings, the messages had sayings from throughout our time together, the proposal came at the end of the night when most other people had left, much like the wedding it was understated and so magical.
How did you allocate your budget?
Mainly we just trusted our instincts, we were surprised with how easily we knew what felt right, we had a rough idea of how much we wanted to spend and updated a spreadsheet as we went but didn't let that impact our overall decision making. The venue is stunning with lots of features so it didn't really require much decoration. We also wanted to feel comfortable and not too over the top so when things felt right we just went for them.
Where did you splurge and where did you save? 
We aren't sure we really splurged or saved on anything. It was more about if we didn't feel strongly about something we tended not to go for it. If we liked something we could then go for it. We think everything came together perfectly.
How did you choose your photographer? 
Finding a photographer was one thing which did feel like hard work, most photographers didn't seem to understand that we didn't want lots of planned photos, we aren't really a PDA couple. It was surprising how many photographers felt pushy and awkward – we nearly didn't go for one. Then someone recommended Catherine Carter, who has a documentary style. On speaking to Catherine she was totally chilled out and easy going, didn't make us feel awkward or uncomfortable. When we met we just said 'we just want to see photos which show how much we love each other and people having a good time'. We think she did this perfectly, we are so proud of our photos, they make us feel so much more then we ever expected and allow us to  re-live the day again. So many guests commented on how she was a bit of a ninja, most of the time we didn't even know she was in the room!
The outfits 
Alice wore Lillian West wedding dress, Ted Baker heals, Swarovski earrings and bracelet. Her hair piece was her something borrowed.
Laura wore a Ted Baker dress, Irregular Choice kitten heals and then Ted Baker brogues. Swarovski Earrings, Watch (and bracelet – when the watch fell off!) her other bracelet was borrowed from Alice's mum, it was rose gold which originally belonged to Alice's grandma. 
Bridesmaids
Ted baker dresses, Clarks Shoes, hand made bespoke friendship bracelets by Little Moon Star and plain silver studs.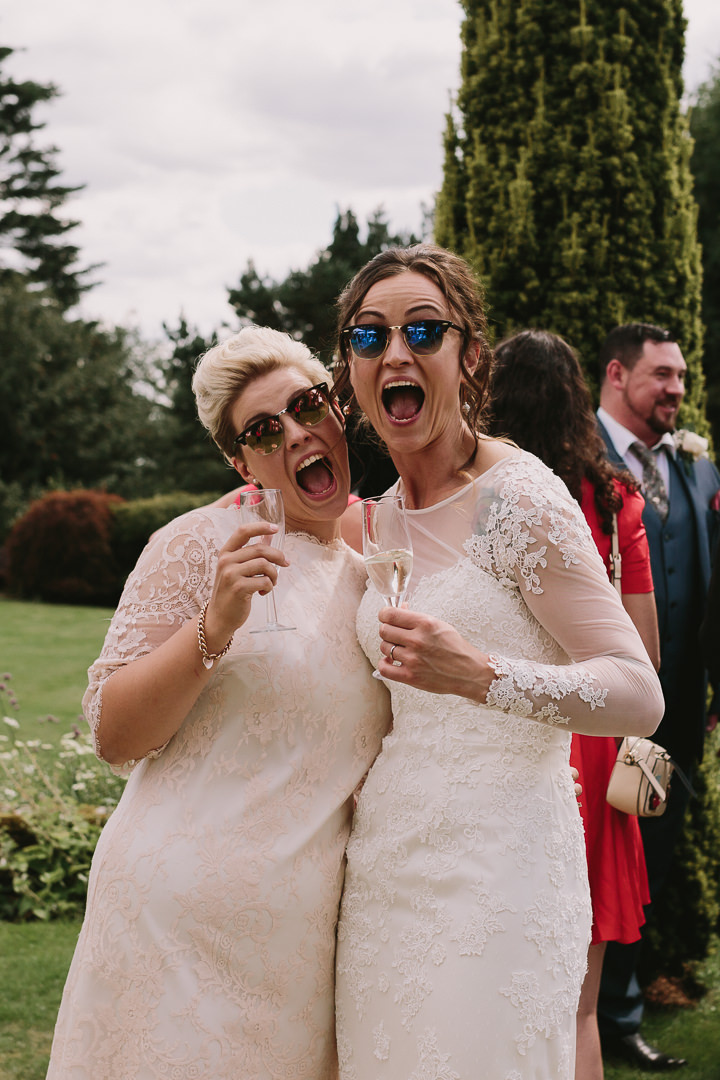 Theme or colour scheme 
Pastel colours and a casual summer garden party theme 
Flowers 
Pastel avalanche roses with gypsophila, eucalyptus in the button holes and lavender.
Decoration 
We had garden lanterns down the aisle and on the wedding table, which contained a cup and saucer with flowers spilling out. Laura has a friend whose mum does floristry as a hobby and offered to help – they were stunning! We had tea sets filled with roses, gypsophila and lavender on the dining tables, these then got moved around the venue as the dining room got packed down.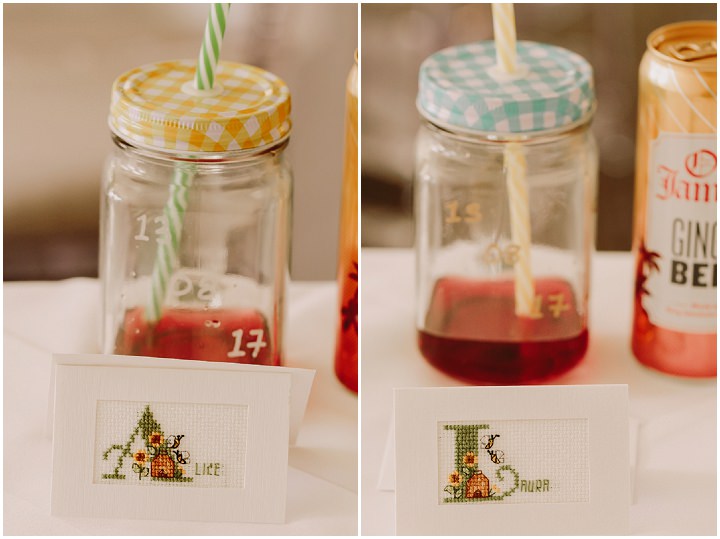 Food
Keeping in line with causal summer theme we had bruschetta to start, pan roast supreme of free range chicken, bubble and squeak potato rosti, green beens and chasseur sauce and a passion fruit tart with sobert. In the evening we had a hog roast.
Wedding cake
Wedding Cake was lemon sponge and white ganache chocolate for the top tier, Victoria sponge and milk chocolate ganache second and chocolate sponge with chocolate and baileys ganache on the bottom. We saw the design on Pinterest and fell in love with how different it was. It was incredible! 
Entertainment?
We had a live band through Alive Network called Resident Heroes, they were fantastic! Alice is a musician and has lots of musical friends in bands so we were really worried about choosing the right music, we had gone for a DJ and then changed our mind, we knew that we should take a risk on a band and it really paid off. The dance floor was full, they played an acoustic set early evening as people started to arrive and closed with an encore of Metallica. They were super relaxed and easy to organise, they sorted a play list for their breaks and played all the songs we requested.
Who supplied the stationery?
Stationary on the wedding day was cross stitched by Alice's mum Jane. Jane is big cross stitch fan, she stitched each of the place names, table numbers and the table plan. It was gorgeous, everyone commented on how cute and unique it was.
Personal touches
We did quite a lot ourselves, this was our way of making sure everything suited our style. doing it ourselves allowed us to be creative and it was great fun, although none of it would have been possible without family and friends. As we have mentioned we did the flowers with support from Hannah's mum, Laura's mum and dad brought all the tea cups and saucers from local charity shops, Alice's mum did the cross stitching, favours was home made sloe gin + ginger beer served in picnic jars Alice and Laura had personalised. We made our own candy table, which included crates we'd painted ourselves, personalised sweet bags and our families favourite sweets. We also had a Polaroid table for the guest book.
We had an 'unplugged' wedding, which we'd recommend, its so nice looking at the photos and seeing everyone engaging with one another and not on their phones.
Special moments 
Having one of Alice's best friends sing in our ceremony whilst they were signing the register.
Damsel (our dog) joining us for some pictures really topped the day off, it just wouldn't have been the same without her!  How may people turned up and the impact of the speech… we'd decided to do our speech in the evening once everyone had arrived, we felt we wanted to make sure everyone who attended (day or night) is important to us.
We also love that we got ready together, we can't imagine having to spilt up our bridesmaids and it also meant we laughed right from the word go!
Advice for other couples
Do what you want not what others, or the wedding industry, expects of you. There are so many options out there with enough googling you can always find what you want, but equally be prepared to embrace the journey and don't be too fixed on your ideas, its ok to do things which aren't innovative there are traditions for a reason.
Set up a spreadsheet to keep track on what needs to be done and costings, it's quite easier to lose track.
Let people help because they want to.
Look into a change of clothes for the evening!
Biggest surprise 
Our bridesmaids speeches were priceless, the entire room were in fits of laughter and and they got everyone doing shots, posing for an almighty group selfie and performing a rap.
How amazing the staff were throughout the day, everything ran smoothly and they really went over and above making sure it all went to plan, ensuring that the elderly guests were looked after, that the decorations were moved and set up as we moved between rooms and that everyone always had a full glass!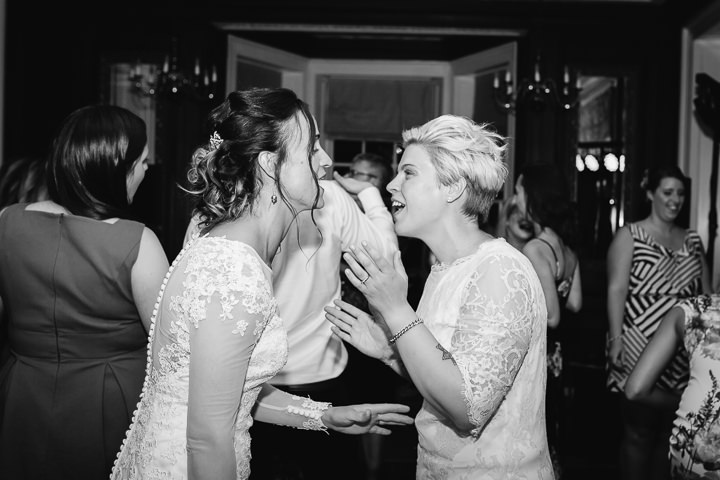 Supplier shout Outs 
FOR MORE INFORMATION ABOUT CATHERINE'S WORK GO TO:
catherinecarterweddings.com / [email protected] / 07774338740 / FACEBOOK / T: @CCWeddingsphoto / I: @CCWeddings  / PINTEREST
My photography style is natural, creative documentary. I am there to capture the real moments between couples and guests without anything being forced. The day is about the couple and their love for each other and that is what I aim to get in the photos. I work in an unobtrusive, friendly manner whilst photographing those special moments of the day in a romantic and artistic manner. Based in Guildford, Surrey.