The Boho Wedding Directory is a hand-picked list of all awesome wedding suppliers in the business, ready to help you plan your Boho wedding. The Directory is located in the main menu bar at the top of each page and is super easy to use. It is split up into suppliers and regions making it easy for you to find the perfect Boho supplier for your wedding.
To make sure you don't miss any of the wonderful suppliers that have been added to the directory, each week I showcase the suppliers that have joined in a mini update. This weeks new suppliers added to the directory are:
Photo Booth and Catering: Vintage Camper Booths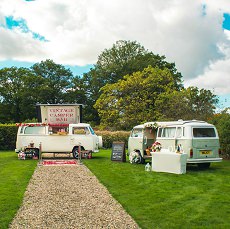 Meet Bertie, Lottie & Rosie, our beautiful and ultra classic VW Campervans. They offer a range of unique experiences that really get tongues wagging! Their most popular experience is the Vintage Camper Photo Booth. These Campers would certainly look the part at any Festival, Wedding, Party or Event and would add a very unique touch to the day. Not only are they Photo Booths but they can be hired as a Vintage Sweetie Van, DJ Booth or a fabulous Glitter Booth. Our latest addition is Lottie our beautiful Vintage Cream Camper, who not only offers everything mentioned above but she can also be hired a Vintage Camper Bar to serve bubbly from. Why not combine the experiences to really make it a night to remember! We would happily work with you to decorate these beautiful campervans to adapt to the theme of your wedding or event
More Information: www.boho-weddings.com/vintage-camper-booths
Stationery: Tilly and Clover
Congratulations on your engagement! Here at Tilly and Clover we specialise in rustic handmade wedding stationery. We pride ourselves on promising friendly customer service and the best advice. All of our designs are hand-painted in delicate watercolour creating a unique feel. Please visit our website to discover our stunning collections.
More Information: www.boho-weddings.com/tilly-and-clover
Planners and Stylists: Wild Wedding Company
Wild Wedding Company are bespoke wedding planners who create fun, unique and personal weddings. From rustic to luxury, we love all things wedding! Based on the Hampshire/West Sussex border, we cover the South East (and beyond!). From styling to full planning, we have a package for everyone.
More Information: www.boho-weddings.com/wild-wedding-company
Photography: Jarek Lepak Photography
We strive to create natural, beautiful wedding photography. Each of our engagements combine creativity with a photojournalistic perspective, capturing the story of a couple's special day as it happens, whilst working closely with you to make sure your wedding photography is carefully crafted to your requirements.
More Information: www.boho-weddings.com/jarek-lepak-photography
Entertainment: Bands For Hire
Bands For Hire are a live music agency providing only the very best musicians and bands in the South of England. We are committed to only working with bands and artists who display a level of talent that stands above the rest. All our bands have a long and trusted history in the music industry meaning you can be absolutely certain of a night you'll never forget.
More Information: www.boho-weddings.com/bands-for-hire
Stationery: Bride & Groom Direct
Bride & Groom Direct are the leading online retailer and supplier of wedding invitations, save the date cards, favours and wedding accessories. We provide luxury products at competitive prices, and the highest levels of customer service, which means you don't have the added worry when planning your wedding.
More Information: www.boho-weddings.com/bride-groom-direct
Video: Zade Film Co
Fine art wedding cinematographers based in Warwickshire. Our love for film transpires through our work. We passionately piece together the story of your special day, with an elegant and thoughtful touch. Your wedding film is captured with an unobtrusive documentary style, allowing everything to unfold naturally and organically.
More Information: www.boho-weddings.com/zade-film-co
Tents: TentStyle
TentStyle's stretch tents are the exciting alternative to hiring a traditional marquee. They create an exclusive indoor, outdoor experience by moulding their structures around the landscape. From weddings and parties to festivals and corporate events, there's a stretch tent for any event! Through their tailored service, TentStyle can provide a complete package to include lighting, flooring, furniture, dance floors and much more.
More Information: www.boho-weddings.com/tentstyle
IF YOU ARE INTERESTED IN GETTING YOURSELF ADDED ON TO THE 'BOHO WEDDING DIRECTORY' EMAIL ME AT 

[email protected]

 FOR AN APPLICATION FORM.
HAVE A GOOD WEEKEND
BIG BOHO LOVE
KELLY XX