Happy Friday everyone, I hope you have made it through this week of horrendous weather in one piece! Roll on spring is all I can say! I am currently dreaming of sunny days, sandals and ice creams in the park! To give you a bit of spring sunshine and gorgeous bright colours, I am taking you back to May of last year for the wedding of Clare and Ed courtesy of Laura at Babb Photo . It's such a gorgeous industrial style wedding, filled with so many vibrant colours! I just love Clare's Temperley gown and as for those flowers, I adore them! Happy Friday everyone, here's wishing you a fun-filled weekend.
Clare and Ed were married on Saturday 20th May 2017. 'We decided that we wanted a spring/summer wedding and therefore had over a year to plan. Clare grew up in Bristol and wanted a venue that reflected how great the city is. We loved the industrial style of Paintworks. It was great because the space is so flexible, we were able to choose our own decorations and put our own style on everything.
We also needed somewhere that could hold a large number of people as we both have quite big families! We decided to have the ceremony in Clare's parents local church as we knew it would be personal and the vicar is a friend of the family.'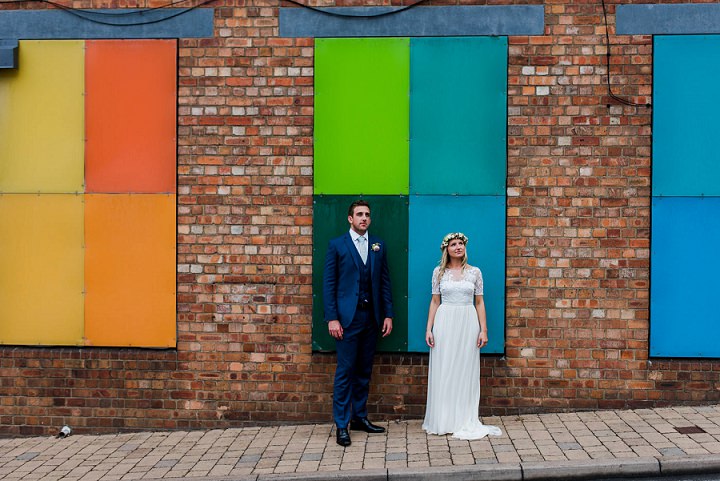 How they met and the proposal
We met in Oxford when we were both at university through a friend. After uni Clare moved back to Bristol for a year and then we decided to move in together. After a few years of working Ed got into the
police and Clare went back to uni in London to train as an Occupational Therapist, eventually ending up living in Wokingham. We got engaged on Clare's birthday in December 2015 during a muddy
walk in Windsor park ‑ Ed had snuck a bottle of prosecco (and the ring) into his backpack.
The Outfits
Clare's dress was Alice Temperley. I spotted it straight away when visiting one shop and knew that I would like it. It was really important to me to wear something comfortable and a little bit different and I
loved the indian style design on the sleeves and front. The bridesmaids wore light green which was a colour that suited them both and also went with the rest of the wedding style. Ed and the groomsmen wore dark blue suits and green ties ‑ we wanted it to look smart but not too formal.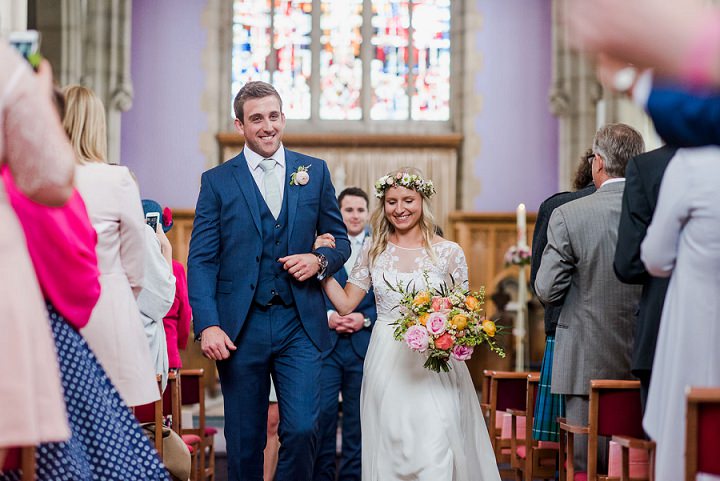 Theme or Colour Scheme
We didn't really have a colour scheme or theme and wanted the whole look to be very floral and natural. The florist was The Rose Shed who was great at understanding the style we wanted. The colours were fairly bright with lots of pinks and oranges and of course daisies as they are Clare's favourite flower.
Photography
Laura was amazing at keeping everyone relaxed but in check! We had quite unpredictable weather and she dealt with it really well ‑ doing the shoot with Ed around Paintworks was really fun and she obviously has a great eye for light and catching people at the right moments!
Entertainment
The evening band was Soulstrutters ‑ we had seen them at a friends wedding the year before and loved their funk and soul vibe.
Special Moments
Coming out of the church as a married couple and seeing all the people that we loved in one place ‑ everyone was so happy
Advice for other couples
We would probably say to stay as relaxed as possible and not let details stress you out. Make the most of every minute as the day by so quickly. We had a BBQ at Clare's parents house the next day which was great because we could speak to people that we hadn't had the chance to on the day and also hear about bits of the day that we had missed.
Supplier Shout Outs
FOR MORE INFORMATION ON LAURA'S WORK PLEASE GO TO:
www.babbphoto.com / www.babbphoto.com/blog / FACEBOOK / @BabbPhoto / I: @bisforbabb