I have the most gorgeous rain and fog filled wedding for you today all the way from Tennessee! There's something about a rainy wedding day that brings a certain atmosphere, especially when it's followed by fog and of course a rainbow as in today's wedding. Jordan and Jonathan really wanted to hold their enchanted forest wedding outside, but when the heavens opened they didn't know what to do for the best. Thankfully they braved the rain and held their dream wedding overlooking the Tennessee mountains. They filled the rest of their day with a gorgeous walk in the mist, followed by a stunning reception filed with fairy tale themed decor, lots of candles, gold and of course gorgeous flowers. Big thanks to Natalie from Like Morning Sun Photography for the lovely images.
A dreamy rainy Tennessee wedding day with bright colours, lots of fog and the best family and friends. So much love and support made this day utterly incredible.
Jordan and Jonathan were married on 7th July 2017 at the Lodge at Brother's Cove, Sevierville, TN, USA. 'I always wanted to get married in nature and the venue had a beautiful view of the Great Smoky Mountains. The venue also had cabins all around it which was perfect for all of our family friends coming from out of town. We had a fairly short engagement of 7-months and it took us 5 of those months to figure out the wedding plans! We had 130 guests on the day.'
How they met
We met in college and ended up going on a trip to China with our school together shortly after meeting. By the end of the 6-week trip (where you see the good, the bad and the ugly), I still thought he was so amazing! We started dating shortly after that and dated for almost exactly 2 years before getting engaged.
The Proposal
Jon was teaching English abroad in Thailand for a few months while I was finishing up my senior year of college. I went to visit for a week over Thanksgiving break, and somewhere in between our week of eating street Pad Thai and playing with elephants, he popped the question up on a beautiful hill with the most beautiful rose gold ring I've ever seen.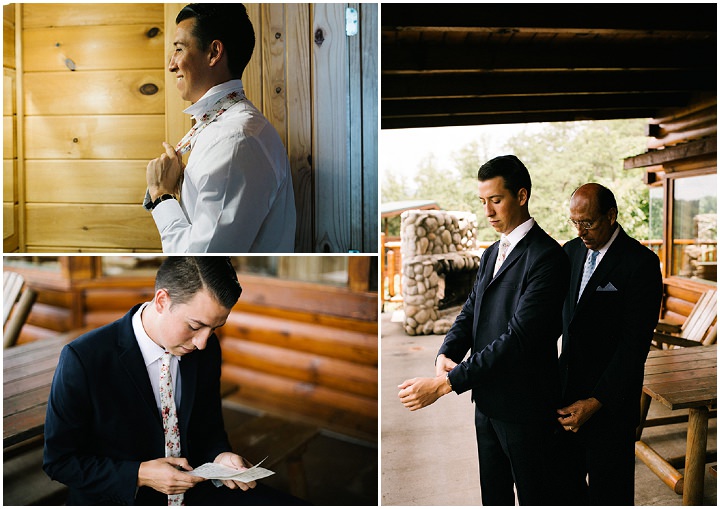 How did you allocate your budget?
The two most important factors for us were getting married in a beautiful place and being close to family and friends throughout the weekend. Being able to be in the mountains staying in cabins together and enjoying the beautiful views of the venue were the most important purchases. After that, we made a list of everything else that we thought was important and budgeted how much we would spend. We didn't have a super set budget but we also tried to save money in as many ways as we could!
Where did you splurge and how did you save?
Staying in the cabins was sort of a splurge (since my family only lives about 45 minutes from the venue) but it really helped us connect with our guests throughout the weekend rather than just a quick hello at the actual wedding. My family was so sweet and so willing to help that we saved in several ways. One aunt made the cake while the other made cupcakes. My mother-in-law, sister-in-law and another friend put together the flower arrangements with the flower buckets we got from a flower farm. We were so thankful for their love and support!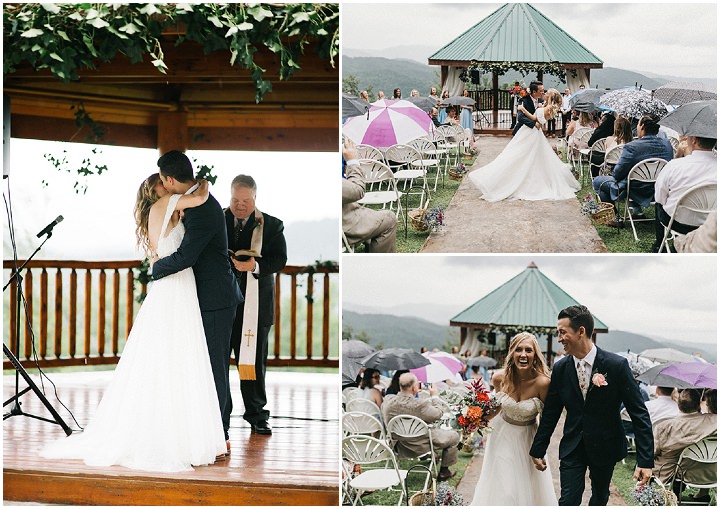 Why did you choose your photographer?
Our photographer Natalie was one of my roommates around the time I got engaged. As soon as I moved in with her (before I was engaged) I saw her photography work and thought it was wonderful! It also felt much more personal than hiring a vendor and she gave me a roomie discount which I greatly appreciated
The Dress
I wore a Watters Wtoo gown called Agatha. I added the lace sleeves myself because I had tried on another dress with those and felt like they added personality to it. I wore dusty pink Steve Madden heels and gold jewelry, including a bracelet that my late grandfather gave to my grandma.
The Suit and Bridesmaids
The boys wore navy pants and suspenders while Jon wore a full navy suit all from H&M. The girls wore dusty blue dresses from an Etsy site called RenzBridal. Since our bridal party had to travel so far, we wanted to keep the cost down in this area but it still looked amazing!
Theme or Colour Scheme
I joked that my theme was enchanted forest fairytale but I didn't want that to be cheesy or overdone at all. The main color was dusty blue and then we used a lot of colorful wild flowers, candles and lots of gold accents that went really well together.
Flowers
We used colorful wildflowers from a flower farm. I was hoping the bright colors wouldn't look tacky or clash with the dresses and they definitely didn't. They really tied the whole look together.
Decoration
I used a lot of candles, a lot of gold tulle, some blue flower pots, moss, glass bowls and many more things to get the sort of "enchanted forest" look that I was going for!
Food
We had a Tennessee barbecue by Buddy's Barbeque, which included pulled pork sandwiches with some other Southern side dishes.
Wedding Cake
My aunt made a vanilla almond cake with raspberry filling and decorated it in the naked style and we just added some flowers to give it a little extra touch.
Entertainment
We had a banjo and fiddle player during the cocktail hour play bluegrass music. Also, I grew up in Africa and many of our African friends attended the wedding and did some songs and dance which is a huge part of a wedding celebration in African culture.
Who supplied the stationery?
We had a friend do the graphic design and then printed everything from a local print shop.
Personal Touches
We wrote our own vows which was very important to us and they were very meaningful. We also had both of our mums speak at the ceremony which was very special.
Special Moments
It started raining about 15 minutes before the ceremony and it was a bit stressful to decide if we would do it outside or try to move it inside. We did anyways and walking down the aisle in the rain and seeing Jon waiting there for me was so amazing. We also stepped out of the reception for a little bit to get some more pictures after the rain stopped and the fog set in! I was a great time to be alone and have some of our own personal moments in the midst of such a crazy day.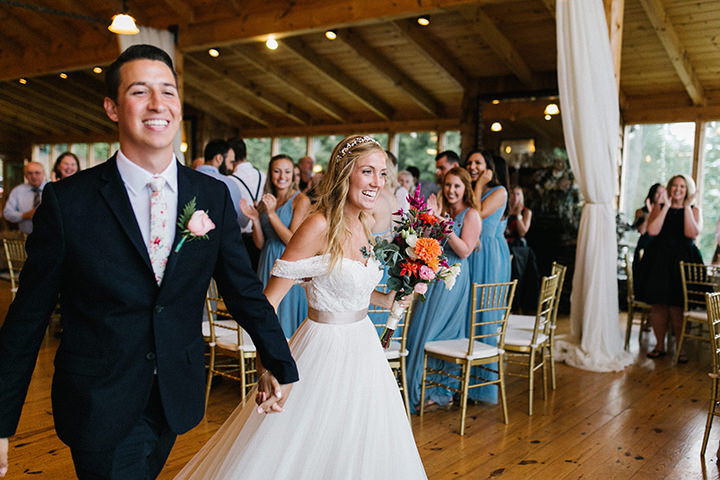 Advice for other couples
I would say do the things that are important to you and don't worry about fitting the mold of what is typically expected for a wedding. Add your own personality, interests and style into the day. Also spend as much time with the people you love as possible because it's maybe the only time in your life that you will have all of those people in the same place!
Biggest Surprise
My biggest surprise was all of the emotions that hit me throughout the day. I was of course super excited leading up to the wedding but I could never have expected that I would feel so happy and loved or that it would go by like the blink of an eye!
For more information about Like Morning Sun Photography go to:
likemorningsun.com / likemorningsun.com/blog / [email protected] / FACEBOOK / INSTAGRAM / PINTEREST
Like Morning Sun Photography is based in Orange County, California. I'm always chasing after that sunset, windswept, eyes closed, tight hug, warmth on your face kind of feeling when the beauty is all around you and all you can think about are the ones you love standing next to you.