Today we are in Taunton for the beautiful wedding of Anna and Simon. Anna and Simon were lucky enough to hold their reception at Simon's parents' back garden, and really made the wedding a family affair. They pulled in lots of favours from friends and family to make the wedding budget friendly and all of this they did in just 3 months! They went for a country vintage look, to go long side their garden wedding and filled the church and vintage look marquee with an abundance of flowers. Add in lots of pretty homemade decoration, along with delicious food and lots of smiles. This really is a proper English Wedding. Big thanks to Naomi Jane Photography for the images.
A wedding filled with love, laughter, family, friends, pet dog, surprise bagpipes, musical procession, pom poms, streamers, vw camper cake, so many flowers, so much bunting, chef hats, jazzification station, fancy dress, ceilidh, human pyramids, silly dancing, hog roast, sparkles and fireworks. All on a tiny budget arranged in 3 months!
Anna and Simon were married on the 30th July 2016 at Ruishton Church, near Taunton, followed by a reception in Simon's parents back garden. 'The church is a lovely little village church and we knew it would look lovely filled with flowers, it is also just a few minutes walk away from where we had the reception so we thought it would be really fun to have musical procession after the ceremony from the church to the garden. We knew we wanted to get married in Simon's parents back garden as it's a beautiful space that Simon was lucky enough to grow up in. Simon's two older sisters had also had their weddings in the garden so it's become a bit of a family tradition. We had 100 guests in the day, and another 50 in the evening.We planned the wedding in 3 months!'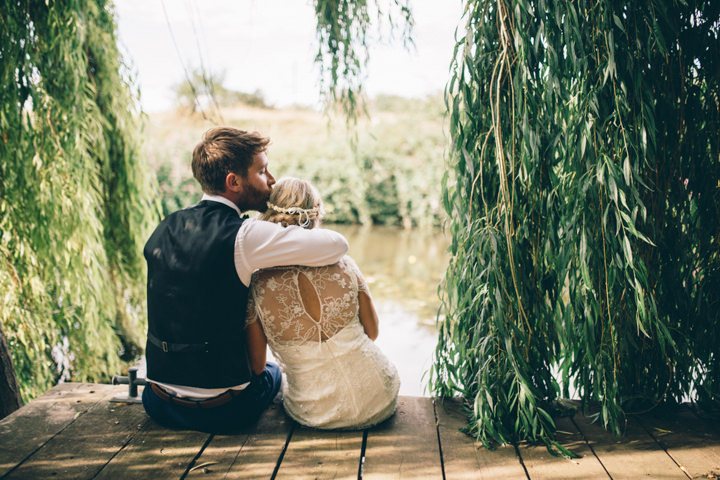 How they met
One of my best friends started going out with one of Simon's best friends, then we met through them.
The Proposal
At our secret wild camping spot in West Wales
How did you allocate your budget?
Having to do project management and event organising as part of my job I had a excel spreadsheet at the ready for the budget and already knew how to organise something fun so it wasn't too hard to do.
Where did you splurge and where did you save?
We wanted it to be a really personal experience so called in all the favours we could think of.. my Godfather (who is a Bishop) carried out the ceremony, Simon's extremely talented 16 year old cousin played the piano in the church and composed the song we had for me walking up the aisle. My Auntie made us two amazing wedding cakes. Simon's auntie and a family friend lent us all the props and bunting. My mum spent weeks and weeks collecting and drying flower petals for the confetti. Friends and neighbours all got involved with making tissue pom poms. We bought a fireworks display set and a neighbour bravely set it off for us. One of my bridesmaids used to be a hairdresser so she did my hair, my brother and his band played the live music and then my bosses husband did a DJ set, another of my best friend used to be a florist so she did the flowers, and then all the neighbours brought round pots of flowers from their gardens – we had so many flowers it was incredible! One of Simon's best friends designed the invitations and order of service, a family friend did the wedding video, and Simon's parents worked tirelessly to make the garden look even more beautiful than normal. I think the coming together of everyone really did make the whole experience all that more special for us.
Why did you choose your photographer?
I met Naomi Jane at a wedding fayre before Simon and I got engaged. I loved Naomi's photographs and she was by far the loveliest friendliest photographer we met that day so I knew right away she'd be the one  I've always felt quite uncomfortable having my photo taken and Simon does too but Naomi did a fantastic job of making us feel at ease. It was also important to us not end up spending ages doing photographs, Naomi was great at getting the formal shots done and then blending into the background perfectly to get loads of great informal photos.
The Dress
It is completely true that they say you won't know until you try a dress on. The shop assistant handed me a Jenny Packham dress, I hadn't even considered this as although I completely loved them, I thought they would only look good on super models and would definitely be way out of my price range! Anyway, I tried it on, and low and behold, it was the one.. I tentatively asked the assistant how much it would be, she went away, and then returned to say that the following week it was about to go into their half price sale and if I paid for it that day they would take another £100 off, which of course I did!
My shoes were from Dune. The only jewellery I wore was a beautiful pearl necklace that had belongs to my grandmother. We were very close and she came with me to my final dress fitting and whilst their chose me a simple flower band for me to wear in my hair on the day. Suddenly she became ill and sadly passed away a week before the wedding. I could at least take some comfort that she had seen me in my dress, and wearing the flower head band and her necklace helped make it feel like she was still with us on the day.
The Suit and Bridesmaids
The suits were hired from Moss bros. And the bridesmaids dresses were beautiful dresses from Monsoon with had lovely bead details on the bodices which matched perfectly to the details on my Jenny Packham dress.
Theme or Colour Scheme
As it was a garden wedding we went for a country vintage look, lots and lots of bunting and flowers both of which I love!
Flowers
I adore flowers so knew I would like to have a lot. We ordered wild country flowers direct from a local flower farm, then my friend bought some from the wholesalers, we grew lots ourselves, and then the neighbours all brought round pots of flowers from their gardens.. we all got together the day before to decorate the church and the marquee and garden, it was so much fun and everywhere looked fantastic!
Decoration
Homemade pom poms, streamers, festoon and fairy lights, bunting, lots of vintage props, hundreds of candles and fire torches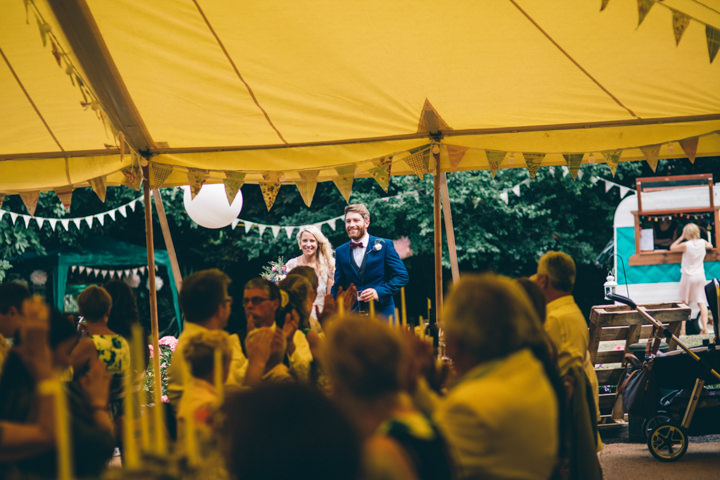 Food
Fabulous Wedding breakfast served by Aniseed Caterers, followed by a delicious hog roast (supplied by Pyne's of Somerset, a fantastic local farm shop) in the evening
Wedding Cake
Two wedding cakes! Made by my talented and creative Auntie.
Entertainment
Simon's extremely talented 16 year old cousin played the piano in the church and composed the song we had for me walking up the aisle. Neither Simon or I like stuffy old hymns played on an organ so our wonderful ceilidh band (called Piping Hot) played in the church and then led a musical procession out of the church to the reception. As a surprise Simon arranged for them to play the bag pipes, my grandmother who had very sadly died a few days before the wedding had been a Scot so it was a wonderful tribute to her. The hot pipes then went on to do a ceilidh in the afternoon which was so much fun and great to get everyone up dancing. In the evening my brother and his band played a super set followed my bosses husband who transformed himself into 'DJ sweatbands'! and close the evening with an awesome DJ set.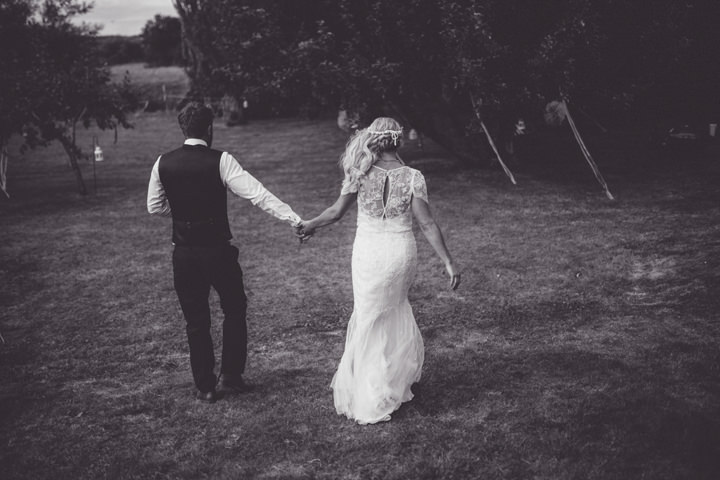 Who supplied the stationery?
Simon's lovely talented friend Helen, who did graphic design at university created our lovely invitations and order of service.
Personal Touches
We had a table with photographs of family and friends who sadly couldn't be with us, it was lovely to feel like they were still with us.
Special Moments
Everything! A few people had told us before to keep stopping and take a minute to take it all in and it was probably the best advice we were given. The day really does go by in a heart beat so you must try and treasure every moment.
Advice for Other Couples
Call in favours, get everyone involved, make things yourself, look for bargains, have a glass of wine whilst organising the table plan (that was the most stressful thing to sort out!), remember it's YOUR day, it is impossible to keep everyone happy so don't even try, and just enjoy every single moment of it, getting married is so much fun!!
Biggest Surprise
How quickly it went, blink and you'll miss it!
Supplier Shout Outs
For more information on Naomi's work go to:
[jprel]