Today we are heading across to Styal Lodge for the wedding of Carol-Ann and Karl. I actually visited Styal Lodge 5 years ago when I had this Day and Night shoot with Nicola Thompson, so I have great memories of the venue. Carol-Ann and Karl chose it as it offered them the blank canvas they were looking for to hold their festival themed day. They chose a rock theme and carried this through in the seating plan, table names and cake, and then well into the evening reception with their amazing stilt walkers and fire eaters. A fun-filled day was had by all. Thanks to Jade Mcguire for the fab pictures.
A perfect representation of our passions and love together as one, a day we will remember and cherish for the rest of our lives.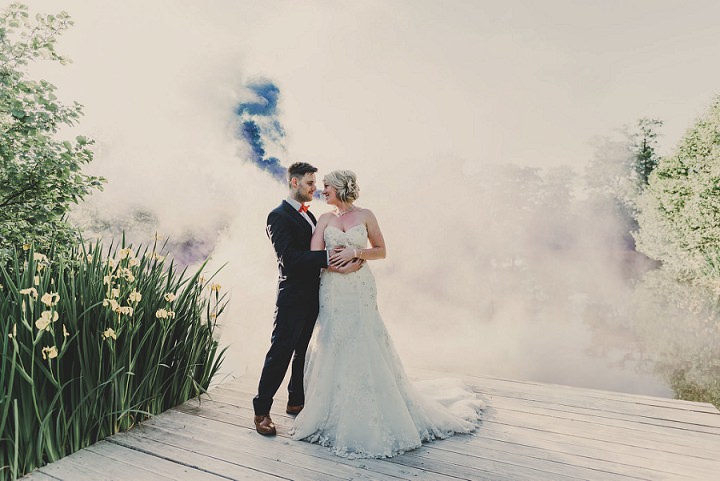 Carol-Ann and Karl were married on the 26th May 2017 in a ceremony at Sutton St James Church in Macclesfield, followed by a reception at Styal Lodge in Styal, Cheshire. 'The church is where my (Carol-Ann's) parents were married, I also had my nativity plays there as a child and it is most special to us as my Grandad was lay to rest at that Church. So it was very meaningful and wonderful to have so many cherished memories and my Grandad there. We chose Styal Lodge due to it being such a beautiful blank canvas on the outskirts of Cheshire. We had 50 day guests and 100 evening guests. We were engaged for 3 years before getting married but only started planning 1 year before.'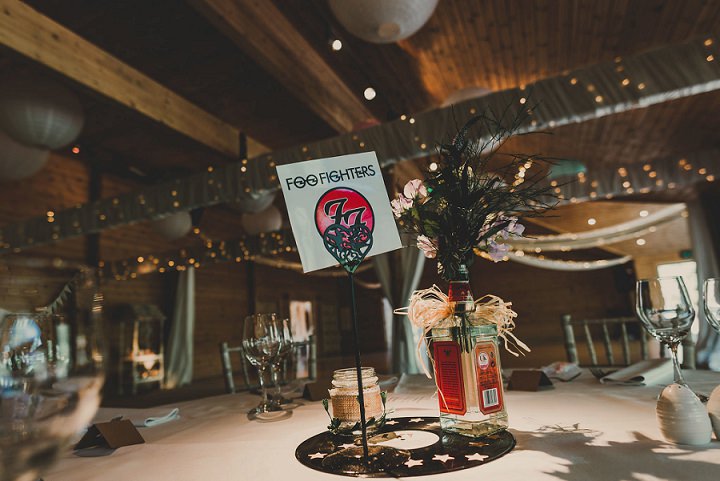 How they met
We both worked in Spain as singers, Karl was in a Take That tribute and I worked in a hotel. I was dressed as a cowgirl on stage when we first met! Something to tell the grandkids! We have been together for 8 years.
The Proposal
We went on a holiday with some of our closest friends, my late best friend and bridesmaid Karen Frost-Whittaker was sadly diagnosed with terminal cancer so we wanted to go on a dream holiday and we booked a week in Orlando followed by a weeks Caribbean cruise. The first evening we were on the cruise we went to the jazz bar on the top deck where Karl asked me if I wanted to go out on deck, Karen held my hand with the most teary yet beautiful look in her eyes and said 'go count the stars for me' and Karl led us both out to the front of the ship. We looked up at the night sky and had a wonderful kiss and that's when he went down onto one knee and asked if I would do him the honour of marrying him! Being me, my first words were 'f**k off' whilst I gasped and instantly cried the happiest tears of my life! We went back inside to where Karen, Andy, Oli and Charlie were and we cried some more, danced and celebrated.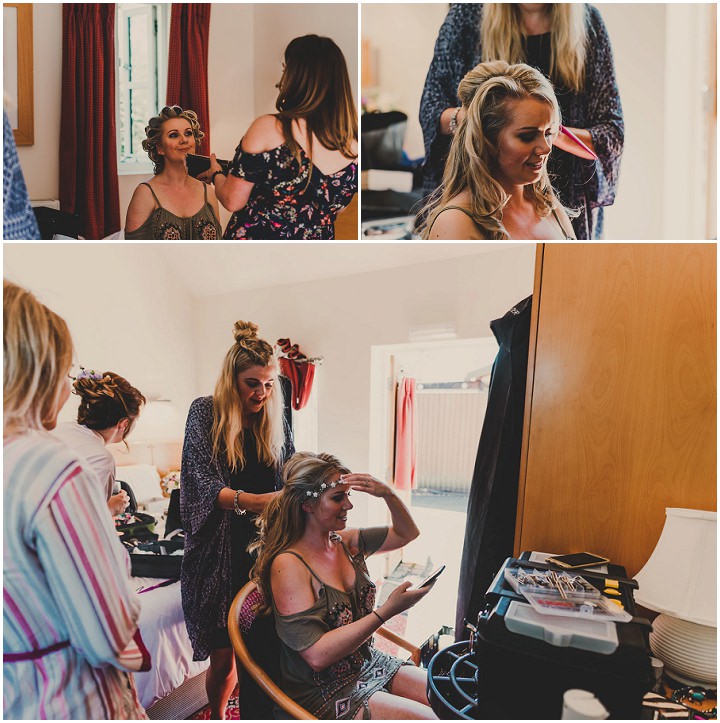 How did you allocate your budget?
We set a budget of £12,000 I began building a small business part-time and worked out what we could save. We were very sensible with where the money went, always on the look out for a bargain!
Where did you splurge and where did you save?
We splurged on the venue and food, we wanted a blank canvas to create our own feel and we found that at Styal Lodge. I took time to look at who we knew before hiring someone or something, such as the DJ was brilliant and we knew him from gigging, my bridesmaid Chloe Burgess did the flowers which were breath taking, the entertainment was a lovely couple of ladies we know. We saved a lot of money by using local businesses and people we knew already whenever we could!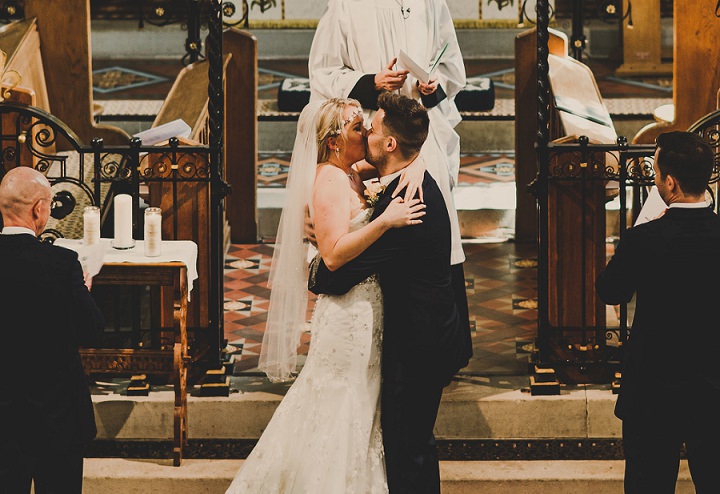 Why did you choose your photographer?
I was recommended Jade Mcguire through a friend and after checking out her website I could see she was great at what she does, comes from a place of heart and is quite quirky! She had real excitement when we spoke on the phone and quickly shared our passions for food, dogs and being a gypsy soul. She was the one right away!
The Dress
Dress was by Justin Alexander and shoes were Faith.
The Suit and Bridesmaids
The suits were from a hire shop called 'Best Man' in Macclesfield, the bows and braces we got from H&M. Bridesmaid dresses were from ASOS! We tried lots but these were the flattering, the perfect colour and were comfy!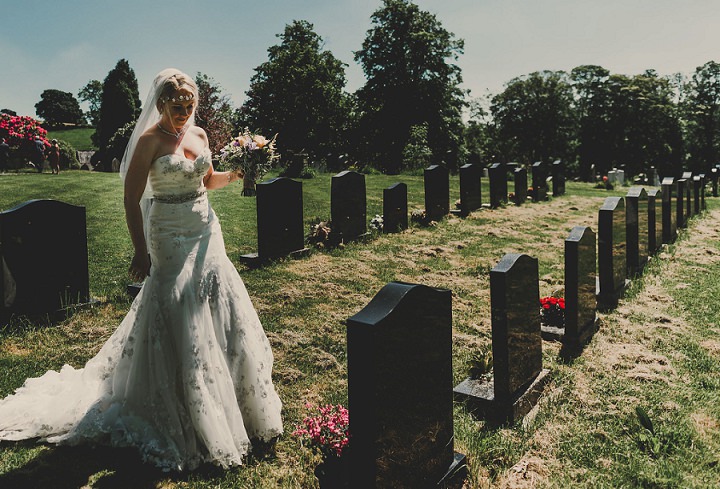 Theme or Colour Scheme
We had a festival theme, each table was a band name such as KISS, Guns n' Roses, Coldplay etc. Colour scheme changed a couple of months before the wedding, we came to realise you can't go wrong with warm pastel colours.
Decoration
Lots of bunting, a sweetie cart Karen made us by hand a few years ago, we also had lots of fairy lights and paper lanterns from the ceiling.
Food
We ate pulled pork, sweet potato wedges, mac n cheese, coleslaw and green bean salad made by Pink Pepper. Veggie options were also available! Desert was a trio of puddings with lemon custard tart, Pink Peppers famous sparkly chocolate brownie and a mini Eaton mess.
Wedding Cake
Made by Victoria Bingle, a local lady who bakes celebration cakes from home. We had a Victoria sponge base, chocolate centre tier and a lemon top tier. It had 'You may now KISS the bride! And of course the bride had a little star on her eye representing Paul Stanley from the rock band KISS!
Entertainment
We had a DJ and fire dancers and stilt walkers from Stage Invaders Entertainment! They were fantastic and welcomed the evening guests before having pictures with everyone and rocking out to a Kasabian and KISS track where they breathed fire. It was awesome! The groom Karl, his best man Antony Brant and his close friend Danny Jones from McFly also took to the guitar and mic and had a jam before the first dance which everyone sang along to and danced!
Stationery
I hand made the invites and table decorations, with lots of help from close friends!
Personal Touches
Our wedding favours were Snapp Happy bands and I created a poem to go with the bands. Snapp Happy is a company I co-founded and we help children and adults to create a more positive and resilient mindset. The Snapp Happy band works by each time you catch yourself thinking negatively or have any unwanted feelings, you snap your band and then replace the thought with a positive affirmation, thought or image. It's a simple and cool way to re-train the brain to think more positively! We thought it would be super special to have personalised ones made in our pastel colours and in the future guests can wear them and be reminded of a happy time and be empowered to think positive, happy thoughts!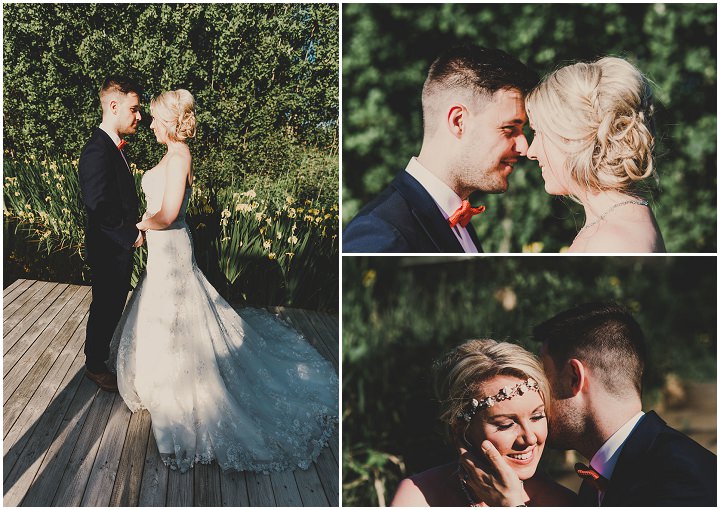 Special Moments or Highlights
We had a pocket flower made for my grandad and we had a moment together to place the flower on his grave, the sun was shining so bright it was a beautiful moment! Also when we were introduced as husband and wife and entered the dining hall everyone cheered and clapped that soon turned into a Leicester city football chant which was hilarious and made Karl very happy! Also my dad's speech was so wonderful, he had practiced so so many times and nailed it!
Advice for Other Couples
Invest in a small wedding planning book that has a checklist, this helped us massively as there were things on it that I didn't think about at first! Invest in a penny saving tin and on the run up to the wedding every time you enter the house pop all of your loose change in there…it soon adds up! This helped us pay for a huge chunk of the honeymoon and we weren't consciously aware that the money was adding up in the background! Be confident, don't worry about the tiny things or what others may be thinking or doing, just be you as you will then be the happiest, most beautiful version of yourself.
Biggest Surprise
The biggest surprise was most definitely the best man's speech…or should we say song! He wrote a song for us that he played on guitar and let's just say it was incredible, so funny and had a theme that made my Nanna gasp and almost fall off her chair!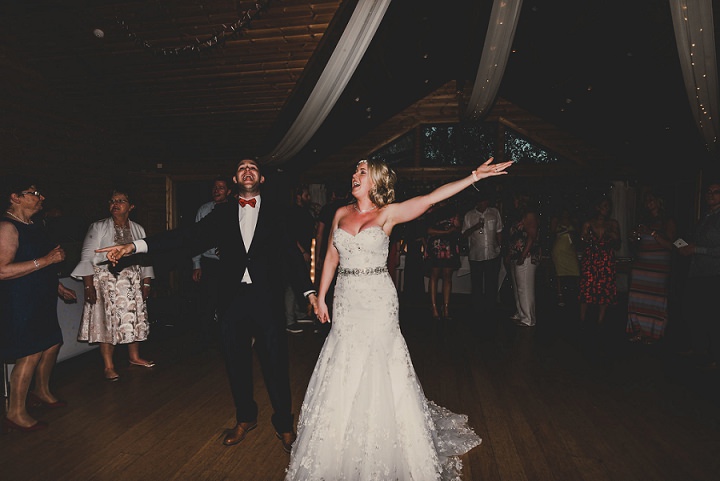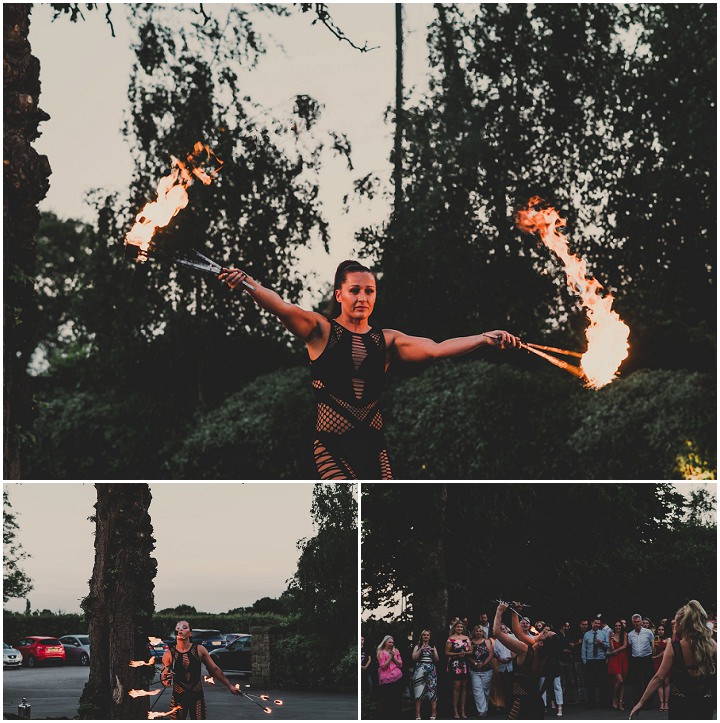 Supplier Shout Outs 
For more information on Jade's work go to:
jademaguirephotography.uk / [email protected] / FACEBOOK / T: @JMPhotography6 / I: @jademaguirephotography / PINTEREST

[jprel]