Good afternoon everyone! How are we doing? Managing to get through this week? Today I have a lovely styled shoot to share with you, held at the rather cool Depot, London. With such a marvellous supplier line up as this, London Local Weddings have really collaborated with the best of their local wedding businesses to showcase all of their talents, and what a talented bunch they are! The level of detailing in this shoot is amazing, and I'm sure you will need to read through this post a few times to appreciate it all! Enjoy!
A 'Botanical Meets Industrial' styled shoot with a handmade wedding vibe, to inspire the modern, creative bride or groom. Individual sellers were given the creative brief of copper, metallics and industrial materials, paired with bold, vibrant greenery and asked to submit products that balanced the delicate with the industrial.
What made you decide to do the Shoot?
The shoot was organised by 'London Local Weddings', in collaboration with Lucy Long Photography, to launch their collective of London-based Etsy sellers, who make beautiful, handmade products. We wanted to use this styled shoot to showcase how our products might be used in a real wedding, as well as inspiring brides and grooms to shop handmade and local.
It was also an exciting opportunity for many of us to challenge ourselves and push our creativity. One of the direct outcomes of the project was how several sellers, inspired by Rachel's (Rachel Emma Studio) gorgeous mood-board, took the opportunity to create and introduce a whole new range of products and services within their own businesses.
For example, Katrina (The Kat and the Monocle) designed a hand drawn leaf print, which was then made into invitations and men's accessories. Other groom's accessories were made by Jane (vKnit) who handcrafted a metallic infused knit tie with complimentary pocket square and cufflinks, using rosemary lambswool and copper lurex. Bookbinder Amy (The Idle Bindery) developed a way to reproduce her own hand-painted illustrations as unique cover designs for her albums and guestbooks.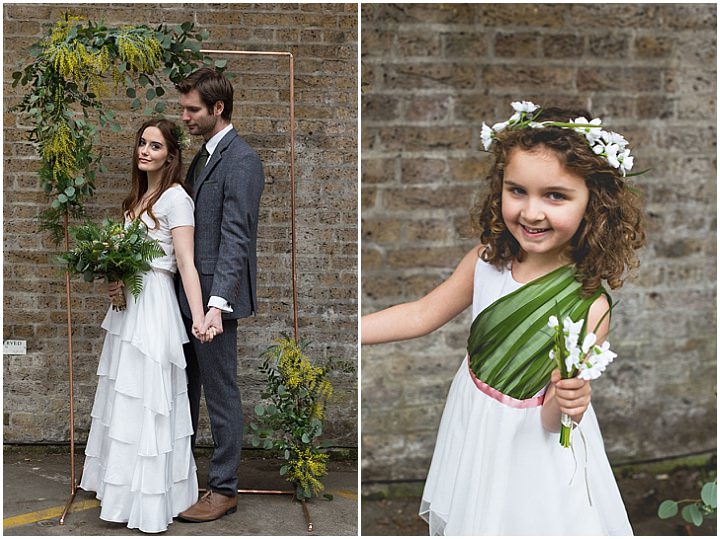 What was your inspiration behind it?
As we're all based in London, we felt it was important to have a theme that reflected this, without being too stereotypically 'British'. Incorporating an industrial feel through our choice of location and subtle metallic elements, seemed to fit into what we were looking for, plus we all loved the idea of combining this with the botanical. Our aim was to produce wedding products that hopefully push the boundaries of what we have seen in this trend before. We wanted to offer something a step ahead of what was emerging, in order to appeal to wedding blogs and magazines and to entice the discerning customer.
What did you want to get out for the shoot and do you feel you accomplished this?
We decided to organise this shoot to produce a 'look-book' for potential customers and to get London Local Weddings off the ground. Our plan was that it would enable us to create our own images so that we can promote our services as a group, as well as giving each member who took part professional photos of their products, which they could later showcase on their own websites. We're incredibly proud of what was achieved and feel the skilled craftsmanship of each product has been captured beautifully, thanks to the expertise of our photographer, Lucy.
Are you planning any more shoots?
Yes we'd love to plan some more shoots! Despite being a lot of work, it was incredibly rewarding to see our ideas – and everyone's products – come together as we'd visualised. It was a fantastic day and it proved to be a great way of supporting one another and highlighting how well we can work as a team. Becky (Beck's Flowers) went all out and did an amazing job. She was there the whole day adding beautiful touches to each scene. Her foliage can be seen in almost every photograph from the table setting, to the bride's hair and bouquet. It really brought everything together. We had a lot of fun.
We were also thrilled that several established businesses were equally excited to take part. The bride's wedding dress and groom's suit, for example, were both loaned to us by Prim and Clover and The Vintage Suit Hire (respectively). People were genuinely enthusiastic about getting involved and we made some great friends, contacts and partnerships out of the whole experience.
It's also been a fantastic way to show what we can each offer to potential couples, who might wish to source their goods locally and are seeking something personal or 'different from the norm'. We've already discussed a few ideas for our next shoot and are really excited to see things beginning to take shape!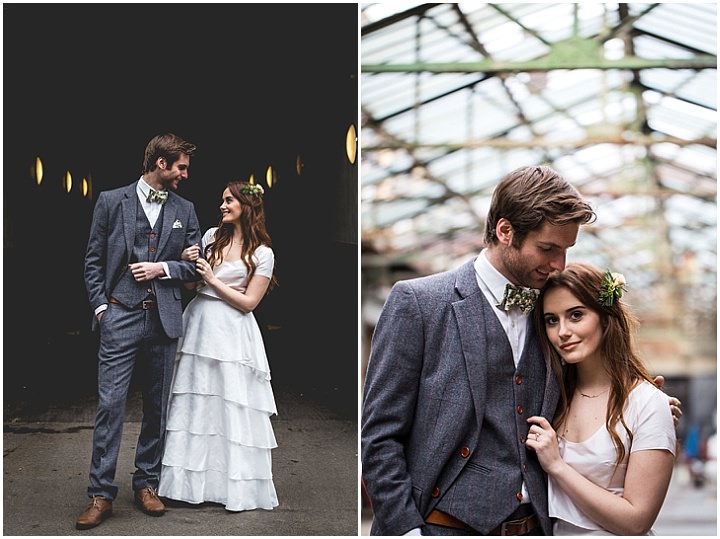 The Team who made the shoot possible:
For more information on London Local Weddings go to:
www.londonlocalweddings.com / I: @loloweddings / T: @loloweddings / PINTEREST