Happy Wednesday everyone! This week seems to be whizzing by, which is fabulous as I am officially on a week's holiday as of Friday, I just hope the weather picks up as we are having a week staycation, so will be having lots of day trips out with Dexter to all of his favourite places. I'm hoping for some sunshine, or at least no rain! Today we are taking you over to Washington for this lovely autumnal wedding, filled with muted tones and the most gorgeous flowers. Alexis and Scott both love the outdoors, so they wanted to keep their day simple with a nod towards their passion for the land around them. It was captured by Amelia Soper and planned by Taylor'd Events.
Our wedding was a simple, casual celebration with our closest friends and family. We prioritized quality time above all else and then everything else fell into place.
Alexis  and  were married on the 4th September 2016 at Novelty Hill Januik Winery, in Washington.'We wanted a space that effortlessly integrated indoors and outdoors, and when we found Januik Winery, we knew it was the right venue for us. It was a mix of modern and rustic, sophisticated but casual. The team is world-class but being at Januik is like hanging out with friends. It just felt right. We had 60 guests. It took about 4 months of planning, but we secured the venue a year in advance'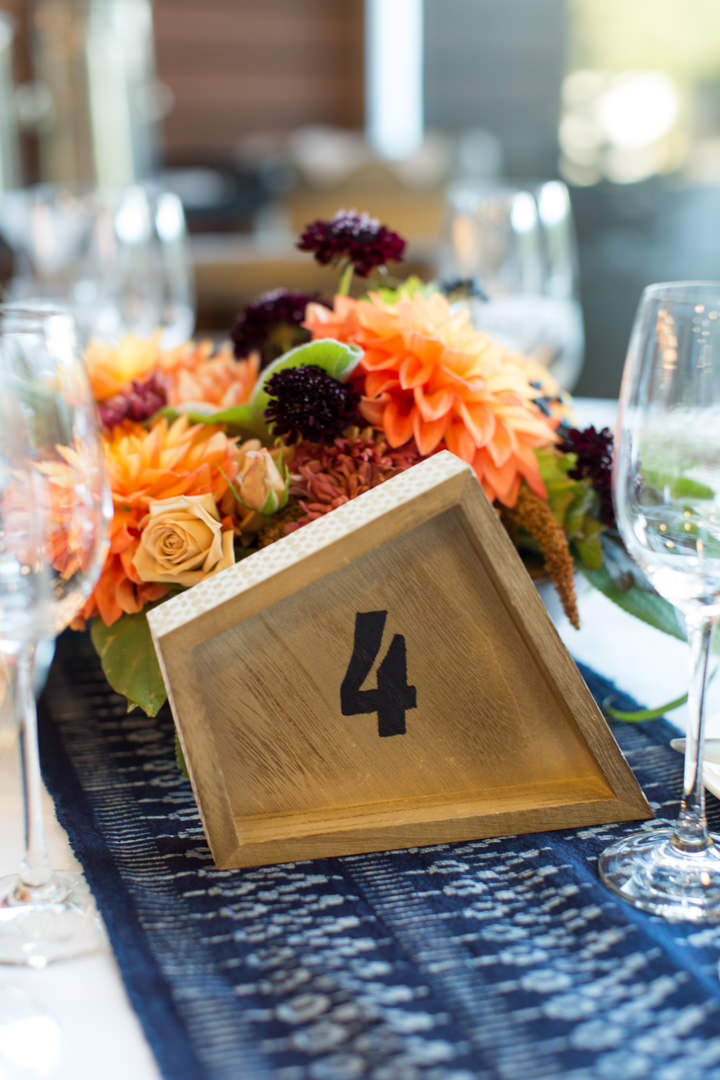 How they met
We were both summer camp counselors at a program for high school students focused on international diplomacy and Model United Nations. We knew that we were developing feelings for one another, but at the time, I was based out of New York and Scott was in Chicago. We were both 20 years old and it seemed like too much, too soon. We decided to go our separate ways after the program ended, but within a month, we realized that we needed to give this thing a shot. We were in a long-distance relationship for the first year or so, at which point Scott graduated from college and moved to New York. During that first year, we wrote a lot of letters (like paper and pen letters!) and scoured for cheap flights to see each other about once per month.
The Proposal
We had been together for about seven years before we got engaged. Scott proposed towards the end of a hike in Lighthouse Park, just outside of Vancouver. At one point we were taking a water break on a beach and he spotted a bench on a cliff above us. He knew it was the spot. An elderly couple was sitting on the bench, however, so he made up excuses to stay in place for 20 minutes until they left. When we finally reached the bench, he pulled out a letter he had written me — harking back to the early days of our long-distance relationship. The proposal was perfect. No one else was around and we were surrounded by the natural environment we love.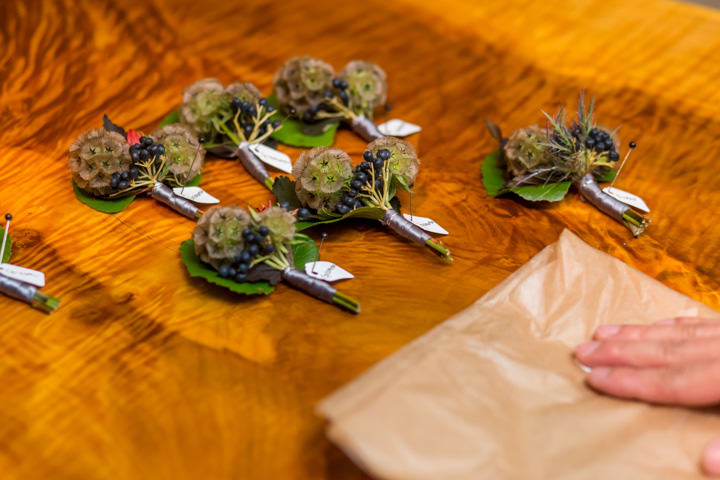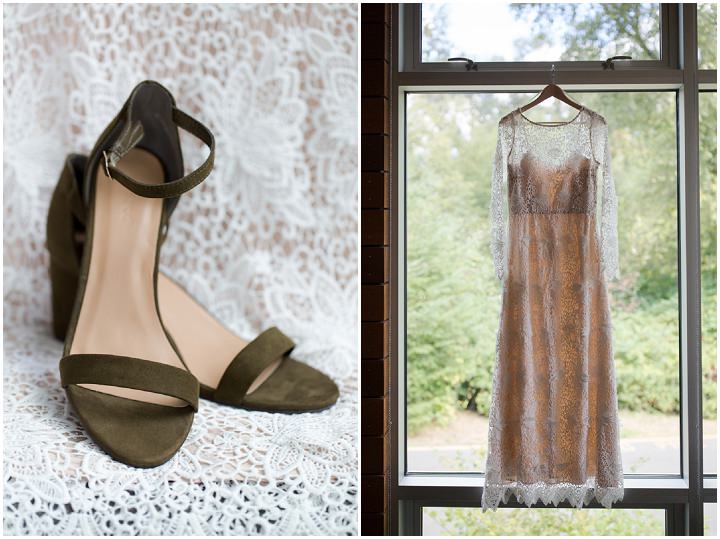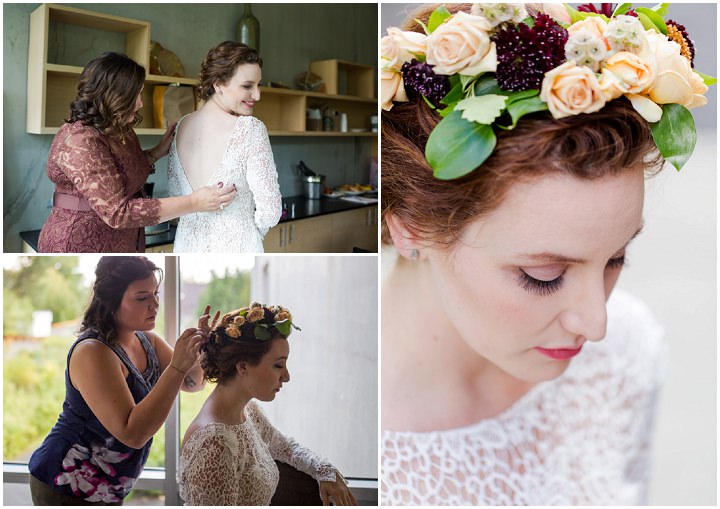 How did you allocate your budget?
We focused on the space, food, and DJ first. We knew those items would make or break the day for us.
Where did you splurge and where did you save?
Honestly, we didn't "splurge" on a ton. We really wanted the Novelty Hill-Januik venue, and it was a bonus that they would provide great food and wine. But because we had a smaller wedding, we could splurge within our minimum food and beverage budget. Each guest got a bottle of their wine to take home as a wedding favor. We had lots of appetizers as well as late-night grilled cheese and s'mores. We had lots of wine options throughout the evening.  We "saved" on the small stuff — I DIY'd our table numbers and we ordered table runners from Etsy. We used Minted for our save the dates and invitations, but opted for an electronic RSVP instead of printing extra paper for reply cards. We also decided to forego printing menus that matched our invitations because the winery included menus as part of their package.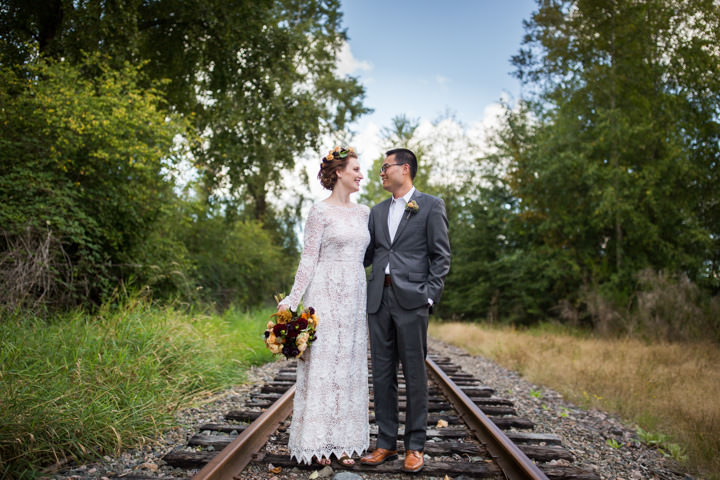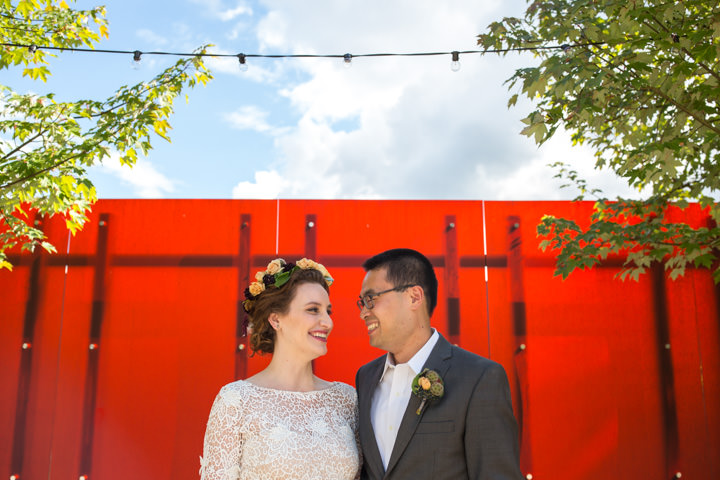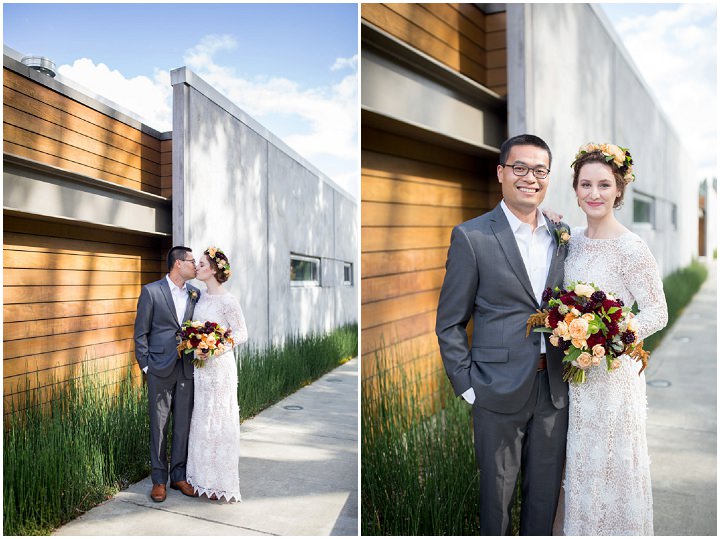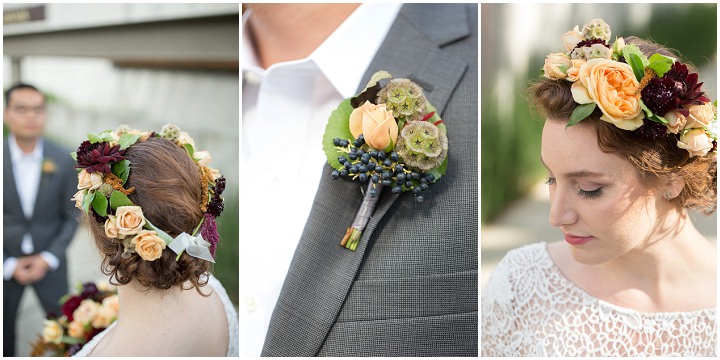 Why did you choose your photographer?
I could write a book about Amy Soper's brilliance! We started by searching for local photographers online and we kept coming back to Amy's photos. We set up a coffee date to meet her, and it was clear that she was our person about 30 seconds in. She's warm. She talented. And most importantly, she doesn't believe in stiff, posed photos. She really wanted to get to know us as people and discover the environments that made us at ease. That's what we were looking for in a photographer.
The Dress
BHLDN Landry dress. Accessories were actually found on Amazon. Earrings were SHASHI and shoes were BAMBOO. Our wedding rings were by Benchmark.
The Suit and Bridesmaids
Scott wore a Jos A Banks suit — already owned from his days as a government employee. Bridesmaids actually got their own dresses so they're from different places, Reiss, ASOS and Nordstrom.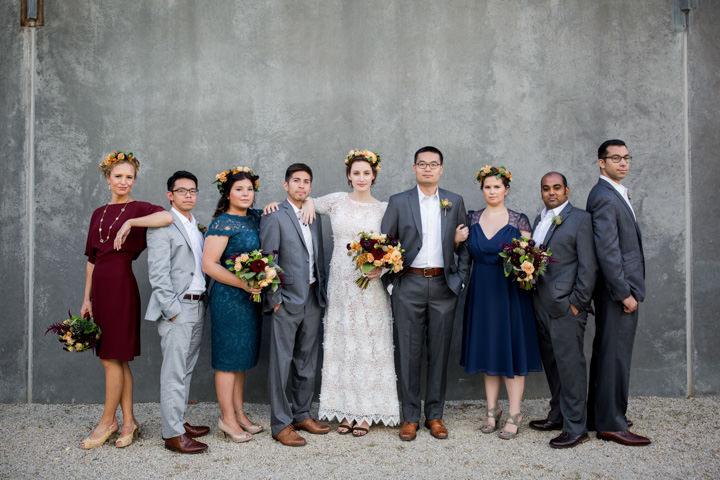 Theme or Colour Scheme
We were inspired by two things: the natural beauty of the Pacific Northwest and the interior design of our own home. We wanted to add as few elements as possible to make the space seem like us. We realized that we are best represented by our home. We like to incorporate lots of texture and organic elements with pops of saturated, autumnal colors. This epiphany gave us a clear path forward.
Flowers
The flower crowns! I knew I didn't want to wear a veil on the day of the wedding, and when I was brainstorming with Anne (Bradfield of Floressence), the idea of flower crowns came up. We also decided to have flower crowns for each of the bridesmaids.
Decoration
My style is more bohemian but Scott is minimalist, so we decided not to add too many extras. Both of us felt strongly about letting the natural Pacific NW beauty shine. We did have these great indigo table runners from Etsy and we DIY'd table numbers out of some desk organizers. And, of course, the flowers were the showstoppers! Floressence knocked it out of the park.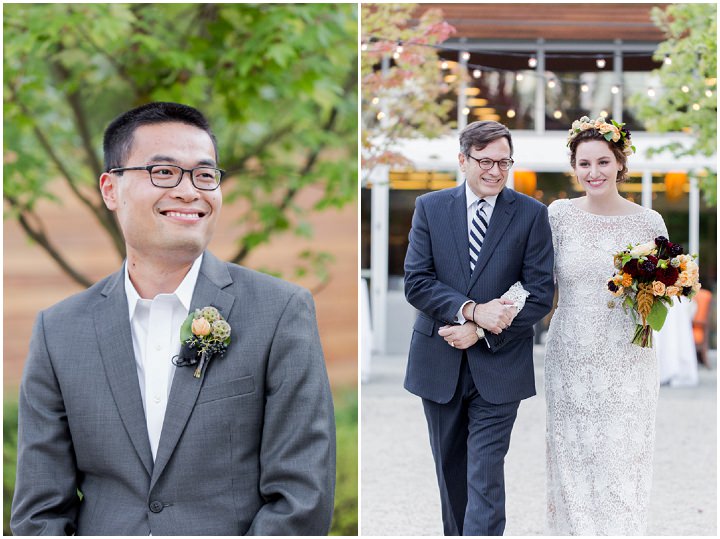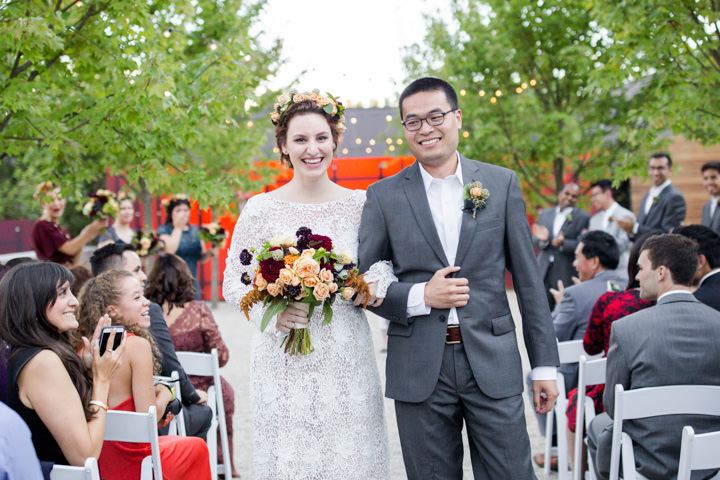 Food
Guests had a choice between veggie risotto, Pacific NW salmon, and steak for dinner.
Wedding Cake
No wedding cake. We had ice cream sandwiches from Street Treats.
Entertainment
The DJ was Braden Landon
Who supplied the stationery?
Invitations and paper goods were from Minted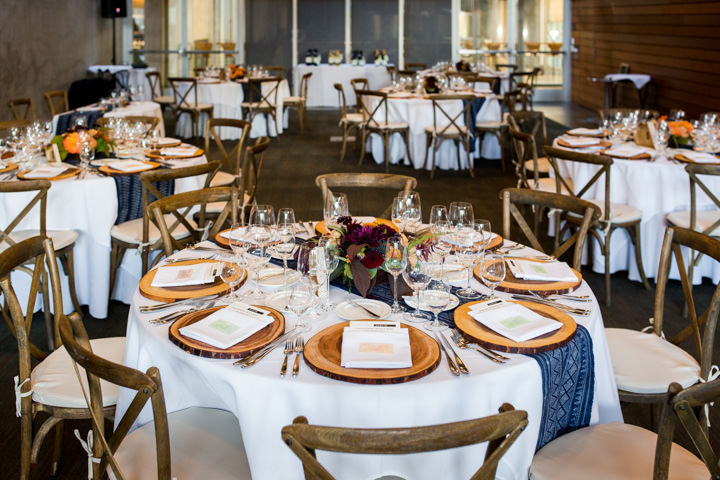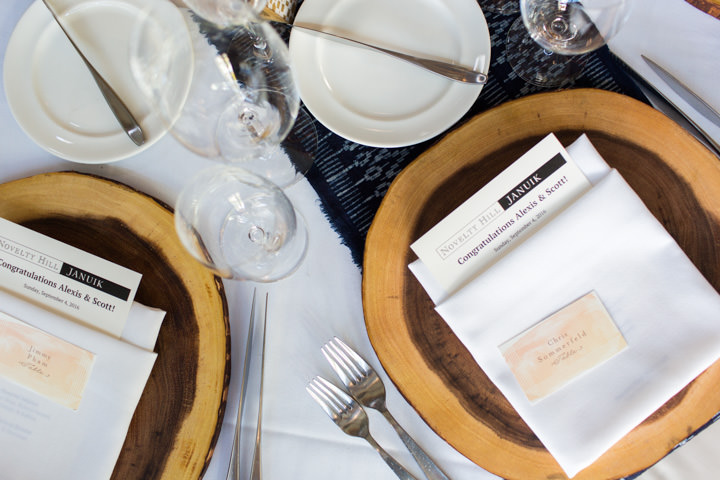 Personal Touches
We didn't have a ton of DIY elements, but we did swap out the table numbers at the last minute. Our original table numbers were destroyed when we moved so I picked up some desk organizers from the Nate Berkus line at Target a few days before the wedding. Add a permanent marker and some stencils, and voila: table numbers!
Special Moments & Highlights
We knew it was going to be a long day, so we decided that everyone would get ready together. We started the day with a delicious breakfast and just sat around telling stories and laughing while we were taking turns with hair and makeup. My grandmothers shared stories from their wedding days, some of which I had never heard before.
We are really glad that we took photos before the ceremony because it meant we could just spend time with our guests after the ceremony. I don't think we appreciated how important this was to us until after the day was over.
I wish everyone reading this could have smelled our flowers. Not only were they stunning, but you could smell them from down the hall!
Late night snacks were such a good idea! Januik has an outdoor firepit, so we organized late-night s'mores and grilled cheese sandwiches. It re-energized everyone so we could get back to the dance floor.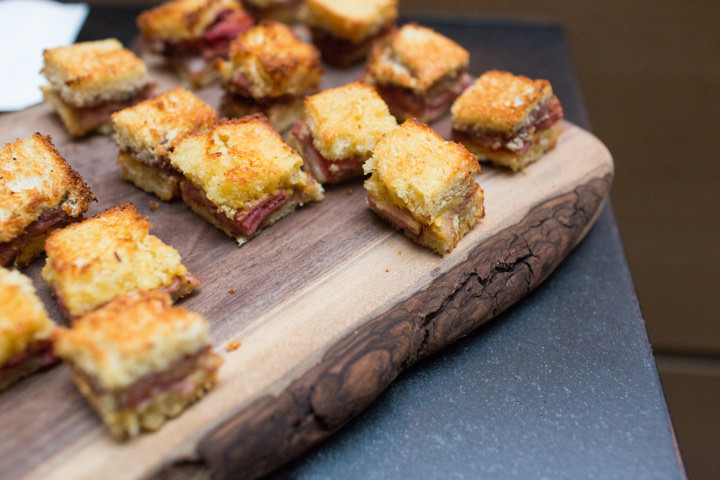 Advice for Other Couples
Find your people and let them show their personalities! Our wedding day was truly effortless because we found vendors who are experts in their fields and who understood our vision. Our vendors were also people we genuinely wanted to hang out with.
People think we're crazy when we say this, but we did not see any of the bridesmaids dresses or groom's suits before the day of the wedding. We sent a color palette to the bridesmaids and told the guys to be in grey suits. That's it! As a result, things looked coordinated but everyone was comfortable and ready to have fun.
We would also say trust your gut. For example, we debated about whether the guys should wear ties. No one really wanted to, but we kept coming back to the idea because it was a wedding. But you know what, we are so happy we didn't wear ties.
Biggest Surprise
It was so much fun! We were expecting much more stress but everything came together seamlessly, in large part because of our amazing day-of coordinator, Brittney from Taylor'd Events. The day certainly flew by quickly, but we got to enjoy the most beautiful space, food, and wine while watching our friends' ridiculous dance moves.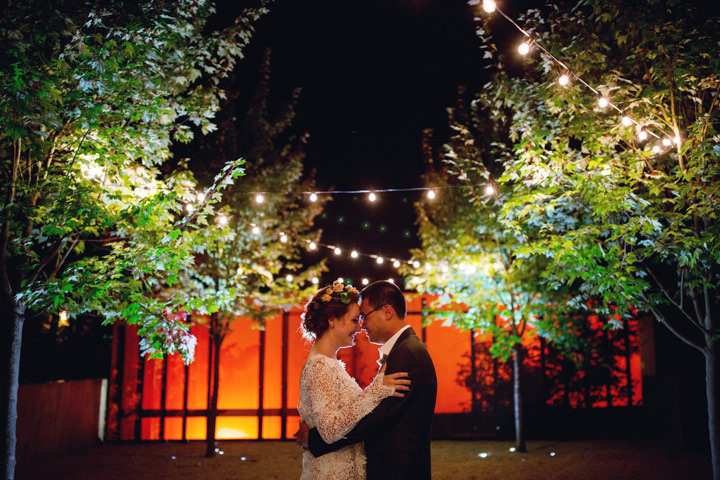 Supplier Shout Outs
For more information on Taylor'd Events go to:
taylordevents.com / taylordevents.com/category/blog / [email protected] / (425) 949-5950 / FACEBOOK /T: @taylordevents / I:@ taylordevents / PINTEREST

[jprel]