Welcome to Monday everyone! to try and ease you into the week I have a rather gorgeous wedding for you, from my home town of Fowey in Cornwall.  (where we shot my Beloved shoot) It has been sent in by Richard Raynor who is Devon based photographer.
This wedding is very personal to me, as it's the same place that Nik and I got married when we had our 'legal' wedding ceremony in the UK. we went down to Cornwall 2 weeks before our proper wedding in Ibiza to get the legal bits done. There was only 8 of us in total, so a very quite low key ceremony but we still wanted to do it somewhere that meant something to us, so Fowey it was and what better place than Fowey Hall Hotel!
Foewy Hall Hotel It's a gorgeous venue with superb staff,  the accommodation is split into the old house and the new modern wing, me and Nik opted for the modern side!  after the ceremony we had champagne on the terrace and then spent the rest of the evening in Sams pigging out on scallops, Lobster and cocktails! yum yum!
This wedding is of the gorgeous Chan and Ben, unfortunately I havn't been able to get any info from them about their day at Fowey Hall Hotel, but I will let the pictures do the talking! they look like such a fun couple! and I just love the shots of  tehtm both on the trampoline!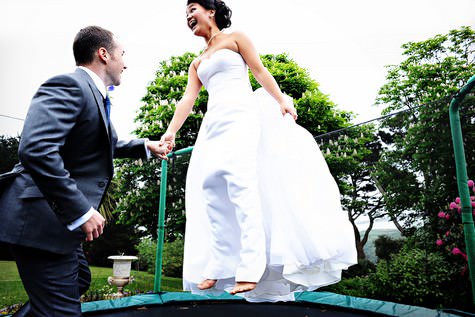 For more information on Richards work go to
http://richardrayner.com
http://richardrayner.com/blog
[email protected]
http://twitter.com/#!/richrayner
07769 189017