Good afternoon everyone, I have some fab-u-lous bridal pretty to share with you today from the lovely Jo from Knot & Bloom. I don't think I can do this write up justice, but I know one thing, the feather crowns have my heart! Thankfully, Jo is here to tell you all about how she started this wonderful business and her inspirations. She is clearly one talented lady and so I shall pass you straight over to her to find out more!
Hi I'm Jo and thank you for taking the time to view Knot & Bloom. I'm guessing you're here because you're getting married yourself or looking for ideas to help a bride, bridesmaid or even a mother of the bride. I hope you love what you find and to help here's a little more about me.
Knot & Bloom is my passion and a most enjoyable way to spend my days. After years of working as a Creative Director in a corporate world I decided to take the plunge and focus on bringing my own creative ideas to life.
My passion for all things vintage stems from an early age where finding bits and pieces in my mum's sewing box and creating something new with them, was very exciting.
When it came to my own wedding I knew I wanted to design my own dress and accessories and looked to source vintage textiles, silk flowers and beads as inspiration. I began putting pieces together and the idea of making something unique from these vintage pieces to wear on your special day was born. The joy of creating and wearing a one-off piece along with the happiness of my wedding day was something special that I know want to share with others.
When I'm looking for inspirational pieces I never know what I might find and it always amazes me the exquisite colour tone and special quality vintage pieces have. It's such a joy to take something so historically beautiful and bring new life to it for a future bride.
Being involved in a brides special day is a joy and privilege so please do visit our online boutique to take a look at our pieces or message us with your ideas as we'd love to create something with you!
What made you start your business?
For my own wedding I was looking for something different to wear on head as I didn't want a veil (we got married on a farm) and as I'm not a particularly bling girl I didn't want a diamante jeweled piece either. This was all I could seem to find. I wanted something blue and dusky rose to tie into the colour story of our day so when I couldn't find it I decided to make my own. I'd already designed my dress, invites, sourced the flowers and styled everything for the wedding so it made perfect sense to create my own. This is where the idea came from. If I couldn't find what I wanted then maybe other brides were also in the same place as me. A few years later following a move from London back to Yorkshire I launched my business in October 2016.
We are based in the beautiful city of York, North Yorkshire, and cover the UK.
What were you doing before?
I was working for Viacom International as the Creative Director for EMEA. I was creative lead for all consumer products for their properties such as MTV / Nickelodeon so a completely different job to this! Prior to that I worked for Disney Consumer Products, which was a lot of fun. I felt after having my second child I wanted to leave the corporate world and return to a more hands on creative place where I was working for myself.
How would you describe your style?
My style is modern vintage with a twist. All my pieces start with a vintage element whether it's a broach, a silk flower, a piece of vintage textile or even a hatpin! I then set about creating something contemporary for today's stylish bride.
What is your biggest achievement so far?
Its still relatively early days but I really loved that one of my pieces was recently included in a styled shoot set in Betty's of York's Art Deco room. The images were amazing and it was great to be part of a shoot with so many talented suppliers.
What makes you different to your competitors?
I think my work. Each piece is unique and a one-off as it starts with a vintage find and builds from there. I also really believe in the use of colour and a little theatrics in my work that definitely adds a different feel to anything else I have seen. I can also source many vintage pieces as a start point so if a bride wanted to create a piece that included vintage yellow flowers or include an element that meant a lot to them then great! I love working directly with brides during the creative process.
What do you enjoy most about your job?
Meeting people  – I love to chat all things wedding so meeting and working with talented suppliers is amazing but being part of a brides special day is special.
What sort of couple do you think you attract?
Mmm good question! I think probably those that are looking for something a little different for their day. I think my bride is looking for vintage style with a modern avant garde twist and maybe a little colour or bohemian essence thrown in!
What would be your ideal wedding to work on? 
I would love love love to work on a wedding that feels fresh and new – maybe a warehouse rave or a woodland grotto…anything where there is music, love and laughter!
Can you give me some information on your pricing structure?
As each item is handmade and a one-off pricing really depends on the elements it is created from. Therefore prices range from £30 to £250.
What is your ideal way to spend a day off?
I have a young family and I love nothing more than spending a day together going with the flow. We'll just get in the car and go for a potter! We often end up at vintage fair, out in the Yorkshire Dales or just meandering round York itself.
What can you never leave the house without?
My sunglasses! I'm a happy optimist so I'm always hoping the sun will shine.
Who would be your 5 dream dinner guests dead or alive?
Coco Chanel, David Hockney, Sonia Delauney, Dr Robert Winston and Tom Hardy (dream…)
What would you do if you won the lottery?
I really don't know! I'd probably open a wedding venue that offered something completely different like the option to get married under the stars!
If you weren't running your business, what would you be doing?
As I've only just launched my business after being in the corporate world I'm not too sure – maybe I'd enjoy just being mum.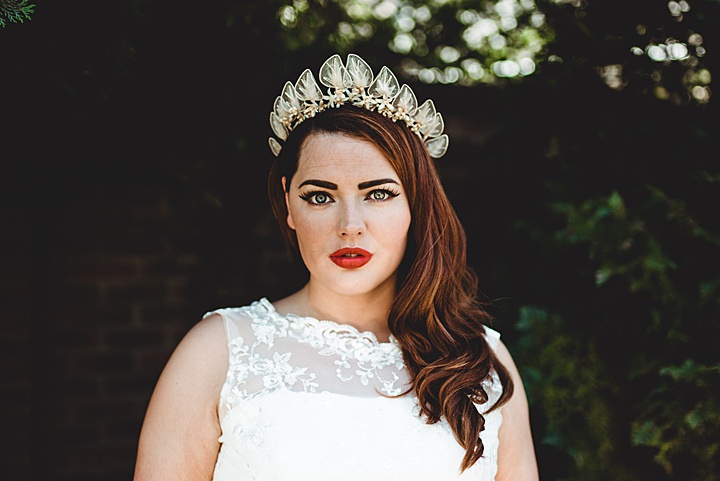 For more information on Knot & Bloom Go to:
www.knotandbloom.co.uk / [email protected] / 07958 402375 / FACEBOOK / T: @jo_knotandbloom / PINTEREST / I: @knotandbloom
All images by All You Need is Love Photography
This is a sponsored post
[jprel]