Good afternoon everyone, I hope Monday is being gentle on you? Today we have another helpful 'Ask the Experts' post for you, from the super talented Hawthorne and Ivory Stationery Design! They are here today to help you decide whether to personalise your stationery choices, or go completely bespoke! Thankfully, they offer both options so are well placed to help you out! I'll pass you straight over to the owner, Becky, to tell you more…
A big hello to everyone and an even bigger thank you to Kelly for allowing me to share what I have to say on her fabulous blog! Today I'd like to talk to you about the different types of wedding stationery design that are out there and what the key differences are in your options for personalisation, how that relates to your wedding planning and also your budget.
Personalised Collections
I'll start out with the most regularly available option online; the personalised collection. These are 'ready made' designs which are customised with your all important wedding details such as your names, the date, location and time of the big day. Other aspects such as the fonts, colours and layout have already been carefully considered and put together by an expert designer. This makes your entire wedding stationery ordering process completely hassle free, as all of the design choices have already been made. It's as simple as finding a design that you love which is great since wedding planning is already so complicated. This gives you chance to step back and breathe a little, giving someone else the responsibility to look after your stationery.
The 'ready made' nature of these designs has a number of benefits to you and your wedding planning. First and foremost, they are more cost effective than bespoke designs as the time spent on creating the design is already built into the cost you see before you. Bespoke design takes time, and that time must be billed for by designers, making this the more expensive option. Less design time also means that you get your end result much more quickly! This makes these collections perfect for couples on a deadline or those with a time crunch.
With existing designs, you see the design before you part with any of your hard earned cash; so you know exactly what to expect when it comes to your own proofs and your own final prints. You know what you're getting there's no risk of a bespoke design 'missing the brief' as all of the design work has already been done! You can be confident that if you like the design that you see in the preview images or in the physical sample you have in your hand, you will love your own invitations as soon as they arrive without having to go back and forth with different versions of bespoke designs.
Often it will be the case that you like a design, but you don't quite love it. Many design studios, myself included, will allow you to make tweaks and changes to your invitations to make it just perfect for your needs. If that's a case of adding a line asking your guests to RSVP by text or even a change of colour, this can certainly be done. However, it can be limited. If you start thinking of bigger and bolder changes to an existing design, it might be worth starting to consider bespoke design.
Bespoke Design
With bespoke design, you're bound to be a lot more involved in the design process. You'll be in charge of giving an outline of the design you hope for and essentially setting the design brief! This can be quite time-consuming as the best bespoke design comes from a couple giving lots of ideas and input. We designers like to see what you don't like, just as much as what you love.
Bespoke design gives you the opportunity to really put a special stamp on your wedding and just as in the rest of your planning process, there will be a lot of decisions to make. Designers will happily make suggestions, but the final choices will be up to you. You may find yourself considering different formats such as folded or booklet invitations, different colours for envelopes and whether you want to line them… All kinds of exciting print finishes and possibilities.
This makes it sound like a lot of work, but in the end it is entirely worth it. The finished result will yield a design that is a complete one off and is all about you. It could include elements such as your own wedding flowers, the colours of your bridesmaids' dresses, an illustration of your wedding venue or even a portrait of you and your pets. Think of it as branding your wedding, this is the very first impression your guests will have of your wedding day. If you want them to see your personalities shine through, a bespoke design should be the path you go down!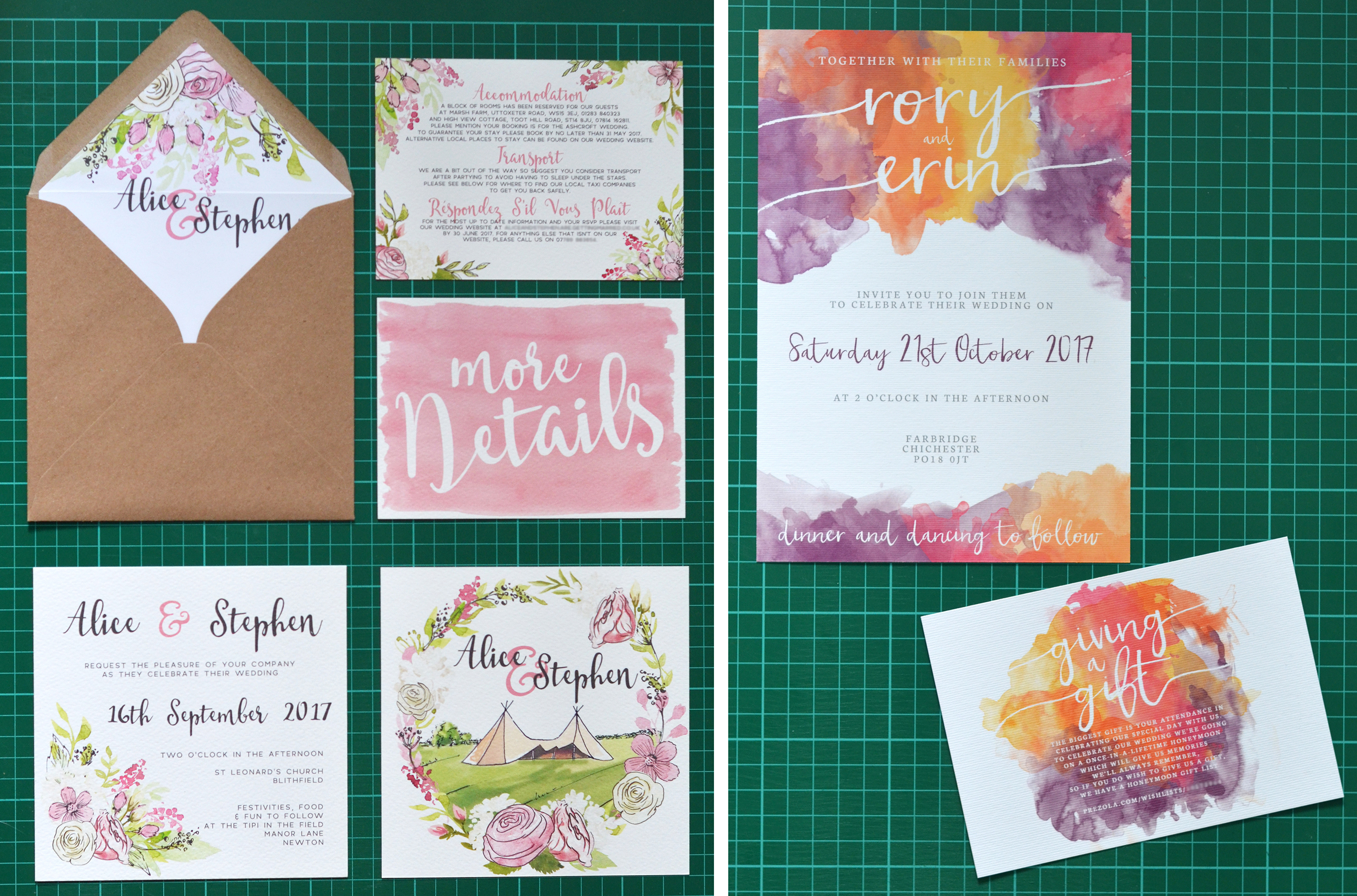 Whichever path it is that you design to embark on, your guests will surely be excited to join you on such an important day in your lives.
For more information on Hawthorne & Ivory Stationery Design go to:
this is a sponsored post
[jprel]