Good morning everyone, after the success of yesterdays british flower post we are continuing British Flower Week with our resident floral expert Tracey of Campbell's Flowers. She has a lovely shoot for you today, full of British Blooms and Yorkshire suppliers close to our hearts here at Boho! Many thanks to Tracey and Ellie Grace Photography for the images today. I will pass you over to her wonderful write up, complete with input from all the suppliers- enjoy!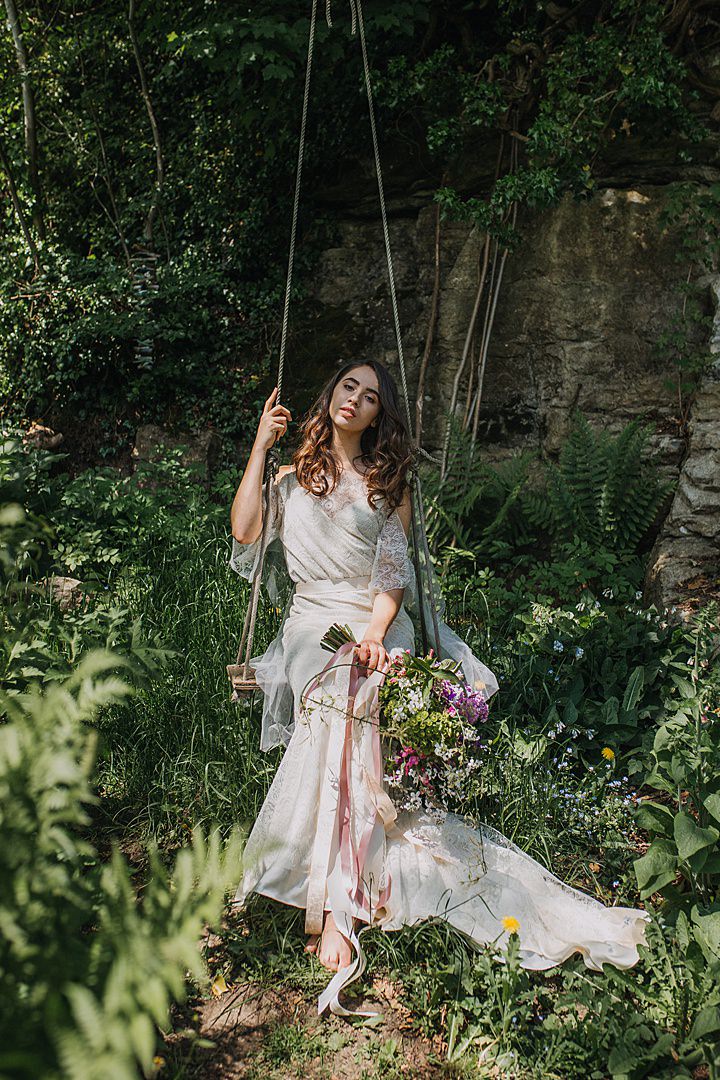 Hello again!
We are over the moon to be back on Boho today and very excited to share our special inspiration shoot to mark British Flowers Week, which runs up until 25th June. We've long worn our heart on our sleeve when it comes to our beloved British blooms, and want to encourage couples to think about what homegrown floral beauties they might want to incorporate into their big day.
So we teamed up with a host of wonderful wedding folk to create an inspiration shoot set in that most British of locations, a glorious country garden. Almost meadowy, slightly wild and with it's own secluded summerhouse and swing, this top secret garden in rural Derbyshire was the perfect setting.
For the stars of the show we went seasonal, which is always the best option with working with lovely, locally grown flowers. Plumping for a palette of cool blues, soft pinks, lavenders and deeper purples we used late spring florals. We kept everything quite meadowy and delicate to work with the garden theme and added in stunning, big blowsy blooms of lilac to make a statement. In terms of design, I created a very natural, flowering asymmetric piece using lots of foliage, such as sweet smelling mint. The floral arch was a highlight for me, and was constructed by artist Zoe Genders from locally grown birch. We then festooned it with woodland ferns, alliums and shrubs straight from the stunning garden. Large scale floral installations continue to be a huge wedding trend, and an arch is such a beautiful, adaptable way to work it.
The day of the shoot itself couldn't have been more glorious! Perhaps, a little too glorious, as it was one of the hottest May days seen for many, many years. We were incredibly lucky to collaborate with some amazing Yorkshire-based artisans, who were massively enthusiastic about waving the flag for both homegrown flowers and talent.
With photography by Ellie Grace Photography, she says 'When I saw the incredible garden we were going to get lost in, instantly fell in love with the dresses, swooning one might say, T had done an incredible job with the flowers, I don't think they could have fitted the theme or the garden we were in any better. I love working with such an incredible team.'
The Glory Days dresses we used were from the most recent collection of our in-house design label: Rolling In Roses. Each dress in the collection is bestowed with a Botanical name after a native plant or flower so they were just perfect for the British Flower week shoot! We're proud to be able to say that all our gowns are handmade right here in Yorkshire, England.
We wanted something a little bit different, but very British for the cake. Wondering what could possibly be more quintessentially British than tea we teamed with the wonderful Sheffield-based tea merchants and artisan tea blenders Birdhouse Tea Company. 'Hearing of British Flowers Week was a great excuse to get in the kitchen and whip up something extra special. We created a vanilla and Earl Grey sponge, with a Jasmine drizzle and rose petal buttercream. The combination of citrus and florals celebrates the fresh and floral flavours and scents from a British country garden in full bloom, and the union of tea and cake is a perfect pairing.'
Hair and Make Up was created by Izzy Rose, who when not working her magic or studying her craft at college; is one of our long-standing helpers at Team Campbell's. We love supporting and nurturing flourishing talent, so it was wonderful to have Izzy join us and share her skills. 'The initial look I went for was a soft, almost dewy glow with plenty of rich golds and bronzes used but also a small element of pink on the eyes to match the flowers and a peach lip to round the look off. The second makeup look was originally just a concept in my head, I wanted to portray the beautiful softness of freckles appearing in the summertime but again making sure flowers were the main attraction for our shoot.'
With stationery from Wildwood Paper, Grace said: 'Being so involved with flowers within my work I was thrilled when I was asked to be a part of this shoot for British Flowers week. I decided to design the stationery with a very relaxed, soft colour palette, in a just-picked, overgrown-garden style. I used wildflowers, lavender and other British blooms to compliment T's florals and to fit within the theme. This design will be available as a semi-custom range, so watch this space!'
Joining Grace's beautiful Botanical-inspired works on our place settings we were also so lucky to have gorgeous crockery, straight from the potter's wheel. The Little Pot Company makes handmade stoneware pottery in Sheffield. Rustic in style they are also practical and dishwasher safe.
We'd love to hear what you think of our ode to British blooms, and if you're planning on incorporating any in your bouquet or floral arrangements.
Much love,
T xx
The Team Who Made the Shoot Possible
AS ALWAYS YOU CAN FIND CAMPBELL'S FLOWERS IN A NUMBER OF WAYS
website, Instagram, facebook, twitter, pinterest, YouTube
Tracey is an uber creative and multi-award winning artisan florist & lover of British flowers. Tracey adores individuality and is inspired by you and your special day.