Happy Thursday everyone! Today's wedding comes from my good friend Jon from S6 Photography. The reception is held at one of my favorite Yorkshire venues, which I have been to visit myself and I just love! SmallShawFarm Cottages It's a gorgeous farm with on site 5 star cottages, you get the cottages and the land to do with what you like, and as in the case of this wedding a whole load of cows!
Full names
Lauren Perry (nee Gustard) & Mike Perry
How did you meet?
I met Mike in 2004 when I got a part time job at the restaurant he ran as a franchise with his brother in York. We got on really well but as he was my boss things were always platonic between us. I then left the job in 2005 to take up a new full time job in Sheffield… but we kept in touch and started seeing each other. We have been together 6 years this coming September.
Date of wedding
21st May 2011
Location
Cannon Hall Museum followed by a reception at Smallshaw Farm Cottages
What made you decide to get married where you did?
Originally we had wanted to get married abroad in Croatia; having a fairly low key wedding on the beach with close family and friends, but circumstances changed (due to an illness in the family) and we decided to bring the wedding closer to home. However, we still wanted to keep the relaxed feel of a wedding abroad and to do something a little different from a 'hotel' wedding.
I found Smallshaw Farm Cottages through a bit of internet research, having looked for places near to where we lived that had the space to do what we wanted, yet also having accommodation for our family to stop over. We loved the cottages as soon as we went to visit – even though it was the middle of winter and we could barely see past our hands. It was all to do with gut feeling and we knew instantly that it was the right place for us; the owners, Jim & Mary were really friendly and made us feel right at home.
Cannon Hall was also a lucky find, as we wanted somewhere fairly close to the cottages where we could hold the ceremony. Again it was all down to gut feeling – and the amazing hall and grounds were just perfect. Jane, the wedding coordinator there, also put us at ease and made the choice an easy one.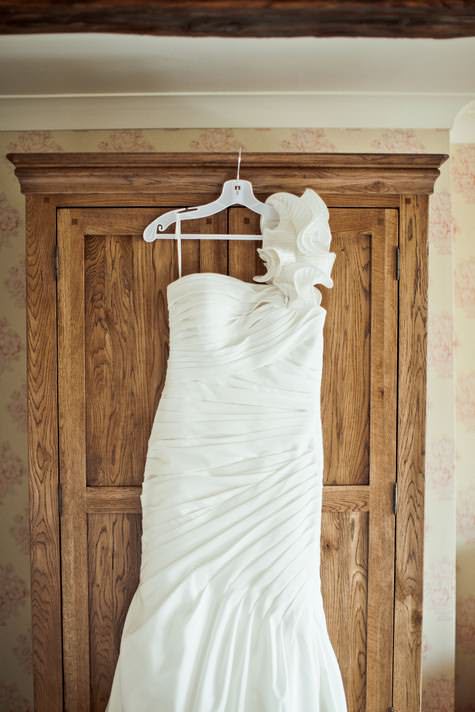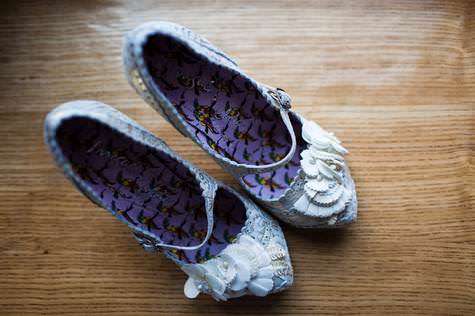 Who was your dress by
Victoria Jane by Ronald Joyce (Savannah) – ((an amazing dress – it held me in, in all the right places!!! and I got loads of comments about how different it was))
And the suite?
Austin Reed (Made to Measure)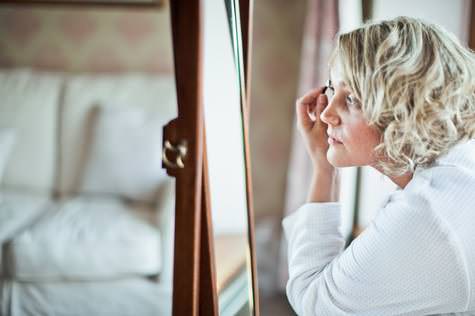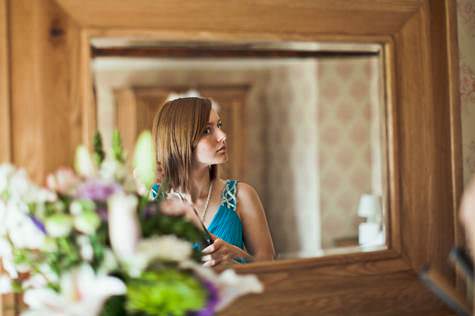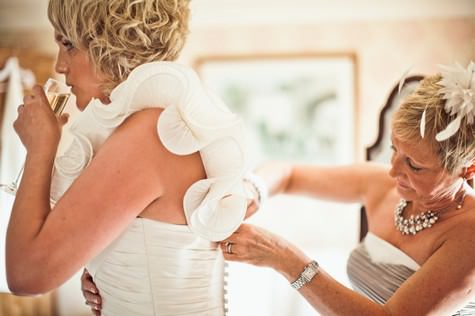 How would you sum up your day?
Relaxed and full of laughter – everything we wanted
Did you have a theme/colour scheme?
Not particularly, I had fallen in love with the dresses for the bridesmaids (a very bright turquoise blue) and knew I wanted to keep everything else fairly simple and elegant. My brother designed the wedding invitations using a similar turquoise to the dresses and my flowers were hot fuchsia pink to contrast with the blue. The rest of the décor for the wedding was kept fairly simple, with dark wooden chairs and cream used in the marquee.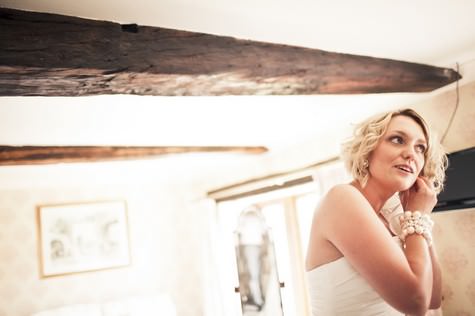 Did you have any personal touches or things you did yourself?
As mentioned before, my brother designed and handmade our wedding invitations – and sent them from Mexico where he lives! These were definitely part of the personal touch.
As we have such a wide group of friends and family, we wanted the whole wedding to have a social and relaxed feel to it; so we decided to scrap a table plan and have our guests pick their seat from a "hat" (or bucket)… we though it would add some entertainment to the day and let people get to know someone different – it seemed to work!
We used album covers as our table centres – representing bands that we love and hand made signs from Cannon Hall back to the cottages to make sure people didn't get lost!
How many guests?
We had 80 guests during the day and approx 100 in the evening
What were your special moments/highlights?
The whole day was really special – and really emotional. The ceremony in particular had us both laughing and crying throughout. Our registrar, Gill, was brilliant and really brought some personality to the ceremony. We also had Mike's daughters (my bridesmaids) and my Mum doing readings – which were all really lovely. Mike's eldest daughter had written her own reading, using lyrics from a number of songs, which was brilliant – it really made us laugh… and definitely got our guests thinking!!
Another moment that sticks out was when we nearly got trampled by cows! Our photographer, Jon (S6 Photography) likes to get some really different shots and was using the stunning back drop of the wind turbines at Smallshaw to get some photos of us both. However, we hadn't realised that the cows in the field were being brought down for milking – and we were caught in the middle of them all… Jon really did get some interesting shots then… they were particularly interested in his red camera bag.
The band we had for the evening – Vibe Town – were also really amazing. We had so many comments from guests about how good they were. They really knew how to get people up on the dance floor and at one point every single person at our wedding was up dancing. They definitely made the whole evening something to remember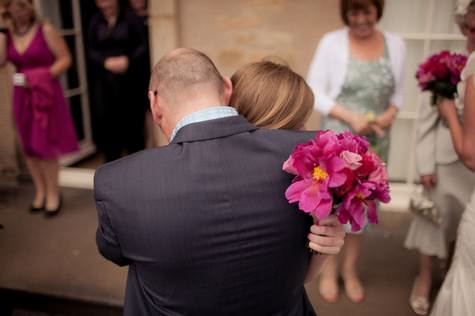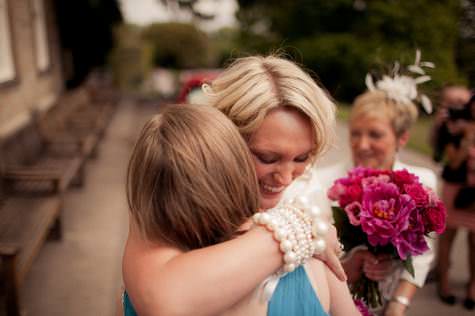 Is there anything you would do differently?
I don't think there is anything that we would have done differently / changed. The only thing I would say, is that having organised all of the wedding ourselves, we found that we were still busy sorting out little bits on the Friday evening / Saturday morning – which didn't give us much time to rest and relax before the wedding. However, having hired Smallshaw Cottages for the weekend we had plenty of opportunity to take some time out after the wedding… the hot tub is a great place for chilling out and taking in the views!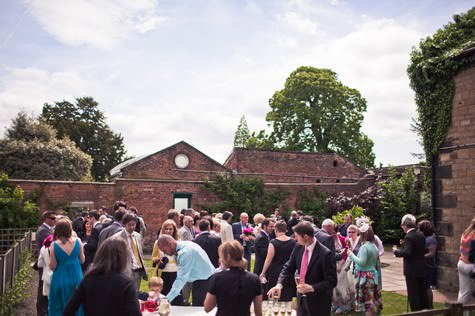 What advice would you give any other couples?
Definitely go with your gut feeling when it comes to choosing the 'big' things. We based all of our decisions on the people we were talking to – if it felt right then it meant it was. We were really fortunate to have a great group of people to work with – every one of our suppliers was spot on and provided excellent service, we couldn't have asked for more.
What was your biggest surprise of the day?
Other than the weather, which was fantastic – the sun came out at all the right moments – I think the biggest surprise was just how well everything went on the day. It all came together perfectly, even better than we had imagined and our guests all told us what a fantastic time they had.
Looking back at the photos now, it really shows that the whole day was full of laughter and we didn't stop smiling all day – it was everything we wanted from our day and more!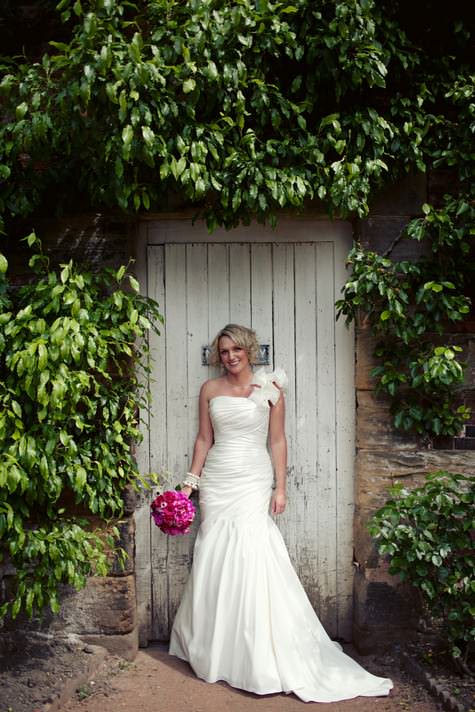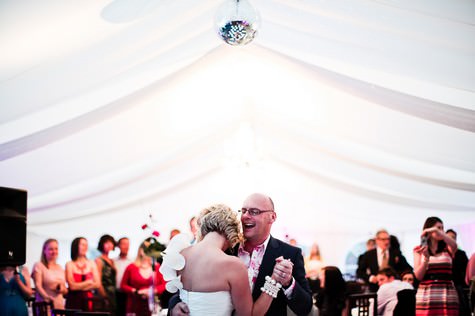 All of our suppliers were absolutely brilliant – they really helped to make the wedding something special:
Ceremony: Cannon Hall Museum – Jane (Wedding Coordinator) www.barnlsey.gov.uk/cannon-hall-museum
Reception: Smallshaw Farm Cottages – Jim & Mary www.smallshaw.com
Photography: S6 Photography – Jon Dennis www.s6photography.co.uk
Catering: Spitting Pig North West – Alex Gerrard www.spittingpignorthwest.co.uk
Marquee Hire: Black Cherry Events – Claire www.blackcherryevents.co.uk
Wedding Cake: "I do" Wedding Cakes – Jill Cook (no website)
Dress shop: The Bridal House – Jo Gardner www.thebridalhouse.net
Band: Vibe Town www.vibetown.co.uk
Flowers: Monica F Hewitt Florists www.monicafhewitt.co.uk
For more information about Jon's photography services go to:
www.s6photography.co.uk
s6photography.co.uk/blog
[email protected]
FACEBOOK
TWITTER
01142340295